► Earlier this month, online consignment site The RealReal (REAL) announced a deal with Gucci…
According to the agreement, The RealReal will feature a curated online The RealReal X Gucci shop featuring the designer's goods through year-end. In turn, Gucci – a division of French luxury giant Kering (KER.PA) – will facilitate the resale of pre-worn items. The shop will feature goods that come from Gucci itself as well The RealReal's established consignor base.
Each time a Gucci item is bought in the shop, The RealReal X Gucci will support the planting of one tree via reforestation charity One Tree Planted. The new venture will also sponsor a tree planting for each item sellers consign through the broader RealReal site through year-end.
This is consistent with The RealReal's environmentally friendly messaging. The site markets itself as a big part of the circular economy, in which waste is minimized through the reuse and repurposing of previously owned items. Through the re-homing of fashion items no longer desired, The RealReal claims to have saved 698 million liters of water and 15,040 metric tons of carbon.
In the press release announcing the venture, The RealReal's CEO Julie Wainwright emphasized sustainability upfront…
Gucci is raising the bar not only for the fashion industry but for all companies by continuously innovating to make its business more sustainable. Together we're shining a global spotlight on resale that we hope will encourage all consumers to support the circular economy and join us in reducing fashion's carbon footprint.
► Getting Gucci on board with resale was a big deal…
Gucci isn't just one of the most popular brands on The RealReal site… it also has been the biggest success story in the luxury goods world over the past several years. After shining bright in the 1990s under the leadership of designer Tom Ford, the 99-year-old Italian fashion house stagnated after his departure in 2004.
After running through multiple designers over 11 years and seeing sales erode, in January 2015, Gucci hired Alessandro Michele to be the new creative director of the brand, and the designer subsequently ushered in a renaissance for Gucci. Gucci now represents more than 60% of sales at its parent Kering and has been the driving force in KER.PA shares rising more than 300% since the beginning of 2016.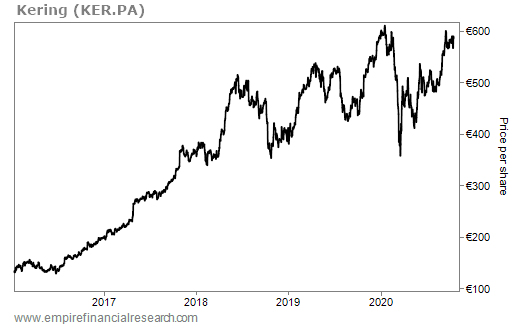 In the world of luxury goods, three brands have long stood in a league of their own in terms of overall size, consistency of market share, ability to take price increases, and prestige: LVMH's (LVMUY) Louis Vuitton, Hermès (HESAY), and privately held Chanel. Over the past several years, Gucci's soaring popularity had not only propelled its parent's stock, but also allowed it to crack into this top echelon of the most valuable luxury brands… which makes its willingness to work with The RealReal a particular coup for the online resale site.
Gucci's broad popularity was long reflected in its popularity on The RealReal. After at least two years at the top of the most-searched brands, Gucci was very recently displaced on The RealReal by Louis Vuitton (Chanel has been a consistent No. 3 in popularity). Gucci sales on the RealReal were growing by 19% year over year, prior to the establishment of The RealReal X Gucci store, and the resale value of a Gucci item is 2.3 times the site's average. The brand remains No. 1 in the men's category, in which sales are growing 24% this year.
► This isn't the first time that The RealReal got a designer on board with product resale through its site…
As the secondhand market for luxury goods began to take off, luxury houses were initially suspect of the phenomenon. Designers naturally worried that an active secondary market in used items could cannibalize demand for new goods. After years of fighting counterfeit knockoffs on eBay (EBAY) and other sites, luxury goods players also had reason to worry the upscale resale sites could become rife with fakes.
Unsurprisingly, the first designer to get on board with The RealReal was known sustainability proponent and vegan Stella McCartney, the child of a prominent animal rights activist (Linda) and a Beatle (Paul). The collaboration in 2017 was about encouraging consigning and reuse, and consignors of used Stella McCartney goods were given $100 to spend on new goods at a Stella McCartney boutique.
At the time of the collaboration, Kering owned the Stella McCartney design house, so this isn't the luxury giant's first time working with The RealReal.
Last year, The RealReal followed up with a deal with British design house Burberry (BURBY). That collaboration also strived to encourage consignment.
Both deals were a way for the brands to deepen engagement with existing customers, as well as recruit new ones. Burberry is much larger than Stella McCartney, but has lagged luxury sector sales growth for years and has struggled in particular in the U.S., so teaming up with the U.S.-focused resale site made sense for a company desperately needing to recruit customers in North America.
But The RealReal's relationship with top brands has often been rockier. LVMH doesn't like to talk about the resale site at all in meetings… and in 2018, Chanel sued the site for selling counterfeits, a claim The RealReal – which makes a big marketing point out of its authentication capabilities – has strongly refuted.
► Resale is a hot area within retail…
Gucci may have decided to embrace resale because it is growing too fast to ignore. The secondhand market totaled $28 billion last year and is expected to more than double to $64 billion by 2024, according to research firm GlobalData Retail. Most of that growth is coming from the high end of the market, dubbed "resale," which is expected to grow by 5 times in five years – soaring to $36 billion in 2024 from $7 billion last year.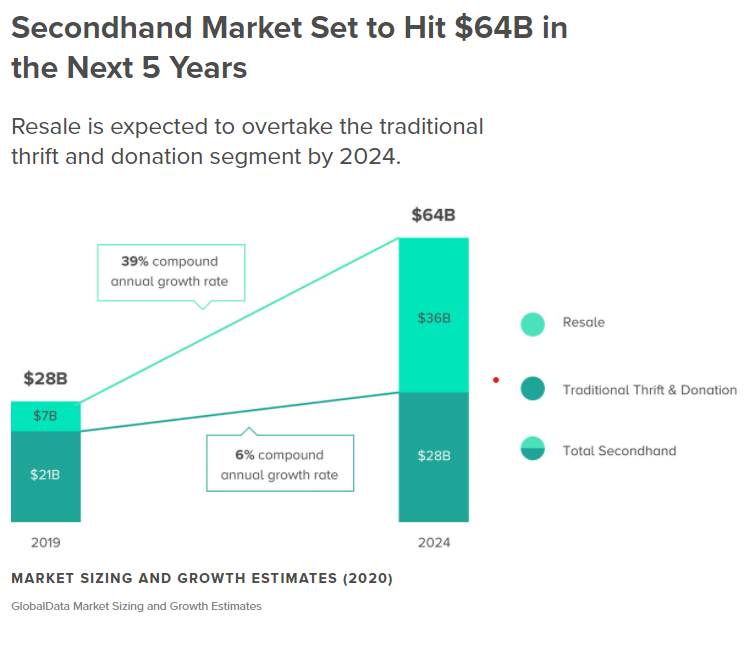 Source: thredUP
According to the 2020 Resale Report, published by industry player thredUP, resale grew 25 times faster than the overall retail market in 2019. The number of U.S. women buying secondhand products is growing almost 20% per year with 62 million buying a previously owned item in 2019, versus 44 million in 2017.
► This isn't your grandmother's thrift store…
Market growth is being driven by a number of big players that operate online and through apps.
The RealReal focuses on luxury goods and collects inventory in central warehouses, where items are authenticated, photographed, priced, and listed on the website. The site's "take rate" – the amount of a good's sale price that it retains – is around 36%. The company collects inventory from consignors through the mail, at its handful of retail stores, and through white glove home appointments in select cities. The gross market value ("GMV") of goods sold on the site and app topped $1 billion in 2019 and led to over $300 million in revenue.
The RealReal boasts that of its 17 million members, many participate as both sellers and buyers. 55% of consignors buy on the site, and 13% of buyers also consign.
The RealReal is one of many big players in online resale. Paris-based Vestiaire Collective focuses similarly on secondhand luxury goods, although it doesn't anonymize sellers like The RealReal does… instead emphasizing the person-to-person (P2P) sales aspect more.
Other players within the luxury online resale market include Tradesy and Farfetch Second Life, a new business from luxury goods retail marketplace Farfetch (FTCH).
Other players utilizing a P2P model include Poshmark and Depop, which enable secondhand "social shopping" of more accessibly priced brands, like Urban Outfitters (URBN), Anthropologie, or J. Crew's Madewell, alongside with selected luxury goods. Depop has a particular focus on streetwear.
On Poshmark, launched in 2011 and rumored to be coming public soon, over 50 million users follow 5 million sellers or "stylists." Thousands of items are listed daily, and the site each day sees 38 million items shared, 1.8 million products liked, and 365,000 comments left. Poshmark has a 20% take rate and enables payments but doesn't take possession of the inventory, except for select high-end items. Instead, sellers ship directly to buyers.
Poshmark disclosed that payments to its sellers in 2019 were $2 billion, implying that GMV on the site (including the amount that Poshmark keeps) must be around $2.5 billion. Payments to sellers doubled from 2018 to 2019, implying GMV similarly doubled.
Also rumored to be going public soon is thredUP, which features millions of secondhand items from more accessible brands like The Gap (GPS) and Target (TGT).
► The resale economy is being driven by several bigger trends…
Secondhand shopping is big with millennials and Gen Z, who tend to be more environmentally focused than older demographics. Wearing secondhand is a point of pride, not shame for these younger consumers. The category is also growing mindshare – and participation – with Gen X.
Luxury brands are also more affordable when bought secondhand – with discounts ranging from 10% to 90% from new retail prices, depending on an item's brand popularity, condition, and category (accessories tend to get smaller discounts than apparel and shoes). Buying secondhand allows consumers to access brands they couldn't normally afford.
With "high low" dressing extremely popular – meaning someone might pair Levi's jeans with a Target T-shirt and a $700 Gucci belt – buying secondhand makes the luxury goods required for the "high" part of the look more accessible to younger, lower earning consumers. And with so many aspiring influencers on Instagram and TikTok, buying more accessible brands secondhand allows a budget to stretch – enabling consumers to never post in the same outfit twice. It also allows them to get some money back – which they can recycle into new outfits – by selling items after they are photographed in them.
The ability to access this younger demographic may explain why Gucci and other designers are warming up to the idea of resale. Instead of seeing it as cannibalistic to full-priced sales, designers are increasingly looking at resale as a gateway to the brand for a new generation of customers. In the past, cosmetics, perfume, and small leather goods like wallets and key chains were the ways luxury houses recruited younger customers of limited means, but resale has opened up a new channel to finding the big spenders of the future.
Tomorrow I'll dive a little bit more into the factors making resale the fastest-growing segment in retail, how the pandemic has affected it, and talk a little bit more about what this deal means for Kering's Gucci and The RealReal.
► In today's mailbag, readers react to recent pieces on Broadway and product discontinuations…
Have you ever bought anything secondhand from a website or app? Do you ever shop at consignment stores or thrift shops? If not, would you consider it? Share your thoughts in an e-mail to [email protected].
► "Dear Berna, I suggest you confirm your source's data on sector contribution to the economy [referring to the October 13 Empire Financial Daily]. Agriculture is much larger than Bloomberg suggests." – David J.
Berna comment: The number is accurate, David, but represents a very specific definition of "agriculture," which may differ from what you associate with the industry.
The $165 billion in 2016 gross domestic product ("GDP") related to agriculture, forestry, fishing, and hunting comes directly from the U.S. Bureau of Economic Analysis, which is the division of the U.S. Department of Commerce responsible for macroeconomic and industry analysis, including the calculation of official GDP numbers.
From the same source, talking about 2017 GDP:
The output of America's farms contributed $132.8 billion of this sum – about 1% of GDP.
Forestry, fishing, and hunting contribute another $30-plus billion. This is only counting the "upstream" raw materials of primarily plant-based food (and other farmed items, like tobacco) in the calculation.
This $165 billion figure doesn't include "downstream" food and beverage manufacturing, grocery retail, or restaurants. As an example, it counts for GDP, the output of farms growing corn, wheat, sugarcane, and rapeseed… but not the GDP from the corn syrup, flour, sugar, or canola oil that are made from those raw materials, or the Oreo cookie made from those processed ingredients, yet one more step down the value chain.
As defined by the Commerce Department, "agriculture" also doesn't include meat, which is almost a $1 trillion GDP industry on its own. Also, within fishing, it would include fish farming but not commercial open water fishing.
I hope that helps clarify that chart.
► "Berna, in relation to the section of your October 17 letter regarding inventory shortages starting with COVID and still persisting today, the one I note most is Claussen pickles! After tasting their refrigeration-required product and noting its flavor, and especially its crispness, I can no longer substitute bottled pickles on the grocery shelf. They're so soggy by comparison. At least here in SW Florida, they are often missing from the grocery shelves, and when a supply does come in, it's gone in a day. I just wonder if pickle-loving consumers have caught on to this superior product, or if there are problems in the supply and/or delivery process, or a combination of all three?
"This is most likely a niche product, and not of general interest, but just to let you know of another product that used to be readily available pre-COVID, and now remains in short supply, at least here, post-COVID." – Otto K.
Berna comment: Interesting, Otto! I will check the shelves here and see if I can find the Claussens. My daughter is a huge consumer of pickles, and we tend to find really good ones at farmer's markets and street fairs. Perhaps check those out, if you have such shopping venues near you.
► "Berna, I thought about your question as to what discontinued products I yearn for and I realized I had a slightly different answer to your question, since even if a product is not discontinued, it is still not the same.
"The product that I miss the most is 7-up. It's not discontinued because I know I can still find it on grocers' shelves. But it is not the same 7-up I grew up with. It was my favorite non-cola drink (remember they even called it 'the un-cola' in their commercials.) When I was a teenager and in my 20s, I drank it a lot. I even remember on hot summer days when I was working or playing outside, I'd often drink three bottles in an afternoon. Somewhere around 1997, they changed their formula. I believe they wanted to make it more competitive against Sprite. Instead, in my opinion, they made it a very poor clone of Sprite and not very good. After my first bottle or two of the new formula, I haven't purchased a bottle since." – Walt C.
Regards,
Berna Barshay
October 20, 2020