1) I couldn't be happier for my old friend David Einhorn, who just had his best year ever (since inception in May 1996) at Greenlight Capital in 2022, with his funds outperforming the market by a staggering 54.7 percentage points (up 36.6% versus an 18.1% drop for the S&P 500).
As always, he wrote a thoughtful, insightful letter, which you can read right here. Excerpt:
2022 was an exceptionally good year. In many ways it was our best ever and is most comparable to 2001, the year after the last technology bubble popped. Before going into all the glorious details, let us simply say:

We are probably not as smart as we appeared in 2022, but we are probably not as dumb as we appeared in 2018 either. The market environment, as we have been highlighting, turned extremely favorable for our strategy in a period that immediately followed one that was extremely unfavorable for our strategy...

From the bottom in 2009 to the top around the end of 2021, we experienced an enormous bull market culminating with a massive bubble, particularly in the most speculative stocks. As we have previously observed, we believe most surviving investors either never had, or ceased to have, valuation as an important part of their investment process.

We are very grateful to those of you who have stuck with us. We are pleased to be able to reward you with a good year in what for most was a difficult investing environment. We have learned a lot in this period and hope to continue to reward you.

However, most did not stick with us, and understandably so. The results for a sustained period were unattractive. For us, it was challenging to remain disciplined (some have said stubborn) by refusing to make investments that didn't make sense to us.

Many investors that have historically had a value bent either adapted, retired or went out of business. Value investing, as an industry, is unlikely to ever fully recover. The outflows into passive and other strategies were debilitating. Prospectively, we believe this is a positive for our strategy as we face much less competition than we did a few years ago.

In hindsight, we believe that our unwillingness to take risks that others were so willing to bear, enabling them to outperform during the bull run, was the flip side to our ability to have a successful 2022. This was a year where many of those who rode the bubble suffered losses, raising the question as to whether the risks were worth taking.
I especially enjoyed David's detailed analysis of his five experiences, both successful and unsuccessful, with his "bubble basket short strategy." It begins:
While we will continue our current policy of not discussing individual shorts, we will review the performance of our long-standing bubble basket short strategy. Historically, we have avoided so-called valuation shorts, because valuation by itself is rarely a catalyst. After all, twice a silly price isn't twice as silly.

However, during the 1998-2000 bubble, we recognized that shorting bubbles can be quite profitable when they burst. Though we didn't expect to ever see another bubble like that one again, we were wrong. When we saw a second mega-bubble forming, we wanted to participate in the subsequent decline.
And concludes:
All told, while this isn't the exciting result that we expected at the time of each basket's creation, the bubble basket strategy hasn't been as bad as it seemed a couple of years ago. It's hard to know when a bubble is actually popping. This one went on for much longer than we expected. Considering that we were early by a ridiculous seven years, this feels like a good outcome. If we ever think we see a bubble again, we expect to be right sooner. From 2014-2022, the NASDAQ index is up 12% per year (176% compounded). It's clear that our bubble basket short strategy has outperformed an index short. We estimate that the cumulative alpha against the NASDAQ to be 6.8%.
In summary, one of the people who is also attending Guy Spier's VALUEx conference in Klosters, Switzerland next week posted this on the conference message board:
So many former Einhorn fanboys turned their backs on him when he started underperforming, as the market went crazy and greed took over. But he remained disciplined and stuck to his principles. Last year, this paid off handsomely, after years of pain. Many lessons to be learned here.
I couldn't agree more!
2) Here's an interesting analysis that assigns blame equally to both political parties: How the U.S. Government Amassed $31 Trillion in Debt.
How big of a problem we have now is very much open to debate – but I sure don't want to find out the hard way (sort of like climate change...)! Excerpt:
The Center on Budget and Policy Priorities, a left-leaning think tank, has estimated that from 2001 through 2018, those tax cuts and the additional interest costs of borrowing to finance them added up to $5.6 trillion – or about one-third of the additional debt the government had incurred in that time.

In 2018, a new round of Republican tax cuts signed by President Donald J. Trump – which did not include spending cuts to offset their cost – kicked in. They were passed by some of the same lawmakers now contending that the government must not raise the borrowing limit without first taking steps to rein in debt.

Some conservatives claimed those cuts would "pay for themselves" by boosting economic growth and tax revenue, but independent analysts disagreed. The nonpartisan Congressional Budget Office estimated in 2018 that the law would add more than $1.2 trillion to the debt through the 2022 fiscal year, even after accounting for increased economic growth.

"If you're going to have less revenue, you have to be willing to control the spending," said Douglas Holtz-Eakin, a former director of the Congressional Budget Office who now runs the conservative American Action Forum think tank. "The Achilles' heel of the Republicans has been they love the tax cuts, but they are unwilling to be serious about spending."
3) In a recent e-mail, I wrote about meeting one of my longtime readers and lifetime subscribers, Joe M., who told me he recommends two books to the Air Force Academy cadets he mentors: mine, The Art of Playing Defense, and David Clark's Tao of Charlie Munger.
I'm embarrassed to admit that despite being a huge Munger fan, I had never read Clark's book, so I immediately ordered and devoured it. It's comprised of 140 – yes, 140! – chapters, each of which is a short Munger quote with Clark adding occasional commentary. It's a great introduction to a great man.
For those interested in a deeper dive, I highly recommend Poor Charlie's Almanack: The Wit and Wisdom of Charles T. Munger, which is in its third edition since it was first published in 2005.
It was one of the great honors of my life to contribute to this book: I wrote chapter three, provided the transcripts of half the lectures in the book, and edited it. Here's a picture of the team behind it: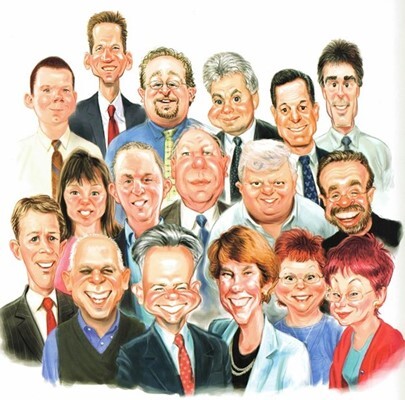 That's a (much younger) me wearing a red tie in the lower left. Others I recognize are Peter Kaufman, the primary author, in the front also wearing a red tie, and the three women to his right: legendary journalist Carol Loomis, who has worked with Warren Buffett for decades on his annual letter, Buffett's assistant (then and now) Debbie Bosanek, and Munger's assistant (then and now) Doerthe Obert.
4) Speaking of Buffett, this story made my day...
My youngest daughter, a sophomore at Carleton, was in her Politics and Policy class yesterday when the teacher, to illustrate the difference between median and mean, asked: "Nebraska's median income is $33,000. Do you think the mean is higher or lower, and why?"
My daughter texted me what happened next:
My random knowledge of Warren Buffett came in handy in class today. I raised my hand and guessed it was because Buffett was from there, which turned out to be correct!
I'm so proud! (And all these years I thought she wasn't paying attention when I was telling her about this amazing investor in Omaha who's made such a difference in my life...)
I sent this story to Buffett with this note:
The only person who will love this story (from my youngest daughter, a sophomore at Carleton) more than I did is you!

P.S. I think the professor confused income and net worth.

P.P.S. I'll have to bring her to her first Berkshire meeting this year!
Best regards,
Whitney
P.S. I welcome your feedback at [email protected].