► Earlier this month, automaker Ford Motor (F) and tech giant Alphabet's (GOOGL) Google Cloud announced a six-year deal worth hundreds of millions of dollars for Google's cloud services…
"The cloud" refers to data centers that are available for rent over the Internet from huge tech companies like Amazon (AMZN), Microsoft (MSFT), Alibaba (BABA), and Google.
Before the invention of the cloud, every company had to have its own set of servers, or – if big enough – its own data centers. It then had to have its own set of engineers to maintain and keep the data centers operational and secure.
Maintaining and upgrading this internal tech infrastructure is both time-consuming and complicated. The cloud prevents many headaches, as it allows companies to run all their operations in a data center managed by a third party, freeing up internal resources and capitalizing on the institutional knowledge of companies that specialize in the cloud.
Ford's contract with Google Cloud is a bit more expansive than Netflix's (NFLX) deal with Amazon, as it contains several software components that go beyond traditional cloud management services. Ford and Lincoln vehicles will use Alphabet's car operating system Android CarPlay, voice assistant Google Assistant, Google Maps, and app store Google Play starting in 2023. Google Cloud will also be responsible for much of Ford's in-vehicle connectivity, and Ford will use Google's artificial intelligence ("AI") for supply chain logistics and manufacturing.
The deal is a huge win for Google Cloud, which was nearly shut down in 2018. At the time, Alphabet had spent billions of dollars on building out its cloud business, but Google Cloud had managed to grab just 5% of the cloud market. Meanwhile, in 2018, competitors Amazon Web Services ("AWS") and Microsoft's Azure owned 44% and 17% of the market, respectively… and seemed to be building on their established dominance of this market.
Instead of giving up, Alphabet decided to double down… and hired Oracle (ORCL) cloud head and respected industry veteran Thomas Kurian to lead the turnaround.
Kurian clearly has the magic touch. Even before the massive Ford deal, Google Cloud was seeing excellent momentum. Revenues were up 72% in the fourth quarter, the company tripled its backlog in 2020, and according to Goldman Sachs (GS), by 2021, Google Cloud is projected to have more than doubled its market share in less than three years.
The Ford deal highlights that Kurian's leadership has more than righted the ship, as CNBC reported that Ford CEO Bill Farley chose Google over its previous cloud partner, Microsoft Azure, because he thought Google offered superior cloud services.

If you think a deal worth hundreds of millions of dollars sounds large, that's nothing compared to the size of the overall cloud space…
In 2020, the cloud industry – dominated by AWS and Azure, which together control 74% of the market – earned $95 billion in revenues. Outside of AWS and Azure, Alibaba and Google each control 9% of the cloud market… with the remaining 8% comprised of smaller players like IBM (IBM).
While the industry is already approaching $100 billion worth of sales, its growth is only just starting. Tech research firm Gartner (IT) believes the cloud has only penetrated 13% of its total addressable market ("TAM"). Outside of the thus far untapped opportunities in well-established cloud services, Gartner sees these tech leaders growing cloud TAM by disrupting the $206 billion infrastructure software market, the $134 billion data center services market, the $208 billion IT hardware market, and the $70 billion support services market. Already, legacy tech businesses are feeling the pinch… IBM and tech consultancy firm DXC Technology (DXC) cut thousands of jobs in 2020.
With so much room to run, the cloud space is projected to grow 25% annually to $234 billion in 2024. Despite the projected rapid growth, the cloud's share of its TAM would still approach just 24% in 2024. But the growth doesn't end there… The cloud will be able to take meaningful share from the huge enterprise software markets identified by Gartner – so growth for the cloud players should exceed 20% for the next decade.
Using AWS's margins of roughly 30%, an incremental $40 billion in profits are up for grabs over just the next few years. With the mission critical cloud expected to grow 25% annually for the next few years, a 25 times multiple on earnings before interest, taxes, depreciation, and amortization ("EBITDA") is probably conservative… but it means that at least $1 trillion in market cap is up for grabs in just the next four years.

Investors have long been wary of investing in Alphabet, as the company is highly concentrated in ads…
Google Search, YouTube, and Alphabet's ad network engine have allowed the company to grow revenues by more than 20% for 14 out of the past 19 years and three out of the past five – a remarkable feat when you consider that Alphabet was already approaching $100 billion in annual revenue in 2016.
But these three businesses arguably dominate too much, as they represent 80% of Alphabet's business – or $120 billion in revenue. Given the size of the legacy ad business, for a new venture to move the needle at Alphabet, its sales need to measure in the tens of billions of dollars.
Alphabet has been mostly unsuccessful in its attempts to diversify. The company has bought Android, the mobile phone team at Motorola, home electronics player Nest, and a host of other companies across a wide range of industries. All have failed to move the needle… until Google Cloud.
With Google Cloud nearly doubling its market share in just two years under Kurian and nearly tripling its revenue in the same period, Alphabet began to disclose Google Cloud's financials in 2020 – an indication that management sees it as one of its most important businesses.
Momentum seems to be continuing into 2021 with the Ford deal, so I wouldn't be surprised to see Google Cloud double its market share once more over the next few years.
If Google Cloud can do so, its market share would move from 9% today to almost 20% in 2024. This would represent an incremental $43 billion in revenue – or 24% of Alphabet's revenue today. And if the cloud space continues to grow at a 20%-plus rate for years to come, then the business will certainly move the needle for Alphabet in the longer term.

Google's ownership of autonomous-vehicle ('AV') unit Waymo was likely another reason that Ford chose Google Cloud over its competitors…
Prior to the deal, Ford was spending hundreds of millions of dollars every year to provide software for its in-car screens. Yet, the company was barely keeping up with the generic experience provided by Apple's (AAPL) CarPlay and Android Auto.
Additionally, Ford is undergoing an $11 billion restructuring in which the company is specifically looking to partner more and develop less internally…
While Ford has partnered with Argo AI (which Ford owns 40% of), I wouldn't be surprised, given Waymo's clear leadership in the space, if Ford – in the next year or two – chose to jump ship and go with Waymo.
The reason I suspect the tie-up will come so quickly is that AV technology is going to be here sooner than you can imagine – for example, ride-hailing company Lyft (LYFT) is already planning to launch AVs in multiple cities in 2023. With Ford already having had to push back its launch of its first self-driving service to 2022, any incremental delay would seriously hinder the company in an industry undergoing its largest disruption since the Model T.

Despite Alphabet's future growth prospects looking bright thanks to its cloud and AV businesses, the stock still looks cheap…
At first glance, Alphabet seems expensive – it trades at 30 times 2021 estimated earnings. However, its profits include $10 billion worth of losses that Google accumulated in its investments in Google Cloud and "other bets" businesses like Waymo. The company also has nearly $200 per share in cash on its balance sheet that doesn't generate profits.
Adjusting for these losses and the cash, the company trades at just 22 times earnings – in-line with the S&P 500 Index, but with better growth prospects. With the core Google ads business still set to grow for years to come, this means, at today's prices, investors are likely getting Google Cloud and Waymo – two businesses going after trillion-dollar-plus markets – as well as a host of "other bets" that Google has made in big industries, like life sciences, for free.
This isn't the first time we've been bullish on Alphabet here at Empire Financial Daily…
Back in mid-July, Berna said Alphabet was her favorite of the "FAANG" stocks – the group comprised of Facebook (FB), Amazon, Apple, Netflix, and Alphabet. As you can see in the chart below, her call has been great…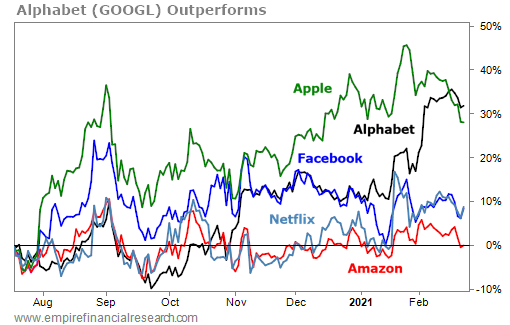 Since then, shares of GOOGL have been on a tear – up 32% and leading the group. They've easily outperformed shares of AMZN, FB, and NFLX – which have returned negative 1%, 7%, and 10%, respectively. Of the FAANGs, only Apple has come close to matching Alphabet's performance, with the stock up 27% after having led the group most of this time period.
In spite of Alphabet's recent run-up, we both remain bullish on the company in the longer term.

As I said, a big part of this has to do with the AV boom…
My colleague Whitney Tilson has been following this market closely and is also incredibly bullish. He believes the industry could be worth $10 trillion – meaning it has the potential to create fortunes for investors in the coming years. You can find out more about it – and learn the name and ticker symbol of his favorite way to play it – in this free presentation.

In the mailbag, more reactions to Alex's essay on bank earnings, including ideas about how to respond to JPMorgan Chase (JPM) CEO Jamie Dimon's suggestion that the country needs to do more to help the poorest…
We've seen leadership in the market move away from the FAANG stocks recently… Do you think this group will ultimately rise to lead the market in 2021 as it did last year, or are we in the midst of a sustainable rotation in market leadership? Which sectors, industries, and asset classes do you favor for investing in 2021? Let me know by sending an e-mail to [email protected].

"Alex and Berna, I enjoy your commentary and insights very much. Maybe this is a topic for the future, maybe as a Wall Street player it's off limits, but here goes. Throughout the financial press I cringe every time I hear any analysis from Goldman Sachs (GS). After what was uncovered in the aftermath of the 2008 crisis, that Goldman was shorting the same products it was selling, simply put, how can they be trusted? They have placed more Government officials at Treasury than all others combined, so they cover their successors' back sides in such a way as to make one a cynic.
"Am I wrong? I was never a Matt Taibbi fan, or Rolling Stone fan for that matter, until I read his article likening Goldman to a 'Vampire Squid.' If you're not familiar, google it.
"I'd welcome your thoughts." – Jim A.
Berna comment: My first job after college was at Goldman Sachs, Jim. It was a wonderful place back then… ethical people and a great training ground. Things clearly changed there over the years after the company went public and top management turned over a few times.
The whole Abacus debacle of 2008 – which you indirectly refer to above – makes me cringe… It never would have happened at the Goldman I worked at.
I do think that Hank Paulson – the former Goldman CEO who was U.S. Treasury Secretary under President George W. Bush during the worst of the financial crisis – did a heroic job. I got to speak with him once, and he told me about how he worked across the aisle with Democrats to get the TARP Bill through when his own party was blocking it. There were many things screwed up in the aftermath of the housing crisis – primarily the lack of accountability or consequences for its perpetrators – but Paulson did his job expertly at a very important time.
There are good and bad eggs at Goldman, like anywhere else. It's interesting how many of them eventually end up in government.

"Helping people on education. Vouchers." – Francisco B.

"Berna, First of all I really enjoy your commentary and analysis. The most important thing that we can do to help those who are not benefitting from our economy is to be fairer and eliminate laws and regulations that were designed to put African Americans at distinct disadvantages. These disadvantages have transcended generations. Housing policy impacts educational policy which impacts economic policy and results in poor outcomes. We can provide as much education as we can but if the threat of state sponsored violence is not removed or discriminatory business practices eliminated, then the good work is lost. Our system needs to be made fairer and past economic injustices need to be addressed and atoned for.
"Until we have an acknowledgement, apology and redress we will continue on this path of inequity." – Richard L.

"Hello Berna: We're lucky – my wife, my son, and I have all kept our jobs (one son even changed jobs!) – but we all received our stimulus checks. I know the unemployment offices in each state are not exactly paragons of efficiency (over $1 BILLION in fraudulent claims just here in California…), but why don't we tie stimulus payments to employment status??
"As to education – YES. Our welfare systems are set up to encourage more welfare. When I was in between jobs, I was penalized for getting a part-time job – I lost more of the unemployment than I was making working. When has any government program ever really worked? The War on Drugs? The Iran War?
"How about zero-based budgeting? Justify your job and expenses each year?
"Just a few ideas rattling around…" – George R.
Regards,
Alex Griese
with Berna Barshay
February 24, 2021