► Another retailer hits the wall…
This morning, vitamin and supplement retailer GNC (GNC) filed for Chapter 11 bankruptcy. As part of its restructuring plans, GNC will close 1,200 of its 5,800 stores and will begin selling its products in 1,200 Rite Aid (RAD) pharmacy locations. The chain is also putting itself up for sale.
Like many companies that have filed high-profile bankruptcies so far this year – such as rental-car company Hertz (HTZ) and clothing retailers J.C. Penney (JCPNQ) and J. Crew – GNC's problems long predated the coronavirus pandemic.
The company had been experiencing declining sales since 2016 and its $1 billion debt load had become unmanageable. GNC was attempting to refinance its debt and claims that the pandemic-driven store closures derailed its efforts to refinance… But Wall Street had expected GNC to end up in the bankruptcy bin for a while…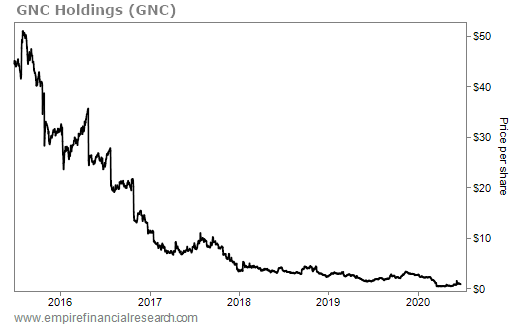 The economic disruption from the coronavirus has accelerated Chapter 11 filings for many companies that were headed for bankruptcy anyway…
But store closures, declines in travel, falling energy prices, and stresses on the medical system are even testing the solvency of companies that were healthy prior to the pandemic.
High corporate debt levels are limiting many firms' ability to wait out a demand shock. Low interest rates, high levels of private equity activity, and record stock buybacks were all factors that pushed corporate debt to all-time highs in 2019.
Even before the first COVID-19 case was documented in Wuhan, China, some market participants were sounding the alarm about rising debt levels posing a risk should the economy cool off. In a fourth quarter report, investment giant BlackRock (BLK) warned…
We believe the sharp increase in the proportion of BBB-rated constituents has made the investment-grade bond sector riskier than in recent years. BBB-rated bonds are typically the most vulnerable of all investment-grade debt in a recession.
In its November Financial Stability Report, the Federal Reserve also noted that BBB-rated bond issuance was taking an increasing share of total issuance and outstanding BBB-rated debt was approaching an all-time high…
In an economic downturn, widespread downgrades of bonds to speculative-grade ratings could lead investors to sell the downgraded bonds rapidly, increasing market illiquidity and downward price pressures in a segment of the corporate bond market known already to exhibit relatively low liquidity.
The Fed's unprecedented intervention in the capital markets has reversed dislocations, increased prices, and kept markets orderly for both BBB-rated bonds and riskier higher yield issues, also known as junk bonds.

But while the Fed can fix the capital markets, it can't fix the income statements of economically challenged companies…
When operating losses pile up, already leveraged companies will need to raise even more debt, issue equity, or eventually file for bankruptcy.
The Fed's actions have made capital raises possible that would have been difficult without the extreme intervention. But a company can only go back to the capital markets well so many times. Companies that don't see a V-shaped recovery in their own profits will inevitably file for bankruptcy in the coming months.

The 'COVID-19 cliff' is coming for many borrowers…
As the New York Times reported last week…
Robert J. Keach, a director of the American College of Bankruptcy, said many companies had so far managed to put off bankruptcy by amassing cash and conserving it as best they can: drawing down existing credit lines, furloughing workers, delaying projects and taking advantage of federal and state pandemic-relief programs.

But when those programs expire, the companies will start burning through their cash. That's when bankruptcy filings are likely to soar and stay elevated, Mr. Keach said.

Expect "a COVID-19 cliff" in the next 30 to 60 days, he said.
One factor driving a possible increase in bankruptcies is the exhaustion of resources from the Paycheck Protection Program ("PPP"). While we may see a third round of PPP funding – something National Economic Council Director Larry Kudlow acknowledged might be necessary back in May – it's far from guaranteed.
Senate Republicans have shown signs of beginning to care about the national debt again and are tightening the purse strings. Several banks, including Goldman Sachs (GS), have expressed doubt that a third round of PPP will happen.
Airlines will need to see a sharp uptick in air travel to stay financially solvent once their PPP runs out this fall. While year-over-year passenger declines have improved from down 90%-plus to down around 80%, that's not enough to offset the need for more government aid to avoid bankruptcy or massive layoffs once the current PPP programs run out in the fall.
In fact, PPP participation may be causing companies that have settled on a bankruptcy strategy to delay filing. According to the Times…
Companies that received loans under the federal Paycheck Protection Program may be waiting to file, said Mr. Keach, who practices bankruptcy law with the firm of Bernstein Shur in Portland, Maine. The loans can be converted to grants if the companies meet certain requirements, and if the borrowers can put off bankruptcy until they're sure they won't have to pay the money back, they will have more cash when they file.

Overwhelmed bankruptcy courts could hurt bankruptcy outcomes…
Most medium and large companies in financial distress file for Chapter 11, which provides protection while the company restructures operationally and financially. Companies in Chapter 11 have an expanded ability to lay off workers, reject leases, exit contracts, and otherwise right-size their future obligations. While they fix their business, they renegotiate their debt and get creditors to accept haircuts on bond payments, roll into new debt, or roll debt into equity.
Few sizable companies opt immediately to file Chapter 7, a liquidating bankruptcy in which assets are sold to the highest bidder and proceeds are turned over to creditors.
Some observers are concerned the bankruptcy courts could end up overwhelmed and not be able to process all the cases that come up at once. Delays in obtaining hearings risk turning what should be Chapter 11 restructurings into Chapter 7 liquidations. As the Times explained…
Without reform in the system, "we anticipate that a significant fraction of viable small businesses will be forced to liquidate, causing high and irreversible economic losses," a group of academics said in a letter to Congress in May. "Workers will lose jobs even in otherwise viable businesses… Tight deadlines may lead to overly optimistic restructuring plans and subsequent refilings that will congest courts and delay future recoveries."
To avoid liquidating otherwise salvageable businesses and save jobs, the academic group recommends that bankruptcy courts increase capacity now by recalling retired judges and hiring more clerks.
Liquidations also cause more collateral damage to the economy than reorganizations, which is another reason to minimize Chapter 7s. The Times offered the example of a mall anchor department store that is forced to liquidate, hurting traffic to neighboring tenants.
Healthy businesses can suffer if a supplier of a key component liquidates and their supply chain breaks down. The liquidation of a key customer can also damage otherwise healthy businesses. These kinds of supply chain contagions need to be avoided for the health of the greater economy.

Things look similar across the pond…
Over in Europe, the global film industry shutdown took its first major casualty this week, and it wasn't a movie theater.
French multimedia firm Technicolor, which was founded back in the 1800s, filed for bankruptcy this week. While the company's DVD manufacturing division had been an albatross for years as streaming views displaced physical media, the pandemic pushed it over the edge. The company provides many post-production services such as special effects for movies, so the stoppage of filming dried up revenues at otherwise healthy business units.
As in the U.S., European bankruptcies this year have been concentrated in businesses that were having trouble before the pandemic. Lots of bankruptcies have occurred in the European retail sector, including German department store Karstadt Kaufhof and troubled clothing retailers in France (Orchestra Prémaman) and the U.K. (Laura Ashley).
European airlines have also needed substantial government support to survive. French and Dutch taxpayers are providing a €10 billion rescue package to Air France-KLM.
Germany has offered a €10 billion rescue package to keep Lufthansa afloat, but unlike the U.S., it's playing hardball and demanding a 20% stake in the airline and two board seats in return for the rescue money. Lufthansa's aid package was negotiated last week but is far from a done deal, as it must gain shareholder approval and the largest shareholder, billionaire Heinz Hermann Thiele, is threatening to torpedo the deal and send the carrier to bankruptcy over the government's stake.

Europe has aggressively provided aid to companies that COVID-19 has impaired…
Last month, The Economist declared "a wave of bankruptcies is coming in Europe." As it reported…
"No healthy company should go bankrupt because of corona," promised Peter Altmaier, Germany's economy minister, in mid-March when he announced extended credit lines, liquidity guarantees and grants for German businesses amounting to €750bn ($807bn).

At the end of March, the German government suspended insolvent firms' obligation to file for bankruptcy until the end of September (and perhaps until March 2021) – provided they can prove their troubles were caused by covid-19. France, Spain, and other European countries have introduced similar exemptions.
Like PPP in the U.S., these emergency measures will ultimately expire. While the governments might come up with new methods of corporate aid to replace expiring ones, companies will eventually need to stand on their own.
With economic activity levels where they are now, a wide swath of companies in the U.S. and Europe will either need more government aid or a sharp, V-shaped recovery to avoid bankruptcy.
Here in the U.S., COVID-19 surges in many Sun Belt states could turn what looked like a "V" into a "U," as cautious consumers slowly return to reopened businesses. In Texas – the second-largest state by population and GDP – the governor reversed course and started telling people to stay home yesterday.
With a record number of companies teetering on the edge of a COVID-induced bankruptcy cliff, many governments' willingness to provide more corporate welfare will be tested.

One final note…
It's your last chance to sign up for my colleague Dr. Steve Sjuggerud's real estate webinar tonight. If you're nervous about the markets and are looking to put your money to work elsewhere – or if you're simply interested in learning more about the real estate market – I encourage you to tune in. I know I will. If you haven't done so already, you can reserve your seat right here.

In today's mailbag, reactions to yesterday's issue on senior housing and more on AT&T…
Do you think the U.S. government should provide another round of support if needed to the airlines? Should taxpayers get an equity stake in return for providing money to corporations, like Germany is demanding from Lufthansa? Send your thoughts to [email protected].

"I am a boomer. In 2019 I spent nearly four months in two different facilities while I rehabbed from two surgeries and the loss of the use of my left arm. While the staff was pretty good in one it was horrible in the other. While generally outgoing I never once ate in the communal dining room.
"I did not want to become comfortable being there so I ate alone, knowing that I desperately wanted to go home as soon as I possibly could. I can't imagine what it would be like to know you'll never go home and lose all socialization. Tough!" – Ron P.

"At 62 I hope I'm at least 20 years away from needing senior housing, I have to think they will have this type of issue figured out by then and my risk will not be that much greater than it would be to live in my own home. I love arts and crafts and having someone else cook so I'm still gonna go." – Cindy R.

"Hi Berna, I hope you are doing well back in NJ. I'm from Passaic County myself, but I haven't lived there since 2003. I've really been enjoying the daily emails. Personally, I enjoy the big picture emails like your writing about the CLOs and Monday's write-up about the two huge commercial real estate projects. I'm always trying to learn about new vantage points or lesser known topics/things that can cause cracks on the back of the system.
"As far as AT&T, my wife and I used them from 2005 until 2016. After they acquired DirectTV (which we had at the time), customers with more than one service (cell service, DirectTV, U-Verse) were supposed to get an extra discount on their bill if they combined bills. Never happened, so after six months of trying to get them to honor their deal, I cancelled DirectTV and we switched to Google Fi for cellular service.
"You're not limited to the 'Big 3' for cell service. Yes, we will all use the backbone of their services, but if you don't use a lot of data, which we don't, you can drastically save on your cell phone bill. Since we usually use less than 1GB per month of data, we usually pay less than $55 per month for two phones with Google Fi. And for people willing to not use the latest, greatest, and most expensive smartphones, Google also has some much cheaper options for phones as well. We got Moto X4 phones for $150 each in 2018.
"Along differently lines, I think Alphabet (Google) will come in and buy up worthwhile scraps of AT&T if it goes bankrupt. I was waiting for Alphabet to buy up the parts of Sprint if they went bankrupt without the T-Mobile merger." – Anthony S.
Regards,
Berna Barshay
June 24, 2020