1) I've been calling video game retailer GameStop (GME) "GameStink" because its stock was the trigger for the Reddit-fueled meme stock craze and became (and remains) absurdly overvalued.
That said, what Ryan Cohen – the 36-year-old billionaire co-founder and former CEO of online pet retailer Chewy (CHWY) – did to become chairman of GameStop, which had been declining into oblivion, and change its trajectory is truly remarkable. Here's a Wall Street Journal story about it: GameStop's Power Player: How Outsider Ryan Cohen Wrested Control. Excerpt:
It took just a few months for a 36-year-old entrepreneur to take over America's most talked-about company – and make $1 billion for himself in the process.

Ryan Cohen rose to become chairman of GameStop with the verve of an old-school corporate raider. Wielding little more than a minority stake and a sharp tongue, Mr. Cohen pushed out GameStop's executive team and installed longtime associates on the company's board. The tactics made the co-founder of online pet store Chewy a favorite of the individual investors who sent GameStop's stock on a roller coaster this year; they call him "Papa Cohen."

If Mr. Cohen has made winning look easy thus far, it is far from clear what comes next. From his perch as chairman, he has to revamp GameStop's business, if only to justify the stock's remarkable run. The stock closed Wednesday around $159 per share, up more than eightfold this year, but far below the high of $483 it touched in January. The company has reported annual losses for three consecutive years.

Save for pledging to increase digital sales, Mr. Cohen is vague on his long-term vision for the company, which mostly sells videogames and related products at its roughly 4,700 stores world-wide. At a June shareholder meeting, he deflected specific questions, saying he was wary of providing hints to competitors.

"We know some people want us to lay out a whole detailed plan," he said in a live video appearance at the meeting, "but that's not going to happen."

Mr. Cohen's swift accumulation of power at GameStop, orchestrated from his Florida beachfront apartment located halfway across the country from company headquarters, was the result of a series of previously unreported moves, people familiar with the matter said. Fueled in part by his popularity on social media, Mr. Cohen injected himself into company decision making, all but supplanting the CEO. Board members and executives who were deemed too slow to transform the company didn't last long.

Mr. Cohen's takeover of GameStop is "the most audacious thing I've ever seen," said Wedbush Securities analyst Michael Pachter. "How does a 12% shareholder take control of a company?"
2) I wouldn't read too much into this – adjusted earnings before interest, taxes, depreciation, and amortization ("EBITDA") can be a legitimate metric – but this tweet is nevertheless interesting food for thought: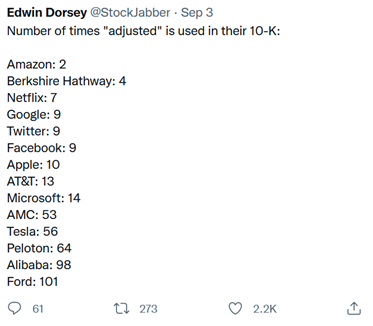 3) As someone who has dealt with a fair number of online trolls for more than two decades, I read this study with interest: Online Trolls Actually Just A**holes All the Time, Study Finds.
I have to admit that I'm surprised by the findings – I had always assumed that the anonymous and impersonal nature of the Internet turned otherwise reasonable people into raging a**holes, but apparently that's just the way they are! Excerpt:
Data pointed to online interactions largely mirroring offline behavior, with people predisposed to aggressive, status-seeking behavior just as unpleasant in person as behind a veil of online anonymity, and choosing to be jerks as part of a deliberate strategy rather than as a consequence of the format involved.
4) My weekend-long tennis binge at the U.S. Open with my parents and cousin's husband ended last night. Here's a picture of us: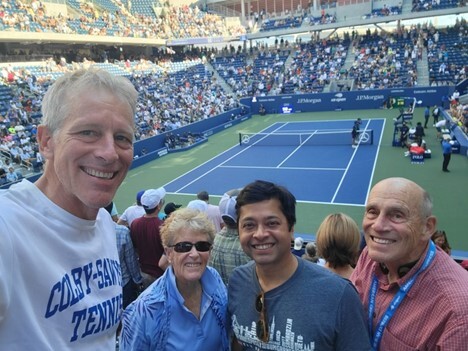 We saw some amazing matches, especially those involving incredible young, up-and-coming players like Coco Gauff, Leylah Fernandez (playing this afternoon), Carlos Alcaraz, Felix Auger-Aliassime (playing Alcaraz tonight for a spot in the semis), Jenson Brooksby, Jannik Sinner, and Frances Tiafoe.
Here's an insider tip (that also works elsewhere): during my six days there, I never once sat in my assigned seat. Instead, I bought the cheapest ticket and then sat in the best open seat I could find. This doesn't work so well in the second week when the stadiums are full and every seat is taken, but worked brilliantly in the first week!
Best regards,
Whitney
P.S. I welcome your feedback at [email protected].