1) The stock of video-game retailer GameStop (GME) has gone from insane to surreal, soaring 93% yesterday – and then another 48% in after-hours trading thanks to this tweet by Tesla (TSLA) CEO Elon Musk: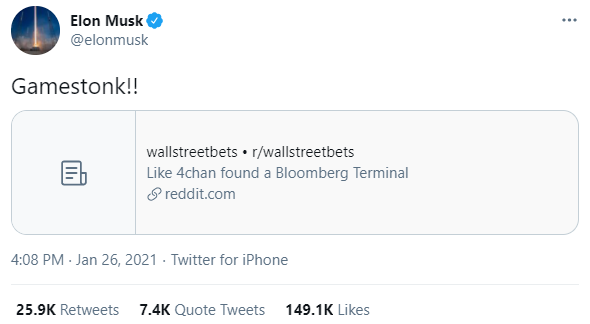 There's no doubt that GameStop's stock is wildly overvalued and will crash – I stand by my prediction in yesterday's e-mail that, from Friday's high, "it will be down by two-thirds within a month (less than $53.27 per share) and 90% within a year (less than $15.98 per share)" – but in the next few days (or maybe even weeks), it could trade anywhere.
That's why I would never short it. As economist John Maynard Keynes once said, "the markets can remain irrational longer than you can remain solvent" – a lesson many short-sellers are learning the hard way right now... (Short-sellers have lost $91 billion so far this year, according to this article.)
2) Speculative foolishness is spreading, as this MarketWatch article highlights: It isn't just GameStop: Here are some of the other heavily shorted stocks shooting higher. Excerpt:
The dynamic that has seemingly contributed to a short squeeze in the stock of videogame retailer GameStop also appears to be affecting shares in a host of other heavily shorted companies.

AMC Entertainment Holdings (AMC), BlackBerry (BB), and retailer Express (EXPR) have all experienced sharp moves without any apparent news to act as a driver while facing a large amount of bets against them...

Other stocks seemingly swept up in the craze:

Bed Bath & Beyond (BBBY) saw its stock climb as much as 50% on Monday, bumping its year-to-date gains to 96%. The gains came even after the retailer's third-quarter earnings released earlier this month fell far short of expectations.
Headphone maker Koss (KOSS) was up 55% on Tuesday, bringing its year-to-date gains to 173%.
To this list, I'd add National Beverage (FIZZ), Ligand Pharmaceuticals (LGND), Nikola (NKLA), Workhorse (WKHS), Nano-X Imaging (NNOX), Overstock (OSTK), iRobot (IRBT), Tilray (TLRY), The Children's Place (PLCE), Macy's (M), Macerich (MAC), Signet Jewelers (SIG), 3D Systems (DDD), GSX Techedu (GSX), Hertz (HTZGQ), Eastman Kodak (KODK), Plug Power (PLUG), FuelCell Energy (FCEL), and Ballard Power Systems (BLDP).
I think these 25 stocks (including GameStop) are highly likely to underperform going forward. In fact, I'll stick my neck out even further and say that I think today will be the top. They remind me of the eight "bankruptcy bubble" stocks I named in my June 9, 2020 e-mail, which collapsed by an average of 74% in the subsequent five weeks (see the performance table in my July 17 e-mail).
I've created an Excel spreadsheet to track what I'm calling my "Short Squeeze Bubble Basket" and will periodically update you on its performance (using today's closing prices).
3) There are so many lessons here. The most important is that most investors should simply avoid shorting altogether. But if you insist on doing it, avoid battleground stocks and those with a high short interest.
While not as exciting, it's better to short boring melting ice cubes like IBM (IBM), which I discussed in Monday's e-mail. Also, unlike on the long side, it's critical to use stop losses when shorting.
Here are further thoughts from my forthcoming book, The Rise and Fall of Kase Capital:
Avoid shorting, but respect short-sellers

During my nearly two decades of managing money, my primary focus was on buying and holding undervalued stocks. But I also shorted hundreds of stocks over the years.

Shorting is a brutally difficult endeavor. Overall, I lost a lot of money doing it. So my advice to nearly all investors is simple: Don't do it! It's too hard and too risky.

That said, you'd be well-served to learn about what short-sellers look for. It will help you avoid value traps.

To survive, short-sellers have to be very smart and do outstanding in-depth research – far more so than traditional long-only investors. Thus, if you're considering buying a stock with a high short interest, stop and do even more research.

Here's a good rule of thumb: Any time you plan to go long a stock with a short interest of more than 5% of the shares outstanding, watch out. It means that a lot of sharp investors are betting against you, and you need to figure out what they're seeing.

Sometimes, the short thesis is obvious, as more and more short-sellers are putting their work out there publicly by releasing reports, publishing articles, and speaking at conferences. Other times, you have to do some digging. The vast majority of short- sellers never reveal what they're doing or why.

Though I'm cautious of companies with a high short interest, there are occasional exceptions. In fact, some of my best long ideas have come from stocks that are popular among the shorts because it reflects extreme negativity toward a stock.

I'd urge you to have tremendous respect for short-sellers. Any who have survived this more than decade-long bull market have had to have been good. They've been swimming upstream against a powerful current for the past decade!
4) Here's a funny video from 2014 that's just as true today: Buy the Dip.
Best regards,
Whitney