1) Here's a recent article in the New York Times about the crash in the Canadian cannabis sector: From Canada's Legal High, a Business Letdown. Excerpt:
When Canada became the first major industrialized nation to legalize recreational marijuana, visions of billions of dollars in profits inspired growers, retailers and investors, sending the stock market soaring in a so-called green rush.

A year later, the euphoria has vanished.

"No one wants to invest in it now," said John-Kurt Pliniussen, a professor of marketing at the Smith School of Business at Queen's University in Kingston, Ontario.

That is because those who have invested have generally lost money. During the first year after legalization, the value of shares in Canada's six largest marijuana companies tumbled by an average of 56%, according to stock price data.

The marijuana companies say a turnaround is only a matter of time, hoping a big step along the way will come on Dec. 16, when marijuana-laced drinks and foods will arrive in the legal market.

But the problems that plagued the first year remain.
2) I nailed the exact top in September 2018 (click here and here), as you can see in this chart of the ETFMG Alternative Harvest Fund (MJ), which tracks the sector...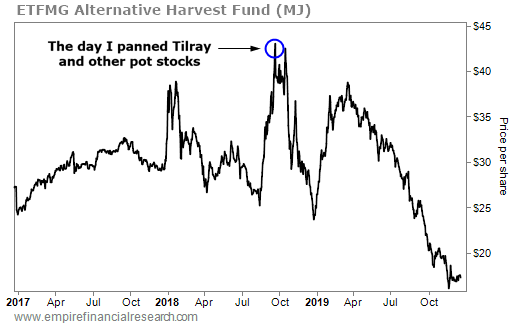 However, unlike bitcoin and other cryptocurrencies – which are nothing but a techno-libertarian pump-and-dump scheme, so there is no price at which I would recommend them – the cannabis sector is very real and will grow enormously from here. Thus, my instinct is that investment opportunities are beginning to emerge in the sector.
To separate the legitimate stock ideas from the riffraff, I turned to my friend at Stansberry Research, Tom Carroll, who writes the Cannabis Capitalist newsletter.
Regular Empire Financial Daily readers will recognize Tom's name. He spent nearly two decades as an analyst and managing director at Legg Mason and Stifel Financial. His background as both an award-winning stock-picker and his profound knowledge of the health care market make him well-qualified to analyze the cannabis industry and find undiscovered gems.
I asked Tom for an update on the sector yesterday, and he gave me permission to share the following thoughts:
We remain on the sidelines relative to the Canadian stocks. Their numbers are still abysmal and traditional valuation multiples can't be calculated (other than price to sales) because of losses and restatements. However, given the hammering the stocks have taken, we are starting to sniff around. The one name I am warming to is OrganiGram (OGI). I haven't recommended it yet, but it looks interesting.

As of yesterday, Canadian cannabis companies could legally begin selling vapes, edibles, beverages, etc. Most aren't ready yet, but in the first quarter of 2020 these sales may support the stocks – or add more complexity and problems! But the market is evolving...

I'm more constructive on the U.S. cannabis sector because there are a number of positive developments:

In September, the House passed the SAFE Banking Act in a landslide (321-103).
The House Judiciary Committee in late November passed the MORE Act to decriminalize marijuana at the federal level, and is now on its way to the floor for a vote.
The Federal Reserve recently told the banking industry that hemp businesses no longer require special treatment.
In 2020, at least eight more states will look to legalize cannabis either via the legislature or at the ballot box. Each of these has better than a 50/50 chance. Another 10 states are on deck, but probably need another year or so to create law. 

In summary, by the end of next year roughly 40 states will likely have some form of legal cannabis – medical or recreational – and all will have decriminalized its possession. At some point, probably soon, the Fed will get on board. When that happens, these stocks will rip.

Lastly, I suspect that the wash-sale rule and January effect are in full swing for the cannabis sector. Given that almost everyone is underwater on their investments in this sector, there's likely a lot of heavy selling to capture tax losses, which is pressuring stocks this month. But, people – especially individuals – want to own these things so they will buy back in January. We saw this last year. The end of December marked the bottom and the start of buying. Given the progress we've seen, these stocks could push higher next month purely due to market mechanics.
Thank you, Tom! If you're interested in learning more about and subscribing to his Cannabis Capitalist newsletter – which is the only resource I'd recommend if you're interested in learning more about potential cannabis investments – click here.
3) This cracked me up. What could this guy have been thinking? He didn't even try to hide it! A Startup Fired Its CEO for Expensing $76,120 at Strip Clubs. Excerpt:
Scott Lang, the new chief executive officer of Turvo Inc., wants to emphasize an important corporate policy at his startup: Employees may not entertain clients at strip clubs and certainly not bill those trips to the business. The rule is salient because his predecessor was fired for doing just that.

The board accused the co-founder, Eric Gilmore, of expensing $76,120 at strip clubs over a three-year span and removed him as CEO in May, according to legal filings. Gilmore, 39, didn't deny the accusations, but he sued the company, claiming the board didn't follow the proper protocol for his termination. Turvo said it did, and they settled in September. Gilmore declined to comment through a spokesman...  

The stripper-related expenses spanned most of the company's life, and Gilmore made no attempt to conceal them. Strip clubs represented more than half of the $125,000 in entertainment charges initially flagged by the CFO.

At a hastily called meeting in May after the board learned of the expenses, directors from Mubadala and venture capital firms Felicis Ventures and Activant Capital told Gilmore he was out.
4) Following up on yesterday's e-mail about the 12 questions to ask before you marry someone, here's question No. 1:
Is he or she a warm, kind, and good-hearted person, both toward you and others? Does he or she have a mean bone in her body? How does he or she treat people like employees, waiters, and taxi drivers? Do children and dogs like him or her?
This is so important – and it's so easy to be fooled, because of course the person you're dating is going to be on their best behavior around you. That's why it's critical to watch how they treat others, especially those beneath them. And children and dogs are often much better judges of character than you are!
Best regards,
Whitney