1) I'm flying to Omaha, Nebraska this afternoon to attend my 22nd consecutive Berkshire Hathaway annual meeting. I'm attending two parties this evening, speaking at three events tomorrow, hosting three of my own events tomorrow evening and Saturday, am being interviewed by Yahoo Finance (which is livecasting the entire meeting) midday on Saturday, and am running in the 5K race on Sunday morning. Phew! (As my wife would say: my perfect weekend!)
Here are some pictures from last year's meeting: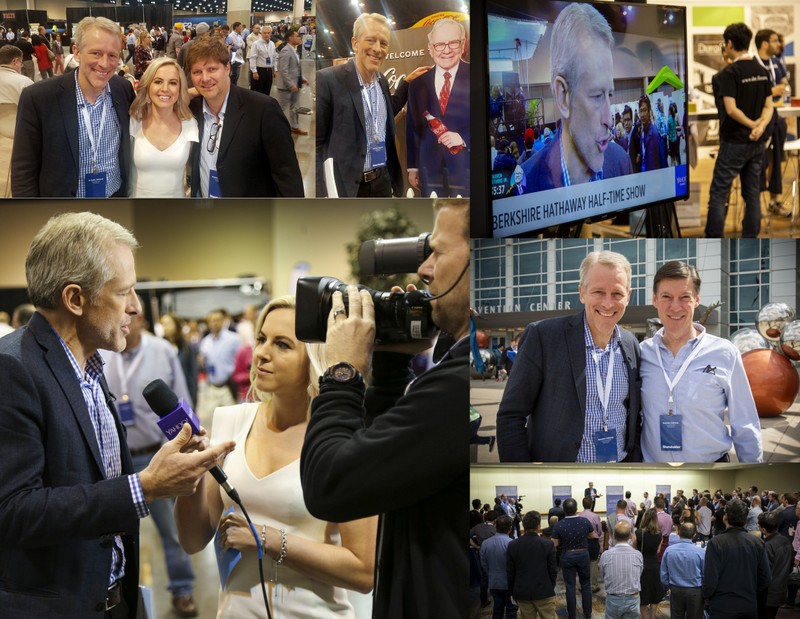 2) The big news today is that Tesla (TSLA) has filed to raise between $2 billion and $2.3 billion, consisting of $1.35 billion to $1.55 billion in five-year convertible senior notes (debt with a low interest rate of 1.5%-2% that can be converted to stock if the share price rises roughly 30%), plus $650 million to $750 million of common stock.
It is likely that the deal will get done because the lead banks ("joint bookrunners") behind the offering are blue-chip firms Goldman Sachs, Citigroup, Morgan Stanley, Bank of America Merrill Lynch, and Deutsche Bank.
Although shareholders are being meaningfully diluted, raising so much new cash is undeniably good news for Tesla as it staves off financial distress for a while, giving the company some breathing room to try to roll out new products and fix its many problems.
But for the many reasons I've outlined in previous e-mails, I don't think Tesla will be successful. As I wrote on March 4: "I think Musk has no more rabbits to pull out of his hat and therefore it's all downhill from here." Thus, I reiterate my year-end price target of $100 for the stock.
We are now more than a month into the second quarter and evidence continues to mount that demand for Tesla's cars has fallen off a cliff, which will cause the company to miss its second-quarter guidance of delivering 90,000-100,000 cars by a mile.
The latest evidence is in yesterday's EV Sales Scorecard by InsideEVs. It estimates that Tesla delivered fewer than 12,000 cars in the U.S. in April (10,050 Model 3s, 825 Model Ss, and 1,050 Model Xs). These numbers are approximately in line with the views of most of the bears. Combine this with deliveries in Europe, and it's even worse.
I am not at all surprised by this capital raise. On Monday, I wrote to one of my friends who argued that Tesla would only be able to raise money on distressed terms that would crash the stock:
I disagree. There's a TON of really stupid money out there – and Musk is a skilled showman and pathological liar... and he's desperate...

My experience is that, in a complacent market, the first round of financing in a situation like this is that some dumb money comes in on good terms for the company and the stock pops.

But then the fundamentals continue to deteriorate and the dumb money is wiped out. Only THEN is there a true distressed round that crushes the stock.

It reminds me of TPG's $7 billion investment in WaMu in the early stages of the financial crisis. It was entirely wiped out within five months in what has been called The Worst Deal in Private Equity History.
3) $2 billion is a lot of money, but if my projections are correct, Tesla will incinerate all of this capital – and then some – by the end of this year. To see the analysis behind this, I'm sharing a spreadsheet model that a friend who runs a hedge fund (and is short TSLA) sent me earlier this week – I've posted it here. I agree with his estimates.
He projects that Tesla will only deliver 71,000 cars in the second quarter, followed by 66,000 in each of the next two quarters, for a total of 266,019 for the year – far below the company's guidance of 360,000-400,000. Making many other assumptions regarding average selling price for each model, changes in working capital, etc., he concludes on line 63 that Tesla, after burning through $1.7 billion in the first quarter, will burn $700 million, $858 million, and $1.4 billion – a total of $3 billion – in the last three quarters of 2019.
If these estimates prove to be roughly correct, Tesla will need to raise money again by the end of the year. But this time, it will be much more difficult and under far more onerous terms, as the stock will have surely collapsed in the wake of missing its guidance by at least 100,000 cars (which will be sitting in inventory).
Best regards,
Whitney