1) Following up on my recent e-mails about the Wall Street Journal series, The Facebook Files, the whistleblower behind it revealed herself on Sunday night on 60 Minutes...
Her name is Frances Haugen, and she was a product manager on Facebook's (FB) Civic Integrity team. I've been watching 60 Minutes since I was a kid in the 1970s and she was one of the most impressive people I've ever seen on the show. Here are links to the main episode and some additional videos and excerpts that 60 Minutes posted:
In addition, here's a Wall Street Journal article about Haugen: The Facebook Whistleblower, Frances Haugen, Says She Wants to Fix the Company, Not Harm It. Excerpt:
The former Facebook employee who gathered documents that formed the foundation of the Wall Street Journal's Facebook Files series said she acted to help prompt change at the social-media giant, not to stir anger toward it.

Frances Haugen, a former product manager hired to help protect against election interference on Facebook, said she had grown frustrated by what she saw as the company's lack of openness about its platforms' potential for harm and unwillingness to address its flaws. She is scheduled to testify before Congress on Tuesday. She has also sought federal whistleblower protection with the Securities and Exchange Commission.

In a series of interviews, Ms. Haugen, who left the company in May after nearly two years, said that she had come into the job with high hopes of helping Facebook fix its weaknesses. She soon grew skeptical that her team could make an impact, she said. Her team had few resources, she said, and she felt the company put growth and user engagement ahead of what it knew through its own research about its platforms' ill effects.

Toward the end of her time at Facebook, Ms. Haugen said, she came to believe that people outside the company – including lawmakers and regulators – should know what she had discovered.

"If people just hate Facebook more because of what I've done, then I've failed," she said. "I believe in truth and reconciliation – we need to admit reality. The first step of that is documentation."
2) Here is an open letter I just sent to Facebook Chief Operating Officer Sheryl Sandberg, the long-time right-hand person of CEO Mark Zuckerberg:
Dear Sheryl,

I'm sure you won't remember, but we swapped a few e-mails long ago and met a couple of times via our mutual friends [name, name, and name]. I was two years ahead of you at Harvard and one year at HBS (where I was also a Baker Scholar).

I'm writing as someone who has owned (when I ran hedge funds) or recommended (in my current investment newsletter business) your stock for many years because I think Facebook is one of the two greatest businesses of all time (along with your former employer, Google).

But after watching Frances Haugen on 60 Minutes on Sunday night, I am more worried about Facebook than I've ever been. Horrified doesn't even begin to describe my feelings. Shocked, disgusted, and appalled come to mind – and this is after carefully reading the recent Wall Street Journal series, The Facebook Files, as well as numerous books and articles about the company's past scandals.

If you and Mark think that you can run the old playbook that's worked every time in the past – apologize and take a few token steps, but not really change anything – and that this will just blow over, you are sorely mistaken.

While I don't doubt that you, Mark, and pretty much everyone else at Facebook is well-intentioned and the company does much good (my family and I all love and use Facebook, Instagram, and WhatsApp every day), it's clear that you have unwittingly created a monster that is doing enormous damage to individuals, institutions, societies, and governments around the world.

If you don't rein this in yourself, then the government is going to do it for you, which is something neither you nor your shareholders will like.

In addition, you and Mark are personally at risk of becoming the next Sacklers, shunned and scorned by all.

I don't claim to have all of the answers, but here's one course of action you may not have considered: immediately reactivate the Civic Integrity team and then persuade Frances Haugen to come back to lead it. I've been watching 60 Minutes since I was a kid in the 1970s and she was one of the most impressive people I've ever seen on the show. Give her a blank check – at least ten times the budget that the team used to have. Lastly, make sure she reports directly to you and Mark and then do what she tells you.

You and Mark are on a trajectory to have legacies that rival the Sacklers – but, unlike them, you have the power to turn things around.

I hope you have the courage and wisdom to do so.

Sincerely yours,

Whitney Tilson
3) My colleague Enrique Abeyta is looking to hire a junior analyst to help him launch his upcoming newsletter, Empire Elite Crypto, later this fall.
If you geek out on cryptos and enjoy writing, we'd like to hear from you. Send us your résumé and a one-page write-up of your favorite crypto investment idea right here.
4) Susan and I flew into Barcelona yesterday morning and had a wonderful half-day seeing three things designed by the famed modernist architect, Antoni Gaudí: the Palau de la Música Catalana, the Casa Batlló, and the Park Güell (we saw his greatest masterpiece, the Sagrada Família cathedral, on our last trip here a few years ago).
I can't claim to be much of an architecture buff (to say the least), but Gaudí's work blows me away. Here are some pictures (I've posted more on Facebook here):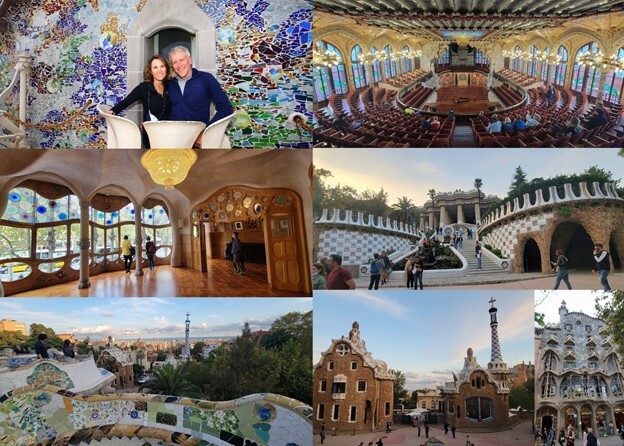 This morning, we started our six-day Backroads hiking trip in the Pyrenees and Costa Brava (details here).
Best regards,
Whitney
P.S. I welcome your feedback at [email protected].