► Grocery stores have received a windfall from the COVID-19 crisis…
Spring lockdowns forced Americans back into their kitchens. Long work hours in dual-income households, frenetic after-school schedules, an increasing number of single Americans who don't want to cook for one, and a proliferation of affordable prepared food options were all factors in the long-term trend toward less daily cooking.
According to food retail trade association Food Marketing Institute ("FMI"), 2020 was expected to be the year that food-service spending would overtake food retail expenditures.
The pandemic obviously changed the industry's trajectory. As supermarket industry news site The Shelby Report noted in June, the shift to supermarkets from eating out was so dramatic that the grocery industry saw what would have normally been eight years of growth compressed into one month.
When Kroger (KR) – the largest grocery chain in the U.S. – reported its second-quarter earnings on Friday, identical sales (or "ID sales") were up nearly 15%. ID sales is a term supermarkets use to describe same-store sales… essentially the year-over-year growth in sales (excluding fuel) for locations that were open at least 13 months.
Quarterly sales growth of 15% was extraordinary, and reflective of the fact that these are not normal times. Quarterly ID sales at Kroger had ranged between negative 0.7% and positive 2.5% in the prior four fiscal years.
Note that Kroger has an unusual fiscal calendar, and its second quarter represents the period from mid-May to mid-August. But looking at quarterly results from the second-largest U.S. grocery chain, Albertsons (ACI), shows us that sales were up even more earlier in the year during the peak of lockdowns… and have cooled down as we moved through the summer.
During its first quarter, which captures the 16 weeks from the beginning of March through June 20 – basically peak pandemic – Albertsons reported ID sales of a massive 26.5%.
Comparing Albertsons' ID sales from spring and early summer to those at Kroger from late spring through the summer tells us that things slowed down at the supermarket when people started leaving home more, but that sales are still growing at an elevated pace versus before the pandemic struck.
► How we shop for food has changed…
According to surveys conducted by FMI, 78% of consumers report making changes to their food buying habits. Last week, the New York Times dove into these behavioral changes in an article, titled "7 Ways the Pandemic Has Changed How We Shop for Food."
Three of those seven trends relate to how we shop (as opposed to what we buy when we shop). One trend – confirmed by both Kroger and Albertsons in their most recent earnings calls – is the consolidation of trips leading to larger, costlier baskets with more items getting rung up. The checkout process is changing as well, with safety concerns and social distancing leading to an accelerated adoption of self-checkout kiosks.
But the biggest trend of all in how we shop is the accelerated adoption of online grocery ordering and delivery, as well as the expansion of order online for pick-up in store or curbside.
Online food shopping is one of the hallmarks of the "low-touch economy," and something I've previously identified as a driving factor in the dramatic acceleration we've seen in the e-commerce businesses of discount retailers Walmart (WMT) and Target (TGT).
For many years, both "pure play" grocery chains like Kroger and diversified retailers like Walmart have been investing in and building infrastructure in online grocery operations. The uptake for such service offerings, however, was primarily restricted to the younger millennial generation as well as a broader age range of urban dwellers living in dense cities like New York and San Francisco, where car ownership is relatively low.
The pandemic kicked online grocery into overdrive, with Albertsons reporting 276% e-commerce growth in its first quarter and Kroger reporting digital sales up 127% in its second quarter. While these e-commerce growth rates will subside along with the pandemic, there has clearly been a stair-step adoption in online grocery.
Many people enjoy going to the grocery store to browse, hand-select produce, and look for specials. But the pandemic has likely created a new cohort of "omnichannel" shoppers, who might visit the store for immediate needs or selection of fresh goods but also use online options to fill pantries with staples and shelf-stable items.
This pick-up in online grocery has led to a land grab between the traditional grocers, Walmart, Target, Amazon (AMZN), and startup players like Instacart.
► The COVID-19 crisis also changed what we're buying…
As the Times reported…
The six-month shift has been a behavioral scientist's dream. Shoppers began by building bomb-shelter pantries. Then came a nostalgia phase, with bowls of Lucky Charms and boxes of Little Debbies offering throwback comfort. Soon, days were defined by elaborate culinary stunts, sourdough starter and kombucha clubs.
One trend the Times noted is an increased interest in locally sourced products, as consumers sought to support their regional communities. The heightened interest in local products represents an acceleration of a pre-existing trend, something so common this year.
Pre-pandemic, many consumers sought out local goods for environmental reasons. But once COVID-19 hit, shorter distances to travel to the store provided another benefit – local products were less likely to end up with broken supply chains.
This leads to another trend identified by the Times… fewer choices at the supermarket.
Broken supply chains hit meat products the most, but the surge in overall grocery sales put pressure throughout the system – both at the retailer and the factory level. As I wrote about in conjunction with Mondelez (MDLZ), the need to produce more food quickly caused many manufacturers to cut back on the variety of products they made.
When branded foods were in short supply, many consumers were prodded to try private-label brands. Growth for these brands was also spurred by the need of many households to economize in the wake of lower income.
► Another area seeing a surge in demand is frozen food…
The first wave of frozen growth was related to stockpiling, but continued strength has been driven by convenience… Sometimes, it's just easier to pull something out of the freezer than cook from scratch. According the Times…
Frozen food is another surprise breakout. Sales initially jumped by 94 percent in March from a year earlier, according to the American Frozen Food Institute. That initial rush abated, but even in August, sales remained up almost 18 percent.
Frozen-food specialist Nomad Foods (NOMD) – which sells products in Europe, where emerging trends are similar – saw growth surge 26% in the second quarter, and above-trend growth is projected to continue. This has driven its normally sleepy shares up 16% year to date…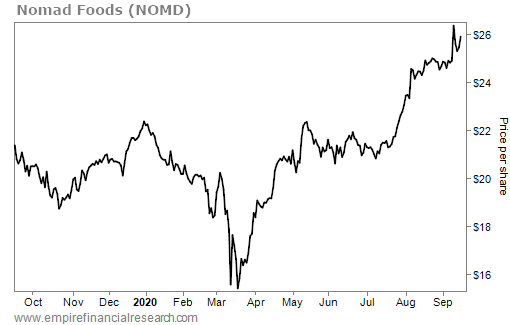 ► Two diametrically opposed food trends emerged…
There's nothing like a global health crisis to get people to reevaluate their unhealthy habits, especially when the obesity, diabetes, and other conditions correlated with an unhealthy lifestyle increase morbidity risk.
According to FMI, 36% of shoppers reported embarking on healthier eating habits after COVID-19 appeared. And the Times cited a surge in the popularity of oranges, which became a coveted produce item due to perceived immunity benefits as well as a long shelf life relative to other produce. According to the Times…
In May, grocers sold 73% more oranges than during the same month in 2019. Even into July, sales remained 52% higher than a year before.
Natural and organic products were already trending before the pandemic but saw an acceleration in the spring and summer. Kroger's natural and organic private-label brand Simple Truth was up more than 20% in the second quarter.
But at the same time, Kroger reported big gains in pasta, beer, wine, and baking supplies… hardly the terrain of healthy living. And most makers of packaged – and less healthy foods – have seen a jump in sales.
Consumers clearly have accelerated their health aspirations, but many (and sometimes the same ones) have fallen prey to comfort eating.
► How many of these changes will be permanent?
Some of these grocery trends we're seeing are merely accelerations of what was already happening (growth in private label, organics, local, self-checkout, etc.).
However, online grocery represents more of a stair-step jump in adoption… It's something that's likely to be "sticky," if food follows in the path of other e-commerce trends.
But has the no-to-low growth supermarket industry permanently become a high-flyer growth sector overnight? The odds of that are low… and we should see grocery chain growth rates normalize as overall life does.
But the pandemic may have more sustainably cured some of what has been ailing the grocers for years – a decreased appetite for meal prep.
Whether due to a rekindled passion for the culinary arts or because increased working from home necessitates more meals from the kitchen, we could see a bump to supermarket growth to the low-to-mid single digits (versus 0% to 2% prior).
As Kroger CEO Rodney McMullen explained on the company's recent earnings call…
Our data insights show customers are rediscovering their passion for cooking at home and have an aspiration to eat more healthy foods as a result of COVID. When we talk to our customers, they tell us they plan to continue to prepare and eat more meals at home.

As children return to school, many families are telling us they plan to make breakfast in the morning and prepare lunch for their children to take to school… we'll see a structural shift from food consumed away from home to food consumed at home.
Last week, Albertsons CEO Vivek Sankaran echoed these thoughts in his comments at the Goldman Sachs Retailing Conference…
When you work from home, your breakfast and lunches come home. Both are two big meals that were always eaten – more often eaten on-the-go. On-the-go was always the mantra for several years. And a lot of that is – some of that's going to come home.
While we shouldn't expect double-digit top-line growth to continue, I'm convinced the grocery business – which has been secularly challenged for years – should have improved prospects going forward.
► In today's mailbag, a reader reacts to my Redbubble (RBL.AX) analysis, and a couple more opinions on going to the movies…
How have your grocery consumption habits changed this year? Are you eating more healthy foods, more comfort foods, cooking more, or making different types of meals versus pre-pandemic? Do you order groceries online for delivery or curbside pick-up, and if so, were you doing this prior to March? Are you shopping from different food retailers than before? Share your thoughts in an e-mail to [email protected].
► "Berna, Great report on RBL. Wondering how you came to EBITDA in a few years. Currently the monthly EBITDA is running at about $8 million. Seems that RBL on a run rate basis is near that now and could do well over that $100 number next year, on expanding margins. Is there something in your analysis that leads to the lower current run rate?" – Pat C.
Berna comment: As opposed to annualizing the most recent month or quarter – which likely has some one-time pandemic-driven benefits – I instead applied what I think is a conservative but achievable earnings before interest, taxes, depreciation, and amortization ("EBITDA") margin to the revenue I thought Redbubble could have in a few years.
Three years of 30% annual marketplace growth gets you to around AU$770 million of revenue. A 13% EBITDA margin on that gets you to $100 million in EBITDA. Redbubble had an 8% EBITDA margin in the fourth (June) quarter, up from 2% in the prior year. The company also had 73% marketplace growth in the fourth quarter… I'm not betting on that pace continuing (although it's possible that the accelerated e-commerce migration from the pandemic could propel Redbubble to grow much faster than that 30% historical rate).
My "guesstimate" of $100 million in a few years was admittedly a back-of-the-envelope projection. I don't have time to build full models for stocks I recommend in Empire Financial Daily (we construct full models at Empire for recommendations in our paid products, which are published monthly as opposed to daily). I think my rough estimate is directionally right but conservative… if the company's EBITDA goes higher, so will its stock.
Given the current enterprise value ("EV") of AU$1.1 billion, AU$100 million in EBITDA is enough to justify a double in the stock from here. The stock would be roughly a double at 20 times EBITDA of AU$100 million – just two-thirds the EV-to-EBITDA multiple that peer Etsy (ETSY) trades at on this year's estimates.
Australian analysts see Redbubble producing around AU$50 million in EBITDA on approximately AU$430 million in marketplace revenue in the year ending June 2021. This implies about an 11.5% EBITDA margin this coming year.
There's definitely a scenario where numbers come in higher and Redbubble triples or quadruples, as opposed to "only" doubling.
► "I am not the least bit interested in new movies and surprised that anyone would be!" – Peter A.
► "I am a James Bond fan and I'm looking forward to its release whenever and however it comes to me. I have waited 5 years for the newest installment of 'Bond… James Bond!'" – Charles B.
Regards,
Berna Barshay
September 16, 2020