You've probably heard that a lot of retailers have been caught with too much inventory...
After almost two years of shortages and stockouts, retailers suddenly find themselves with too much product. It's an ironic place to be when just last fall, we were repeatedly warned to shop early or risk being shut out entirely for the holidays.
Investors in retail stocks have long compared the change in sales to the change in inventory as a gauge of retailer health. If sales growth exceeds inventory growth, a retailer is probably in good shape. But when inventory growth meaningfully exceeds sales growth, the risk of discounting – and with that, lower product margins and earnings – looms.
Well, the first quarter was like a series of red alarms going off for inventory growth exceeding sale growth. Take a look at this chart from the Wall Street Journal...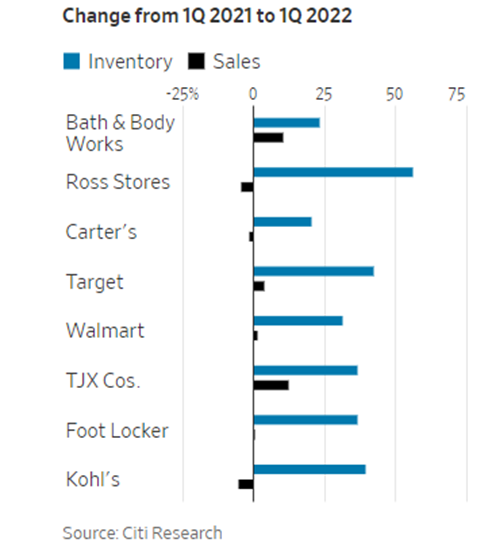 Source: Wall Street Journal
There are a bunch of reasons that looking at change from April 2021 to April 2022 might give you some false reads on an individual company basis...
First, some retailers were operating with dangerously low inventory levels a year ago – putting them at risk of missing sales and alienating their most loyal customers. So some retailers could indeed be playing catch-up. Others see continued rocky supply chain waters ahead, and are trying to bring goods in earlier and run with higher inventory. And inventory at some retailers tends to be more evergreen than at others – there's less fashion or seasonality risk to it.

All those caveats aside, there's no doubt that retailers are running with too much inventory...
And in some cases, the double whammy of not only too much – but too much of the wrong stuff.
Coming out of the pandemic, consumer demand is shifting. As Macy's (M) noted when it reported first-quarter results, consumers are suddenly choosing more dressy clothes for work or parties... which leaves the department store chain too heavy in athleisure and home goods – these were stars during the pandemic but are seeing demand drop rapidly now.
These big jumps in inventory come at a time when the consumer is shifting spending from buying things to buying experiences – the pent-up demand for air travel, concerts, and other out-of-home adventures is large.
Inflation in food and fuel is also taking a bite out of budgets for discretionary purchases... And many economists fear that a potential recession could lead to further demand destruction, just as the shelves are finally filling up (or overfilling!).
Because of the tight inventory environment, 2021 saw the lowest levels of retail discounting in years. Now, retailers are facing the prospects of a more promotionally competitive environment. This is great news if you want to go shopping for clothing, footwear, or home goods later this summer... but it's been bad news for owners of retailer stocks.
Retail, as measured by the SPDR S&P Retail Fund (XRT) is the worst performing sector this year, down 32% year to date – even worse than tech, as measured by the Technology Select Sector SPDR Fund (XLK). Take a look...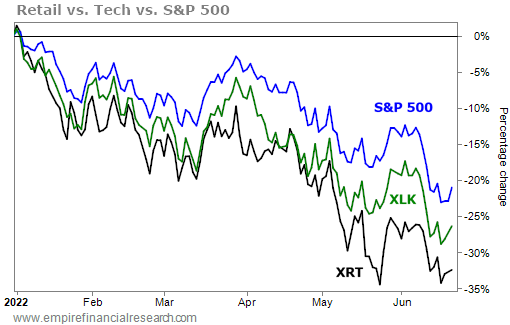 It has been the hardest operating environment for retail planners and buyers in the 24 years I have been following this. Between the supply chain clogs – which are still there, rapidly shifting consumer preferences, inflation, a hazy economic outlook, and consumers shifting their purchase timing... it's easy to get tripped up.
So while it is tempting to cast stones at planners for not doing better, and the stocks have been terrible, I think there are incredible bargains to be had not only at the mall later this summer... but right now in the stock market.
Many quality retailers have seen their stocks cut in half from the 2021 highs. Some even trade at a mid-single digit price-to-earnings (P/E) ratio... Their earnings could halve, and their P/E ratios would still be two-thirds of the S&P 500 Index's. I have a few of these stocks in the model portfolio in my Empire Market Insider service.
Retailers are also early cyclicals, so they tend to lead the market down but hit their trough before the market does. These retailer stocks will likely bottom before their financial results do.
That doesn't mean every retailer that's down a lot is a buy... definitely not. Many are going to see their earnings plunge in a tougher macro and competitive environment. The sector is however a good place to go digging for value, but you have to be discerning.

In a moment of 'no good deed goes unpunished,' Gap's (GPS) Old Navy chain is finding itself grappling with particularly acute – and self-inflicted – inventory issues...
Last summer, Old Navy launched a big campaign around inclusive sizing with much hoopla. The chain began offering all women's clothing in sizes from 0 to 30 and XS to 4X. Before the change, most items probably stopped at around size 16 or 18, or an XL or XXL.
Not only did Old Navy change the merchandise range, but it also changed the merchandising – the petite and plus-size departments were scrapped, and all the sizing was mixed together in one area in stores and online, supported in stores by mannequins of all shapes and sizes.
Online, many items were photographed on three different models – typically a size 4 (traditional model size), a size 12 (traditional "plus model" size but not an actual plus size), and a size 18 (true plus size).
At the time, the effort was lauded by Gap CEO Sonia Syngal...
This is the largest integrated launch in the brand's history and an important growth driver for the business for years to come.
But what happened fell far short of expectations...
Old Navy same-store sales dropped 9% in the third quarter of last year and were flat in the fourth quarter. When it delivered first-quarter results in late May, Old Navy dropped the bomb that comparable store sales were down a whopping 22% from the prior year. Among the top culprits was "size and assortment imbalances."
The translation on that is Old Navy ended up with a lot of unsold merchandise in very large and very small sizes but sold out quickly in the middle – the most common – sizes. Old Navy missed sales as frustrated shoppers found the racks bare of what they were looking for.

The extended size business has always been a difficult one...
It has been a lifelong frustration for me that so few companies make clothes for short women... Somehow, when the average American woman is 5'4'' and I am 5'2'', I still end up having to shorten my pants by 6 inches with great frequency.
And for at least a decade, I have found it a great mystery why companies have failed to make money manufacturing plus sizes.
The average American woman is a size 18, and according to 2016 National Center for Health Statistics data, weighs 171 pounds. That's up from 164 pounds in 2000... and it's probably up now from that 2016 level. That's the data that Old Navy was looking at that made it go into the extended size business in the first place. Contrary to popular opinion, this wasn't on a whim of wokeness – Gap is very much a for-profit business... or at least most years it is!
One obvious explanation for how Old Navy botched this so badly is lack of data. It had been selling the lower end of the extended sizes for a long time but had generally carried them more online than in store. And it probably had very limited data on sizes 20 and up.
There must have been a lot of guesswork driving those initial orders, whereas inventory planning and allocation has become a very exact, data-driven process at the larger retailers and e-tailers.
Size optimization programs use past purchasing patterns not only to determine how much of various sizes to initially order, but the better retailers will even switch up their size assortments on a store-by-store basis... sending more small sizes to stores in places like Los Angeles and New York, where the average woman is smaller. The nimblest and most data-savvy retailers might even vary size assortments by neighborhood in large cities, to account for variations.
But Old Navy didn't have the data to power its initial buys nor its store allocations. It bought too much of the very big and the very small sizes, and a clogged supply chain didn't offer much room for course correction. Many retailers have bemoaned the inability to chase fashion trends with reorders in the last year... In Old Navy's case, it couldn't chase the demand for product in sizes 4 through 10.
Old Navy is far from the first retailer to stumble on getting extended sizes right. Other challenges to making money in the business include the greater materials cost on larger sizes and the design intricacy – proportions change as people get bigger, so just "adding 2 inches everywhere" doesn't really work.
It's an interesting disconnect that a growing total addressable market ("TAM") for larger sizes hasn't translated into bottom line results for any retailer yet... although some company is eventually going to crack the formula here and make a lot of money. As an aside, it has been equally problematic in the men's big and tall business as it has been in women's clothes.

The problems at Old Navy have dragged down the shares of parent company Gap...
Old Navy isn't only the largest chain in the Gap family, but it's also the one that has kept the ship afloat as the two next biggest divisions – flagship Gap and Banana Republic – have been in decline, both putting up negative same-store sales for four of the five years preceding the pandemic. Gap's Athleta – an athleisure chain – has been a consistent grower, but it remains the smallest chain, making up less than 10% of corporate revenues.
In 2021, even with Old Navy already stumbling, the chain accounted for around 80% of corporate-level profits. Old Navy's status as the shining star of Gap was underscored by the 2019 announcement that it would be spun off to unleash shareholder value, a plan that was later scrapped in 2020 because of operational complications.
I've been a bear on GPS shares for two years... and I was early. Back on June 29, 2020, I asked in Empire Financial Daily if hip-hop artist, producer, and designer Kanye West could save the Gap... and concluded that he could not.
Since then, the rising tide for all retail stocks during the pandemic lifted GPS shares. The pandemic saw fervent spending of stimulus checks online followed by an in-store surge during the reopening. Retailer stocks followed suit, with their moment in the sun extended by the lack of discounting last summer, fall, and holiday due to inventory shortages.
I was early – and therefore wrong – on my negative call on GPS shares. They went on to nearly triple in a year, before losing about 75% in the next year due to Old Navy's stumbles, the sector falling out of favor, and concerns about the discounting ahead...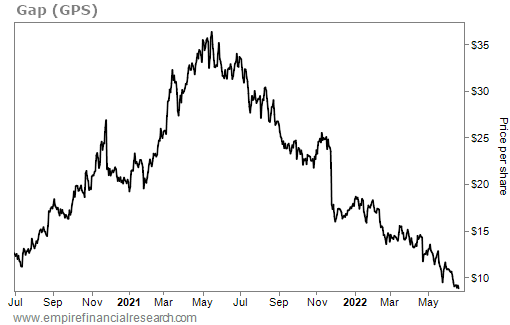 GPS shares are now down 30% since I wrote that "the company's stock is far from a layup." The S&P 500 is up 24% over the same time frame.
I whiffed the trade, but the analysis was right. Kanye hasn't saved the Gap... Sales were down 11% year over year in the first quarter. And the parent company lowered earnings-per-share ("EPS") guidance to $0.30 to $0.60 in May, after issuing EPS guidance of $1.85 to $2.05 just 12 weeks earlier.
Things are moving fast for the Gap... and for all retailers. Results are going to get worse, but expectations – and stock prices – have been meaningfully lowered.
There are bargains to be had... but I don't think GPS shares are where you should be looking. They trade hands around 20 times earnings expectations for this year. Plenty of retailers out there are trading for single-digit P/Es... and with better business momentum than Gap has. I would continue to avoid GPS shares.

I'll be back with the mailbag tomorrow...
I'm curious what's on your mind. Are you consumed by macro issues... or are you out there looking for bargains? Are you focused on the areas that have been devastated, like technology and retail, or are you looking more at recent winners like energy or for relative safety, like consumer staples and health care? And if the clearance sales do prove excellent later this summer, will you be shopping? What's on your shopping list? Click here to send an e-mail with your thoughts.
Regards,
Berna Barshay
June 22, 2022