1) I've seen this before and I know how it ends – badly. Don't fall into this seductive trap! Everyone's a Day Trader Now. Excerpt:
Stuck at home in lockdown, millions of Americans are trading the markets like never before.

At E-Trade Financial Corp. (ETFC) investors opened roughly 260,500 retail accounts just in March, more than any full year on record. Newer rival Robinhood Markets Inc., maker of a wildly popular trading app, logged a record three million new accounts in the first quarter.

Individual investors' last big binge was for dot-com stocks in the late 1990s. That era saw money-losing technology companies vaulted into the stratosphere and spawned a culture of day traders who played the markets as a full-time job.

It appears even bigger – and broader – this time around, amplified by digital communities on Twitter and Discord, a popular online chat hangout. Investors have transformed those social-media platforms into virtual trading desks, a place to swap tips, hype stocks and talk trash as they attempt to trade their way to a quick fortune.

The market's extreme moves this year have made trading especially enticing. With professional sports largely on pause and group gatherings discouraged, users have flocked to day-trading apps to cure isolation and boredom from lockdown.

"I feel like Sonic the Hedgehog, collecting my coins," said real-estate agent Sharmila Viswasam, 38 years old, of Lake Linganore, MD, referring to a videogame where the character collects gold rings.
2) This is an interesting finding…
While activist hedge funds may be good at identifying undervalued stocks, they don't add value to the companies (though I think there are some exceptions): Hedge Fund Activists Might Just Be Good Stock Pickers. Excerpt:
To test this theory, the authors compared activist targets to a group of "control" firms – companies with similar characteristics but which had not been targeted by activist campaigns.

They found that both groups outperformed the broader market following the start of activist campaigns, with activist targets earning higher excess returns during the first three months. Over the longer term, however, the target companies "significantly underperform" control firms.

"These results confirm our hypothesis that activist hedge funds have a strong ability to identify undervalued firms as targets, and are inconsistent with the hypothesis that activist hedge funds directly cause the targets' outperformance, as, for example, through good turnaround planning," the authors wrote.

As further evidence, [Martijn] Cremers and his co-authors also looked at whether activist hedge funds demonstrate trading and marketing timing skills. They found that activists tended to sell target stocks when the companies disclosed good news, and that these activists outperformed buy-and-hold shareholders investing in the same stocks.

"Collectively, these results suggest a reinterpretation of the role of activist hedge funds," the authors concluded. "They show that hedge funds exhibit both strong selection skills and strong trading skills… The fact that these skills do not seem to benefit other (particularly buy-and-hold) shareholders of targeted firms challenges the view that hedge fund activism adds long-term value to firms."
3) This study's findings don't surprise me: Is Hedge Fund Secrecy a Sign of Skill – Or a Red Flag? Excerpt:
By using the fund of funds' database, [Patrick] Kelly argued, "we're asking what does it mean when a hedge fund is secretive from their own investors."

Based on their findings, secrecy – with respect to investors – doesn't necessarily indicate a successful proprietary strategy or private information.

The more secretive funds, they found, did not outperform the more transparent funds. Instead, the researchers found that secretive hedge funds actually underperformed peers during the financial crisis – suggesting, according to the authors, that the secrecy veiled higher risk-taking.

"As best as we can tell, it doesn't seem to signal skill," Kelly said. "If anything, it suggests that funds might be taking on more risk."
4) Here's another reason it's a good idea to require hedge funds to pull back the curtain more: FBI concerned over laundering risks in private equity, hedge funds – leaked document. Excerpt:
The U.S. Federal Bureau of Investigation believes firms in the nearly $10-trillion private investment funds industry are being used as vehicles for laundering money at scale, according to a leaked intelligence bulletin prepared by the agency in May.

"Threat actors" – including criminals in it for the money and foreign adversaries – "use the private placement of funds, including investments offered by hedge funds and private equity firms" to reintegrate dirty money into the legitimate global financial system, according to the bulletin.

It also said the industry lacks adequate anti-money laundering programs and called for greater scrutiny by regulators, which have yet to issue rules for the industry.
5) Here's the Financial Times with another story about how close the markets came to melting down in March: U.S. Treasuries: the lessons from March's market meltdown. Excerpt:
It is hard to overstate the importance of the roughly $20 trillion market for U.S. government debt, or the alarm that its mounting dysfunction in March caused. The Treasury market is the biggest, deepest and most essential bond market on the planet, a bedrock of the global financial system, and the benchmark off which almost every security in the world is priced.

The wild price swings in March meant many investors struggled to offload even modest Treasury positions at sensible prices. Suddenly, broker screens were going intermittently blank and showing no pricing information for what is considered the world's risk-free rate.

Deirdre Dunn, global co-head of rates at Citi (C), says it was the most dysfunctional Treasury market she has seen in her career, surpassing even the global financial crisis of 2008. Layer on top of that the practical complications of many traders working from home and the emotional stress of a pandemic, and things were getting chaotic. "The intensity of everything at that time was remarkable," she says.

Urgent calls took place between banks and the Federal Reserve as well as the U.S. Treasury department. Rumors of hedge funds collapsing due to imploding Treasury bets went through industry WhatsApp groups like wildfire. Some even fretted that the Treasury might face the previously unimaginable scenario of a failed auction of U.S. government debt.

"There was a point in time when we were wondering if the bond market would really ever function again," says Nick Maroutsos, co-head of global bonds at Janus Henderson, an investment group. "If it continued for a couple of weeks, we were thinking we were looking at doomsday."

To avert calamity, the Fed delivered an unprecedented series of measures, surpassing even its response to contain the crisis over a decade ago. Trading conditions soon began to stabilize, volatility ebbed and before long, the central bank had stoked a historic rebound in financial markets.

Nonetheless, the events of March have cast a long shadow. Such turmoil simply shouldn't be possible in the Treasury market, analysts say. If the financial system is a house, then Treasuries are its foundations – the safe, solid bedrock on which everything else relies. Investors can deal with a fire in the attic or leaky plumbing, but if the foundation starts creaking, it can shake the entire structure.

Policymakers must now grapple with not only what caused such a critical market to crack, but also how to address the fragility within the market that was revealed during this period of indiscriminate selling. Some experts suggest tweaks to the regulations put in place following the previous crisis, while others make the case that highly-leveraged players warrant more scrutiny.
6) I was saddened to hear that Herman Cain died yesterday of the coronavirus.
I had the pleasure of meeting him in 2012 in the "green room" at CNBC, where guests wait before they go on air. He was very friendly and we had a nice chat.
I had just come from Washington D.C., where I'd met President Barack Obama earlier that day at a White House event.
I think I may be the only person to have shaken hands with both Cain and Obama on the same day, and have photos to prove it – LOL!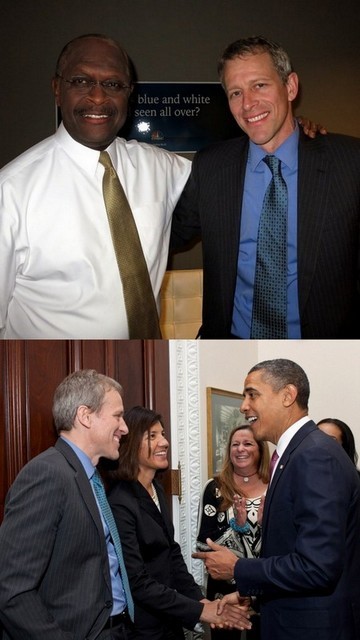 P.S. A friend who runs a restaurant supply business wrote to me: "I met Herman Cain when he was the head of the National Restaurant Association. He was a terrific speaker, storyteller, and a connector of people. He did great things at Godfather's Pizza and as a public servant thereafter."
P.P.S. I enjoyed this article from The Atlantic: The Tragedy of Herman Cain. Excerpt:
Most Americans never took Herman Cain very seriously. He made that easy: He quoted Pokémon: The Movie 2000 in campaign speeches. He said goofy things ("Aw, shucky ducky!") before it was "modern-day presidential." His signature policy idea, the "9-9-9" plan, sounded more like a takeout special than a tax overhaul.

By the time he died today at 74, from COVID-19, he was remembered, if at all, by that last phrase. Yet although Cain's 2012 presidential platform didn't deserve serious consideration, his life traced a tragic arc. In his ascent, Cain embodied some of the greatest things about U.S. society; in his later years, and in his death, he exemplified some of America's bleaker aspects.

Cain worked his way up from a threadbare childhood to great wealth, becoming a successful restaurant executive. He served his country, first as a civilian Navy mathematician and later as chairman of the Federal Reserve Bank of Kansas City. (He was also, it was later alleged, sexually harassing women during his rise.) Then he embarked on a presidential campaign and punditry career that catered to some of the basest, know-nothing instincts in politics, and may even have cost him his life.

He was raised poor – "a son of the segregated South," in his words – in Memphis, Tennessee, and Atlanta. His father sometimes worked three jobs, though he was able to improve his finances while serving as chauffeur to the CEO of Coca-Cola, whom he persuaded to pay him in Coke stock. Herman was a gifted student and attended Morehouse College on scholarship, only to lose the funding when his grades slipped. He worked jobs on the side to pay his tuition, graduated with a degree in mathematics, and went to work as a ballistics analyst for the U.S. Navy, then later worked in the food business.
Best regards,
Whitney