► After a year of clashing, Epic Games – maker of the hugely popular video game Fortnite – scored a courtroom win against tech giant Apple (AAPL)...
On Friday, Federal Judge Yvonne Gonzalez Rogers ruled in favor of Apple on nine of 10 counts... but gave Epic a win on the tenth: she issued an injunction that said Apple could no longer stop app developers from providing in-app links that direct users off the Apple ecosystem to complete an in-app purchase.
Apple takes a 15% to 30% cut on all in-app transactions, so allowing apps to encourage users to complete transactions and make payments outside of the Apple App Store will potentially cut the tech behemoth out of the revenue stream for many transactions... and make these transactions way more profitable for app developers, at Apple's expense. The Apple App Store did an estimated $64 billion in gross sales last year, and grew almost 30%...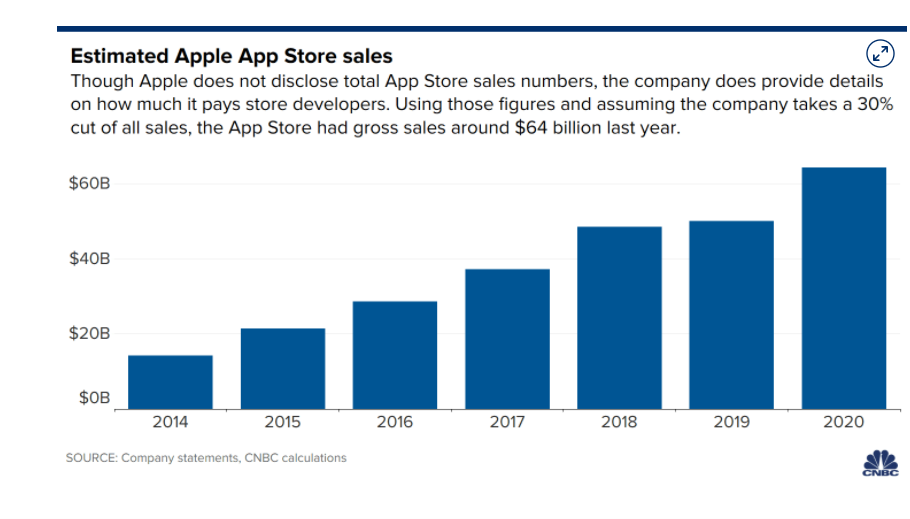 Source: CNBC
Stock analysts have been focused on Apple's Services division, not only because it is one of the fastest-growing areas in the company, but also because it carries extremely high margins. Services, which is dominated by the App Store, put up a 66% gross margin last year... That was more than twice the 32% gross margin at the Products division, which includes all Apple's tech gadgets like phones, computers, and tablets.
Late last month, I wrote about how Apple had already eased up on rules prohibiting apps from going around Apple for payment, but these changes only applied to small developers with less than $1 million in annual revenue on the App Store. This group accounts for more than 95% of developers... but make up only about 5% of total App Store revenue.
So Apple hadn't put much on the line financially by easing up rules for the small developer community. But the judge's ruling opens the floodgates for Apple getting iced out of commissions on the 95% of App Store revenues that weren't already subject to its loosened restrictions.
Importantly, Judge Rogers was specific in her decision that Apple can no longer prohibit in-app links that direct users to payment outside the Apple ecosystem. When Apple had loosened the rules for the small developers, it still hadn't allowed in-app links to third-party payment providers – it had merely lifted restrictions on e-mailing and otherwise contacting customers and letting them know about alternative ways to pay.
Apple will have to change its App Store policies and allow links and off-App Store purchases for all developers – not just the small ones – come December, when the injunction goes into effect.
This decision could be a big win for consumers as well, if app developers choose to pass on some of their fee savings to users and not keep the commission avoidance windfall entirely for themselves.
Fairness to consumers was clearly at the heart of Judge Rogers' ruling based on her statement...
The Court concludes that Apple's anti-steering provisions hide critical information from consumers and illegally stifle consumer choice. When coupled with Apple's incipient antitrust violations, these anti-steering provisions are anticompetitive and a nationwide remedy to eliminate those provisions is warranted.

But the ruling wasn't a total loss for Apple either...
It did win on nine counts, and the ruling doesn't entitle Epic to offer its own app store within Apple's App Store, something that it was seeking. Epic will also have to pay damages for breach of contract, as it had already been taking direct payments from Fortnite users for around a year, in violation of the prior contract. Epic now owes Apple its 30% commission on all those transactions.
Epic CEO and Founder Tim Sweeney shared his displeasure on Twitter last Friday...
Today's ruling isn't a win for developers or for consumers. Epic is fighting for fair competition among in-app payment methods and app stores for a billion consumers.
Another way that Apple won was that Judge Rogers was clear that the injunction in no way indicated that the App Store constitutes a monopoly. As she wrote...
Given the trial record, the Court cannot ultimately conclude that Apple is a monopolist under either federal or state antitrust laws.
Judge Rogers also stated that "success is not illegal." Throwing that into the ruling makes this court result a win for fair capitalism. Implicit in the ruling is that being great at what you do and financially succeeding is not a crime, but it is also not right to use your dominance to stifle competition by others.
Apple spun the ruling as a clear win in its public statement, issued by general counsel Katherine Adams...
We are very pleased with the Court's ruling and we consider this a huge win for Apple. This decision validates that Apple's "success is not illegal," as the judge said. As the Court found "both Apple and third-party developers like Epic Games have symbiotically benefited from the ever-increasing innovation and growth in the iOS ecosystem."

The Court has confirmed, after reviewing evidence from a 16-day trial, that Apple is not a monopolist in any relevant market and that its agreements with app developers are legal under the antitrust laws. Let me repeat that: the Court found that Apple is not a monopolist under "either federal or state antitrust laws."

We are still analyzing the decision which is 180 pages long but the headline is that Apple's App Store business model has been validated.
While Apple claimed victory, Epic's Sweeney claimed defeat...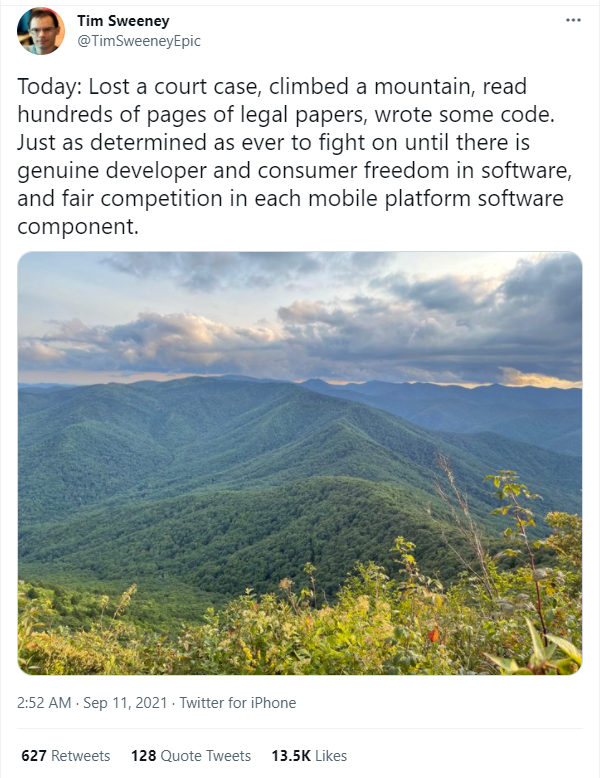 Source: Twitter/@TimSweeneyEpic

So Apple says it won and Epic says it lost... but is that really what is happening here?
The injunction makes it much easier for app developers to send users to payment providers like PayPal (PYPL) or Square (SQ) or to a website where they can use a credit card. Checking out this way will lead apps to encounter a fee of perhaps 1% to 5% on the transaction, a far cry from the up to 30% they are currently paying Apple.
From Apple's perspective, a lot of high-margin revenue is at risk.
Apps that currently pay a 30% commission to Apple should be highly incentivized to steer users to pay off of the App Store and would be wise to give a meaningful discount for doing so.
For example, a gaming app that gives a 10% discount on a purchase made on its own website instead of in the App Store would likely incur a transaction cost of around 13%... 10% for the discount and 3% to the credit-card processor. This is a 57% savings versus paying Apple 30% commission!

One thing we learned from the court documents is that gaming transactions dominate Apple's App Store revenue, accounting for roughly 70% of sales...
And the gaming revenues are dominated by big spenders.
The data are from the third quarter of 2017, and things may have changed a bit by now... But back then, users who spent more than $450 per year on in-app purchases generated 54% of all App Store billings.
While it might be hard to lure someone into going off app and giving up credit-card info to save $0.20 on a $2 transaction, for someone who spends $500 per year with just a few counterparties, offering a $50 (or more savings) for entering your credit-card number a few times seems tempting.
If half of App Store transactions end up completing off-app, I estimate that Apple could see a $10 billion to $14 billion headwind to its 2022 revenues. At the midpoint, $12 billion of lost revenues would only represent about 3% of the $387 billion in revenues that analysts forecast for calendar year 2022... But given the high margins on App Store commissions, the hit would be more like 5% to gross profits.
Apple stock was only down about 3% on the news of the court ruling on Friday, so investors obviously weren't too worried about the court decision and its potential for major financial impact. The stock move was more or less in the ballpark of the likely direct financial damage of the ruling... but I think the bigger risk of the ruling is to Apple's multiple.
Apple has experienced tremendous multiple expansion over the past two years. Right now, AAPL shares trade hands at a price-to-earnings (P/E) ratio of approximately 29. Pre-pandemic, the P/E ratio was closer to 18.
Almost every stock has seen multiple expansion over the past two years, largely related to the extremely low level of interest rates and the U.S. Federal Reserve's unprecedented fiscal stimulus. But Apple's multiple has expanded way more than the average stock and has far outpaced the multiple expansion at Big Tech peers like Microsoft (MSFT) and Alphabet (GOOGL).
A big part of this multiple expansion has been driven by bullishness over the high growth rate and margins at Apple's Services division. Friday's ruling put this growth rate at risk.
We also learned through court documents how reliant the App Store is on gaming apps for generating sales.
I'm not a gamer, but my take is that gamers have a pretty high trust level in the companies that make the games that they enjoy and will be willing to share credit-card data with them, and/or take the extra steps to set up a link to their PayPal if offered the possibility of saving money... and freeing up funds to buy more games or game enhancements.
In the short term, the direction of AAPL shares will be driven by what the company announces at its big event tomorrow where it will offer details on the new iPhone 13. All eyes will be on how well the new gadgets it announces sell once launched.
But the haze that Friday's court decision casts over the outlook for Apple's Services division could have a big effect on the multiple in the longer term... and it's a major reason that I remain on the sidelines when it comes to AAPL shares. I see high risk of multiple compression for Apple if Services growth grinds to a halt next year in the wake of this injunction.
Apple will, of course, appeal this decision... and should it be reversed, I would feel a lot more constructive on AAPL shares.

In the mailbag, two readers weigh in with thoughts on Apple's 30% commission, in letters written prior to Friday's court ruling...
If you were making an in-app purchase, would you forego the ease and convenience of paying through the App Store if the app offered you a discount for entering your credit-card number or connecting your PayPal on a website?
How big would the discount need to be... 5%? 10%? More? How big would your savings have to be to make it worth the time to pay off-app? A few dollars? More? In what situations would you skip the discount to pay using your Apple account instead? Share your thoughts in an e-mail to [email protected].

"I have never understood the argument that Apple's App Store commission is too high (full disclosure, I own some AAPL shares). First, it's a free market. No app developer is forced to sell to Apple users, and Apple won that vast app market of a billion+ users fair and square. It set the commission at 30% long, long before there were a billion users. Kudos to Apple for developing an amazing business and winning so many customers, which of course these app developers want to sell to, but on their terms!
"Furthermore, what is the difference between Apple and, say, Walmart (WMT) or Costco (COST), who drive down what they pay their suppliers to enhance their own margins? For a consumer product manufacturer, these giant retailers are a vital sales outlet and are hugely dominant. They use their massive scale to enhance their profits (and lower consumer prices) by compressing their vendors' margins. And of course there are thousands of products they simply refuse to carry. And nobody complains because they earned that buying power.
"Apple is actually a friendlier 'retailer' than the big box retailers because they don't deny any (safe) app from their store, offering every product to 1bn+ potential customers. And in return they charge the same 30% fee to all vendors. They actually don't use their vast power to beat up their app suppliers.
The real complaint in my view is based on the idea that businesses like Apple have become 'too successful,' i.e., too profitable. I can't see any legitimate legal basis that they should be compelled to reduce their app store commissions any more than they should be forced to reduce the price of their phones!" – Simon J.
Berna comment: Simon, your comment about Apple being under attack for being "too successful" proved very prescient, since Judge Rogers essentially echoed your comments by stating "success is not illegal."
I think the judge actually empathized with your logic, but where your analogy to powerful retailers like Walmart breaks down is in the consumer benefit. When Walmart beats up Procter & Gamble (PG) or Coca-Cola (KO) for lower prices, it indeed passes on much of the savings – resulting in lower prices to the consumer. By locking apps into the Apple ecosystem for payment, Apple is charging a fee approximately 10 times what other payment processors charge, which results in higher prices for the consumer.
Of course, the Apple App Store offers way more than just payment processing – it offers an audience. But given there is essentially a major duopoly between Apple and Google for app sales, the consumer is losing out here... which is why I think the judge ruled the way she did.

"Hi Berna, Do you think Apple's App Store commission of 30% is too high? How about 15%?
"I'm not a lawyer to argue the legality of this single toll-gate of a marketplace. But, commercially, this 15 to 30% seems to be the standard take-rate benchmark across many marketplaces in their industries (I'll withhold names, but they are leading brands in their industries) – both consumer and business types. Also, they run platforms and any apps on top of these have to draw on their data to be useful, so there's just no alternative (unlike iOS vs Android). I don't know if AAPL was the first one to set this take-rate, and others just followed. The reasons given for this take-rate are also uniform – security, marketing, curation, etc.
"I guess Apple for its brand and size is an easy target. If it falls for Apple, will the others legally have to? Not just revenue models will break, but core operating models could as well across for companies with these marketplaces. It may have far-ranging implications. Regards," – Michael C.
Berna comment: Michael, I am of course not a lawyer either, but I'm not sure this ruling will have an effect on marketplaces beyond Google's Play Store. Other marketplaces like Amazon (AMZN), eBay (EBAY), and Etsy (ETSY) – no matter how large – don't dominate their product segments to the extent Apple and Google do with app distribution. There is implicitly more consumer choice in these other areas.
Regards,
Berna Barshay
September 13, 2021