1) My colleague Enrique Abeyta keeps coming up with tremendous insights into what's really going on in the markets during this period of high volatility, so I'm going to keep sharing them with you. Here are extended excerpts from yesterday's issue of his weekly newsletter, Empire Elite Trader:
Let's look at what has happened over the past couple weeks…

First, this sell-off likely had little to do with the coronavirus outbreak. Instead, this market environment was primed for this kind of volatility… and the virus just gave it an excuse.

This was a situation where the S&P 500 Index hadn't seen a 2% sell-off in 124 days – the eighth-longest streak in 30 years. The index was up more than 30% in 2019 and had conditioned investors to believe that every smaller sell-off presented a tremendous buying opportunity.

The market consistently had a relative strength index ("RSI") greater than 70 and more than 10% extended from its 200-day moving average ("200-DMA"). Investors were enthusiastic, and stocks ripped higher and higher… This was a market where stocks like Tesla (TSLA) and Virgin Galactic (SPCE) were doubling – and then doubling again – in a matter of weeks…

Let's compare this situation with August 2011 and the "worst of times" for my career…

Across the board, there are plenty of similarities between August 2011 and today's situation, such as reasonably healthy economies (with some cracks), lots of monetary liquidity, long periods of low volatility, and then a historic walloping of investors!…

The overall market is far too big in many ways to be impacted in exactly the same manner, but the "damage" done by the magnitude of a big sell-off – like in August 2011 or the one we just saw – is still impactful. It takes time for the damage to subside and for things to return to normal…

This is likely to play out similarly in today's market…

The markets could remain volatile for the next two months (22 trading days in a typical month, so until early May)
Expect the S&P 500 lows from February 28 of 2,954 (close) and 2,855 (intraday) to be "tested" several times before we bottom – moves of 5% in either direction around that level. It's a big range, but markets will be volatile
The market will likely eventually "heal" at the end of this period, and we'll return to an environment that's more like what we saw the previous year

It's also similar to one of the first financial crises I experienced as a portfolio manager – the Long-Term Capital Management sell-off in late 1998. It was the fifth-worst five-day sell-off over the past 30 years.

It was also the first crisis where the Federal Reserve really responded with liquidity injections – cutting rates by 75 basis points in less than two months…

We've said it before here in Empire Elite Trader… in modern markets, you should either trade a lot or not trade at all.

You don't want to be caught in the middle. Those are the traders who say they don't trade very often and are long-term holders… until they lose money and then they "risk manage."

But if you have the right plan, this can be the "best of times" for trading strategies. Heightened volatility means big moves – in both stock prices and human psychology. Those are great conditions for disciplined traders.

Another thing to focus on is staying liquid.

In a stable or low-volatility market, it makes sense to pursue more volatile or less liquid stocks in order to achieve greater returns.

In a market where everything is volatile, why not go buy the biggest and best?

Here at Empire Elite Trader, we're always looking for oversold conditions in good companies that have solid operational and stock price momentum. Buy the best of the best – top companies with the most momentum and the most liquidity…

Last week, we added three new positions on Wednesday and another two on Friday…

And today, we're adding three new recommendations to our portfolio.
Thank you, Enrique!
If you'd like to see the entire issue of Empire Elite Trader, including the latest recommendations, click here to sign up. It's only $69 per month, and you can try it out absolutely risk-free, as you can cancel anytime within the first 30 days for a full refund – no questions asked.
2) In response to yesterday's e-mail, in which I shared data about the sharp decline in the number of new coronavirus cases in China, a longtime friend from Shanghai e-mailed me the following on-the-ground report:
Generally things are getting back to normal in Shanghai, though it is definitely a new normal, with ubiquitous screening monitoring. Retail is still struggling, but subway ridership and vehicle traffic are starting to get back to normal levels, and various manufacturing firms that we follow are steadily increasing production capacity (now ranging from 40%-60%), despite staffing and supply chain issues. In short, everything is gradually starting to come back, though there's lots of concern regarding folks returning to Shanghai from international destinations…

Our teenage son's middle school has been operating for the last few weeks with online/remote learning. This past Monday, Shanghai commenced the operations of twelve television stations, one for each grade 1-12, with daily lessons from Shanghai's prescribed curriculum. The city hasn't yet set the date for school reopenings, but it certainly won't be earlier than April.
He also sent me three charts, which show a rapidly declining number of coronavirus cases in China and in Shanghai, as well as the number of cases worldwide (with rising numbers in South Korea, Italy, and Iran):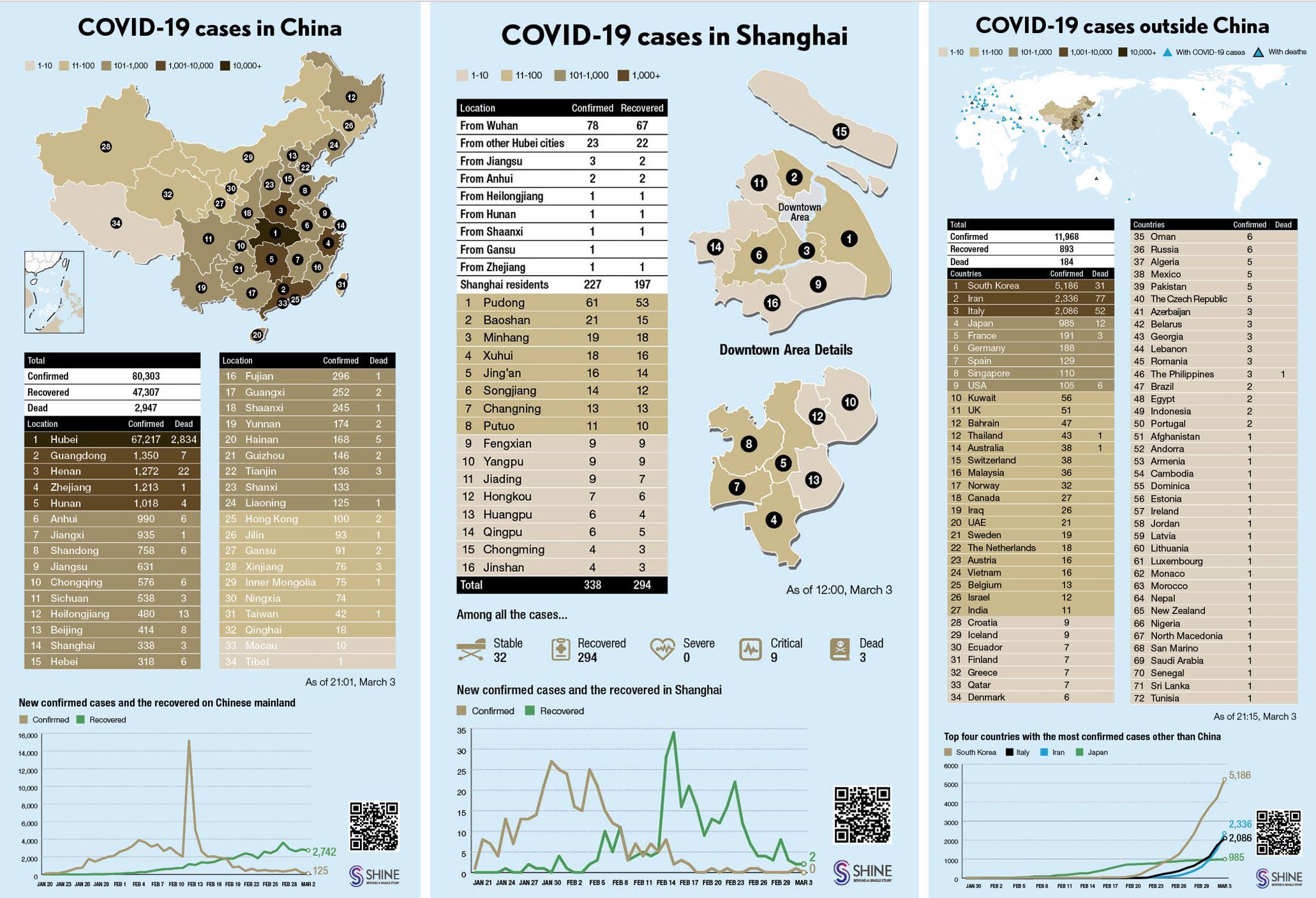 Lastly, he sent me this chart below, showing the coronavirus mortality rate in China: 4.3% in Hubei province – the epicenter of the crisis – but only 0.85% elsewhere…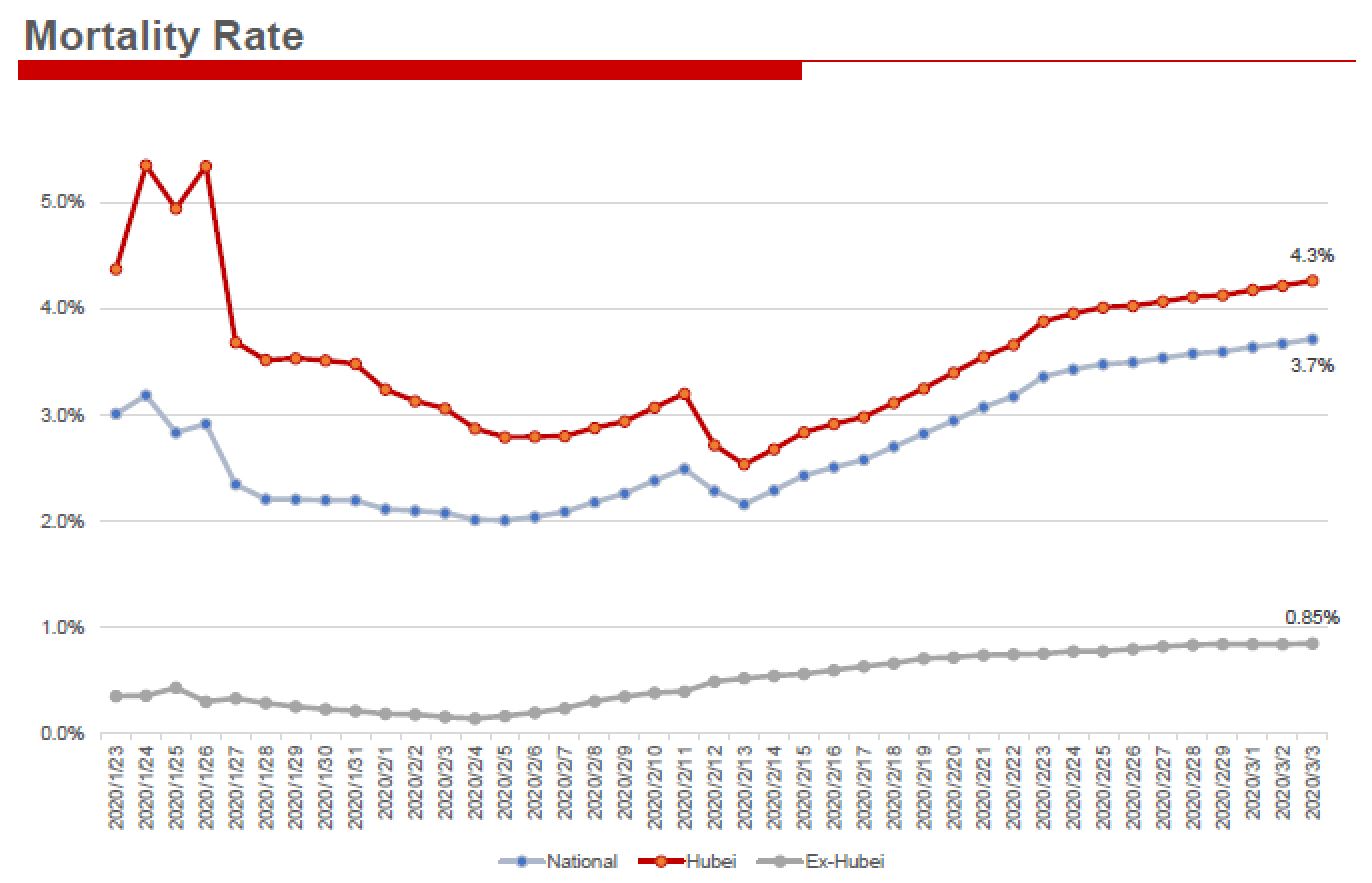 3) I love what the Streamsong Resort has done – something I've never seen before… On the wall of my room, the bookshelf caught my eye. It's cut to exactly match the width and height of each book such that the top is smooth, as you can see in this picture: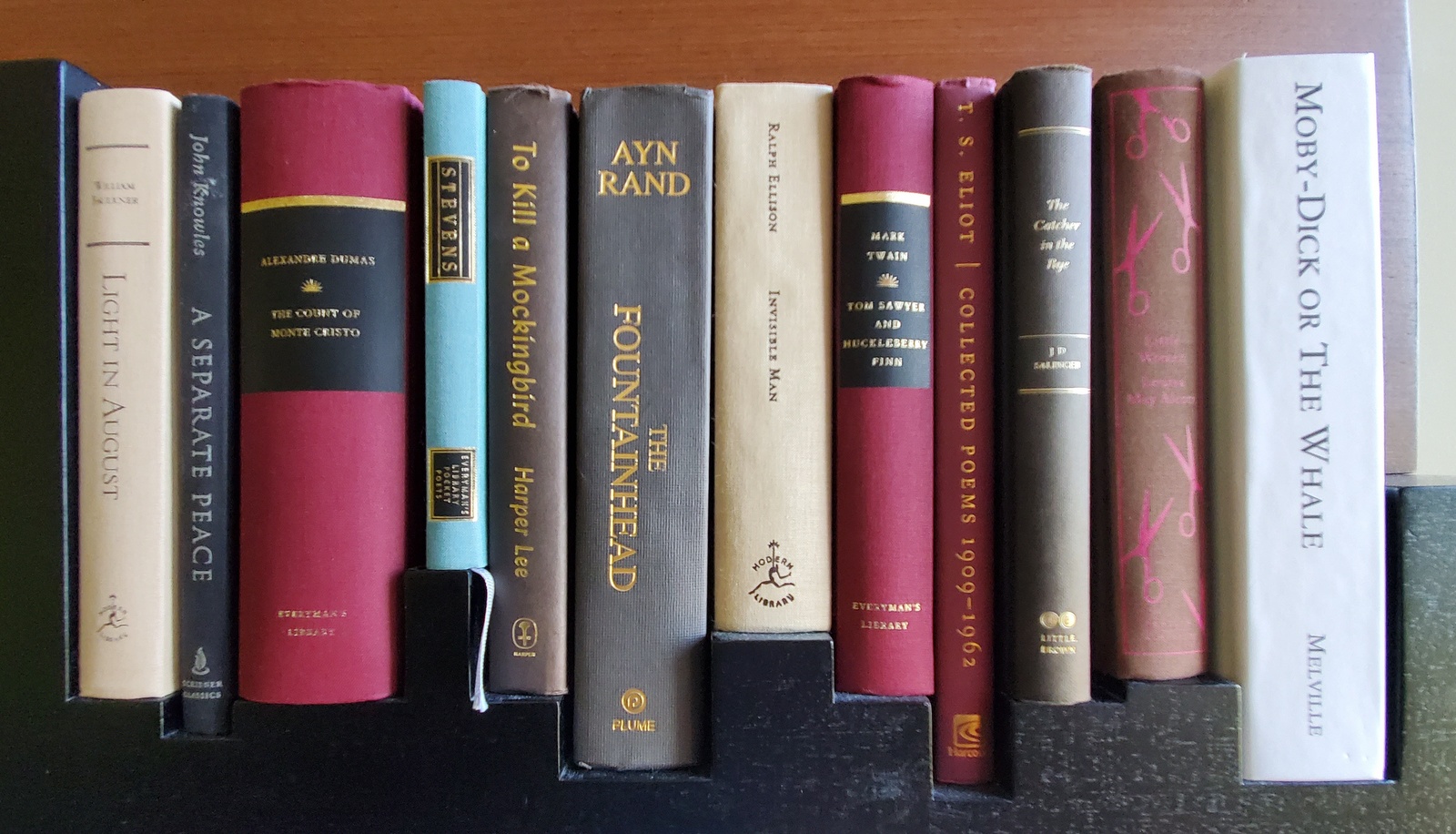 And then I noticed the books themselves – a dozen classics that bring back such memories from my youth! From left to right:
I wish I could sit here for a couple of weeks and read (or re-read) them all!
Best regards,
Whitney