1) When I launched Empire Financial Research a year ago, the first person I wanted to recruit to join my business was my long-time friend, Enrique Abeyta.
He's a brilliant, outside-the-box thinker and, more important, a stone-cold moneymaker.
So I was delighted when he agreed to come on board last summer. He quickly launched his weekly Empire Elite Trader service, and has already compiled a strong track record – consistently hitting singles and doubles with short-term trades.
But where Enrique really excels is finding multiyear investments that have 1,000% upside – the proverbial "10 baggers" that can drive an entire portfolio's returns.
So we created Empire Elite Growth. It's off to an incredible start, as you can see in this chart: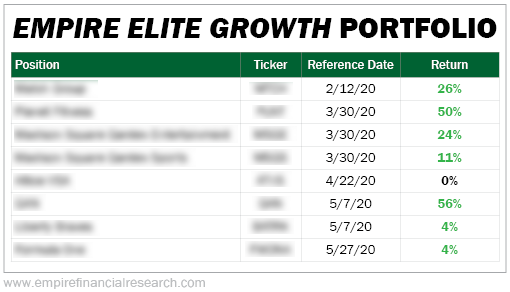 If you've been sitting on the fence, now's the time to act.
For an extremely limited time, you can claim a charter membership in Empire Elite Growth for a fraction of what we'll sell it for in the future – click here to take advantage of it.
2) The most interesting issue in the business world right now is how the big social media companies are responding to the increasing scrutiny they're under for the content that's posted on their sites.
Until recently, all of them allowed pretty much anything, using the legal shield of Section 230 of the Communications Decency Act. But then Twitter (TWTR) broke ranks, taking action against a few of President Donald Trump's tweets… earning his ire and that of his supporters. Many have called on Facebook (FB) to take similar steps, but CEO Mark Zuckerberg has so far refused.
Here's a link to a thread Twitter just posted, defending its decision. Excerpt: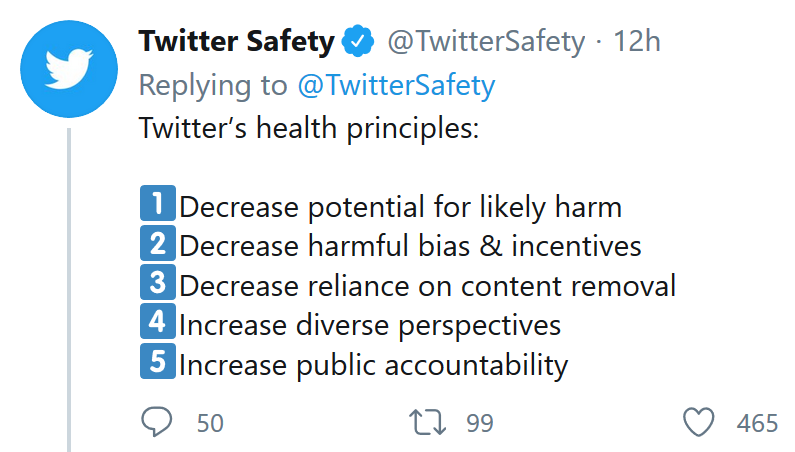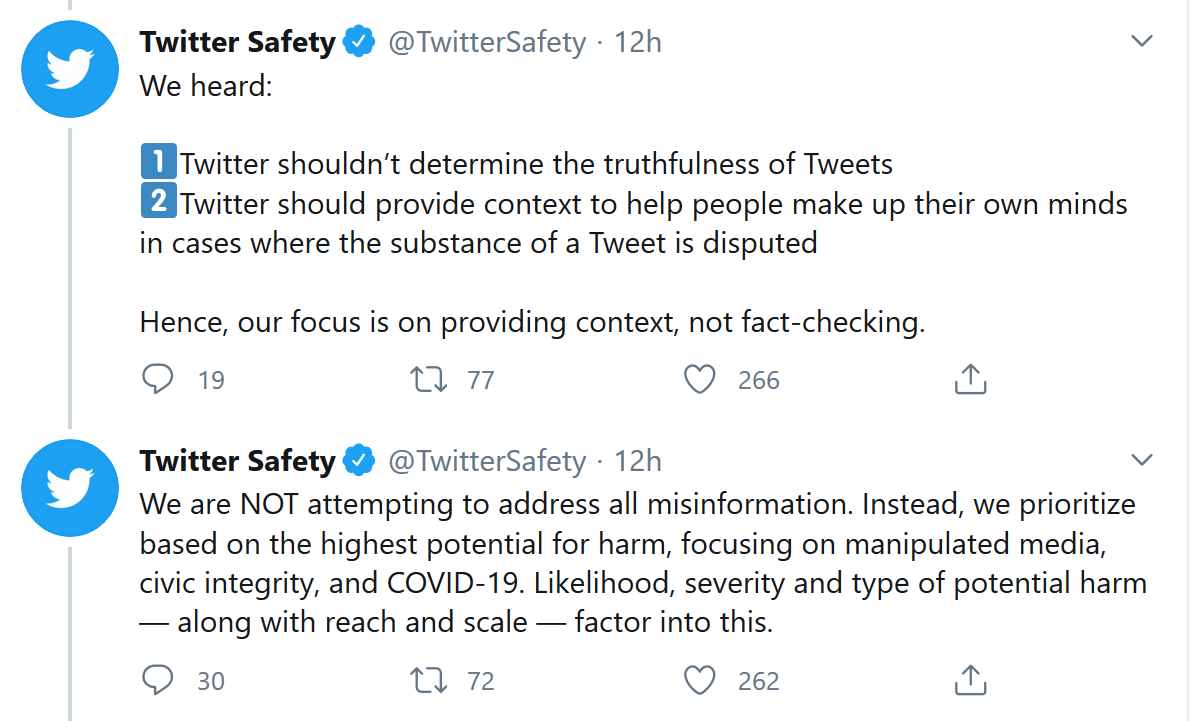 And here are two articles about Zuckerberg and his thinking:
Mark Zuckerberg, Facebook's chief executive, on Tuesday stood firmly behind his decision not to do anything about President Trump's inflammatory posts on the social network, saying that he had made a "tough decision" but that it "was pretty thorough."

In a question-and-answer session with employees conducted over video chat software, Mr. Zuckerberg sought to justify his position, which has led to fierce internal dissent. The meeting, which had been scheduled for Thursday, was moved up to Tuesday after hundreds of employees protested the inaction by staging a virtual "walkout" on Monday.

Facebook's principles and policies supporting free speech "show that the right action where we are right now is to leave this up," Mr. Zuckerberg said on the call referring to Mr. Trump's posts.
On some level, the dispute between top executives and the walkout participants is intractable – you either think Trump's post should have come down, or shouldn't have. But if you assume there will be many more decisions like this to be made in the run-up to the U.S. presidential election, as I do, it's valuable to understand how Facebook justifies and communicates its policy decisions. Last week, Trump put the company in a bad position – and if events continue to unfold as they have for the past few days, he'll likely soon put them into a worse one. Today's meeting can help us understand how Facebook might react when that happens.
My take: with both Republicans and Democrats calling for a repeal of the blanket exemption from Section 230, it appears clear that the social media giants are going to have to move in the direction Twitter has taken. I think this will end up being good for humanity – the toxic status quo is simply untenable – but we'll need to be vigilant to protect free speech.
3) Deutsche Bank (DB) has been a bad actor in so many ways for a long, long time. I hope regulators hit the financial-services company hard: Regulators May Punish Deutsche Bank for Its Jeffrey Epstein Ties. Excerpt:
Banking regulators have spent months investigating Jeffrey Epstein's dealings with Deutsche Bank, which lent money to the disgraced financier and held dozens of accounts for him until shortly before he died, according to four people briefed on the matter but not authorized to speak publicly.

The investigation by the New York Department of Financial Services, which has not been previously reported, could result in an enforcement action against Deutsche Bank as soon as this month, before the first anniversary of Mr. Epstein's arrest on federal sex-trafficking charges, the people said. Mr. Epstein was arrested on July 6 and died in federal custody in August; his death was ruled a suicide.

The investigation focuses, at least in part, on the bank's decision to continue doing business with Mr. Epstein even after employees raised concerns, according to the people. Compliance officers in the bank's anti-money-laundering operation alerted the federal government to several transactions in which Mr. Epstein sent money overseas in 2015, while employees worried about the reputational risks of doing business with a registered sex offender. Ultimately, senior bank executives opted to maintain the relationship with Mr. Epstein because it was so lucrative.
4) Speaking of bad actors, this stinks to high heaven. Kudos to ProPublica for a great piece of journalism exposing it. This Treasury Official Is Running the Bailout. It's Been Great for His Family. Excerpt:
Federal Reserve Chairman Jerome Powell and Treasury Secretary Steven Mnuchin have become the public faces of the $3 trillion federal coronavirus bailout. Behind the scenes, however, the Treasury's responsibilities have fallen largely to the 42-year-old deputy secretary, Justin Muzinich.

A major beneficiary of that bailout so far: Muzinich & Co., the asset manager founded by his father where Justin served as president before joining the administration. He reported owning a stake worth at least $60 million when he entered government in 2017.

Today, Muzinich retains financial ties to the firm through an opaque transaction in which he transferred his shares in the privately held company to his father. Ethics experts say the arrangement is troubling because his father received the shares for no money up front, and it appears possible that Muzinich can simply get his stake back after leaving government.

When lockdowns crippled the economy in March, the Treasury and the Fed launched an unprecedented effort to buy up corporate debt to avert a freeze in lending at the exact moment businesses needed to borrow to keep running. That effort has succeeded, at least temporarily, with credit continuing to flow to companies over the last several weeks. This policy also allowed those who were heavily invested in corporate loans to recoup huge losses.

Muzinich & Co. has long specialized in precisely this market, managing approximately $38 billion of clients' money, including in riskier instruments known as junk, or high-yield, bonds. Since the Fed and the Treasury's actions in late March, the bond market has roared back. Muzinich & Co. has reversed billions in losses, according to a review of its holdings, with 28 of the 29 funds tracked by the investor research service Morningstar Direct rising in that period. The firm doesn't publicly detail all of its holdings, so a precise figure can't be calculated…

That effort has many skeptics. The Fed has never bought corporate debt in its more than 100 years of existence, much less that of the indebted and fragile companies that raise money through the sale of junk bonds. Private equity firms, hedge funds and specialty investment firms like Muzinich & Co. dominate the market for junk-rated debt. In effect, the Fed has swooped in to protect the most sophisticated investors from losses on some of their riskiest bets.
Best regards,
Whitney