► Don't let the dividend fool you…
Earlier this week, my colleague Enrique Abeyta – editor of the Empire Elite Growth and Empire Elite Trader newsletters – sent me an impassioned e-mail with a bold call. In it, he said that one of the biggest, best-known stocks in the market could also turn out to be the biggest non-financial company to go bankrupt of all time. You may even be a customer of it.
It's telecom giant AT&T (T).
I admit I hadn't given much thought to AT&T in a long time… and I last owned it back around 2009 for its high dividend yield. The company currently yields almost 7%, which is particularly attractive in a world where 10-year U.S. Treasurys yield only around 0.75%.
Apparently, the dividend has often been the primary reason to own AT&T shares, and a blind devotion to keeping its dividend up at all costs is the very reason Enrique thinks it will one day fail.
His e-mail on AT&T was prompted by press reports that the company was looking to sell its WB Games unit, which it had acquired along with its $110 billion purchase of Time Warner in 2018.

According to Enrique, selling WB Games is about the dumbest thing AT&T can do…
But I'll let you hear his thoughts as he told them to me. As he said in his e-mail…
In my Empire Elite Trader service, I've highlighted my views on AT&T – primarily that I think management has made some huge errors and set the company on course to not only eventually cut its dividend, but potentially end up in bankruptcy.

The core of my thesis is that AT&T keeps on buying legacy media and telecommunications businesses (i.e., DirecTV and Time Warner) that are being technologically disrupted. And to do so, the company has layered on more debt than Ireland… and continues to pay out most of its cash flow in dividends to investors. This is money that could be used to invest in the growth parts of the business and/or pay down all that debt.

Instead, management is pretty much doing the opposite.

And now, rumors have come out that AT&T is looking to sell the video-game business that Time Warner developed – Warner Bros. Interactive Entertainment. Management basically wants to get rid of one of the few assets the company has in an industry (video games) that's perfectly positioned for the future, as opposed to a legacy of the past…

According to press speculation, AT&T may get as much as $4 billion in proceeds. This money will then get put into the pot of cash used to pay out investors in the form of dividends.

As my savvy friends at Arete Research have noted, AT&T should be cutting the dividend, then taking that cash and investing in the video-game sector… Not exiting it.

Mark my words – at some point in the next decade, AT&T will go down as the biggest non-financial bankruptcy in the history of American business. Bigger than WorldCom, bigger than General Motors, and even bigger than Enron…
Those are certainly fighting words from Enrique… and investors should watch out for AT&T.

AT&T's HBO Max launch was an unqualified mess…
Beyond sitting through a conference presentation or two every year, I haven't spent a ton of time on the legacy telecom business at AT&T. But having followed Time Warner for years prior to its acquisition, I've maintained a keen interest in AT&T's media businesses…
In the May 28 Empire Financial Daily, I wrote about the launch of WarnerMedia's HBO Max service and noted that Warner was taking a gamble with its industry-high price point of $14.99. As a late entrant into the crowded streaming space, the high price seems risky – especially since the company failed to seal agreements with either Amazon's (AMZN) Fire TV or Roku (ROKU). These two services drive navigation on 70% of U.S. steaming-TV devices, so not having them is a big deal. It makes it much harder to acquire subscribers.
And the news since the launch hasn't been much better. According to measurement firm SensorTower, only 90,000 people downloaded HBO Max on its launch day – a paltry number compared with the 4 million that downloaded Disney's (DIS) Disney+ app on its launch day in November.
That 90,000 doesn't include people who had the predecessor HBO Now app, who got a free upgrade to Max at the launch… 8 million customers were eligible for the upgrade from Now to Max, although it's unclear how many have taken advantage of the upgrade yet.
Adding insult to injury, introducing HBO Max into a market that already had apps called HBO Now and HBO Go just confused consumers… as evidenced by hundreds of exasperated – and often clever – tweets. Here's one from Marvel Comics writer Dan Slott…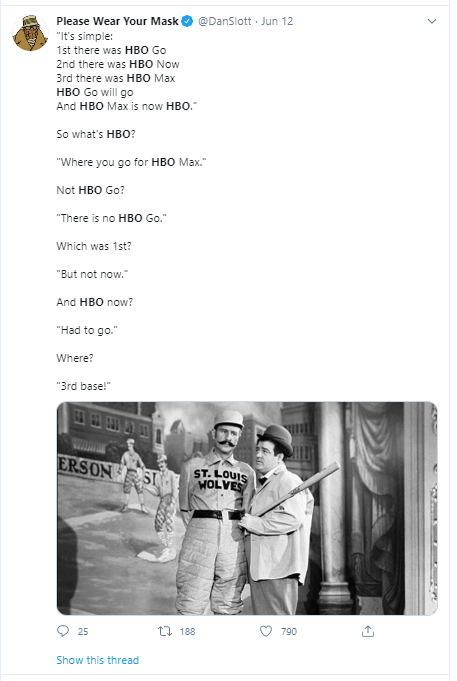 Source: twitter.com/DanSlott
WarnerMedia responded to the commotion by announcing it would discontinue HBO Go, adding that most users of the service could get a free upgrade to HBO Max. HBO Now would be rebranded as simply "HBO."
Streamlining brands is great… but I'm one of those HBO Go customers who hasn't been able to figure out how to upgrade to HBO Max. And since I usually watch my HBO Go on a Fire TV, I'm out of luck and will be stuck watching on my phone once HBO Go is retired at the end of July. That is, unless WarnerMedia and Amazon can work out their undisclosed issues.
HBO Max's content is vast, and the service benefits from the existing base of more than 30 million HBO cable subscribers – so all hope isn't lost. But the botched launch supports Enrique's theory that AT&T and its subsidiaries aren't adept at or focused on running their "new economy" businesses.

Meanwhile, we've also seen some bumps in the road at AT&T's core wireless business…
Yesterday, the company announced it would close 250 "mobility" (i.e., wireless) stores that employ a total of 1,300 people. This is part of AT&T's strategy to redirect resources to growth areas and adjust to changing consumer behaviors in the pandemic. The stores were slated to shutter eventually, but recent events moved up the closing dates. AT&T claims many of those 1,300 employees will be offered different jobs within the company… but in addition to the retail closures, AT&T will lay off an additional 3,400 technical and clerical employees.
The recent wave of layoffs may signal that AT&T is throwing a bone to famed activist hedge fund Elliott Management, which began rattling the cages last year. Like Enrique, Elliott isn't a fan of the DirecTV and Time Warner acquisitions, nor the more than $160 billion in debt they saddled AT&T with. Elliott and AT&T seemed to reach a truce late last year, with a $6 billion cost-cutting program underway. But if Enrique is anything close to right, outgoing AT&T CEO Randall Stephenson will be making a well-timed exit when he steps down from the role next month.
And the reason for the retail closures is the same one we've heard before: more people shopping online.
The joke used to be in New York City that every empty space would eventually become a bank or a phone store. Now, it may be up to just the banks to keep the storefronts occupied.

The mailbag has dried up…
Don't be shy. I want to hear from you! If you're an AT&T customer, are you satisfied with your service or not? Are you watching HBO Max? (If so, can you tell me how to sign up?) What's on your mind? Drop me a line at [email protected].
Regards,
Berna Barshay
June 17, 2020