The coronavirus crisis continues to be the main driver of stocks, so that's what I'm going to focus on in this e-mail…
1) My colleague Enrique Abeyta has written an in-depth, insightful piece, Why Your COVID-19 Opinion Matters in Investing, for subscribers to his Empire Elite Trader weekly newsletter. I highly recommend it, so, with his permission, we're making it available to all of my readers.
Enrique is one of the most brilliant, outside-the-box thinkers and investors I've ever met… which is why he was the first person I recruited to join Empire Financial Research soon after I launched the business last year. He's already compiled an amazing track record with Empire Elite Trader, which you can check out completely risk-free for 30 days by clicking here.
2) I saw all sorts of interesting stories in today's New York Times and Wall Street Journal… Let's start with some good news: A New Entry in the Race for a Coronavirus Vaccine: Hope. Excerpt:
In labs around the world, there is now cautious optimism that a coronavirus vaccine, and perhaps more than one, will be ready sometime next year.

Scientists are exploring not just one approach to creating the vaccine, but at least four. So great is the urgency that they are combining trial phases and shortening a process that usually takes years, sometimes more than a decade.

The coronavirus itself has turned out to be clumsy prey, a stable pathogen unlikely to mutate significantly and dodge a vaccine.

"It's an easier target, which is terrific news," said Michael Farzan, a virologist at Scripps Research in Jupiter, Fla.
3) Americans remain very cautious, however, which doesn't bode well economically since consumer spending comprises 70% of our GDP: As Reopening Starts, Americans Expect Recovery to Take Years. Excerpt:
Businesses are beginning to reopen and new coronavirus cases are declining, but Americans don't expect life – or the economy – to return to normal any time soon.

Only one in five Americans expects overall business conditions to be "very" or "somewhat" good over the next year, according to a poll conducted this month for the New York Times by the online research platform SurveyMonkey. Sixty percent said they expected the next five years to be characterized by "periods of widespread unemployment or depression."

Those numbers are little changed from a month earlier, and may even reflect a slight decline in outlook, signaling that the reopenings and federal and state political moves to deal with the pandemic have had little impact on confidence.
4) Here's an infuriating analysis that estimates that had our leaders listened to the health experts only two weeks earlier, 83% of the deaths in the U.S. – and untold economic damage – could have been avoided. Lockdown Delays Cost at Least 36,000 Lives, Data Show. Excerpt:
If the United States had begun imposing social distancing measures one week earlier than it did in March, about 36,000 fewer people would have died in the coronavirus outbreak, according to new estimates from Columbia University disease modelers.

And if the country had begun locking down cities and limiting social contact on March 1, two weeks earlier than most people started staying home, the vast majority of the nation's deaths – about 83% – would have been avoided, the researchers estimated.

Under that scenario, about 54,000 fewer people would have died by early May.

The enormous cost of waiting to take action reflects the unforgiving dynamics of the outbreak that swept through American cities in early March. Even small differences in timing would have prevented the worst exponential growth, which by April had subsumed New York City, New Orleans and other major cities, the researchers found.

"It's a big, big difference. That small moment in time, catching it in that growth phase, is incredibly critical in reducing the number of deaths," said Jeffrey Shaman, an epidemiologist at Columbia and the leader of the research team.
And here are two related articles that made my blood boil:
5) The hardest hit – and the slowest to reopen – will be big events like concerts and sporting events. For example, I heard that Madison Square Garden won't reopen until the summer or fall of next year. Here's a story about this: Coronavirus Shut Down the 'Experience Economy.' Can It Come Back? Excerpt:
A quandary is lurking at the heart of the efforts to revive the economy.

In recent decades, a growing share of job growth and gross domestic product has come from the business of getting people together – from college sports and music festivals like Coachella to ax-throwing bars and ice cream museums. Yet given the infectious nature of the coronavirus, these very events will be among the very last to return.

"Any place people want to gather is a place no one wants to be right now," said Joe Pine, a co-author of "The Experience Economy."

That bleak truth has profound implications for businesses large and small. And with most large-scale gatherings on hold for the foreseeable future, the dearth of live events is already taking a psychological toll, not only on those in the industry but on society at large.
6) The only bright side to this is the possibility that, maybe, shutting down these big events will prove to be the key to containing the spread of the virus – meaning the rest of the economy can quickly rebound without the dreaded "second wave."
Take a look at some fascinating data and anecdotes in this WSJ article… Superspreader Events Offer a Clue on Curbing Virus. Excerpt:
Some scientists looking for ways to prevent a return to exponential growth in coronavirus infections after lockdowns are lifted are zeroing in on a new approach: focus on avoiding superspreading events.

The theory is that banning mass public events where hundreds of attendees can infect themselves in the space of a few hours, along with other measures such as wearing face masks, might slow the pace of the new coronavirus's progression to a manageable level even as shops and factories reopen.

Researchers believe that the explosive growth of coronavirus infections that overwhelmed hospitals in some countries was primarily driven by such events earlier this year – horse races in Britain, carnival festivities in the U.S. and Germany, or a soccer match in Italy.
Check out this chart from the article: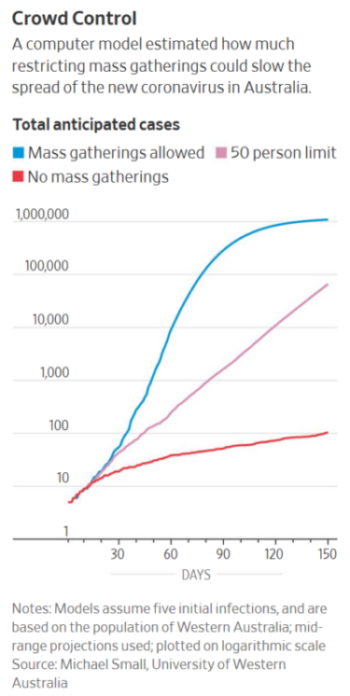 Best regards,
Whitney