1) In yesterday's e-mail, I wrote that, while I was bullish on the day the market bottomed this year on March 23 (writing in my e-mail that day that it was "the best time to be an investor in more than a decade"):
I didn't predict such a fast recovery to new highs – I thought it would take until the end of 2021 – and can't think of anyone who did.
Well, I owe an apology to my colleague, Enrique Abeyta.
He has been super bullish… and 100% correct so far. In the April 1 issue of his Empire Elite Trader newsletter (subscribers can read it here), he wrote:
The combination of the nature of the virus, successful medical response, and the most unprecedented level ever of fiscal and monetary response likely means that this is a successful bottom. Furthermore, this could set up for a huge rally and even new highs into the end of 2020.
And in the April 29 Empire Elite Trader issue, he added:
Given the unheard-of magnitude of the amount of monetary liquidity injected into global economies, it's possible we might see a continued rally well beyond anyone's expectations.

As of yesterday's close, the S&P 500 Index is "only" down 11% year-to-date, but we could see it at new highs by the end of the summer.
Mea culpa, Enrique!
He has been knocking the cover off the ball in Empire Elite Trader, with 24 positions closed for double-digit gains in 2020 alone. If you're interested in subscribing, click here for a special offer… You can try out Empire Elite Trader risk-free for 30 days.
2) I continue to closely follow the pandemic, sending lengthy e-mails to my coronavirus e-mail list roughly twice a week (if you'd like to receive it, simply send a blank e-mail to: [email protected]).
In my July 21 e-mail, I wrote:
I think we will soon see a sharp drop in both cases and deaths…

In short, it appears that the hard-hit "FACT" states (Florida, Arizona, California, and Texas) may be past their peaks in cases, hospitalizations, and deaths.
Now, a month later, this is indeed happening. For example, this article documents the good news from Florida: The ultimate COVID-19 data dump: Florida is winning the fight. And here's a chart from a Twitter post showing COVID-19 deaths for 10 states and the U.S. as a whole: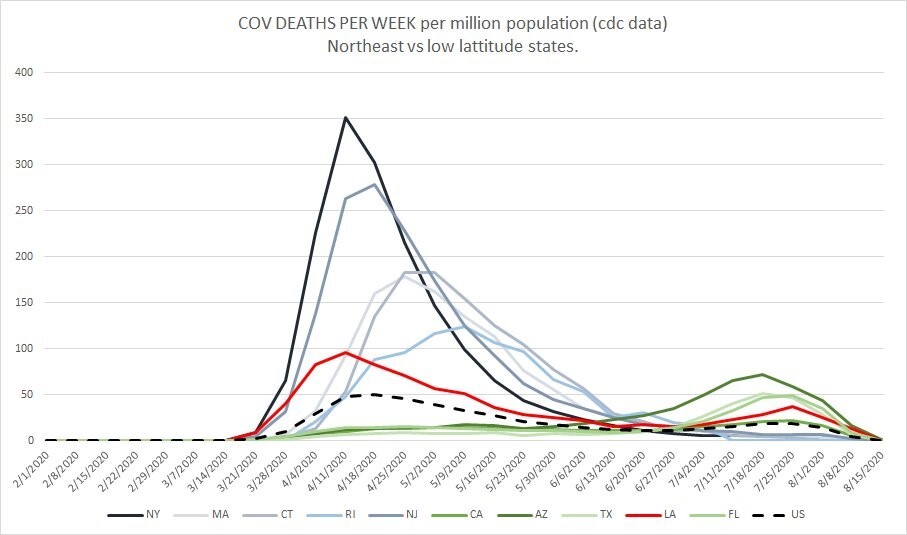 This chart underscores two pieces of great news: first, the second wave is declining… and second, while the much-hyped number of cases surpassed levels seen earlier this year, the number of deaths – which is what really matters – hasn't come anywhere close to what the Northeast experienced in April and May.
3) My colleague Enrique as well as Adam Patinkin of David Capital Partners (whose views I covered in my July 15 e-mail) have been pounding the table that the "disease break point" for the coronavirus is much lower than the consensus view. (Though the consensus is starting to change – for example, see this recent article in the New York Times: What if 'Herd Immunity' Is Closer Than Scientists Thought?)
If they're right – and evidence continues to mount that they are – it has powerful medical, economic, political, and investment implications.
I e-mailed Adam earlier this week to ask for his latest thoughts, which he gave me permission to share:
DISEASE BREAK POINT VS. SEASONALITY

It is always important to consider the other side of the argument – and to ask the question, "how could I be wrong?"

To me, the biggest risk to my COVID-19 thesis has been that I have mistaken the disease break point for seasonality. Higher-latitude geographies had their waves during the spring in March/April. Lower-latitude geographies had their waves over the summer in June/July. We know coronaviruses are seasonal. What if I am assuming the disease break point has been reached, when really it is just seasonality?

Two new data points are extremely important in helping answer this question.

One is New Orleans, Louisiana, the other is Sun Valley, Idaho.

Let's start with New Orleans. The city celebrated Mardi Gras in late February. In March/April, when northern cities and states had their waves, New Orleans had a wave too… likely brought on by visitors from out-of-town.

This provides a wonderful test for the thesis – because the Mardi Gras wave was out-of-season for Louisiana. If the Mardi Gras wave led to population-level resistance, then New Orleans should not have experienced a seasonal "summer wave." If the Mardi Gras wave did not lead to population-level resistance, then the seasonal "summer wave" should be obvious in the data.

What happened? A careful review of parish-level data in New Orleans shows that parishes with large Mardi Gras celebrations DID NOT experience a seasonal second wave. In contrast, other parishes away from the Mardi Gras celebrations DID experience the seasonal summer wave, as these two charts show (sources here and here) (the first chart is cases, the second is deaths):

This is incredibly powerful. It indicates that once your area goes through its "wave" and reaches its disease break point, a large second wave does not follow at a later date… even when seasonality kicks in.

Importantly, New Orleans is not the only example. The same thing happened in Sun Valley, Idaho (in Blaine County) which experienced a spring break/ski season wave in March/April. When Idaho later experienced its "first wave", Blaine County showed no uptick at all – indicating the population-level resistance from Blaine County's spring break wave proved durable. Here's the chart:

These data points are strong evidence that infection spread broke because these geographies reached their disease break points, not as a result of seasonality. From a public health perspective, this is an incredibly important observation to consider.
Thank you, Adam!
My take: I think that, while there will likely be flare-ups in areas that haven't been hit yet such as Northern California, we are most of the way through the pandemic. This is extremely good news for our country – and very bullish for stocks.
Best regards,
Whitney