1) My colleague Enrique Abeyta continues to knock the cover off the ball with all of his newsletters: Empire Elite Trader, Empire Elite Growth, Empire SPAC Investor, and his recently launched Empire Elite Options.
And he's not slowing down – his latest idea in Empire Elite Growth is up 137% since he recommended it a mere two weeks ago!
But his newsletters aren't cheap, and unlike Berna Barshay and me, he doesn't publish a free daily.
However, he does share what's on his mind (including occasional stock picks) for free on his Twitter @EnriqueAbeyta. In addition, he's just launched a brand-new podcast, Hard Money's Million Dollar Podcast, in which he's trying to turn his friend's $10,000 stake into $1 million in a matter of months.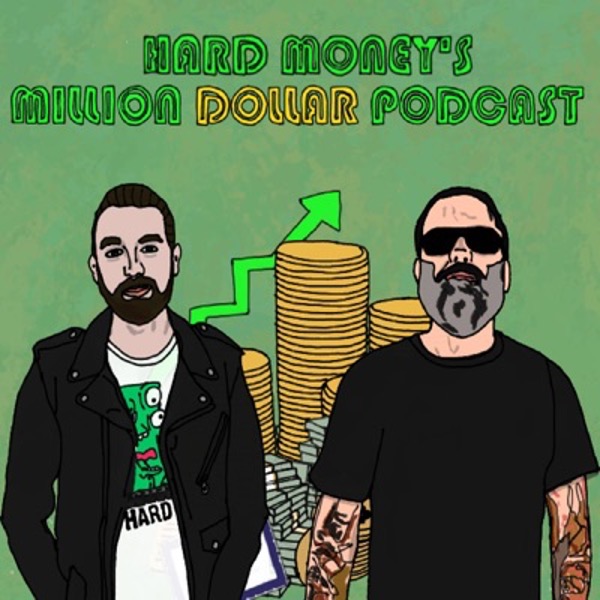 He's off to an incredible start: In the first week, his portfolio was up 92% thanks to two investments. (You'll have to listen to the podcast to see what he recommended!)
It's a balls-to-the-wall strategy that Enrique warns should only be implemented with a small percentage of your portfolio, if at all. He told me:
What we are doing is actually kind of insane!

There are going to be good lessons and sound underlying precepts, but we are way out in the risk curve.

That's the only way to turn $10,000 into $1 million!
Again, this strategy isn't right for 99.9% of investors… But if anyone can make 100x in a few months, it's Enrique!
Even if you don't invest in any of his recommendations, the podcast is wildly entertaining. Here's are links to listen to it on Spotify and Apple. Summary:
Enrique Abeyta is a 25-year stock market warrior and former hedge-fund manager who has managed billions of dollars. Matt Saincome is the founder of punk comedy website The Hard Times who has only managed to read too much WallStreetBets and mess up his Robinhood and Coinbase accounts pretty bad.

The unlikely duo is now teaming up with a single mission: Take $10,000 of Matt's money and turn it into a cool $1 million, one week at a time. Through investments, trading, online poker (where Matt got his start), side hustles, and anything else they can think of, these cohosts take listeners along for the ride as they flex every entrepreneurial, money-making muscle they have in the ultimate go-big-or-go-home challenge.

They'll even call up some of Enrique's brightest friends from the financial world, like Gabe Marshank, to help out. The only rule: It's $1 million, or $0. The pod doesn't stop until they hit one number or the other.
2) Sadly, the Reddit crowd doesn't seem to have learned anything from the implosion of
GameStop (GME) (which I've labeled "GameStink"), AMC Entertainment (AMC), Express (EXPR), Koss (KOSS), etc…
Instead, they've simply moved on to another target: cannabis company Tilray (TLRY), which started the year at $8.26, jumped to $18.10 by the end of January, and then really took off in the past week, hitting an intraday high of $67 on Wednesday.
This is actually the second time this stock has gotten caught up in a silly, obvious bubble. In September 2018, shortly after it went public, it skyrocketed to $300. At that point it was trading at 1,000 times revenues – and I called the top to the hour, as I discussed in my January 26 e-mail. It subsequently declined by 99%… before rising from the dead.
I'm annoyed at myself for not calling another top in yesterday's e-mail, as the stock collapsed by 50% yesterday. Mark my words: It will soon fall by another 50% (at which point, it will simply have returned to where it began at the start of this month).
To be clear, I'm extremely bullish on the cannabis industry, which is very real and has incredible growth ahead of it. But as I'll discuss in coming e-mails, there are much better ways to play it than Tilray…
3) Kudos to Nate Anderson of Hindenburg Research, who Activist Insight rated as the No. 1 short activist in 2020.
During the year, Anderson launched 24 campaigns – most notably against alternative-energy vehicle maker Nikola (NKLA) – and the average stock declined by 28.3% in the subsequent month.
4) My weeklong ski adventure ended yesterday at Killington, which is by far New England's largest ski area (I also skied at Windham, Mt. Sunapee, Okemo, and Sugarbush in the past week).
Despite living (and skiing) in western Massachusetts and then Boston for 16 years from 1978 to 1994, I had never been there before. Shame on me – it's an amazing mountain (many mountains, in fact)!
                        
My friend Doug met me there – he and I have run some 12- and 24-hour Tough Mudder races together, but we had never skied together. On our first run, he flew down the slope, carving perfect turns, and left me in the dust. I'm a good skier, but he was on another level!
On the next lift up, I asked whether he skied competitively in his youth (he's now 58) – and he said he skied professionally, once going head-to-head against the legendary Phil Mahre, and then joined the pro mogul tour for a couple of years. No wonder I couldn't keep up!
He was a joy to watch – check out this short video of him cruising down a steep, difficult mogul run. Here are some pictures from yesterday: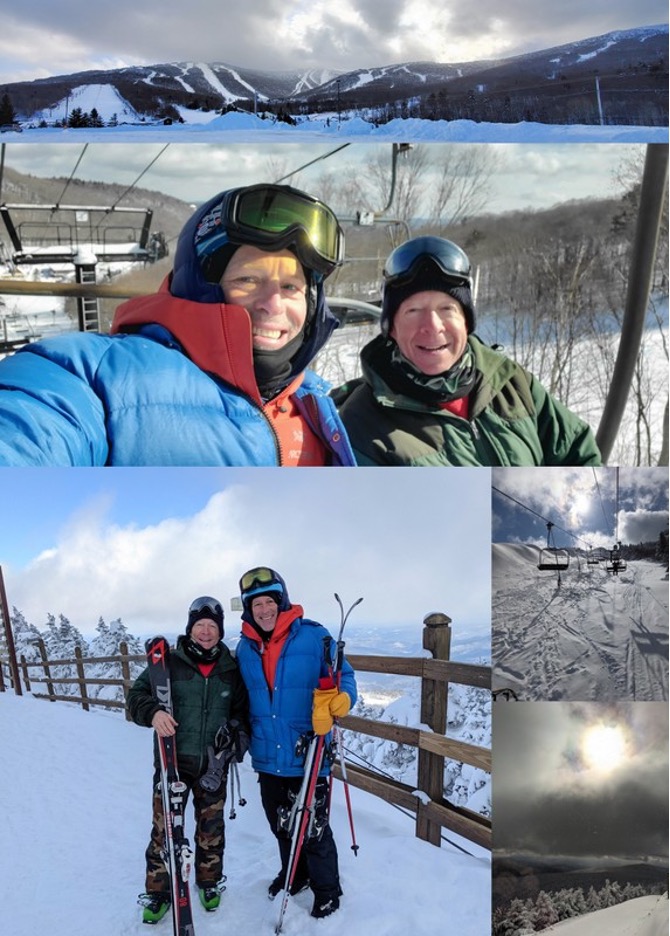 Best regards,
Whitney