1) I'm excited to share some big news about my publishing company that came out last night – Empire Financial Research is merging operations with our corporate affiliate Stansberry Research.
I'm thrilled to be joining one of the largest, independent publishers of financial research – one known for focusing on delivering high-quality, profitable research to everyday investors for 24 years.
And best of all... I'm not going anywhere.
I'm going to keep publishing Whitney Tilson's Daily, just as I always have. You'll keep receiving all the stock ideas, reports from around the world, warnings about bubbles and frauds to avoid, articles and market news, commentary, etc. that I've been sending out every business day since Empire launched in 2019.
You don't need to do anything – the only change you'll see is that Whitney Tilson's Daily will start coming from Stansberry Research.
To my longtime readers, thank you! I'm grateful for your trust over the years and look forward to continuing our relationship as part of the Stansberry family.
2) I recently sent this missive to the new personal e-mail list I created in June to follow the miraculous new weight-loss drugs (if you wish to join it, simply send a blank e-mail to: [email protected]):
---
A friend e-mailed me a few days ago: "I know you've collected a lot of anecdotal stories by now, but I'm on Mounjaro and it's life-changing!"
I asked him to tell me more, and he gave me permission to share his raw, powerful, beautiful story:
After seeing how much success [our mutual friend] had with the drug and reading anecdotal stuff that you feature on your list, I started on Mounjaro in August. Since then, I've lost close to 40 pounds. Early on, I started getting up and walking five miles every morning and I've recently started working out in the gym. Most of my clothes are too big.

But that's the least of it. I'm in a more confident mental space than I've been in years. In a few months – and I'm just getting started – I've more or less completely re-mapped a lifelong relationship to food and my body.

It's hard to overstate the psychic toll of living in a body you feel ashamed of or uncomfortable with, especially in this culture. I've been overweight since around my late teens, and I was probably at least technically overweight before that. In my 20s I had both a serious alcohol problem and a likely binge eating disorder (these things unsurprisingly play well together). I got sober at 33 (I'm 43 now). But while you can live without alcohol, you can't live without food.
As he said, it was a "constant, fraught relationship with food... clothing... and body image" for 30 years:
In fact, I can remember compulsive eating behaviors that go back to early childhood. I spend a lot of time and energy on "personal growth" type endeavors, reflecting on my patterns and interior world etc. I can't say for sure, but I think it's reasonable to guess that I took on some of the eating patterns I did as an outgrowth of an emotionally painful childhood – being split from my father and brother.

Even as a young adult, food is something that you get to exercise agency and control over. You can give yourself the dopamine hit of eating an entire pizza or whatever... and even though it doesn't feel good in the long term, or even the medium term, it does feel good in the moment. My relationship to drinking was much the same way.

The pain and shame and sense of failure about my weight and body has persisted through all kinds of growth and success in other areas. I have two Ivy League degrees. I'm incredibly proud of my sobriety and the personal evolution it precipitated. Around the time I got sober, I welcomed my first son – an incredible kid. Soon after that, I decided to change careers from a struggling industry (journalism) that wasn't really meeting my professional hopes, much less offering the stability, lifestyle, etc. that I wanted, and that now felt much more important as a parent. I started my current job and was immediately making more with greater flexibility, benefits, etc. That remains the case and I now make several times the highest salary I made in journalism. I've transmuted deeply challenging situations in my marriage into more growth – greater intimacy and communication, etc. But whatever success I counted, this one remained, like some white whale that I simply could not overcome.
And he says it wasn't for lack of trying:
I've lost upwards of 50 pounds on three separate occasions over the years. Twice in evidence-based, medically supervised programs – although our best evidence about what works was (and perhaps still is) severely lacking. I think these programs are still rooted by a well-meaning version of the sort of toxic paternalism about discipline and self-denial that informs every diet. The third time I did it on my own, using intermitted fasting and primarily walking for exercise. That was mid-pandemic and the eventual result was predictable: the same as the first two times: I gained it all back and sometimes some extra, as I reverted to familiar patterns. These three significant episodes of course don't include the years of smaller efforts: keto... packaged meals... vitamins and supplements... books... podcasts. You'd think cutting out massive amounts of alcohol would have helped, but even that had little effect.

Then some health things started to catch up with me. At 43, you can't get away with what you did at 23 or 33. I was diagnosed with sleep apnea and went on CPAP [continuous positive airway pressure]. I had serious knee pain. I've dealt with sometimes crippling, can't-sleep sciatica since a back injury a few years ago. All stuff, by the way, that the clowns at the insurance company are going to have to pay for sooner or later while at the same time resisting paying for Mounjaro – but that's a whole other conversation. Never mind the worst outcomes – a helicopter ride to a cardiac ICU or what have you. Anyway, it was the kick in the pants I needed.

Perhaps there's a joke to be made about the phrase "this time is different," given the mythology around it in investing. It's a vulnerable thing to say given that I've lost less weight so far on Mounjaro than in some of my previous efforts. Even if I lose 100 pounds, who's to say the same pattern doesn't repeat again?
But he's "quite certain" that this time is different:
I don't know how long I'll remain on the drug. I am open to it being forever, or many years. Perhaps it won't be. I don't know. But the internal re-mapping of my relationship to eating – the sense of scarcity I often felt in front of a table full of food (as a well-off person, mind you), for example – will remain I think.

When I started the drug, I was in Michigan at a house on the lake where I spend about half the summer. The days tend to be centered around large communal meals with family in the evening, sometimes as many as 15 people. There is a lot of healthy food available – we have a wonderful garden, for example. Heck, the place is called Garden. But this is also a place I go on vacation. We have kids. There are many opportunities to eat, and plenty of ice cream, cookies, pizza, etc. to be had.

For years we went to Michigan just for a week or so at a time. When the pandemic hit, we started going for longer. And I ended up being there for maybe six weeks each summer – I was really living there while working as well – but still eating like I was on vacation.

This year, I ate like a bird the entire time and felt great. It's worth noting that since I've been on Mounjaro, I've never felt like I had to deny myself anything. If there was ice cream after dinner and I wanted it – I had it. But I was having one bowl and not three. And often, I didn't want it at all.

I felt the drug immediately – within a day or two of the first dose (I'm still on only the second-lowest dose, 5 mg; it goes up to 15 mg). It's funny, because most drugs you can't feel at all. If you take an antibiotic, you just sort of hope that it's doing what it's supposed to do inside your body, but you have no visceral sense of that. But with Mounjaro, my appetite and relationship to food changed almost immediately. I'm sure you can blow through the new signal, but it's really like you're getting this hormonal nudge towards all the things you know you "should" be doing anyway. Not just eating less often... and in smaller quantities... but also, somehow, you sort of feel you want to make better choices.

I feel so much better. With so much less weight on them, my knees feel better. I put mostly fresh things on my plate and then sort of pick at it. I think there's a good chance I can get off the CPAP.

This time really is different. It's miraculous stuff!
---
3) Speaking of Mounjaro, its maker, Eli Lilly (LLY), reported third-quarter earnings that handily beat expectations.
Revenue grew 37% to $9.5 billion. That was far above expectations of $8.95 billion and was driven by $1.4 billion in Mounjaro sales – up 652% from a mere $187 million the prior year (and Lilly could have sold even more, as the company "experienced intermittent delays fulfilling orders of certain Mounjaro doses given significant demand").
This chart from Lilly's quarterly slide deck shows the incredible growth of Mounjaro prescriptions in the 71 weeks after its launch, compared with Lilly's older GLP-1 drug, Trulicity, and Novo Nordisk's (NVO) semaglutide, the active ingredient in Wegovy and Ozempic: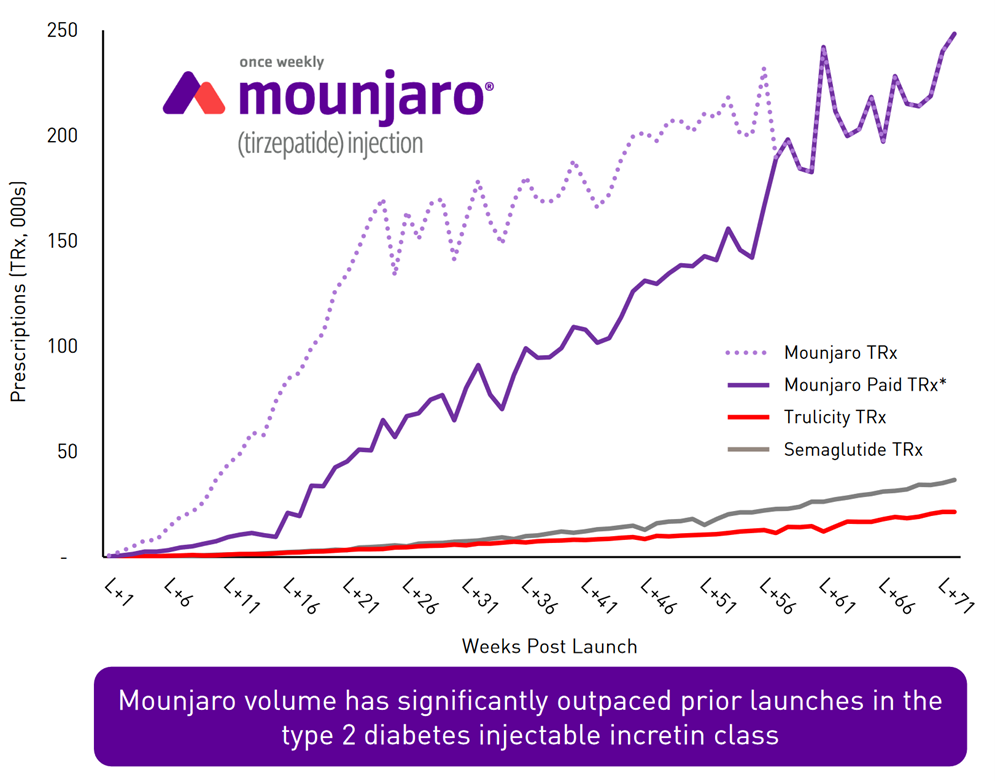 (Note that the dotted purple line reflects patients who were taking advantage of Lilly's big discount offer, a mere $25 co-pay, which it ended a few months ago, meaning that users now need to pay just over $1,000 per month out of pocket or persuade their insurance company to cover it.)
Despite incredible revenue growth, Lilly's generally accepted accounting principles ("GAAP") earnings were negative $0.06 (adjusted: $0.10) per share due to a huge $3 billion charge for "acquired in-process research and development" (IPR&D). Adjusting for this, the company beat earnings estimates and reaffirmed guidance for next quarter.
What about the stock? It's up 60% in the past year to more than $550 per share, giving the company an eye-watering $550 billion-plus market cap, equal to 17 times revenues and (adding back the acquired IPR&D) more than 50 times this year's earnings estimates.
Can Mounjaro and the other weight-loss drugs in the pipeline drive enough growth to warrant that kind of valuation? I wouldn't bet against it – as my longtime readers know, I'm super bullish on this sector – but the old-school value guy in me won't let me recommend it at this price.
Maybe someday we'll get lucky, the stock will get whacked, and we can get in at a more reasonable price...
4) This post about the courtroom sketch of fraudster Sam Bankman-Fried cracked me up: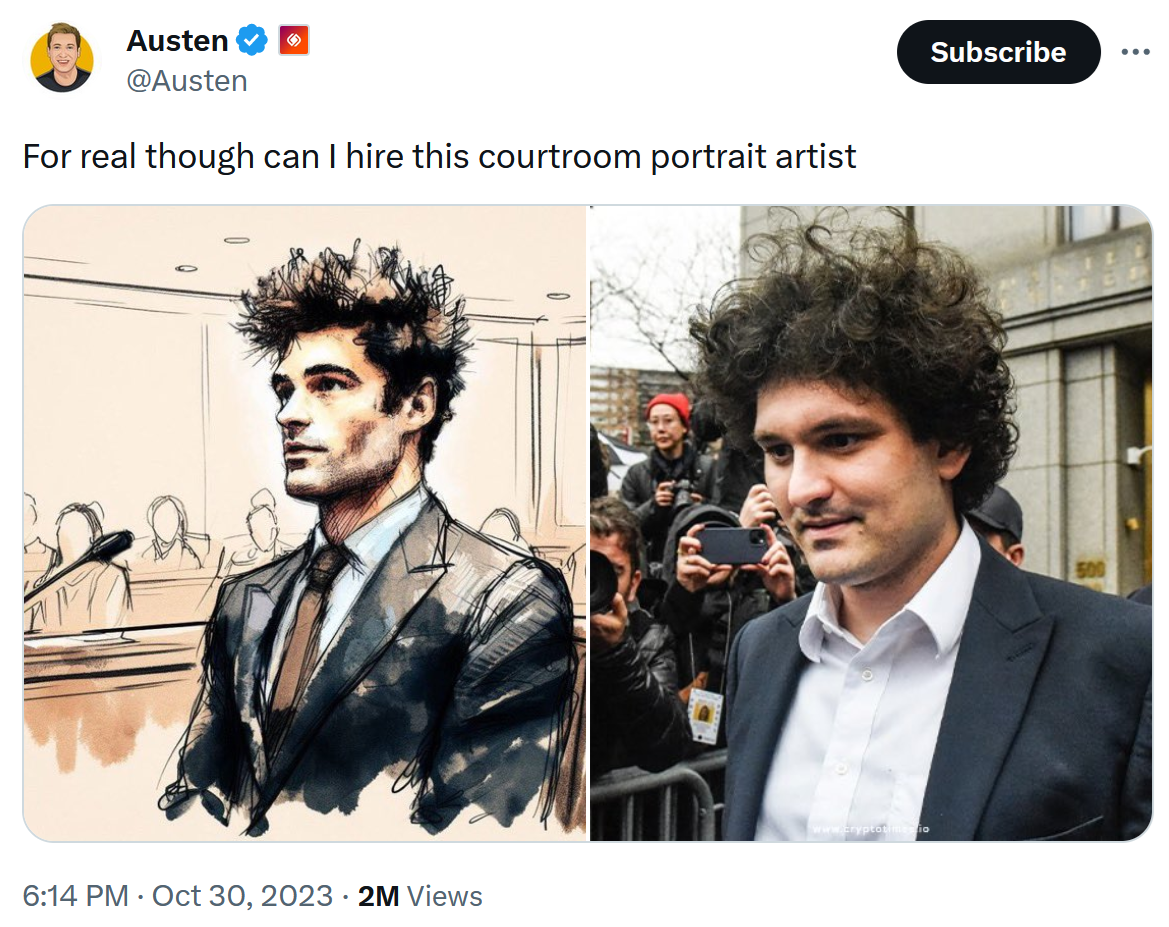 And this post – a good investing lesson!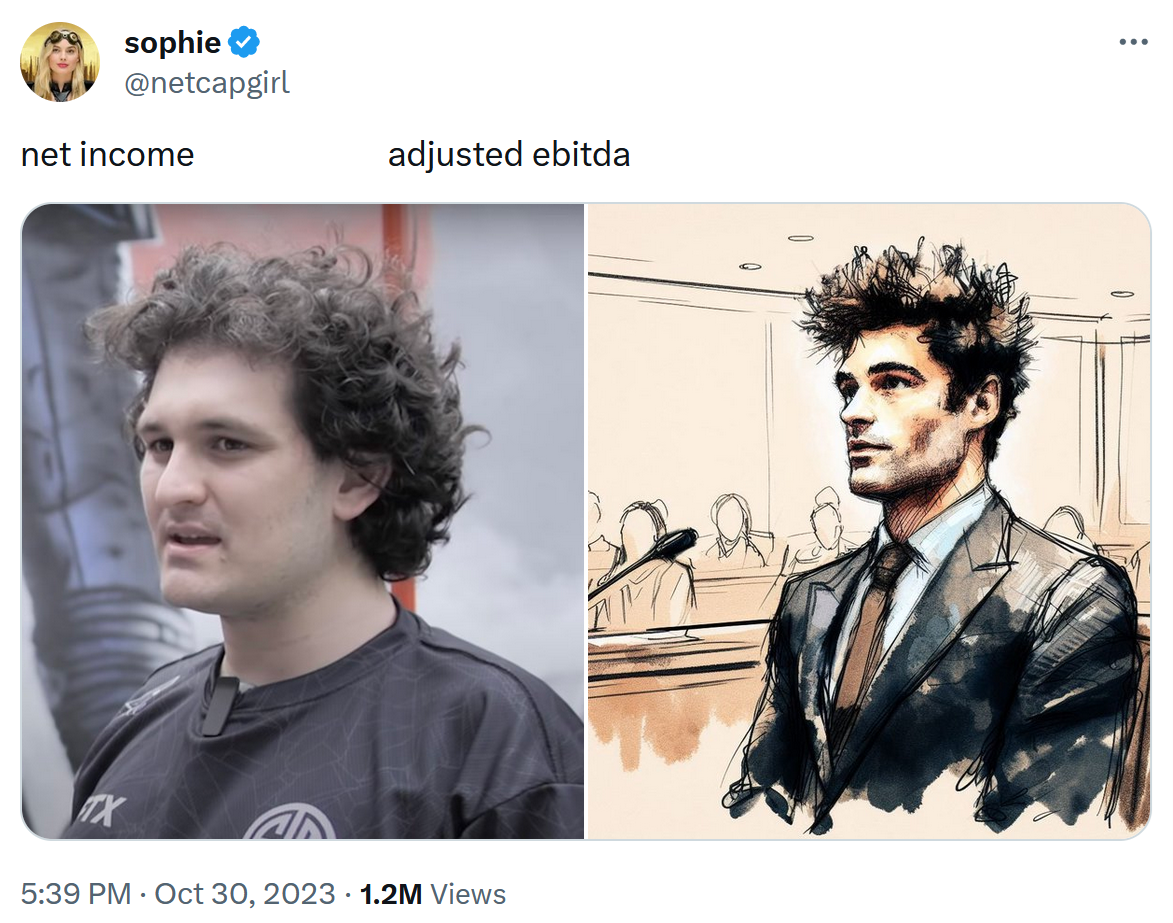 Best regards,
Whitney