1) In three filings yesterday, Tesla (TSLA) disclosed that its CEO, Elon Musk, sold another $6.9 billion of his stake on Friday, Monday, and yesterday, despite saying just months earlier that he planned no further stock sales.
Why the change in plans?
That's an easy one...
As I expected, Musk is finally realizing that there is little chance that he can bluster, bully, or weasel his way out of the airtight contract he signed to buy Twitter (TWTR) for $54.20 per share, and therefore he needs to start raising the capital required to complete the transaction...
Indeed, he acknowledged this last night on Twitter: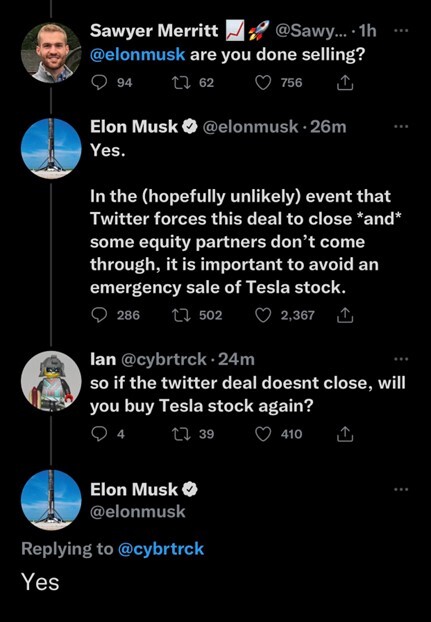 I think it's worth noting that at Tesla's annual shareholder meeting last Thursday, only hours before he began selling his stock, Musk talked about potential future share buybacks and said of a possible stock price decline, "If you see people panicking... it's a buying opportunity!" You can watch the video of it here.
2) It was only a week ago when I warned my readers about AMTD Digital (HKD), which hit $2,118 intraday last Wednesday, writing that it was "one of the most stupidly overvalued, obviously fraudulent stocks [famed activist short seller Nate Anderson] (and I) have ever seen. Why do U.S. exchanges and regulators permit Chinese scammers to fleece American investors?!"
Since then, the stock has imploded, crashing another 48% yesterday to close at $212 per share – down a staggering 90% in one week.
Don't even be tempted to bottom fish this one, as it still has a $39 billion market cap versus a mere $25 million in trailing 12-month sales, meaning it's trading at 1,560 times revenue.
Off the top of my head, let's be generous and say it's worth 10 times revenue, which would be a high multiple for almost any stock. That would mean it's 156 times overvalued and that a reasonable price target for this stock would be $1.36 per share.
This is what fraudulent market manipulation looks like.
I repeat: Why do U.S. exchanges and regulators permit Chinese scammers to fleece American investors?
The trading in this stock should be suspended immediately and, after an investigation that shouldn't take more than a day, it should be removed from the exchange and all people associated with it given lifetime bans from U.S. markets.
3) Leading cryptocurrency exchange Coinbase (COIN) reported dreadful second-quarter earnings after the close yesterday. Here's the Wall Street Journal's summary: Coinbase Posts Steep Second-Quarter Loss Amid Crypto Meltdown. Excerpt:
Coinbase reported a surprisingly large second consecutive quarter of losses, driven by the crypto market's spring meltdown.

Coinbase lost $1.1 billion, or $4.98 a share, in the second quarter, the company said Tuesday, compared with a profit of $1.6 billion, or $6.42 a share, a year ago. Revenue fell to $808 million from $2.2 billion a year ago.

Analysts expected the company to report a loss of $2.47 a share, according to FactSet. Shares fell about 5% to about $83 in after-hours trading. That is a far cry from the $381 where the stock opened trading when it went public in April 2021.

Coinbase is the largest U.S.-based crypto exchange and one of the top three in the world by trading volume. It is also one of the few publicly traded companies in the sector, so its earnings provide insights into an otherwise opaque market.
While I remain moderately bullish on the markets overall, I continue to recommend avoiding the entire cryptocurrency sector because I believe there are many more shoes to drop, most notably related to the hilariously misnamed "stablecoin," Tether.
4) In my July 28 e-mail, I wrote about how ubiquitous Internet coverage has become all over the world, even in countries I've visited recently like Uzbekistan, Ecuador, and Rwanda.
Strangely enough, in fact, the worst dead spots for my smartphone that I've encountered in recent years were in the Sierra Nevada Mountains because the California environmentalists won't allow cell phone towers in their state and national parks, so there are enormous areas with no coverage.
This led to a very dangerous situation last summer...
I was camping with my guide near Mount Whitney for four days and was in one of those dead zones. So, early one evening I hiked 30 minutes from my tent, across a plateau, to the far edge where there was a sightline to a nearby town so I could get a signal for my phone to upload and download hundreds of e-mails.
By the time I was finished an hour later, it was dark, but I wasn't worried – I had a headlamp, there was some light from the moon, and I knew my tent was in the direction of Mount Whitney, which I could see in the distance amid the clouds. So I headed straight in that direction...
But after about 20 minutes the terrain got steeper and steeper to the point where if I had fallen, I might have broken my leg (or worse), which would have been very serious, as I had no water or food and (stupidly) hadn't told my guide that I'd left my tent (he thought I had just gone to sleep after dinner).
Puzzled, I hiked back up to the plateau, hiked further west, and tried descending again... and encountered the same increasingly steep, dangerous terrain.
This happened a few more times and I was starting to worry, so I swallowed my pride and yelled for my guide at the top of my lungs, but there was no reply...
I just couldn't figure out how I'd gotten lost, but I knew one thing for sure: I couldn't risk plunging off a cliff, so I was starting to think I was going to have to spend the night on the plateau and make my way back to the campsite after the sun came up. It wasn't cold and fortunately I was wearing a puffy jacket and a shell (the one smart thing I'd done!), so hypothermia wasn't an issue, but I sure wasn't looking forward to pulling an all-nighter out there...
And then the clouds moved, and I realized what had happened...
Here's what the line of mountains looked like in the day – you can clearly see Mount Whitney, the tallest peak in the continental U.S., in the middle: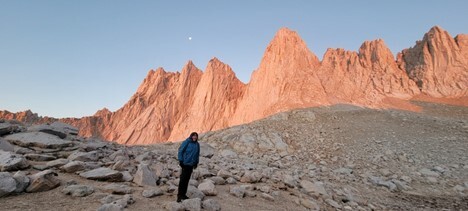 But it was cloudy that night, so what I was seeing looked something like this, made worse by the darkness, illuminated by only a bit of moonlight: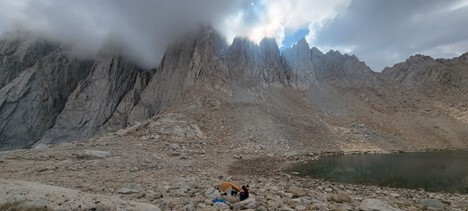 The clouds had enveloped Mount Whitney, but not some of the other peaks so, not realizing this, I had been hiking toward them. Thus, instead of going back to my tent, I was heading over the cliff on the left side of the plateau!
I was saved from a miserable night on the plateau only because over the roughly 90 minutes I'd been wandering around, the clouds moved, and I was finally able to see Mount Whitney. It was only then that I recognized my mistake and was able to make a beeline for my tent. I was never so happy to finally find it and curl up in my sleeping bag!
Best regards,
Whitney
P.S. I welcome your feedback at [email protected].