1) I'm not surprised by this: Elon Musk Says His Deal to Buy Twitter Is on Hold. In light of the carnage in tech stocks, why wouldn't Musk try to get a better price?
This is why we told subscribers of our Empire Stock Investor newsletter to sell at $50.59 and bank their profits.
I still think the deal will go through but don't have a strong feeling at what price (and therefore whether the stock is a buy today).
2) This is a very interesting data point, which I didn't see until after I did my buying on Wednesday and yesterday – but it makes me feel more confident in that decision!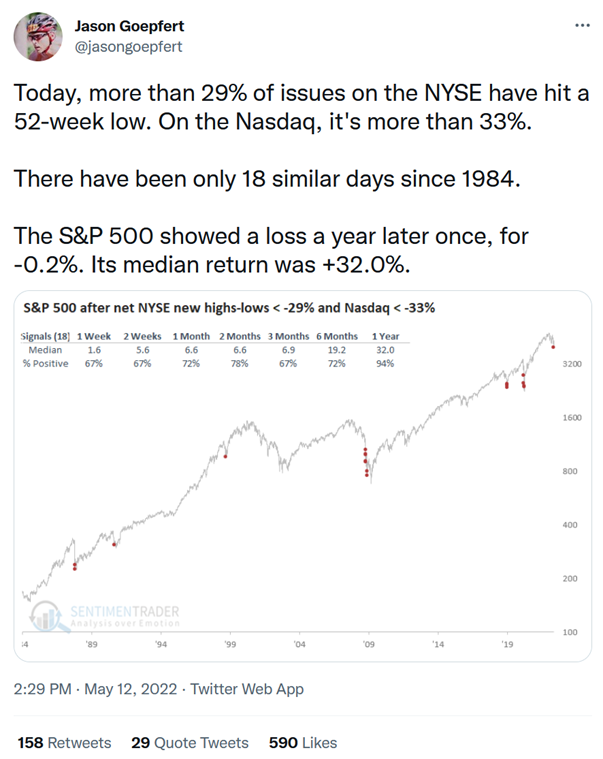 3) This isn't a data point, but it's a story that might be even more important...
On January 27 last year, only one day after the peak of the meme stock bubble (which I called the top of nearly to the hour), my friend texted me a crazy yet completely representative story about his young son, which I described in my e-mail the next day:
...for months [my] friend has been resisting his 11-year-old's pleas to lend him $50,000 to speculate on stocks – but he finally broke down and texted me last night:

At his request and from his account, I will purchase AMC (AMC) and GameStop (GME) for him tomorrow. He is literally bawling, PLEADING, and yelling at me:

TikTok tells me which stocks to buy. Every time you tell me something is risky, you are wrong. This time they are worth it and will go up! I want to buy more, I want to buy on margin. They will loan me the money. Please, please BUY ME MORE AMC ON MARGIN – I know it will go up!
The poor kid has, of course, been incinerated, as AMC and GME are down 44% and 74%, respectively, since then.
You won't be surprised to hear that my friend texted me this last night about his now-12-year-old son:
He just asked me: "What should I do now? Sell all my tech stocks and just buy index funds?"
I don't want to put too much weight on one kid's behavior, but just as his tears marked the top of the bubble a year ago, his capitulation may well mark the bottom today...
4) The crash in cryptocurrencies made the front pages of the Wall Street Journal (Crash of TerraUSD Shakes Crypto. 'There Was a Run on the Bank') and the New York Times (Cryptocurrencies Melt Down in a 'Perfect Storm' of Fear and Panic) today.
Normally such headlines are a contra-indicator for me, making me want to buy, but not this time...
I want to repeat what I said in my daily e-mail yesterday: Avoid all cryptocurrencies, especially Tether (and all other "stablecoins"). I wrote:
For more aggressive investors with crypto accounts (alas, I don't have one), both TerraUSD and the largest stablecoin, Tether, are two of the best shorts I've ever seen – yes, even better than Digital World Acquisition (DWAC).

This morning as I wrote this, TerraUSD was still trading at $0.63, which makes no sense. There are no underlying assets – its value depends solely on investor confidence, which is now shattered, as it has broken the buck and Luna is worthless. I confidently predict TerraUSD will soon be as well.

Tether, in contrast, is supposedly fully backed by reserves. And if you believe that, please contact me as I have a bridge in Brooklyn for sale...

I've written extensively about Tether – here are links:

I don't doubt that Tether has some reserves, so it's less likely to implode than TerraUSD. But it broke the buck this morning – trading down to $0.95, before rebounding to $0.99.

But it's an almost perfect short because it can't trade above $1, so if you short it at $0.99, you can make 99% but the most you can lose is 1% (plus you'll have to pay de minimis 6% to 12% annual interest).
TerraUSD is now down to less than $0.20, while Tether is hanging on right around $1.
Tether over the next month or so is the best short I've ever seen (and I've seen a lot of great shorts!) because your maximum loss is less than 1%, yet it could go down massively (80%?).
What I think is going on behind the scenes is that the issuers of the Tether tokens, Tether Limited, which in turn is controlled by the owners of Bitfinex, are frantically selling whatever liquid assets they have and buying Tether at $1 (see: Tether stabilizes after burning 3 billion tokens amid redemptions) in a desperate attempt to prevent it from "breaking the buck" – because they know once it does so, look out below...
But I think Tether Limited is going to lose this battle because: a) every Tether owner with an ounce of brains is selling like mad... and b) I don't believe the bulk of their reserves are in government bonds, commercial paper, and other secure, liquid assets. If so, they could easily prove this, but instead here's what they told the Financial Times yesterday in this article, Crypto industry shaken as Tether's dollar peg snaps:
Paolo Ardoino, Tether's chief technology officer, on Thursday vowed to defend the token's dollar peg and said the company had bought "a ton" of U.S. government debt, which it is willing to offload in that effort. But in an interview with the Financial Times, he declined to give details about its $40 billion hoard of U.S. government bonds because he did not "want to give our secret sauce."

"Our counterparties are not public. We are not a public company," he said. "So we keep that information [to] ourselves, but we are working with many big institutions in the traditional financial space."

Last year, the U.S. Commodity Futures Trading Commission fined Tether $41 million, claiming the company made "untrue or misleading" statements about its reserves.

Ardoino also said the stablecoin issuer is working on obtaining an audit, but said the big accounting firms "are quite scared for reputational risk in touching crypto at this moment." Tether has had $2 billion in redemption requests in the past day, an unusually high number, Ardoino added.

He said the group had recently been shifting away from holdings of commercial paper, a type of short-term corporate debt typically sold by highly rated companies, to Treasury bills. Treasury bills now account for around half of the group's $80 billion in reserves, he added.
Secret sauce?! Yeah, Bernie Madoff had that too!
Far more likely are these two scenarios:
It's mostly a Ponzi scheme and Tether Limited has been looting investors' money, and/or
Tether Limited invested a substantial amount of the reserves in bitcoin and other cryptos, the best of which (bitcoin and ethereum) are down roughly 60% from their November peaks and the rest are down much more.
Either way, I think there's almost no chance Tether Limited has $81 billion of reserves backing the $81 billion in Tether tokens out there.
If I were to guess (and it's a total guess), I'd say they have maybe half that in total, of which maybe half is liquid – or $20 billion.
So the race is on... Does Tether Limited have enough reserves to prop up Tether at $1 until (the company is praying) the storm passes and the selling ends?
I doubt it...
5) I feel so badly about the millions of average folks who were sucked into various bubbles. One friend wrote me yesterday:
My buddy's neighbor in Vegas lost his life savings in Luna yesterday. He's getting a divorce and has to sell his home. This crypto rout is gonna be brutal...
6) Here's a funny/not funny 77-second video about the carnage out there, using a clip from the movie Saving Private Ryan: Saving Capital Markets (warning: very graphic).
Best regards,
Whitney
P.S. I welcome your feedback at [email protected].