► Over the weekend, rental car company Hertz Global (HTZ) filed for Chapter 11 bankruptcy...
The country's second-largest auto rental company owns the Hertz, Dollar, and Thrifty brands. Hertz built its consumer image over almost two decades of association with O.J. Simpson. It survived that... but couldn't survive the coronavirus.
Institutional investors anticipated the move when Hertz missed a bond payment last month. Nevertheless, the company's descent (along with its share price) was exceptionally rapid.
As recently as late February, Hertz's 6.75% senior unsecured notes expiring in 2022 were trading above par. Just three months later, those same bonds are trading around $0.16 on the dollar.
The car rental business has incredibly high fixed costs. Hertz maintains a fleet of almost 700,000 cars in the U.S. alone. Those autos are generally leased, and Hertz must make interest payments on them, regardless of whether they rent them. As domestic travel and international arrivals ground to a near halt starting in mid-March, Hertz's revenue stream dried up – the company reported that in April, sales were down 73%.
► Airports accelerated Hertz's demise...
Hertz and Avis Budget (CAR) – which compete head-to-head in the corporate rental market – get the majority of their revenues from airport locations. With air carriers cutting their capacity by up to 90% since mid-March and with current restrictions on visitors from many countries, U.S. airports are deader than ever.
I saw this firsthand earlier this month when I visited an Avis location in New Jersey where I had reserved a car, only to find the facility was shuttered. Customer service sent me on a wild goose chase. I eventually visited four different Avis locations five times over a 24-hour period in my quest for a rental car. At Newark Airport, I spent two hours waiting while several agents tried unsuccessfully to honor the rate I had booked elsewhere.
During that time, a grand total of three other customers arrived at Avis. For perspective, Newark is the 14th-busiest airport in the U.S., and services 43 million passengers in a normal year. On a typical Friday early evening (the time I visited), at least 20 people would be waiting for a car at any given time, and dozens of customers would come through those doors in two hours.
My husband and I joked that the zombie apocalypse had hit the airport, including both the terminals and the car rental agencies. To say that the all-important airport market has fallen off a cliff for everyone would be a huge understatement.
► Even Carl Icahn couldn't save Hertz...
Hertz entered the coronavirus crisis after several years in turnaround mode, trying to recover from a disastrous few years under the watch of former CEO Mark Frissora.
During Frissora's tenure from 2011 to 2014, Hertz bought Dollar Thrifty (which many believe the company overpaid for) and spun off its rental equipment business... ending up embroiled in an accounting scandal that led to the restatement of results and Frissora's departure.
While other executives came and went and the C-Suite notoriously had a revolving door in the years that followed Frissora's reign, Hertz seemed at least mostly on track to eventually complete its turnaround until the pandemic hit.
Legendary hedge-fund manager and multibillionaire Carl Icahn bought a stake of Hertz back in 2014 to pressure Frissora and remains a shareholder to this day. Icahn controlled 39% of Hertz at the time it filed for bankruptcy.
In March, Hertz laid off 12,000 workers and furloughed an additional 4,000. That still wasn't enough to offset its 73% April revenue drop. As its recently departed CEO Kathryn Marinello accurately noted, "No business is built for zero revenue."
The final nail in the coffin for Hertz was its inability to quickly cut fleet costs when demand disappeared. In the U.S., Hertz has no right to return cars to the auto makers in times of oversupply.
Like its peers, Hertz purchases its fleet through an entity that issues asset-backed fixed income securities. The company makes its interest payments on these bonds with cash it receives from renting the cars. The bonds use the cars as collateral, and when used car prices fall – like they do when the rental car industry is suddenly woefully over-inventoried – Hertz has to inject more cash as collateral. It needed to post additional collateral on those notes, but it couldn't, so it was forced to file for Chapter 11.
Icahn is a world-class investor, but even he got trapped as rental car demand disappeared virtually overnight in an unpredictable and catastrophic way not seen since 9/11.
► Hertz was in trouble long before the coronavirus...
Its high leverage, a suboptimal auto inventory mix (too many compact cars, too few SUVs), and the onslaught of new competition were a recipe for disaster.
While the U.S. car rental industry had consolidated to just four major companies following 9/11, which was supportive of a relatively benign competitive environment, ride-sharing companies Uber (UBER) and Lyft (LYFT) quickly emerged as novel substitute products, creating a brand-new class of competition.
Shareholders, bond holders, employees, and customers all stand to lose because of this bankruptcy. But senior management made out like bandits... Last week, in the days leading up to its bankruptcy filing, Hertz paid out more than $16 million in retention bonuses to executives, including $700,000 to new CEO Paul Stone, who had taken over less than a week earlier.
► Hertz's woes may bring challenges to Avis as well...
Having your primary competitor go bankrupt may sound like a blessing for Avis. But from a practical standpoint, Hertz's bankruptcy may in fact complicate Avis' business operations.
The Chapter 11 process will allow Hertz to repair its business in ways that would be otherwise impossible. Hertz is almost guaranteed to use bankruptcy as an opportunity to reduce its fleet size, which entails selling excess vehicles at auction. Its fleet reduction will likely cause additional pricing pressure in the used car market for a while, causing other industry players with outstanding asset-backed securities to need to post more cash as collateral.
Once Hertz is out of bankruptcy, it will likely be leaner and better able to compete in the current environment.
► One unlikely group got caught up in the bankruptcy wreckage...
As Hertz's problems mounted, investor interest in its stock soared on the millennial-oriented trading app Robinhood. Who would have thought that a group of younger investors – who are normally fixated on sexy tech names – would have taken such an interest in a century-old car rental company?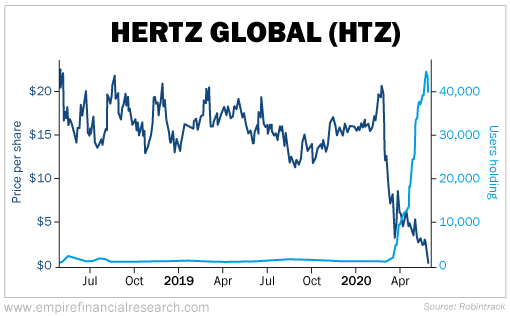 As the stock plunged, interest in Hertz on Robinhood grew to such an extent that almost 45,000 accounts held HTZ stock at the time of its bankruptcy filing. Some of these shareholders have taken to Twitter to predict shares will rebound, unaware that the stock is almost certain to go to zero.
A quick review of the Robinhood holdings tracker at Robintrack.net shows a strong correlation between a stock trading at a low dollar price and/or having fallen a ton, and a surge in ownership across the Robinhood user base.
In addition to Hertz, Robinhood has also seen a surge in ownership for Delta Air Lines (DAL) and American Airlines (AAL), cruise lines Carnival (CCL) and Norwegian (NCLH), and distressed movie theater operator AMC Entertainment (AMC).
Ownership of the riskiest, most leveraged, most battered names suggests that for a certain class of investors, the stock market is a substitute for shuttered casinos and sports betting operations.
► Fortunately, you can avoid 'land mines' like Hertz...
Tomorrow night, my colleague Whitney Tilson is appearing on a special Recovery Investing Event, where he'll share his most updated market outlook as well as the name and ticker symbol of a stock he thinks is primed to soar if the market continues higher – all for free, simply for showing up.
But you must reserve your seat for this event ahead of time. And just for signing up for this free event, you'll immediately receive a copy of a brand-new report called Five Ticking Time Bombs In Your Portfolio, which details five stocks that could easily suffer the same fate as Hertz in the months to come. These stocks are popular in ETFs and mutual funds.
I'd urge you to sign up for the event, if only to make sure you don't own one or more of these stocks. Reserve your spot for the Recovery Investing Event right here.
► In the mailbag, three readers share their thoughts on travel, restaurants, and an eventual return to 'normal life'...
Do you rent cars when you travel, or do you rely on Uber and Lyft instead? Send your thoughts to [email protected].
► "I live in the Caribbean. I retired in 2016 from a lifelong journey through banking, finance and securities. I travel at least monthly off island and before I resume my regular off island trips, I began with this list of questions:
"Will the new procedures between airports, airlines, hotels, car rental agencies and everything in between be the same?
"If I book a trip to XYZ city and can't make it on the plane because my temperature reading was not within the established parameters do I get my money back for taxis, airfare, hotel and any other prepaid or guaranteed commitment?
"What about the previous question but on the return? How am I compensated?
"I think return to normal varies greatly on multiple factors. I don't think I will risk making future plans until the above questions can be answered in my favor. Who do you think is going to fly to Disney from South America or Europe if they hear you can be stopped at the departing airport. I think the Covid world is different. In the meantime, I stay at home." – Antonio A.
Berna comment: These are great points, Antonio. I've personally focused a lot on the medical risk to travel, but as you outline, it comes with many financial risks as well.
► "Thanks for the great emails. I'm ready to visit restaurants and have been, although I'm mainly limiting my dining out to patios. I'm 39, single, and don't have regular contact with anyone that's high risk. I live in one of the few walkable areas of Dallas and have noticed that the restaurants in my area with patios are full (at least the patios are), but the ones without patios are either not open or empty. This is OK for now – Dallas has about three months a year of solid patio weather, but what happens for the rest of the year.
"One thought on bailouts is, where does it stop? I get my haircut at a salon that charges $90 per haircut, which is high for a men's haircut. It used to come with many bells and whistles that make it a luxury experience. I went on Tuesday and all of those bells and whistles are gone. It is essentially a great-clips haircut, with an excellent stylist, for $90. They did a great job of social distancing, but I think the cheaper places will be able to copy that. They're operating at half capacity with almost the same number of employees. I wish the best for them, but I don't see how they stay in business. So, do we bail out salons too?
"And regarding a vaccine, there's never been an FDA-approved vaccine for a coronavirus. This feels like pie in the sky thinking.
"In other words, a bailout may just delay the inevitable. As hard as it is to accept, we may need to retool our economy for a new normal and keeping zombie restaurants and salons open is not going to help, ultimately. Food for thought." – Patrick O.
► "Virtually everything you write about mom and pop restaurants applies equally to small family owned non-essential retail and personal service businesses as well. From the specialty clothier to the gift shop to the book seller, many small retailers still operate on 50 gross margin points or less. Subtract bank credit card fees, freight in, 'shrink' (aka theft) etc. that leaves 40% or less to pay rent, insurance, utilities, staff, and the marketing costs that make high service brick and mortar boutiques an experience still sought out and enjoyed. None of these folks are getting rich on what is left in the best of times. Many of these businesses are owned by minorities, women, immigrants or other marginalized folk.
"While some customers supported these businesses through their web sites in the last weeks, the result is the same as take-out for restaurants — smaller losses. As these stores open with restricted capacity, and skittish customers, they too face a long period of lower sales and substantial losses. Many are closing their doors already, and there are fewer ideas for how these businesses can hold out. One friend of mine in Chicago has lost his 12-year old, 18-employee day spa already, thanks to an unforgiving landlord in an upscale location. As another friend of mine noted, specialty bra fittings cannot be done on the internet either. PPP is equally a disappointment for these folks, who do not need their staff back in full when and if they re-open. Many of their staff are making much more on unemployment than at work, compounding the problem of re-opening.
"The gutting of Mom and Pop America may be an enduring component of this crisis, and a heavy weight on the recovery of the economy. Stay healthy." – Chip B.
Berna comment: I agree entirely with the challenges you outlined facing mom-and-pop retail stores. It's something I worry about for community quality of life reasons, cumulative economic impact, and the overall sadness of the individual tragedies facing American entrepreneurs.
Regards,
Berna Barshay
May 27, 2020