1) I think my friend Doug Kass of Seabreeze Partners is right that the largest tech companies and banks will be the biggest beneficiaries of the recent turmoil in the markets. In yesterday's missive, he wrote:
Consider This Form Factor: The Biggest Will Be the Winningest

Mine is a simple investment strategy that may fit the bill these days...

The chaos in the venture capital/tech and banking industry means one thing to me as an investor...

The largest tech companies and banking institutions stand to benefit in a dramatic fashion from the current mayhem – at the expense of its competition.

In technology, the winners will likely be Microsoft (MSFT), Alphabet (GOOGL), Meta (META), and Amazon (AMZN). The largest tech companies have the resources to expand their product suite of innovation with internally generated funds and the ability to attract intellectual capital.

In banking the winners will likely be Bank America (BAC), JPMorgan Chase (JPM), PNC Financial Services (PNC), Citigroup (C), and Wells Fargo (WFC).

The largest money center banks will gain deposits, continue technological advances, generate capital, and improve market share from its less advantaged competition.

It is simply that simple.

Over the last three trading sessions I have radically increased my exposure to the largest tech and banking companies.

I will add on any further weakness.
2) I've been pounding the table on the risks to our national security posed by TikTok because it is Chinese owned – and therefore ultimately controlled by the Chinese government – so it's about time the Biden administration woke up and took strong action here. Let's hope this isn't just more talk... U.S. Threatens Ban if TikTok's Chinese Owners Don't Sell Stakes. Excerpt:
The Biden administration is demanding that TikTok's Chinese owners sell their stakes in the video-sharing app or face a possible U.S. ban of the app, according to people familiar with the matter.

The move represents a major shift in policy on the part of the administration, which has been under fire from some Republicans who say it hasn't taken a tough enough stance to address the perceived security threat from TikTok, owned by Beijing-based ByteDance.

The Committee on Foreign Investment in the U.S., or Cfius – a multiagency federal task force that oversees national security risks in cross-border investments – made the sale demand recently, the people said.

TikTok executives have said that 60% of ByteDance shares are owned by global investors, 20% by employees and 20% by its founders, though the founders' shares carry outsize voting rights, as is common with tech companies. The company was founded in Beijing in 2012 by Zhang Yiming, ByteDance Chief Executive Liang Rubo and others.
3) Not that we need any more reasons to ban TikTok, but here's another one: 'Every Parent's Nightmare': TikTok Is a Venue for Child Sexual Exploitation. Excerpt:
Adults have been starting improper relationships with minors online since the dawn of the Internet. TikTok, the most downloaded social-media app in recent years, has emerged as the biggest, fastest-growing danger zone yet, according to law-enforcement officials and others who track child exploitation.

TikTok, which features short videos, has been a magnet for children and teens, who spend more time there each day than on any other social-media platform. Billions of videos are uploaded to the site each month, many starring young people singing, dancing and talking about their personal lives.

What troubles those who track child exploitation is that TikTok's algorithm is designed to learn what type of content users like, then feed them a string of it. That keeps youngsters glued to the site and makes it easier for pedophiles to seek them out. A user who lingers on videos of, say, teens dancing gets sent more videos of the very same thing.

"The audience that's following these children, a lot of them are adult males that have a sexual interest in children," said Jon Rouse, a 38-year police veteran who leads a group targeting child sex offenders for Interpol, an international police network. "Child sex offenders will gravitate toward where there are children. Pedophiles prefer looking at videos."
This is a problem every social media site grapples with, but it appears that TikTok has a bigger problem and is dealing with it less effectively than others – which I don't find the least bit surprising...
---
Recommended Link:
| Elon Musk is creating Tesla Automotive's biggest competition. He's just launched Tesla Energy Ventures that will deal in "PVAB" energy. As Musk recently said: "I expect [PVAB] to be roughly the same size as Tesla's automotive business." According to global energy research agency Wood Mackenzie, Tesla's energy business is already growing faster than its car business. Unfortunately, Tesla Energy Ventures is not yet publicly traded. But there is still a way to get in to the PVAB energy space right away. Click here for more details. | |
| --- | --- |
---
4) A hat tip to two savvy investors who saw looming problems at Silicon Valley Bank ("SVB") – Nate Koppikar, co-founder of San Francisco–based hedge fund Orso Partners, and Bill Martin of Raging Capital Ventures: There Were a Few Savvy Investors Who Saw Silicon Valley Bank's Collapse Coming. Excerpt:
But there were a few investors who did see the bank's collapse coming. "Silicon Valley Bank's failure is just what happens when a tech bubble bursts," says Nate Koppikar, co-founder of San Francisco–based hedge fund Orso Partners, who was short (that is, betting against) the bank's stock for more than a year before it failed. Not many others in the financial world had made the same bet: When Silicon Valley Bank was shuttered by the federal government, only 5.5% of its outstanding shares had been sold short, according to S3 Partners, which tracks short selling.

One big red flag for Koppikar was that both Silicon Valley Bank and Signature, the other tech-focused bank that federal authorities shut down in the past few days, catered to "hot money" – deposits from businesses that are more likely to panic and move their money. (He was also short Signature.)...

Another person who saw the light was short seller Bill Martin of Raging Capital Ventures. In January, he tweeted, "The bank would be functionally underwater if it were liquidated today." The reason is that it had plowed a good portion of its ballooning client deposits during the 2021 bubble into conservative investments, including mortgage-backed securities (basically, bonds backed by mortgage payments), that ended up not matching the bank's real-world financial needs. When interest rates rose rapidly last year, the prices of those investments (which were better suited to a low-interest-rate world) fell.
Here's another article about Martin's prescience: For nearly 2 months, a short seller was warning on Twitter that Silicon Valley Bank was about to blow up. 'It was sitting there in plain sight.'
5) This chart a friend sent me (I'm not sure of the source) shows what Bill Martin saw: Silicon Valley Bank – part of SVB Financial Group (SIVB) – was vulnerable. It had nearly half its assets in mortgage-backed securities, higher than nearly any other bank, which made it particularly vulnerable to rising interest rates: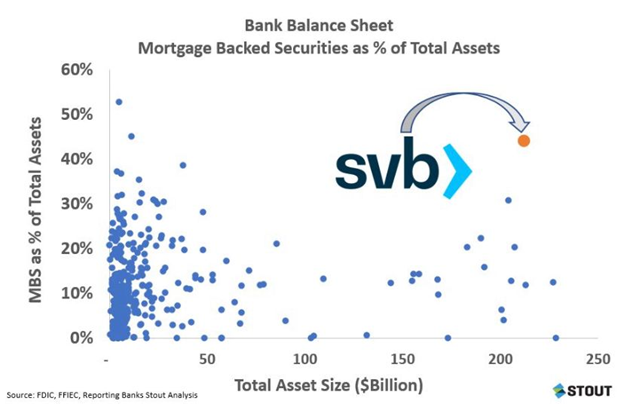 6) There have been plenty of articles about how most Russians are unaffected by the war their country is waging against Ukraine, most of which cite how normal things are in Moscow.
But here's something that surprised me: You could write the same thing about Ukraine's capital, Kyiv.
I spent the day there on Saturday driving all around the city from meeting to meeting and visiting the Babi Yar Holocaust Memorial (which I wrote about in Tuesday's e-mail), and there were absolutely no signs of the war. The only military equipment we saw was destroyed Russian items, on display in the center of the city: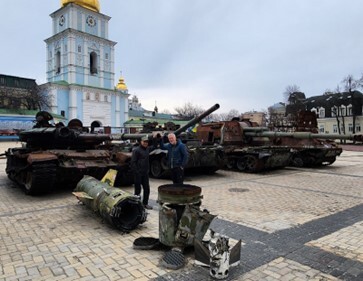 There were no soldiers, tanks, or checkpoints... hotels and restaurants were open... and the roads were busy: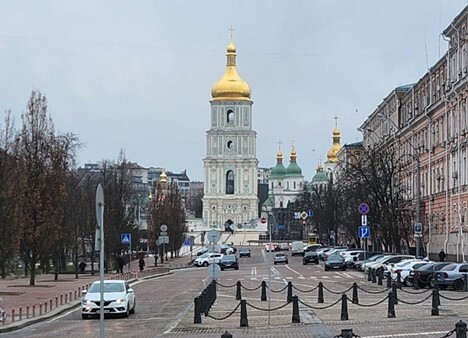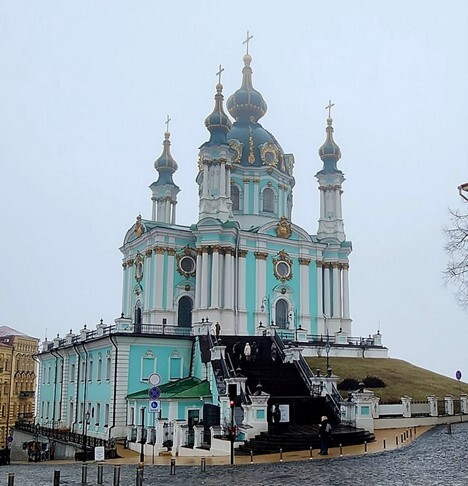 And the train station was busy as a beehive. Here's what the arrival and departure board looked like as we were departing for Poland at 8:14 p.m. on Saturday: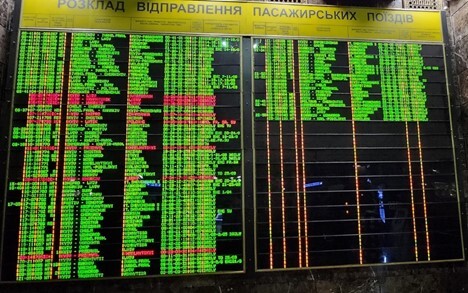 In summary, what I saw – not just in Kyiv but also in three other major cities much closer to the front lines, Dnipro, Kharkiv, and Kryvyi Rih – undermines the argument some are making that Ukrainians are demoralized and might be willing to give up the fight...
Best regards,
Whitney
P.S. I welcome your feedback at [email protected].