1) I knew there was a partisan divide in vaccination rates and COVID-19 deaths, but nevertheless these charts from a recent New York Times article, Red COVID, stunned me...
How could tens of millions of Americans allow their political views to determine a critically important healthcare decision (with life-or-death consequences, as the second chart shows)? Excerpt:
During the early months of COVID-19 vaccinations, several major demographic groups lagged in receiving shots, including Black Americans, Latino Americans, and Republican voters.

More recently, the racial gaps – while still existing – have narrowed. The partisan gap, however, continues to be enormous. A Pew Research Center poll last month found that 86% of Democratic voters had received at least one shot, compared with 60% of Republican voters.

The political divide over vaccinations is so large that almost every reliably blue state now has a higher vaccination rate than almost every reliably red state:

Because the vaccines are so effective at preventing serious illness, COVID deaths are also showing a partisan pattern. COVID is still a national crisis, but the worst forms of it are increasingly concentrated in red America.
But upon further reflection, I'm less surprised because many people let their partisan views affect all sorts of non-political decisions – including financial ones, which is what I'd like to discuss here...
How many Republicans, after President Joe Biden took office on January 20 this year, despaired for the future of our country and positioned their portfolio more defensively by selling stocks?
I suspect many of them did... and they made a big mistake. As you can see in this chart, the S&P 500 Index is up a robust 13.1% since then: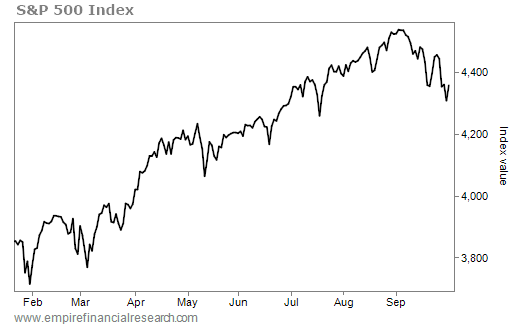 Similarly, how many Democrats, after President Donald Trump took office on January 20, 2017, dumped stocks?
This was also a big mistake. As this chart shows, over the same historical time frame, the S&P 500 rose 11.1%: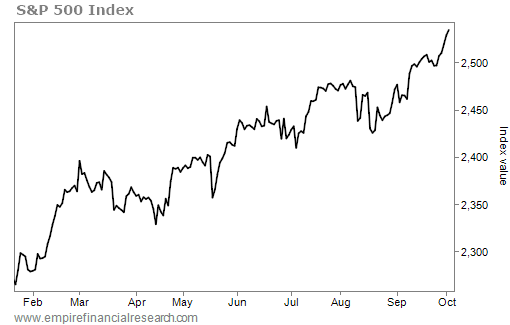 The lesson here is simple: It's great to be politically engaged (I sure am!), but you mustn't let your partisan views (and news sources) affect your decision-making in largely unrelated areas like whether to get vaccinated (you should!) and your portfolio.
2) To be clear, I'm not saying that government actions aren't important...
They are – in fact, I'd argue increasingly so. Just look at the latest headlines... We narrowly averted a government shutdown. Will Congress pass the $1 trillion infrastructure bill? Will the Democrats be able to pass their proposed $3.5 trillion social policy bill? If so, will the economic stimulus boost the stock market, or will higher debt and taxes tank it?
All of these government actions affect certain stocks and industries as well as the overall market, so it's reasonable for investors to think about them.
But you must set aside your partisan views on whether the government should take these actions versus the odds that it will and what the implications will be. You need to unemotionally gather information, accurately assess the odds, risks, and likely outcomes, and invest accordingly.
For example, almost exactly a year ago on September 16, 2020, in the run-up to the election, my colleagues Enrique Abeyta and Berna Barshay and I – despite very different political viewpoints – all came to the conclusion based on national and state polls that a "blue wave" was likely – in other words, that Democrats would win the presidency and both houses of Congress.
Based on this, we also believed that certain sectors would benefit such as infrastructure, green energy, and cannabis, so we issued a special report to Empire Investment Report subscribers recommending eight stocks that we felt would soar in the event of the blue wave that we anticipated.
Since then, three of those eight stocks have doubled and two have tripled, while none were stinkers (our worst pick has gained 19%), resulting in a stunning average gain of 94% (the S&P 500 index rose 29% over the same period).
To repeat, to be a successful investor, you mustn't let your political views about what you want to happen interfere with an unemotional assessment of what is likely to happen.
3) Here's one more example...
In the depths of the global financial crisis in late 2008 and early 2009, the U.S. government bailed out our major banks. To this day, many people feel strongly that this was the wrong thing to do. But those investors who acted on this feeling at the time by not investing in the sector missed one of the greatest buying opportunities of a lifetime.
Once the government backstopped the banks, it was clear that their beaten-down stocks were screaming buys. I was pounding the table about this at the time in my e-mails, at conferences, and on CNBC (which a year later called me "The Prophet" for the accuracy of my predictions).
In fact, I felt so strongly that I wrote my first book about it, More Mortgage Meltdown: 6 Ways to Profit in These Bad Times, which I released in April 2009, just after the market bottomed. In it, I recommended buying five financial stocks – including Berkshire Hathaway (BRK-B), American Express (AXP), and Wells Fargo (WFC). I've posted the entire chapter on Wells Fargo here, in which I concluded:
In summary, we think if Wells Fargo makes it through the storm without significant dilution of its shareholders, perhaps a 70 percent likelihood in our estimation, it will earn $4 to $5 per share, which would translate into a $40 to $60 stock. That kind of upside offsets the very real downside risk and makes the risk-reward equation highly favorable when the stock is in the $10 to $15 range, which is why we now own it.
4) We spent a wonderful long weekend in Greece and celebrated Susan's birthday yesterday. Here's a picture of us: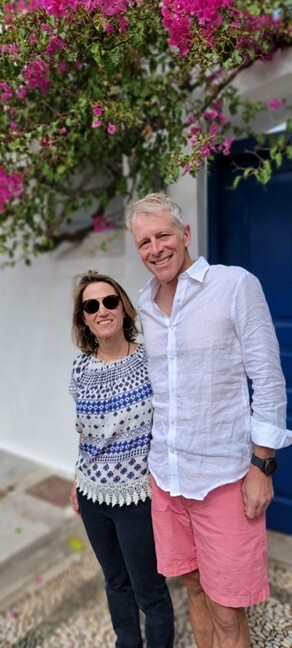 We flew to Barcelona this morning and will begin a six-day Backroads hiking trip in the Pyrenees and Costa Brava tomorrow (details here).
Best regards,
Whitney
P.S. I welcome your feedback at [email protected].