1) If you're tempted to buy into Uber's much-anticipated IPO tomorrow (or any of the other stocks in the crop of recent tech offerings), I have a single word of advice for you: DON'T! I struggle for words to heap enough scorn on these IPOs. In almost all cases, insiders and professional investors – with assistance from Wall Street's smooth-talking salespeople – are foisting overpriced dreck on the public.
Don't follow in the footsteps of the poor suckers who bought into Lyft's (LYFT) IPO on March 29. On that day, the stock traded as high as $88.60… and it's been all downhill ever since. After issuing its first earnings report as a public company on Tuesday, the stock fell 11% to close at $52.91. It's now down 40% from its peak.
Buffett and Munger were asked about IPOs by CNBC's Becky Quick in an interview earlier this week (click here and skip to 1:12:56). Here's an excerpt from their replies:
Buffett: I don't think Berkshire's ever bought a new issue. I mean, the idea of saying that the best place in the world I can put my money is something where all the selling incentives are there, commissions are higher, the animal spirits…

That's going to be better than a thousand other things I can buy where there is no similar selling enthusiasm and the desire to get the deal done and the extra commissions… that's the single best thing to buy on a given day?

Munger: I can't think of a time we've ever done it… we've never bought one.

Buffett: It just doesn't make any sense. We like to buy things where nobody's making a dime selling them to us.

Munger: There's a lot of lying in modern finance.
2) It's so painful to watch Stamps.com (STMP) blowing up. The stock fell more than 50% in a day when it reported fourth-quarter earnings in February, and it's doing so again today after releasing first-quarter earnings after the close yesterday.
I don't remember the last time I recall a company of any size – this one had a market cap of $5 billion less than a year ago – having two 50%-plus down days in such a short period. Check out the three-year stock chart…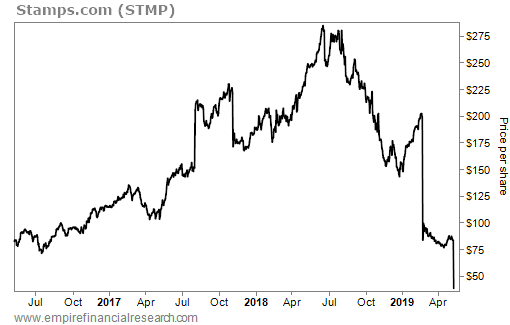 It's painful to watch because I was short the stock a few years ago in the hedge funds I managed. My investment thesis is recapped in two write-ups in 2016 on ValueInvestorsClub.com – click here and here to read them. (There was also a long pitch on the site in 2017.)
The stock had already more than tripled to more than $100, and I figured it couldn't go any higher – but it tripled again!
Shares have fallen nearly 90% in the past year as my short thesis is playing out – finally! The short-sellers who had good timing on this (as many did – the short interest is nearly 20%) have done well. But it's cold comfort to those like me who got in too early.
There are three big lessons here:
Short-selling is a tough business. 
Being right on the timing/catalysts is especially important on the short side.
Anytime you're considering buying a stock with a high short interest, you had better figure out exactly what the short thesis is and do extra work to make sure the shorts are wrong… or you'll get destroyed! 
3) Last weekend in Omaha, I gave a presentation on Munger to a roomful of CEOs. In it, I took an in-depth look at his entire life, and concluded with my favorite "Mungerisms" – his timeless words of wisdom. (We made a video of my talk, which will soon be made available to Empire Investment Report subscribers. Click here if you'd like to subscribe.)
My two favorite Mungerisms are:
Spend each day trying to be a little wiser than you were when you woke up. Discharge your duties faithfully and well. Step by step you get ahead, but not necessarily in fast spurts. But you build discipline by preparing for fast spurts. Slug it out one inch at a time, day by day. At the end of the day, if you live long enough, most people get what they deserve.
And:
All I want to know is where I'm going to die, so I'll never go there.
When Munger made this comment at a Wesco annual meeting long ago, the crowd laughed, but Munger said:
No, I'm serious. Once you reach a certain position in life, you should spend most of your time trying to avoid the things that can derail your life and send you back to Go (or worse).

What happens to too many people, however, is that, even when they've got it made, they can't help but lean out to grab the brass ring – and fall, bringing themselves to ruin.
I've really taken this to heart – and it has made a huge difference in my life. I'm naturally an optimistic person, but thanks to Munger, I've spent a lot of time studying and thinking about the calamities that could derail my life. I've boiled them down to these five:
Death or serious injury to yourself or a loved one
Being in a bad marriage or suffering a permanently impaired relationship with a loved one
Loss of reputation/freedom
Loss of wealth
Addiction/abuse
Regarding the second one, I've already gone through part of it, sharing the 12 questions to ask before you marry someone (summarized in my April 5 e-mail).
Today, I'd like to share some thoughts on the first one: death or serious injury to yourself or a loved one. During my talk last weekend, I shared one example about car safety – specifically, not giving the old family car to the kid going off to college – which led a woman in the audience to send me this e-mail:
I really enjoyed your presentation – engaging, thought-provoking, refreshingly honest.

I was the person who suddenly, in the midst of you pointing out the foolishness of handing down our oldest and least safe cars to our most inexperienced teenage drivers, jumped up and said I had to go buy a new car right this very minute. Because I realized how obviously right you were, and felt sort of ashamed given that I am sort of a nut about safety myself.

Anyway, thought you'd be interested to know that I got a text at midnight Friday night: my 17-year-old son was in a car accident. He's okay – thank God. But the 2010 Prius we had handed down to him was totaled. So, we're safest-car shopping this week, as you can imagine.
For my thoughts on this, see my short, nine-slide presentation here and this article that I published a year ago: Why you should get a new car. Excerpt:
Ever since my wife fell asleep at the wheel last November and got in a frightening accident, I've become a total zealot about car safety, telling anyone who will listen that if they're driving a car without the most advanced safety features, get a new car now (if they can afford it; if they can't, then get the safest car they can afford whenever they're getting a new one)…

Car accidents in 2016 killed 37,461 people on U.S. roads, up 14% in two years after a half-century of steady declines. Experts aren't sure why auto fatalities are rising, but I'm convinced that it's likely due to increasing electronic distractions. It's so easy for drivers these days – myself included on occasion, I'll confess – to take their eyes off the road because of an incoming call or text, looking at Google Maps, etc. Our smartphones are constantly ringing, chirping and vibrating, which is an irritating distraction most of the time – but when you're driving, it can be deadly!

Safety features in new cars

The good news is that there's been a quantum leap in the past few years in safety technology that will both help you avoid many types of accidents and, if you're in one, make sure you walk away unscathed. The more I learn about the various technologies, the more amazed I am – and the more determined I become to persuade as many people as I can to upgrade to safer cars!
Best regards,
Whitney