► Netflix (NFLX) shares fell 7% today on a disappointing outlook…
The streaming giant put up another gangbusters quarter of net subscriber additions, adding 10.1 million in the second quarter. This handily beat Wall Street expectations for 8.3 million along with the company's own guidance for 7.5 million, which it offered when it reported first quarter earnings in April.
A bunch of non-operating items, including non-cash FX-related charges, led to an earnings miss. Netflix reported $1.59 in earnings for the quarter versus Wall Street expectations of $1.81. But this miss wasn't why the stock traded lower.
Instead, some investors are dumping their stock today due to the company's guidance for third-quarter net subscriber additions. The company guided to 2.5 million net adds, which was more than 50% below what Wall Street was looking for.
Netflix reiterated what it had said in the first quarter, that net sub adds will be down in the second half of the year. This implies that net subs will go negative by more than 2.5 million in the fourth quarter. If this holds true, the net subscriber trajectory would look something like this…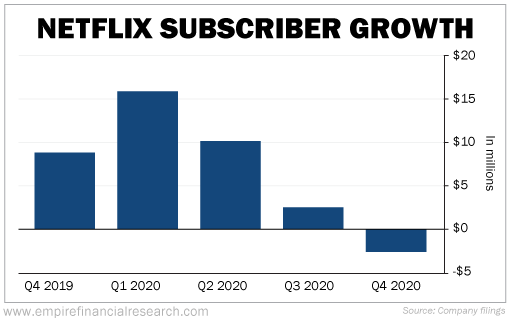 Investors don't like the guidance for a big deceleration in net sub adds from the second to the third quarter, and they don't like the idea of negative net subscriber additions in the fourth quarter.
► The tepid subscriber addition guidance comes as no surprise…
Netflix was clear in April when it reported first-quarter earnings that the pandemic was pulling forward future growth. As the company wrote in its first-quarter investor letter…
Like other home entertainment services, we're seeing temporarily higher viewing and increased membership growth… We expect viewing to decline and membership growth to decelerate as home confinement ends.
With people stuck at home and movie theaters and sports arenas shuttered, everyone was looking for entertainment. The circumstances made for the perfect customer recruitment environment for Netflix.
Last night, Netflix again reiterated its position that the first half accelerated growth was stealing growth from future quarters…
In Q1 and Q2, we saw significant pull-forward of our underlying adoption leading to huge growth in the first half of this year (26 million paid net adds vs. prior year of 12 million). As a result, we expect less growth for the second half of 2020 compared to the prior year.
► The environment was as good as it was going to get…
That's why I was concerned that Netflix wouldn't be able to top its first-quarter performance. In April, I told my colleague Whitney Tilson that Netflix shareholders should consider trimming their positions. As I wrote…
But it seems like the best possible conditions have just occurred, and the stock has jumped to reflect that. Now, going forward, it is inevitable that growth will slow, which even the company has acknowledged.

It was an amazing quarter, but the incredible performance probably borrowed from future results, which is not at all reflected in the stock price. Yes, Netflix pulled in tons of new customers, but with movie theaters closed, no professional sports on TV, and potential new customers locked in their homes… it would have been a shock if they hadn't had extraordinary subscriber addition numbers…

With great programming, great management, and a great secular tailwind, Netflix is clearly a company to admire. But given that its best quarter of 2020 – and perhaps even of 2021 and 2022 – is in its rear window, and the stock is just a touch off its all-time-high…

I would borrow a phrase from the company's breakout reality hit to describe how I feel about its stock: Too Hot to Handle.
After that essay, shares traded sideways for about two months, before going parabolic starting mid-June – quickly tacking on more than 20% as investors started anticipating the second-quarter report. The mid-June to mid-July melt-up was universal across the FAANG stocks (more on this below).
Last quarter, Netflix told us that things were going to slow down in the second half. Now it's the second half… and the company still thinks that's happening. Investors obviously didn't believe the slowdown would really happen or be as severe as yesterday's guidance, or they probably wouldn't have bid up the stock from the mid-$400s to the mid-$500s in a few weeks…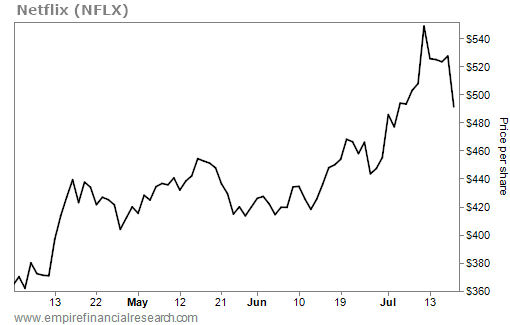 ► Wall Street analysts still think the company is sandbagging…
I looked at a couple of Wall Street models from big banks this morning and they both had positive net subscriber additions for Netflix in the fourth quarter. These analysts clearly think Netflix is purposely setting the bar too low so it can easily clear its self-imposed hurdle.
Despite the quarter and its guidance getting mixed reviews, and the cloud over the second half, Wall Street analysts are tripping over themselves to raise their price targets on the stock today.
Most of the reasons given for the price target increases are generic ones that could have been given before last night's release. Analysts like Netflix's market leadership, global positioning, impressive and growing content library, prospects for expanding operating margins with increasing scale, and the chances of going from burning cash to generating cash within the next several years.
Those are all valid reasons to like NFLX shares… But nothing specifically new that came out of last night's earnings report. The main reason that analysts are raising their price targets today is that the stock going into earnings was already trading at or above the sell-side's prior price targets.
It's hard to keep your buy rating on NFLX shares when your stated target is $525 but the shares are trading $527, as they were yesterday (or $575, as they traded intraday last week).
Wall Street analysts want to keep recommending the shares, so they used the quarterly results as the incremental data point to raise their price targets, despite the future guidance disappointing.
► The other big headline from NFLX earnings was Ted Sarandos' promotion to co-CEO…
Sarandos is Netflix's chief content officer and has been responsible for the company's unprecedented streak of shows that are both wildly popular and critically acclaimed. He has been at Netflix for 20 years – since back in the DVD-by-mail service days, when the streaming business was just a dream of founder and current CEO Reed Hastings.
Under Sarandos, Netflix entered the original programming business, ultimately growing to be the biggest and most diversified entertainment studio based on output and geographical reach.
Co-CEOs aren't a popular concept among investors, who worry the management structure clouds and complicates efficient decision-making. There have been however examples of co-CEOs that functioned well and fostered excellent company performance. Investment bank Goldman Sachs (GS) had co-CEOs for much of the '80s and '90s as a private company, and the structure served the company well.
Hastings and Sarandos have complementary skillsets, thus their co-leadership makes sense.
Sarandos is an extrovert dealmaker who made Netflix the powerhouse studio it is today by connecting with stories and talent in Hollywood, where Netflix has as big a presence now as it does in the Silicon Valley. Hastings is an engineer and introvert who built his company on understanding the power of technology and data.
For Netflix to continue to outperform, it needs to have the right content (Sarandos), but it also needs to help users with efficient discovery and consistent delivery of content (Hastings).
In announcing the promotion of Sarandos, Hastings made it clear he wasn't going anywhere. He said he was in for another decade, to the relief of investors.
► I wouldn't chase NFLX shares here…
Given the company's high valuation and lack of near-term catalysts, I don't think this is a good time to be putting fresh money to work.
In the first six months of 2020, Netflix added 26 million net subscribers. It only did 28 million during all of last year, and the company is telling investors not to expect much from the second half of 2020.
Netflix's conservatism regarding second-half net adds is warranted. Looking at second-quarter results, net subscriber additions were up 27% from the first quarter in the U.S. and Canada. But in Europe, which came out of quarantine earlier, net sub adds were down 60% from the first quarter to the second quarter. I believe Netflix is giving its best estimate and not sandbagging when it says net sub adds will cool down in the second half.
The company's incredible performance is creating difficult comparisons to go up against in the first two quarters of 2021 – something investors will start thinking about more when we get to the fall.
Adding to the risk of 2021, pandemic-driven safety constraints are still weighing on film production in many geographies… notably in the U.S. While Netflix has its slate in the can and ready to go for the rest of 2020, there's uncertainty about the slate in the first half of 2021. During last night's call, management warned that new programming will be back-half-weighted in 2021.
► Netflix ranks dead last in terms of my personal rank of the FAANG stocks for new investment allocations…
While the company clearly has long-term opportunities to increase its margins and its cash flow, it remains the most expensive of the FAANG stocks, and several of the others also offer sizable margin expansion and topline growth opportunities. Netflix is also the only FAANG that doesn't generate copious amounts of cash.
I don't love the dynamic of the lack of near-term catalysts, the tough first half 2020 growth numbers to lap next year, and the risk around production of content for the first half of 2021. While the latter is a problem universal to all entertainment companies, not all entertainment stocks are trading so close to an all-time high, and none of the other studios are trading at 9 times enterprise value ("EV") to sales. Disney (DIS), for comparison, is trading at 4 times EV/sales.
While Netflix is the undisputed leader in streaming and has built a top-notch studio and an ever-increasing library of content assets, it faces more headwinds than some of its FAANG peers.
The pandemic wasn't a net positive for Facebook (FB) and Google's parent company Alphabet (GOOGL), as it created a headwind for advertising growth. Amazon (AMZN), like Netflix, benefited on its topline from the pandemic, but has had to absorb way more increased costs than Netflix has so far. Those costs are coming for Netflix on the production side, as are tougher comps.
Putting this altogether, Netflix shares are at the bottom of my FAANG shopping list.
► In today's mailbag, another reader weighs in with investing mistakes…
What's your favorite FAANG stock for the long term? Do you own any of the market's Fab Five now? Share your thoughts at [email protected].
► "Hi, I must have missed this request, because I do have my investing mistakes to share:
"1. Do NOT enter your 'sell-by' price in your brokerage account. The broker will trigger a sell on your holding even if the day's activity is nowhere near your price. I had WWE at one time, which was trading at about $11. I entered a stop loss in Fidelity for about $8, and lo-and-behold my stock was sold at my stop loss price, and the day's graph showed exactly one dip down to $8, which was probably my trade.
"I have never again entered my stop loss price in my brokerage account. I use TradeStops now (a recommendation for which I get no benefit – monetary or otherwise).
"2. If you get ESPP shares from your company, sell them on the day that you are allowed to legally sell them.
"In the first company that I had this facility, I gleefully held on to my ESPP shares till they went almost belly-up. I lost more than $10,000 on that trade. With the next opportunity that I got; I religiously sold my ESPP shares on the first day that I could. My company's shares went from $36 down to $3, but I never made a loss on my ESPP, except maybe once, and it was a small loss.
"3. Do NOT sell a great company just because YOU think it is doing badly. I made this mistake at least 3 times – every time with Apple. I had split adjusted stocks at $62 (I still remember that). It went to $130, and down to $100, and I sold it. I bought it back at $92, and it went to $225 and back down to $185 (2018) and I sold it. It went down to $150 or so, but I waited till it went up to $210 or so before I bought it. It went up and during the COVID-19 crisis it went down to $210, and I sold it again. 'Nuff said." – Ravi S.
Berna comment: Great point about employer stock, Ravi. There's often a lot of pressure on employees to hold onto shares in their employer, whether the shares were purchased in an ESPP or granted as part of compensation. If an employee never sells, the shares can grow over time to be too large a percentage of personal assets for prudent diversification.
Regards,
Berna Barshay
July 17, 2020