1) Following up on my market and macro overview in Thursday's e-mail, the debate about inflation continues to rage...
Some folks think we have a big problem and point to this announcement (White House More Than Doubles Its Inflation Forecast in New Update) and this chart (source):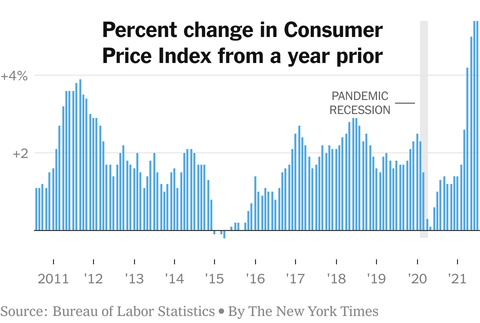 However, most experts – and, importantly, the bond markets – are more sanguine, as am I. As this New York Times article (Prices Are Going Up. Will It Last?) notes:
Categories showing big price gains are typically experiencing pandemic-related weirdness in one way or another. That's why economists are pretty sure the current price pop will fade.

But as with all things pandemic-related, it could be a crazy ride in the meantime.
I agree with this sentiment. There's a great deal of "weirdness" in a lot of industries all over the world, and it could last a while, as this NYT article discusses: The World Is Still Short of Everything. Get Used to It. Excerpt:
Like most people in the developed world, Kirsten Gjesdal had long taken for granted her ability to order whatever she needed and then watch the goods arrive, without any thought about the factories, container ships and trucks involved in delivery.

Not anymore.

At her kitchen supply store in Brookings, S.D., Ms. Gjesdal has given up stocking place mats, having wearied of telling customers that she can only guess when more will come. She recently received a pot lid she had purchased eight months earlier. She has grown accustomed to paying surcharges to cover the soaring shipping costs of the goods she buys. She has already placed orders for Christmas items like wreaths and baking pans.

"It's nuts," she said. "It's definitely not getting back to normal."

The challenges confronting Ms. Gjesdal's shop, Carrot Seed Kitchen, are a testament to the breadth and persistence of the chaos roiling the global economy, as manufacturers and the shipping industry contend with an unrelenting pandemic.

Delays, product shortages and rising costs continue to bedevil businesses large and small. And consumers are confronted with an experience once rare in modern times: no stock available, and no idea when it will come in.

In the face of an enduring shortage of computer chips, Toyota (TM) announced this month that it would slash its global production of cars by 40%. Factories around the world are limiting operations – despite powerful demand for their wares – because they cannot buy metal parts, plastics and raw materials. Construction companies are paying more for paint, lumber and hardware, while waiting weeks and sometimes months to receive what they need.

In Britain, the National Health Service recently advised that it must delay some blood tests because of a shortage of needed gear. A recent survey by the Confederation of British Industry found the worst shortages of parts in the history of the index, which started in 1977.

The Great Supply Chain Disruption is a central element of the extraordinary uncertainty that continues to frame economic prospects worldwide. If the shortages persist well into next year, that could advance rising prices on a range of commodities. As central banks from the United States to Australia debate the appropriate level of concern about inflation, they must consider a question none can answer with full confidence: Are the shortages and delays merely temporary mishaps accompanying the resumption of business, or something more insidious that could last well into next year?

"There is a genuine uncertainty here," said Adam S. Posen, a former member of the Bank of England's monetary policy committee and now the president of the Peterson Institute for International Economics in Washington. Normalcy might be "another year or two" away, he added.
Keep in mind, however, that this weirdness is due to surging demand, as consumers and economies around the world recover from the pandemic – and that's great news, as this NYT article highlights: Inflation Is Popping From Sydney to San Francisco. It May Be a Good Sign. Excerpt:
Price gains are shooting higher across many advanced economies as consumer demand, shortages and other pandemic-related factors combine to fuel a burst of inflation.

The spike has become a source of annoyance among consumers and worry among policymakers who are concerned that rapid price gains might last. It is one of the main factors central bankers are looking at as they decide when – and how quickly – to return monetary policy to normal.

Most policymakers believe that today's rapid inflation will fade. That expectation may be reinforced by the fact that many economies are experiencing a price pop in tandem, even though they used vastly different policies to cushion the blow of pandemic lockdowns.

The shared inflation experience underscores that mismatches between what consumers want to buy and what companies are able to deliver are helping to drive the price increases. While those may be amplified by worldwide stimulus spending, they are not the simple result of nation-specific policy choices – and they should eventually work themselves out.

"There is a lot of stimulus in the system, and it is pushing up demand and that's driving higher inflation," said Kristin Forbes, a Massachusetts Institute of Technology economist and former external member of the Bank of England's Monetary Policy Committee.

"Some of these big global moves do tend to pass through and prove temporary," Ms. Forbes said. "The big question is: How long will these supply chain pressures last?"
Lastly, there are some interesting data and charts in this NYT article: 179 Reasons You Probably Don't Need to Panic About Inflation. Excerpt:
So far, the inflationary burst of 2021 has been overwhelmingly driven by a narrow group of sectors that were deeply affected by the shock of COVID-19 and last year's accompanying shutdowns. In July, some of these sectors (used cars in particular) experienced a big deceleration in inflation, bolstering the argument – led by the Fed chair Jerome Powell – that the inflationary surge might be "transitory," or fade quickly on its own.

That would be good news for the economy and job-seekers: If inflation proves to be transitory then it's likely that the Fed doesn't need to reel back as much of its economic support out of fears of "overheating" the economy and sparking long-lasting inflation.

The relative narrowness of current inflation pressures becomes clearer when we consider the broader trend in price changes among a slew of products that aren't pushing up the overall inflation rate.

These charts show the year-over-year change in prices of hundreds of products tracked by the Bureau of Labor Statistics, which add up to create the overall rate headlines these past few months. They're shown in order of what's increasing most, and grouped by whether prices are rising or falling.
2) See if you can get this question right...
Last night, my family and I were having a discussion about Texas and Mexico, and the question occurred to me: Which has a bigger economy? And for a bonus, by how much? My guess was quite wrong...
Before you Google it (or read my daily e-mail tomorrow, in which I'll share the answer), what's your guess?
Best regards,
Whitney
P.S. I welcome your feedback at [email protected].