► Earlier this month, Disney (DIS) reorganized its Media and Entertainment businesses to encourage the growth of its Direct-to-Consumer streaming business, Disney+…
By separating responsibility for the creation of filmed content from the distribution of that content, Disney not only shuffled the deck on divisional management but also took action to eliminate any conflicts of interest that might favor legacy businesses over streaming for the most coveted – and potentially franchise-building – content.
The folks who run Disney's content groups such as Marvel, Pixar, Lucasfilm, ESPN, and Disney Channel will continue to develop, greenlight, and produce new filmed content the same way they always have… but once content is made, where it ends up falls under the control of the newly formed Media and Entertainment Distribution group.
Whether an episodic series ends up on ABC, Disney Channel, or exclusive to Hulu or Disney+… that's up to the Distribution group. Whether a movie debuts in theaters or instead on Disney+ as part of the subscription or for an add-on fee… that's also the decision of the new Distribution group.
The task of creating compelling consumable content has effectively been separated from how it is commercialized. Sending the product where it makes the most sense and will be most profitable seems like an intuitive move, but it upends decades of tradition at the 97-year-old company – such as the tightly coordinated, if sometimes contentious, relationship between studios and movie theater chains.
It also means that TV series – which are typically developed with a certain station in mind – and movies – which are made with a certain target audience in mind – could be produced without a preconceived notion of where they will be seen.
The upshot is this reorganization will make it easier to divert content from Disney's legacy platforms, such as broadcast and cable television – or movie theaters – to streaming. Reading comments from Disney CEO Bob Chapek in the press release, it's clear these changes in the org chart were designed to support streaming growth…
Our creative teams will concentrate on what they do best – making world-class, franchise-based content – while our newly centralized global distribution team will focus on delivering and monetizing that content in the most optimal way across all platforms, including Disney+, Hulu, ESPN+ and the coming Star international streaming service.
► It's a remarkable move when you consider that Disney's largest streaming business – Disney+ – wasn't yet launched this time last year…
And keep in mind that Disney wasn't even in the streaming business three years ago.
While late to enter the streaming game – as were the vast majority of old media companies – Disney, with its over 60 million global subscribers for Disney+, has achieved a level of success in streaming that its old media peers have thus far found elusive. In fact, the company surpassed its four-year goal – to have more global subscribers than Netflix (NFLX) had when Disney+ launched last November – and it did it in less than a year.
For evidence that Disney is a true force within streaming now, take a look at the new Media Remote for Sony's (SNE) PlayStation5, which will be released next month… It has buttons for streaming-native giants Netflix and Alphabet's (GOOGL) YouTube, music streamer Spotify (SPOT) – which has gained popularity on the video-game console format – and in somewhat of a shocker… relative newcomer Disney+…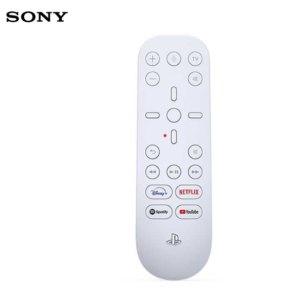 Source: Techinn
► Disney is giving investors what they want…
And what they want is a streaming company. Why wouldn't they, given how Netflix has performed relative to traditional media companies over the past five years…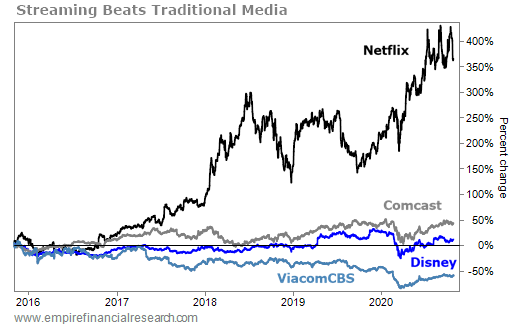 Looking at it another way, at the end of last year, Netflix traded at an enterprise value to earnings before interest, taxes, depreciation, and amortization (EV/EBITDA) multiple of about 52 times. At the end of 2019, Disney's EV/EBITDA multiple stood at just 18 times. I've chosen to look at December 2019 valuations because the effect of the COVID-19 pandemic has been so dramatic on Disney – particularly on its Parks and Experiences division – so it's much easier to get a clean comparison of how the two companies are valued by looking at the pre-pandemic past.
As I wrote about back in September, earlier this year, I crushed my forward earnings estimates for Disney relative to Wall Street prognosticators. But despite predicting earnings with high accuracy, I lost out on a big move for the stock when I missed the forest for the trees. All investors with the stars in their eyes from owning NFLX shares want to know is when Disney will be a streaming company, because that's the future of media. As I explained in September…
Analysts view direct-to-consumer ("DTC") streaming as the future of Disney. Therefore, success in this area – as measured by paying subscribers – is the thing that matters most to the company. I understood this and was bullish on DIS shares last year going into and during the launch of Disney+, as I expected the company to exceed expectations for subscriber additions.

Disney's streaming business – as I expected pre-pandemic and expect even more so now – is on fire. I knew this metric was important… But I failed to appreciate it was all-important.
Disney is a streaming company now… and Wall Street is happy.
► But if its business strategy will reflect a digital shift, shouldn't its financial strategy as well?
A funny thing happened earlier this month… a famed activist called on Disney to stop returning so much cash. In a letter to CEO Chapek, activist hedge-fund manager Daniel Loeb of Third Point pleaded for the company to stop paying its $3 billion dividend and instead spend that cash beefing up programming for Disney+. As Loeb wrote in the letter…
By reallocating a dividend of a few dollars per share, Disney could more than double its Disney+ original content budget. These incremental dollars would, based on our analysis, generate returns that are multiples of the stock's current yield.
It's a shocker to read an activist plead with a target to keep more of its cash, since the vast majority of activist investor campaigns call for companies to accelerate buybacks, increase dividends, or in some other way return more of cash flow to shareholders. As the New York Times' DealBook newsletter commented in the wake of Loeb's letter…
It isn't often that an activist investor wants a company to spend more money on itself and less on shareholder payouts.
According to the Financial Times, which reported on the letter, Loeb also advocated for Disney relying less on blockbusters released through traditional theatrical release…
Mr. Loeb said Disney should further embrace the shift from "the box office to the home" and devote its best content to its streaming service, likening the transition away from cinemas to "horse-drawn carriages when the automobile was first introduced."
While he hasn't publicly commented, Loeb must have been pleased with the reorganization announcement, which clearly repositions Disney to increasingly focus on sending great content assets to digital direct-to-consumer services like Disney+ and Hulu versus traditional media distributors like movie theaters and cable TV networks. Given that the reorganization was announced a mere five days after Loeb sent his letter, it's more likely that this plan was in the works for some time versus the company reacting with lightning speed to the demands of a new shareholder that owns less than a half a percent of DIS shares outstanding.
Loeb got what he wanted… although the strategic shift to digital was probably well in process before his letter was even opened. He may get lucky again with his desire to see the dividend cut. While streaming may be Disney's future, it's certainly not its recent past (or present) when it comes to generating cash to pay out…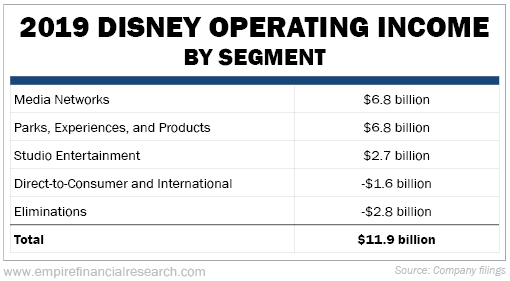 Loeb could get his wish, but perhaps not driven by strategy, but instead necessity, as data-charting site Chartr explained…
If Disney does end up killing the dividend for a couple of years it might not be because a hedge fund persuaded them to do so. It's probably more likely that they won't be able to afford to pay a dividend with COVID keeping their parks and box office businesses shut down — and that doesn't even begin to consider the optics of potentially paying out profits when your company has just laid off 28,000 workers.
Whether it's because Disney is a streaming company now – and those don't pay dividends – or because 25% park capacity and mothballed cruise ships don't pay the bills… we may in fact see the Disney dividend go the way of smoking in the parks and DVDs of problematic 1940s film Song of the South: extinct.     
► In today's mailbag, readers react to my colleague Alex's discussion of bank earnings last week and my Booze, Burgers, and Home Gym Update issue…
Would it bother you if a company you held cut its dividend if it truly had an opportunity to invest for growth? Do you think it makes sense for Disney to pivot so hard into streaming? Let me know by sending an e-mail to [email protected]
► "Dear Alex and Berna: In your first paragraph you report a 30% decrease in Q2 'real' GDP, with a 30% increase in Q3. Please remind us that this leaves us down about 9% from the previous level (which was likely a decrease from Q120 and Q419.) Your wage graph indicates the areas of pain and unemployment.
"Increased debit receipts should also be assessed in context- I generally use 'walking around money' for purchases under $20 or $30, avoiding transaction fees, but during the COVID-19 panic, many merchants spurned cash and it was debit or walk.
"We should see within months how the Covid 'second ripple' progresses, and it will be interesting to compare the US and China economic progress." – Robert T.
► "The retired people have not been able to get much help. I believe that banks should automatically offer another round of deferred payments for loans, mortgages, and credit cards. Also, I believe that credit card companies should be able to offer clients a break on cash advance interests and charge only standard credit card fees even for cash advances for as long as the deferred payments are active. Also, how about those bank fees, maybe give some slack on those as well for another month or two." – Rene P.
► "I support another round of stimulus." – Paul C.
► "BOOZE, BURGERS and home gym… All seem like they might be decent investments, but I believe McDonalds (MCD) is likely the best for the long-term. They have the resources to keep their prices low, offering exceptional deals, for now anyway, and have a loyal following.
"As far as the bikes, I have long-time friends that are professional exercise instructors that work out of gyms. They are down in attendance for sure.
"BUT… I know a few folks who have purchased Pelotons, but the cost is beyond what many want to spend… a lot more than a 'regular' bike. And they are in short supply. It might be a good short-term investment. But people who are into weights will be back to or are already back to the gym.
"For many of them, dumbbells and resistance bands and such just don't cut it – they're ok for the short term but many of those folks are already complaining of losing muscles and strength, things that they have worked hard to get.
"Runners will always be coming and going on a regular basis, so sales of items they use should remain pretty steady even after things calm down a bit.
"Overall, I think many of the producers of home gym equipment, supplements and equipment, such as bikes, have already reached their peak, or soon will.
"If you look at the fact that the most popular of these replacements for gym workouts are also backordered, it means the producers are making just enough to keep up with demand.
"So, the manufacturers are playing it safe too. The fact is that many people who used gyms before aren't now, because of COVID – but for those folks, one of the main reasons they went to gyms was for the classes offered, or the facilities they couldn't replace at home, and also because they needed the incentive to get some regular exercise… because they couldn't get motivated to do so at home.
"Many also went for social aspects as well. Personally, I only use dumbbells, and body weight exercises and stretching, have a bike already, and hike and ski for cardio. All of which I can do at home or outside. But I really miss playing basketball and will be back to the gym as soon as I feel ok with it… likely as soon as a vaccine becomes available.
"It's hard to play basketball outside when the court is covered in snow! Just my opinion" – John H.
Regards,
Berna Barshay
October 26, 2020