► Last month, global spirits giant Diageo (DEO) cut a deal to buy Aviation gin from private investors including actor Ryan Reynolds…
The London-based beverage firm will pay $335 million for Aviation and its parent company Davos Brands, with future payments of up to an additional $275 million if Davos meets targets for future sales. Diageo was already the market leader in gin with its Gordon's and Tanqueray brands, but the company is paying up to $610 million to strengthen its already strong positioning.
The gin category itself has been gaining momentum since around 2016, when gin and tonics became very in vogue in Europe… not just in traditional markets like the U.K. but also in less-expected ones such as Spain. The rising popularity of the Negroni cocktail, made with gin, has also contributed to gin's grabbing share from its clear alcohol rival, vodka.
Aviation appeals to a different gin drinker than the modestly-priced Gordon's and the premium Tanqueray brand. Priced about 30% above Tanqueray, Aviation falls into the super-premium bucket and has developed a cheeky, irreverent brand personality – carefully cultivated in ads that are often humorous at its own expense.
The brand's cool credentials – and sales – have been propped up by clever, self-mocking ads that take aim at its own artisanal, and pricey, positioning. In an ad called "The Process" from 2018 – which has been viewed more than 3 million times on YouTube – Reynolds explains how "non-celebrities frighten [him]" and notes that the citrus used to infuse Aviation gin is "misted using only the tears of Aviation's owner, me, Ryan Reynolds." It's Millennial catnip, super funny, and you can view it here.
The brand even plays up its Portland, Oregon roots, with a wink and nod acknowledging its hipster heritage.

The clever marketing doesn't end there…
Alcohol brands have always been built as much on image and aspiration as actual flavor palate. The association with a popular celebrity can help sell a lifestyle, but it needs to be authentic to work.
Reynolds being an owner and not just an endorser helps with the authenticity, as does his growing profile in the business world. Last year, the actor bought a stake in privately held low-priced wireless carrier Mint Mobile… and earlier this summer, joined the board of dating company Match Group (MTCH) – which I wrote about here.
Aviation has consistently executed on its cultivation of an irreverent vibe and has been quick to take advantage of opportunities to reinforce this image. When home fitness company Peloton (PTON) ran an unfortunate advertisement depicting an already-thin and beautiful woman receiving a bike from her husband for Christmas so she can "get fit," the Internet exploded in mockery. The ad – titled "The Gift That Gives Back" – was probably the most hate-watched commercial of 2019.
Aviation responded within just three days with its own ad, "The Gift That Doesn't Give Back," which features the same actress from the Peloton misfire, sitting in silence with two girlfriends as she guzzles an Aviation gin martini, presumably drowning her sorrows over her husband's insensitivity. When Reynolds tweeted out the ad, he captioned it "Exercise bike not included." It was watched more than 5 million times on its first day. You can watch it here.
Never passive in his ownership, Reynolds relentlessly worked his social media channels to continually build the brand's personality and relevance…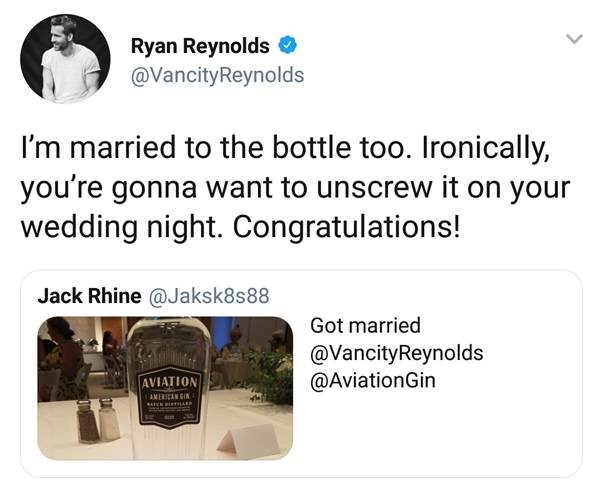 Source: twitter.com/VancityReynolds
All the buzz propelled Aviation to double its sales last year to $40 million. It's an impressive sum, but one that makes this a pricey purchase for Diageo. The deal is priced at more than 8 times sales, which is high even by typically lofty beverage industry standards… and that's just considering the first $335 million. At $610 million, the fully loaded price would be more than 15 times sales.
The effective multiple may be a touch lower than the 15 times, as the company also owns some smaller brands like TYKU Sake, Sombra Mezcal, and Astral Tequila. But even counting these, the $610 million price with future earnouts implies a double-digit multiple of sales… Diageo clearly believes that with its global distribution muscle and fat wallet, Aviation can double in size several more times.

This isn't the first time Diageo got the stars in its eyes…
In 2017, Diageo bought super-premium tequila brand Casamigos from actor George Clooney and two friends for a whopping $1 billion – $700 million upfront and $300 million in future earnouts if sales targets were hit.
While sales for the Casamigos brands aren't available, we can be sure this deal was richly priced. There are also reports that Casamigos grew by 35% in 2019.
Casamigos is a small piece in the Diageo empire – which also includes giant brands such Johnnie Walker scotch, Smirnoff and Ketel One vodka, Captain Morgan's rum, and Guinness beer – but 35% growth is way above the mid-single digits that Diageo aims for on its overall portfolio.
Tequila has been a hot liquor category in the U.S. for years – taking share at the bar from other liquors, especially with young people, much as gin has been doing in Europe. And the association with Clooney was one big piece of the Casamigos rise to prominence within a category that was already on a tear.
As a big global player, Diageo will clearly import some of its strategies that made G&Ts and Negroni hot drinks in Europe into America now that it owns Aviation.
Similarly, it surely sees opportunities to grow the tequila category in Europe – where it hasn't been widely consumed historically – with its Casamigos purchase. As Casamigos co-owner, nightlife mogul, and buddy of Clooney (and husband of supermodel Cindy Crawford) Rande Gerber told Business Insider back in 2018…
George and [his wife] Amal have a beautiful home in the U.K. now, and he wanted to make sure he could drink it there… Even though Brits aren't known as tequila drinkers, a lot of whisky drinkers and vodka drinkers have switched to drinking Casamigos.
Casamigos wasn't Diageo's first entry into the celebrity booze world. As far back as 2007, Diageo teamed up with rapper and music producer Sean Combs (then P. Diddy) to promote CÎROC vodka.
Diageo's focus on Hollywood-infused marketing appears to go beyond just celebrity associations. Last year, when I visited the headquarters in London, an executive gave me a tour of the company store, and was most excited for the portion of show-and-tell that featured Walker White, a limited edition of Johnnie Walker scotch released during the much-hyped buildup to the finale of HBO's immensely popular Game of Thrones series.
Walker White was a play on the White Walker creatures featured in the fantasy series, and the bottle containing the special scotch revealed hidden designs when chilled, which played nicely into the Game of Thrones tagline, "Winter Is Coming."

Going into the alcohol business is like a lottery ticket for celebrities…
A successful exit means a windfall for the celebrity owner… Forbes reports that Clooney's share from the Casamigos sale could be $233 million. Even making $20 million per picture with a healthy back end of profits, Clooney will make more on his tequila venture than he probably made on his past 10 movies.
Not surprisingly, the possibility of huge financial gains has led to an explosion of celebrities getting into the liquor business. Pop star Justin Timberlake has a collaboration with tequila brand Casa Sauza, actor Matthew McConaughey teamed up with Campari (DVDCF) to launch super-premium bourbon Wild Turkey Longbranch, and Real Housewives of New York City alum Bethenny Frankel sold her pre-packaged cocktail business Skinnygirl back in 2011 for $120 million to a division of Japanese beverage giant Suntory (STBFY).
Celebs are also deep into the wine business… filmmaker Francis Ford Coppola has long owned vineyards in California's Sonoma Valley, but he has more recently been joined in the wine trade by actor and Clooney buddy Brad Pitt and rocker Jon Bon Jovi, who both make rosé.
While not every celebrity will realize a nine-figure windfall with forays into alcohol, the big bucks collected by Reynolds and Clooney will surely add to the line of celebs looking to capitalize on their persona off the big screen.
Tomorrow, we'll look a little bit more at how these deals make sense from Diageo's point of view…

In today's mailbag, readers weigh in on back to school, when they will be ready to go on a cruise, and Facebook's (FB) social responsibility…
Have you tried Aviation Gin or Casamigos tequila? Send me your review! What other celebrity products do you enjoy? Does the presence of a celebrity owner or brand ambassador ever influence your purchasing decisions? Share your thoughts in an e-mail to [email protected].

"Hey Berna, Nice email! I have three kids in school, and I didn't realize the trends below.
"My son usually has to load up on Vineyard Vines shorts & shirts before school, but this year they are allowed to wear 'casual' at school. They go every other day, but he wears 'gym' shorts and t-shirts every day. I did just spend lots of money at Dick's to buy his shirts/shorts/shoes, but it was less than buying a new wardrobe at Vineyard Vines!
"As for team sports, they are playing club soccer in North Carolina (no games yet, but still practicing) so money was spent there. Schools have canceled their fall season.
"Children's Place – I probably haven't been there in 8 years or so (son is 16 now), but we used to get most of his clothes there. They had comfortable cargo pants with elastic waistbands (required by our daycare). I have a fondness for them and certainly hope they make it!
"We bought my youngest daughter a Chromebook two years ago. She has an older iMac in her room, but I found out yesterday that she's doing classes with her cheap Chromebook not the Apple!" – Frank K.

"I was booked for a family carnival cruise on November 9th and called to cancel it… We don't feel safe yet, and we take at least 2 cruises every year. We were told since they weren't canceling November cruises yet, we would lose our deposit. I told them I was not happy with that and they should be more flexible during covid, especially since we booked this months ago. Finally, after having to get a supervisor on the phone we were able to move our cruise to December of 2021! Maybe by then we will feel safe." – Donna P.

"Hi Berna, My husband and I had a chat earlier this year about taking a vacation on one of the cruise lines of Carnival, but since the pandemic we've postponed our plan to sometime next year, just to stay on the safe side.
"Regarding Facebook, I think they should focus more on how to avoid such mistakes, since a lot of groups have been taking advantage of its platform to organize and promote illegal and violent activities. I don't think with a current level of AI and data technology at advance, it would be a very difficult thing to accomplish.
"Also, I've been really enjoying your and Whitney's daily articles. Though sometimes I don't have time to read everything at once, I'd go back to review it when I do. They have plenty of useful and helpful information. So, thank you for that." – Ruizi L.

"Facebook should monitor and reject any post inciting violence, but frankly there is way too much political bias when censors determine what is 'truthful' and 'hateful.' Ideally in a free society people come to their personal conclusions by taking information in from diverse sources. When a higher power prevents individuals from accessing different sources because it pre-selects what they can see, this leaves society to make conclusions based on its own prejudices." – Jim B.
Regards,
Berna Barshay
September 9, 2020