1) My friend David Einhorn of Greenlight Capital was a guest on CNBC yesterday for 27 minutes. CNBC Pro subscribers can watch the entire interview here and access these two articles:
Here's a shorter clip available to nonsubscribers: Greenlight's David Einhorn says there are two types of buybacks.
My colleague Herb Greenberg commented:
David has said that money has increasingly moved from value investors to index funds... and money managers who used to be able to charge a management fee and have a staff have fired their research staffs – especially those who follow the "boring" stocks.

This has created a big segment of the market that nobody is paying attention to – meaning less competition for investing in these ideas... and as a result, some great, "boring" companies are trading for cheap.
2) Shares of electric truck maker Rivian Automotive (RIVN) crashed 18% yesterday, hitting an all-time low, in the wake of the company's dismal earnings report after the close on Tuesday. Here's a CNN article about it, Rivian shares plunge again on weak sales, outlook, and here's a tweet by Charlie Bilello showing Rivian's accelerating losses: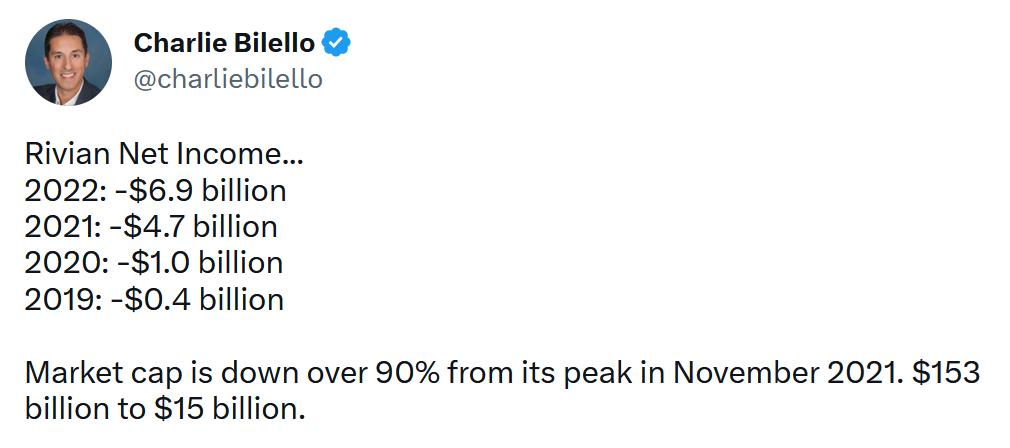 I've warned my readers numerous times to avoid Rivian and a similar electric vehicle ("EV") maker, Lucid (LCID), as long ago as November 18, 2021, when I wrote:
While I remain bullish on the rise of EVs – they are a vastly superior product to regular gas-powered cars and, as such, I believe they'll soon dominate new car sales around the world – there isn't a single EV stock I like right now.

In fact, there are two I would consider shorting if I were still in that business: Rivian Automotive and Lucid. These are both promising companies, but the former has yet to sell a single vehicle, and the latter just started delivering sedans in a 520-car limited edition last month – yet they are valued at around $113 billion and $75 billion, respectively.
Since then, their stocks are down 87% and 82%, respectively.
---
Recommended Link:
| Elon Musk is creating Tesla Automotive's biggest competition. He's just launched Tesla Energy Ventures that will deal in "PVAB" energy. As Musk recently said: "I expect [PVAB] to be roughly the same size as Tesla's automotive business." According to global energy research agency Wood Mackenzie, Tesla's energy business is already growing faster than its car business. Unfortunately, Tesla Energy Ventures is not yet publicly traded. But there is still a way to get in to the PVAB energy space right away. Click here for more details. | |
| --- | --- |
---
3) I wasn't alone in predicting the collapse of the stocks of certain EV companies...
As Bloomberg columnist Chris Bryant notes, Tesla (TSLA) CEO Elon Musk was as well: Musk Was Right About Tesla Rivals Losing Billions. Excerpt:
Electric-vehicle startups that hope to knock Tesla Inc. off its perch have forgotten the first rule of business: Sell your product for more than it costs to build.

"Capital-hungry" neophytes like Rivian Automotive and Lucid are still losing heaps on each vehicle as they slowly ramp up production. This puts them at greater risk of one day having to tap shareholders for yet more cash. They should take note of rival EV startup Fisker's approach – outsourcing production to a contract manufacturer has proven less risky and investors are warming to its asset-light strategy.

Rivian and Lucid's decision to copy Tesla's "vertically integrated" blueprint – building vehicles and developing core technologies themselves – helped generate massive retail investor enthusiasm, at least initially, and their vehicles have won rave reviews. But their losses ballooned last year because the cars cost too much to produce and they can't raise prices sufficiently to compensate. Tesla boss Elon Musk warned a year ago that Rivian would incur shockingly negative gross margins – referring to the money left over after subtracting direct inputs like labor, logistics, materials and factory equipment depreciation from revenue.

Musk's pronouncements aren't always accurate, but in this instance he was bang on. Rivian's production costs were almost three times higher than its revenue in 2022 causing a gross loss of $3.1 billion, according to figures released Tuesday, while Lucid's annual gross loss was $1 billion. After accounting for research, selling and administrative costs, the pair reported operating losses of $6.9 billion and $2.6 billion, respectively.
4) While skiing at Deer Valley in Utah on Tuesday, I saw something I'd never seen before in my more than 40 years on the slopes...
I was skiing through the trees when I saw a ski patrol guy walking up the trail toward me. I swerved to the side and came to a stop and asked, "Is something wrong?"
"Do you hear anything?" he asked me. "We have a report of a skier who needs help."
So we both stopped and listened and, sure enough, we heard a man calling, "I'm down here!"
We looked in the direction of the voice and initially couldn't see anything, but he called again and finally we saw a skier who had fallen so deep down a tree well that we almost couldn't see him.
(It has been a monster snow year out here – Deer Valley has had 382 inches, nearly 32 feet! – so the tree wells, around the base of the tree where the snow hasn't fallen because of the tree branches, are particularly deep. These can be very dangerous because if a skier becomes trapped upside down with their head in the snow, they can suffocate.)
"Are you OK?" we asked.
"Yes, I'm just stuck," he replied.
So we took off our skis, waded through the deep snow about 10 feet, and the ski patrol guy slid down into the tree well.
I don't think the skier would have ever been able to get out on his own because his skis hadn't popped off and he couldn't release them, so he couldn't stand up or climb out.
I offered to come down to help, but it wasn't necessary, so I instead started recording a video and taking pictures (you won't be surprised to hear!). Here's the one-minute video I took, which has some funny comments because, once we saw the guy wasn't hurt, it was actually pretty comical!
Here's what the initial situation looked like: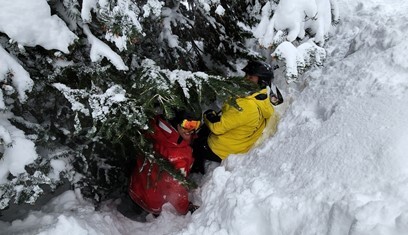 Then the ski patrol guy released the stuck man's skis and pushed him from below to help him climb out:
He was struggling to climb out, so it was fortunate that another ski patrol person came by and extended his pole: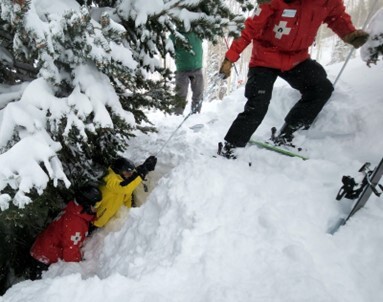 Slowly but surely the skier was able to climb out of the tree well...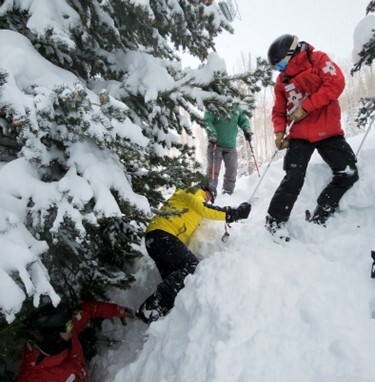 And eventually got out!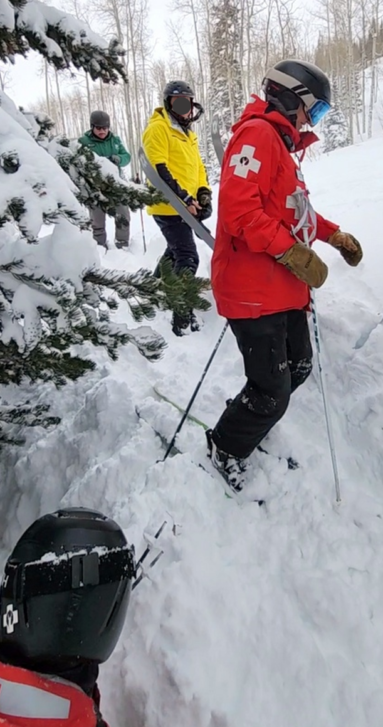 While I wasn't able to be a hero this time – I was instead the photographer/videographer/comedian – let the record show that I could have gotten him out if I had to!
Best regards,
Whitney
P.S. I welcome your feedback at [email protected].