1) With the implosion of FTX/Alameda Research, the crypto sector is melting down. Its market cap is down by two-thirds to under $1 trillion, as you can see in this chart: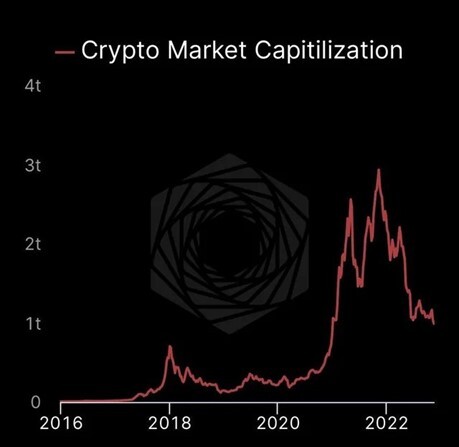 I love investing in markets in which other investors are panicking and there's blood in the streets, so I'm keeping an eye on the crypto sector.
My current view is that it's too early to bottom fish, as I think there are likely to be many more shoes to drop.
2) That said, one stock that caught my eye is Silvergate Capital (SI), which someone posted on ValueInvestorsClub last week.
The full write-up (and 90 comments) are only available to members, but here's an excerpt:
Silvergate Bank is an FDIC regulated and insured US bank which specializes in serving the crypto-currency ecosystem. Unsurprisingly, given the backdrop for Crypto, Silvergate is down from 220 to 30 over the past year. I am a crypto skeptic. I've never found a compelling use case that didn't make me laugh or just respond "but that's really only good for tax evasion and money laundering." The runway for crypto mattered when Silvergate was at 200, 150, or even 75. At 30 the stock is a highly asymmetric value play.

Let's discuss what Silvergate actually does. The bulk of Silvergate deposits come from participants in the crypto-trading ecosystem. In 3Q22 Silvergate reported having $12 billion average zero-interest digital asset customer deposits. The reason SI collects most of these deposits is due to its SEN (Silvergate Exchange Network) network which is a platform which facilitates the easy transfer of US dollars between trading participants. In 3Q22 there were $113 billion in SEN network volumes. SI takes these deposits and for the most part invests in a boring portfolio of government bonds. In fact, it's near-zero cost for deposits and its highly liquid balance sheet make Silvergate (and this is not hyperbole) perhaps the single most rate-sensitive bank in the country...

The core story of this company is that this is a deposit-taking bank which invests in government securities. They had a great ability to gather cheap money deposits with a value-added technology platform and they grew a lot over the past few years.

So what happens now? Twitter would have you believe this bank is on the verge of failure. I've been investing in small-ish banks like this for decades. I've learned to never say never in this business. Could there be an "unknown unknown" risk here I am not seeing? Maybe. But what I see as a "bank guy" is an institution with a very liquid asset book trading below tangible book. It is worth noting that adjusted of OCI (the marks banks take on their Available For Sale securities) Silvergate's TBV is over $46 per share and roughly $30 with AOCI. They may end up losing a lot of deposits if crypto goes into a long winter, in which case earnings will shrink. But tangible book will increase under almost any reasonable economic or even crypto scenarios...

What is this worth? Hard to say. Crypto could cease to exist. Or this could be like the other 10 times that we all said "ah, this must finally be the end" but it does seem to have an ability to rise like a phoenix from the ashes again and again.

Which is why SI is so interesting at these levels. I think that heads I am buying a liquid balance sheet that can be liquidated for relatively close to the current price. I believe many banks would be happy to make a deal for SI, which would be book value, EPS, and capital accretive and comes with all of the IP/technology and optionality for free. So, I don't see a fundamental reason why the bank should trade at a discount to tangible book. On the other hand, if history rhymes and this is like the other 1000 times crypto was "over" only to bounce back then the stock can have massive returns from here. There are certainly scenarios where the problems at FTX drives more crypto business into transparent regulated institutions like Silvergate.

If you are a zealot [who believes] that crypto is deceased for good here then you may well be right and this isn't your stock. Even if tangible book plus some value holds there will be more interesting things for you to do with your money. Personally after investing for several decades I've become much more skeptical about absolute certainty about anything. I like to find situations where I can find a lot of upside exposure to something happening without a lot of fundamental downside risk. SI is a fast evolving situation but I think that's what we have here. Downside risk from here should be a function of market-to-market psychology and technicals rather than fundamentals. In upside scenarios this returns to the valuation of a high-growth high return differentiated financial institution worth several multiple of book value for 2x-4x type returns. In your blue sky scenarios, Diem takes off and you can add to that the value of a high growth technology company.
For more on this, see this American Banker article: Flight to safety? Crypto-friendly banks could capitalize on FTX meltdown. Excerpt:
It's trendy to compare the recent troubles at the cryptocurrency exchange FTX with Lehman Brothers' legendary fall, which sent shock waves across the financial services sector in 2008 and helped spark a systemic crisis.

But bankers who have been developing and offering services for cryptocurrency investors and crypto businesses describe FTX's bankruptcy as a more isolated event.

And some bank executives actually see a silver lining: Investors and crypto businesses are likely to want to work with more heavily regulated players like banks, they say.
And see this "Heard on the Street" column in today's Wall Street Journal: Crypto Bank Silvergate Battles FTX Contagion Fears. Excerpt:
Earlier this month, Silvergate Capital gathered its staff to celebrate its transformation into the go-to bank for the crypto market. Then, the crypto market blew up.

The collapse of crypto exchange FTX has raised questions about how close the bank was to the empire of Sam Bankman-Fried. The price of Silvergate's stock has been cut in half this month and is now down nearly 90% over the past year.

Silvergate has issued multiple statements and preannounced some results to reassure investors of its stability. It said it had capital to handle withdrawals and had no loans outstanding to FTX or Mr. Bankman-Fried. The bank disclosed that its deposits were down, but that volume on its network for crypto investors had risen. It says it still has no losses on bitcoin-backed loans. But the stock has continued to plunge.

"This is a fundamental misunderstanding as to the role that Silvergate plays," Chief Executive Alan Lane said on CNBC Friday.

The market is asking a bigger question: What happens to a bank that has remade itself from a small commercial lender into a middleman of the crypto world if the crypto world collapses?
To be clear, I'm not recommending buying Silvergate. It's far outside my circle of competence, so it easily goes into my "too hard" bin... But if I really wanted to speculate in this sector, this stock might be an interesting way to do so.
3) Here are two recent articles about FTX that I found insightful, both from the WSJ:
They Lived Together, Worked Together, and Lost Billions Together: Inside Sam Bankman-Fried's Doomed FTX Empire. Excerpt:
Sam Bankman-Fried's $32 billion crypto-trading empire collapsed in an incandescent bankruptcy last week, prompting irate customers, crypto acolytes and Silicon Valley bigwigs to ask how something that seemed so promising could have imploded so fast.

The emerging picture suggests FTX wasn't simply felled by a rival, or undone by a bad trade or the relentless fall this year in the value of cryptocurrencies. Instead, it had long been a chaotic mess. From its earliest days, the firm was an unruly agglomeration of corporate entities, customer assets and Mr. Bankman-Fried himself, according to court papers, company balance sheets shown to bankers and interviews with employees and investors. No one could say exactly what belonged to whom. Prosecutors are now investigating its collapse.

Mr. Bankman-Fried's companies had neither accounting nor functioning human-resources departments, according to a filing in federal court by the executive brought in to shepherd FTX through bankruptcy. Corporate money was used to buy real estate, but records weren't kept. There wasn't even a roster of employees, to say nothing of the terms of their employment. Bankruptcy filings say one entity's outstanding loans include at least $1 billion to Mr. Bankman-Fried personally and $543 million to a top lieutenant.

The lives of the people who ran FTX and its related companies were similarly blurred. Ten of them lived and worked together in a $30 million penthouse at an upscale resort in the Bahamas. The hours were punishing, and the lines between work and play were hard to discern. Romantic relationships among Mr. Bankman-Fried's upper echelon were common, as was use of stimulants, according to former employees.

Mr. Bankman-Fried, 30 years old, kept a hectic schedule, toggling between six screens and getting by on a few hours of sleep a day. He was at times romantically involved with Caroline Ellison, the 28-year-old CEO of his trading firm, Alameda Research, according to former employees.

"Nothing like regular amphetamine use to make you appreciate how dumb a lot of normal, non-medicated human experience is," Ms. Ellison once tweeted. A lawyer for Ms. Ellison declined to comment.
How Caroline Ellison Found Herself at the Center of the FTX Crypto Collapse. Excerpt:
Before the crash, Mr. Bankman-Fried hugged the spotlight, promoting crypto and lobbying for its interests in Washington, while Ms. Ellison remained in the engine room. Alameda, a trading firm owned almost entirely by Mr. Bankman-Fried, had one overarching purpose: Make money. Ms. Ellison was tasked with keeping it running.

In a handful of podcasts and other public appearances, Ms. Ellison was quick to summarize her rapid ascent as almost accidental. She joined Wall Street straight from graduating Stanford University in 2016, though the move was less a calling than an answer to the question she found herself asking in college: What are math majors supposed to do with their lives, anyway?

It was at her first job, at the quant-trading powerhouse Jane Street Capital, that she met another 20-something trader, Mr. Bankman-Fried. Like her, he had been raised by two professors. Like her, he spoke highly of a movement called "effective altruism," or the idea of making big money to give away.

When Mr. Bankman-Fried left to start Alameda, Ms. Ellison soon followed in what she called "a blind leap into the unknown." She was still barely out of college – but she was also one of the more experienced traders there, she said in an FTX podcast in 2020.
4) I think it's important to highlight the people who saw that Sam Bankman-Fried ("SBF") was a con man and FTX a house of cards...
On Wednesday, I gave a shout-out to Marc Cohodes and Mike Burgersburg. Today, I tip my hat to Terry Duffy, the CEO of CME Group (CME), which operates contract markets for the trading of futures and options. Listen to this three-minute excerpt from an interview he did, in which he describes telling SBF when he met him in March that "you're a fraud, an absolute fraud":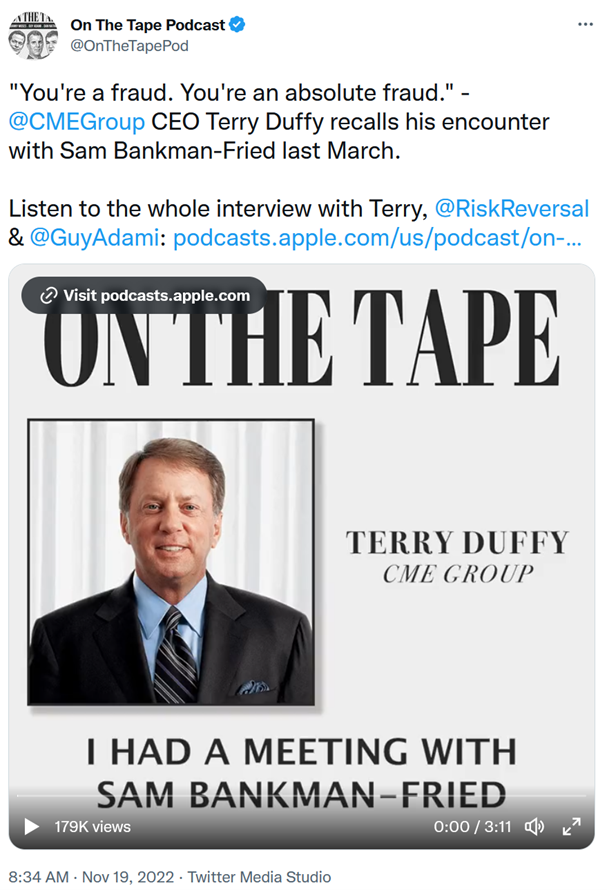 5) More broadly, kudos to this Kiwi for exposing some of the unlimited fraud in the crypto world! The Crypto Ponzi Scheme Avenger. Excerpt:
After a few days of looking into HyperFund, [Danny] de Hek concluded it was a scam, one that he estimates has attracted at least $1 billion by recruiting thousands of participants, some of whom put up as little as $300 or as much as $50,000 or more.

By March, he had crafted a new online identity: crypto Ponzi scheme buster. Mr. de Hek has since denounced HyperFund in more than 130 videos posted to YouTube, some of them nearly two hours long, lecturing viewers in a style that toggles between goofball and scold.

"When I looked into HyperFund, to me it just seemed black and white," Mr. de Hek said during one of several interviews from his home in Christchurch. "Then I thought, I need to warn people about this."

Mr. de Hek is one of the few voices flagging crypto-based Ponzi schemes, which U.S. investigators say are a severely underpublicized scourge.
6) I was in Nashville from Wednesday through Saturday last week, soaking up the music scene – what a great city!
On Friday evening, my friend and I waited in line for 75 minutes in the freezing cold to get into the Bluebird Cafe (made famous by the TV show Nashville) to hear three singer-songwriters at 6 p.m., and then we zipped over to the historic Ryman Auditorium (the home of the Grand Ole Opry from 1943 to 1974) for an 8 p.m. concert by Trombone Shorty & Orleans Avenue.
I had never been to a jazz concert... and I was blown away! Below are pictures, and I posted a short video on Instagram here.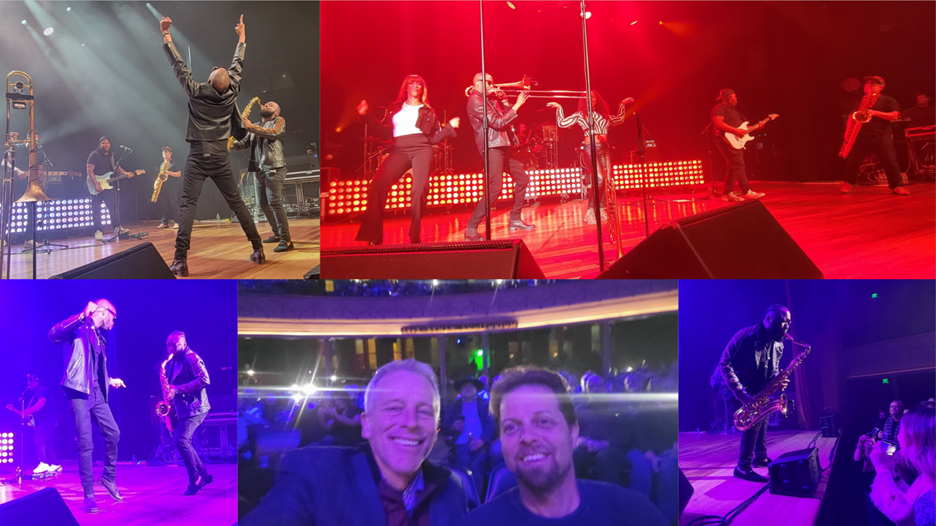 Best regards,
Whitney
P.S. I welcome your feedback at [email protected].