1) Here's a good piece of investigative journalism by the Wall Street Journal...
I'm shocked – shocked, I tell ya! – by this... (NOT!) Crypto Companies Behind Tether Used Falsified Documents and Shell Companies to Get Bank Accounts. Excerpt:
In late 2018, the companies behind the most widely traded cryptocurrency were struggling to maintain their access to the global banking system. Some of their backers turned to shadowy intermediaries, falsified documents, and shell companies to get back in, documents show.

One of those intermediaries, a major tether trader in China, was trying to "circumvent the banking system by providing fake sales invoices and contracts for each deposit and withdrawal," Stephen Moore, one of the owners of Tether, said in an email viewed by the Wall Street Journal.

Mr. Moore said it was too risky to continue using the fake sales invoices and contracts, which he had signed, and recommended they abandon the efforts to open the accounts, the emails show. "I would not want to argue any of the above in a potential fraud/money laundering case," he wrote.

Tether runs tether, the $71 billion stablecoin that is the most widely traded cryptocurrency, and a sister company runs Bitfinex, one of the world's largest crypto exchanges. Losing access to the banking system was "an existential threat" to their business, the companies said in a lawsuit.

A cache of emails and documents reviewed by the Journal show a long-running effort to stay connected to the financial system. The companies often hid their identities behind other businesses or individuals. Using third parties occasionally caused problems, including hundreds of millions of dollars of seized assets and connections to a designated terrorist organization.

In a statement after this article was published online, Tether said the Journal's report was "wholly inaccurate and misleading" and said that Tether and Bitfinex have "world-class compliance programs" and adhere to legal requirements.
"World-class compliance programs" – now that's funny! Probably just as good as FTX's!
2) Along the same lines, here's another exposé in the WSJ: Texts From Crypto Giant Binance Reveal Plan to Elude U.S. Authorities. Excerpt:
Binance exploded onto the crypto scene in 2017 and grew into the world's biggest digital-currency exchange. It quickly ran into a problem.

It largely operated from hubs in China and then Japan, yet a fifth of its customers were in the U.S., where authorities signaled a coming crackdown on unregulated offshore crypto players. Any lawsuit from U.S. regulators would be like "nuclear fall out" for Binance's business and its officers, a Binance executive warned colleagues in a 2019 private chat.

Worried about the threat of prosecution, Binance set out on a plan to neutralize U.S. authorities, according to messages and documents from 2018 to 2020 reviewed by the Wall Street Journal as well as interviews with former employees.

The strategy centered on building a bare-bones American platform, Binance.US, that would license Binance's technology and brand but otherwise appear to be wholly independent of Binance.com. It would shield from U.S. regulators' scrutiny the larger Binance.com exchange, which would exclude U.S. users.

But Binance and Binance.US have been much more intertwined than the companies have disclosed, mixing staff and finances and sharing an affiliated entity that bought and sold cryptocurrencies, according to the interviews and the messages and documents reviewed by the Journal. Binance developers in China maintained the software code supporting Binance.US users' digital wallets, potentially giving Binance access to U.S. customer data.

If U.S. regulators conclude that these links mean Binance has control over a U.S. company, they could claim the power to police Binance's entire business, which, to many investors, has been a black box since the start. This would also put Binance's billionaire founder and chief executive, Changpeng Zhao, and his finances under closer scrutiny.

Recently, a Texas financial regulator said in a court filing that Binance.US didn't get a license to operate in the state because it wouldn't provide financial information from its largest shareholder, Mr. Zhao.

The Securities and Exchange Commission and the Justice Department have been probing the relationship of Binance, which lists no headquarters, to Binance.US at least since 2020, according to subpoenas and people familiar with the matter. The Justice Department and the SEC declined to comment.
Are regulators once again, as they did in the case of FTX, going to snooze while obvious fraud occurs under their noses, and only rush to close the barn door after the horse has fled?
---
Recommended Link:
| Elon Musk is creating Tesla Automotive's biggest competition. He's just launched Tesla Energy Ventures that will deal in "PVAB" energy. As Musk recently said: "I expect [PVAB] to be roughly the same size as Tesla's automotive business." According to global energy research agency Wood Mackenzie, Tesla's energy business is already growing faster than its car business. Unfortunately, Tesla Energy Ventures is not yet publicly traded. But there is still a way to get in to the PVAB energy space right away. Click here for more details. | |
| --- | --- |
---
3) No surprise here either... Good riddance! Crypto Bank Silvergate Capital Says It Will Shut Down. Excerpt:
Silvergate Capital, one of the crypto market's top banks, is shutting down.

The bank will repay all deposits and "is also considering how best to resolve claims and preserve the residual value of its assets," it said in a news release Wednesday.

Silvergate caters to companies in the crypto business. It helped institutional investors move dollars in and out of crypto-trading platforms through its Silvergate Exchange Network, which it stopped operating last week.

The bank's implosion makes it one of the few non-crypto companies to go out of business as a result of the industry's downturn.

Silvergate's decline tracked the unraveling of the broader crypto industry. What once was a novel business strategy soured as crypto companies withdrew their deposits, bank regulators cracked down on lenders' exposure to the sector and investors grew wary of the approach.
4) Picking up where I left off in yesterday's e-mail, here are five slides related to step three, The Initial Contact, from my presentation on "How to Cultivate Mentors, Make Friends, and Develop Deep Relationships" (again, much of this advice applies to job seekers as well):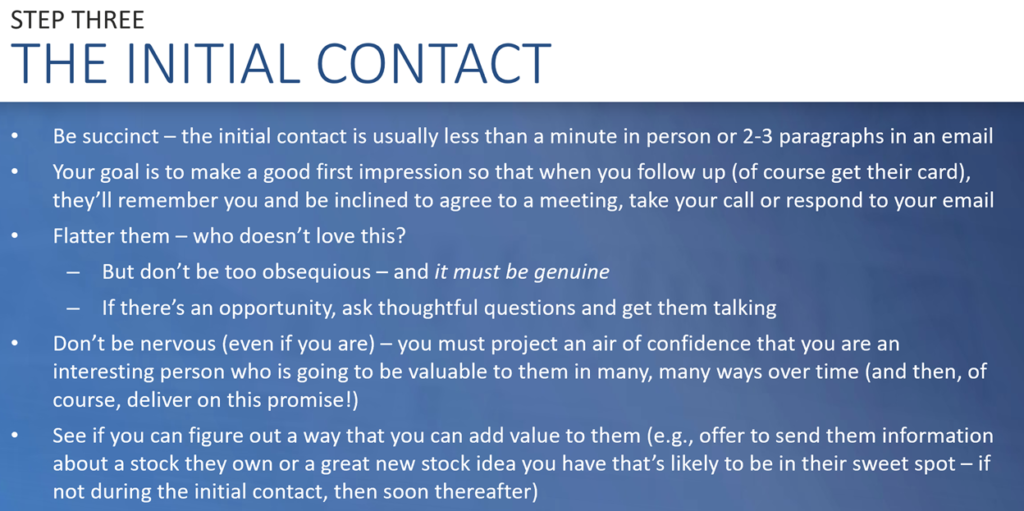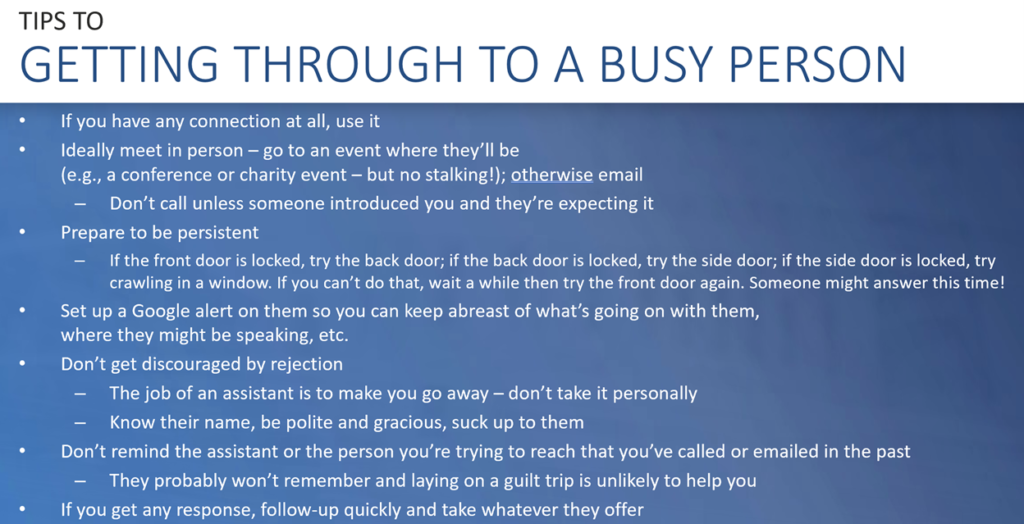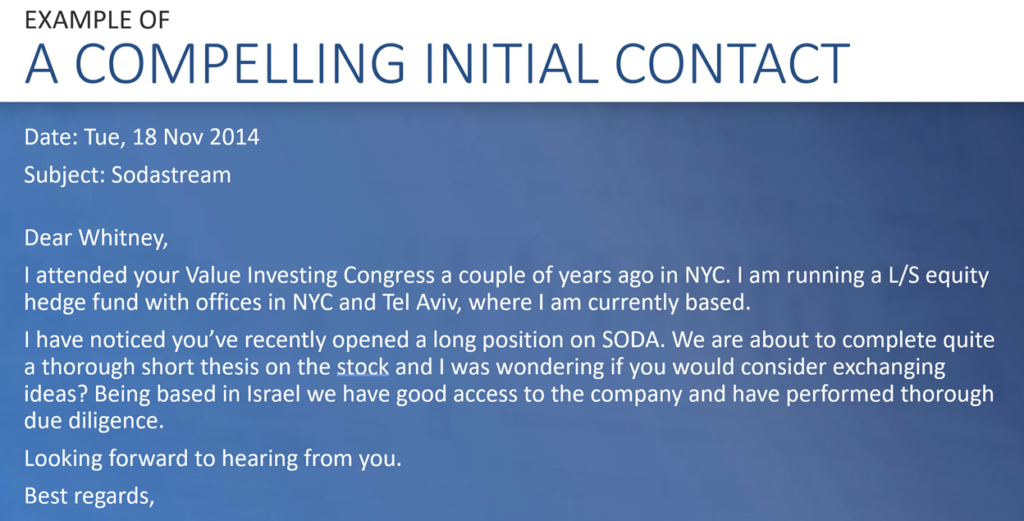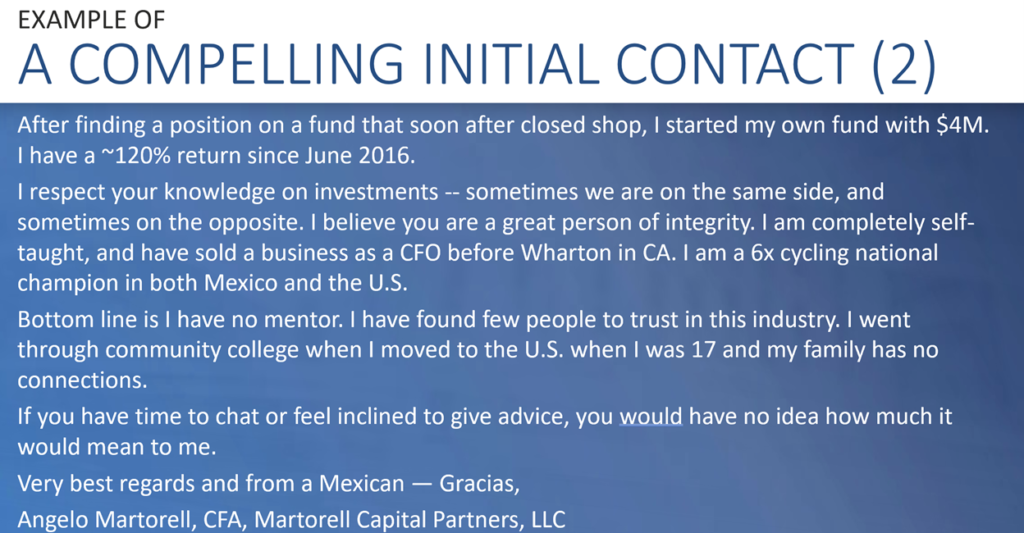 In tomorrow's e-mail, I'll continue with step 4...
Best regards,
Whitney
P.S. I welcome your feedback at [email protected].