► This summer probably wasn't the one most of us entered the year dreaming of…
With canceled European vacations and bored kids who didn't go to camp, it was a summer of disappointment in many ways. But I also saw plenty of friends, colleagues, and acquaintances make lemonade out of lemons… With a need to pivot and make new plans out of a more limited menu of options, most of these folks rose to the occasion and salvaged the summer.
It was a bull market for new hobbies, old school driving vacations, and, most of all, family time. If there was one silver lining from the COVID-19 pandemic summer, it was that less time in the office meant more time with spouses and children, and a renewed appreciation of slowing down and enjoying a heightened connection to those closest to you.
► But family dinner wasn't the only winner in the pandemic…
Sourced from tangible information gleaned from earnings reports as well as a completely unscientific analysis of my social media feeds, I've compiled a list of this summer's winners.
So here's a stream of consciousness list of the things that captured our time and our money this summer, some of which I have written about before: home improvement projects, backyard pools, trips in an RV, hard seltzer, quick-service restaurants without breakfast exposure like Chipotle Mexican Grill (CMG) and Domino's Pizza (DPZ), social media, Netflix (NFLX), national parks, Animal Crossing, shopping online, camping, Crocs (CROX), the state of Maine, TikTok, Peloton (PTON) bikes and live-streamed workouts, boating, celebrity podcasts, day trading, tie-dyed everything, and dogs. Congratulations, America… you've gone a long way towards clearing the animal shelters.
► Of course, this summer had its share of losers as well…
Regular Empire Financial Daily readers won't be surprised by the list of industries and pursuits that suffered limited demand or disappointed fans this summer: airlines, hotels, rental-car companies, cruise lines, department stores, sit-down dining, wardrobe refreshes, music festivals, movie theaters and studios, Burning Man, enclosed malls, live sports, concerts, ride-hailing apps Uber (UBER) and Lyft (LYFT), Broadway and other live theater, office towers, and amusement parks.
► Many of the companies on the list of summer losers share one common characteristic…
They have high fixed costs… and this means that capacity utilization is important. It's a topic I've discussed extensively with regards to restaurants, movie theaters, and airlines – these are businesses that need to run at or near capacity. How "full is full" varies by industry… planes and hotels might need 80%, whereas a movie theater might be OK at 60% (which is a blend of 90% full on Saturday night and 30% full on weekday afternoons).
Price is also important. This is something I discussed in regard to the cruise lines, which made headlines in May for brisk bookings of August and September itineraries… although at prices that probably didn't even cover their variable costs, let alone contribute to their fixed ones. (Those itineraries all got canceled in the end, so the hype around late summer/early fall departures ended up an exercise in PR only).
Applying similar analysis, reports indicate that Las Vegas was apparently full this holiday weekend. Yet this was at bargain basement prices, which – according to Twitter – may not work out so well for all casino operators…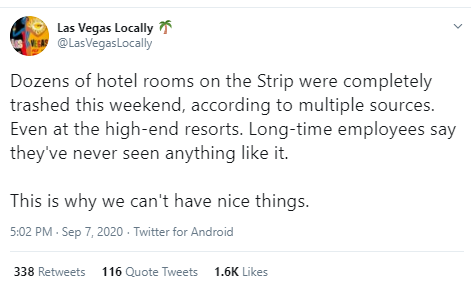 Source: twitter.com/LasVegasLocally
In terms of one industry on the loser list – amusement parks – I foresaw a lethal combination of high fixed costs and forced guest capacity reductions creating an uneconomic balance in 2020 (and perhaps beyond), even when they did open, which most eventually did.
► Sometimes you can nail the fundamentals, and completely blow it on the stock…
This is exactly what I did with media conglomerate and theme park operator Disney (DIS). It pains me to have gotten this one wrong, as it's a stock that I've historically bought and made a great return on after big market pullbacks like we had in 2000 to 2002 and 2008 to 2009. This time around, I didn't buy it because after the company reported its April quarter, I thought Wall Street estimates were way too high for 2021. I, like most of Wall Street, was willing to look past 2020 and write the year off… but I thought expectations for a "V shaped" recovery in 2021 were completely unrealistic. Back on May 7, when DIS shares traded around $106, I wrote (referring to the Parks Division)…
Applying my range of scenarios for this division, I come up with earnings-per-share ("EPS") outcomes anywhere from $2.10 to $4.60 for 2021. At the midpoint, this is $3.35 in EPS, versus the current consensus estimate of $5.40.
I had a variant outlook versus Wall Street that Disney would struggle to regain profitability in its Parks, Experiences, and Products Division, which made up almost 40% of revenue and 50% of operating profits in 2019.
► Four months later, Wall Street analysts have caught up to me…
The consensus earnings estimate for 2021 is now $2.75 in EPS, much closer to the $3.35 I had than the $5.40 Wall Street had when I went bearish. In addition to the troubles at the parks becoming more apparent, the recovery at cruises and movie theaters has been pushed out as well. The outlook has also degraded for cable networks, as the pandemic has accelerated streaming and "cord cutting." The effect on Disney is most pronounced at sports network ESPN, once the crown jewel of cable, which saw subscriber losses accelerate meaningfully in the most recent quarter.
Despite earnings estimates coming down a ton and headwinds picking up in many areas, DIS shares are trading about 25% above where they were when I said to wait for a better price back in May.
I thought if I waited, the third time would be the charm for me with DIS shares after a market crash. But I blew it. Why?
Part of this is because I didn't imagine the market would be up 19% in the last four months, which goes a long way toward explaining the 25% move in DIS shares. But there's another takeaway here beyond my market timing being lackluster this time around… 
► Sometimes, only one metric matters…
As my colleague Enrique Abeyta loves to say, "we buy stocks, not companies." He also likes to pay attention to the direction of fundamentals as much if not more than the absolute level of the fundamentals themselves. If earnings were down 90%, but they're going to be down 75%, then that's good in Enrique's market view. It's getting better, and the stock should go up.
I've seen plenty of money made on the "less bad" trade in my career, and I believe it's often a winning strategy. In the case of Disney and its most recent report, most incremental pieces of information were not "less bad"… but in fact worse. But one metric was much, much better, and it was the only one people really cared about. Everything matters when assessing a company, but sometimes only one thing matters when assessing a stock.
► Disney's Disney+ streaming service reported 61 million subscribers as of its earnings call…
Adding in Hulu and ESPN+ subscribers, the company topped 100 million in paid streaming subs. While the Direct-to-Consumer and International Division – which houses streaming operations – lost $700 million in the quarter, this was less than the $1 billion analysts had forecast.
Analysts view direct-to-consumer ("DTC") streaming as the future of Disney. Therefore, success in this area – as measured by paying subscribers – is the thing that matters most to the company. I understood this and was bullish on DIS shares last year going into and during the launch of Disney+, as I expected the company to exceed expectations for subscriber additions.
Disney's streaming business – as I expected pre-pandemic and expect even more so now – is on fire. I knew this metric was important… But I failed to appreciate it was all-important.
What Disney has done with Disney+ is a true feat of corporate execution. Speaking to Bloomberg News ahead of the publication of his new book that dropped last week (No Rules Rules), Netflix CEO Reed Hastings heaped praise on the company he explained was his biggest competitor…
Disney. If you'd asked us a year ago, "What are the odds that they're going to get to 60 million subscribers in the first year?" I'd be like zero. I mean how can that happen? It's been super impressive execution.
Part of the big increase in Disney+ subscribers reported in early August can certainly be credited to the bump provided by the Independence Day weekend debut of the filmed version of the hit Broadway musical Hamilton. According to research firm 7Park Data, the program was the most-watched streamed content in July by a large margin – 37% of the households in 7Park's panel watched it in July. Behind Hamilton in viewing was Netflix's Unsolved Mysteries, a distant second at 14% of households viewing. The interest in Hamilton surely pulled new subscribers into Disney+, as downloads of the app increased by 70% in the weeks before its debut.
For its stock performance and for getting wide swaths of America to all watch the same thing – from Broadway of all places and not the sporting world – on the long Independence Day weekend, Disney emerges as a definite winner of Summer 2020.
► In today's mailbag, a reader asks about protecting against counterparty risk…
What unexpected things did you spend time and money on this summer? Did you visit an amusement park? If so, tell me about your experience. Finally, which streaming service(s) do you use and view as essential? Which other ones do you have some interest in and which are a total pass? Send an e-mail with your thoughts to [email protected].
► "Hi Berna, this question is not related to any recent article in Empire Financial Daily, but I am liking the columns you write, so thought I would ask you a question.
"The basic question is: Assuming you have a large net worth (say investable assets of $50-million or more), HOW SAFE are the stocks you hold at a brokerage firm if the brokerage goes bankrupt?
"Of course, I know that bank deposits (cash) are guaranteed up to $250,000 per account by the FDIC. But what about stocks, ETFs, Mutual Funds, etc. – in much larger dollar amounts?
"For example, assume one of your holdings at a brokerage is 100,000 shares of ABC stock at a current market price of $50 (value = $5-million). Now say the brokerage goes bankrupt. I assume you are still the legal owner of those shares and they are somehow transferred to another (solvent) brokerage, so you suffer no loss. (Side note: are stocks sometimes still held 'in street name' – a phrase I heard from my dad many years ago? If so, could that cause a problem?)
"But – exactly how does all this work? And are there any limits on dollar-amounts?
"I believe the Depository Trust and Clearing Corporation (DTCC) is the key to the safety of one's investments. I think I heard that DTCC keeps DAILY records of ALL stock ownership in the US, and basically guarantees your ownership of those shares, and helps facilitate transfer of the shares to another firm in event the brokerage goes bankrupt.
"I believe that is basically what was done when Lehman Brothers went bankrupt – saving tens of thousands of investors from severe financial losses.
"But – again – if you could provide more information on how all this works, it would be greatly appreciated. Presumably, many of your other readers would also appreciate the information." – Anonymous
Berna comment: I want to be up front that I'm not an expert in all these rules, as I've never been a financial advisor nor am I a lawyer. My area of expertise is picking and analyzing stocks and advising companies… so this answer should be taken as a starting point and not an end point.
The Securities Investor Protection Corporation ("SIPC") insurance program protects customers if a brokerage firm fails. The limit on SIPC protection maxes out at $500,000 in combined cash and securities, with the max protection on cash set at $250,000. That $500,000 can apply more than once at a given institution. If you had a solely held IRA at a broker and a jointly owned brokerage account with your spouse at the same brokerage, these would be treated as two separate customers, so they would each be insured up to $500,000. A Roth IRA would also count as a separate customer from a traditional IRA.
The SIPC functions a lot like the Federal Deposit Insurance Corporation ("FDIC") for bank deposits, but the FDIC is a government agency whereas the SIPC is funded by member brokerage firms.
Hopefully, if your broker fails, you'll never get to the level of needing the SIPC. There are regulations that prohibit financial institutions from comingling customer assets with firm assets. So, in the case of insolvency, the company can't reach for your assets without committing fraud and breaking a ton of laws. In most cases when a brokerage stops operating, customer assets are transferred to another registered and operational brokerage firm with no problems. It's only if they aren't that you can make a claim to the SIPC.
As for securities in "street name," that just means that they're held electronically in the name of the broker or bank custodian on the share register. The true owner, or beneficial owner, retains voting rights, the right to dividends, etc. A ledger is maintained at the broker assigning securities held in street name to beneficial accounts.
History would predict your shares are safe at large established brokers given the segregation of customer assets primarily, and the SIPC protections secondarily. But if you have accounts worth multiples of the $500,000 limit, I suggest you consult with an expert in personal finances and risk management, to be assured that your diversification of broker risk is sufficient.
Regards,
Berna Barshay
September 8, 2020