Editor's note: As Whitney mentioned on Friday, we're shaking things up a little at Empire Financial Research…
Today, we're launching a brand-new e-letter, Empire Financial Daily, written by Wall Street veteran Berna Barshay. We'll send it to you after the close every day the markets are open. In the meantime, you'll continue to receive Whitney's e-letter – now called Whitney Tilson's Daily.
We hope you enjoy this additional content. (Of course, if you don't want to receive this mailing, you can unsubscribe at the bottom of this e-mail.)
Now, we'll turn it over to Berna…
---
► COVID-19 looks to be the death of many department stores…
Last week, the New York Times noted that even with the furlough of hundreds of thousands of workers, the coronavirus has financially devastated department stores. From the article…
The sales of clothing and accessories fell by more than half in March, a trend that is expected to only get worse in April. The entire executive team at Lord & Taylor was let go this month. Nordstrom has canceled orders and put off paying its vendors.
I first heard rumors of the demise of the department store back in the late 90s, during the first dot-com bubble, when analysts argued that e-commerce would kill them off. Turns out, they were right… just 20 years early.
Most of the department stores suffered a near-death experience during the 2008/2009 financial crisis. But they pulled through and many recovered to post record results five or so years later.
But this time, they might not be so lucky. Department stores had already been in trouble for several years, with multiple factors to blame: Sales in apparel, footwear, beauty, and home began to move online… mall traffic has been in secular decline, so they have less customers visiting their stores… and people started spending less money on clothes and "stuff" and have redirected their discretionary dollars to vacations and other experiences.
Department stores have been on a slow death march for a while… The COVID-19 pandemic just sped it up. And Wall Street bond analysts seem to agree. From the Times…
According to a report this month from S&P Global Market Intelligence, department stores were more likely than any other consumer industry to default on their debt in the next year. It estimated the probability at 42%.
► Department stores' credit default swaps ('CDSs') also point to a rapidly increasing probability of financial distress…
Hedge funds and other sophisticated financial players buy the CDS of an issuer that they think will default on its debt. They buy the CDS to either hedge a long position or establish a short position, betting the debt will go down as the company becomes distressed and insolvent.
Look at how Macy's one-year CDS had risen nearly 700% over two weeks in March. You can see that the bulk of the move took place coincident with the "shelter in place" orders rolling out across the country, causing store closures…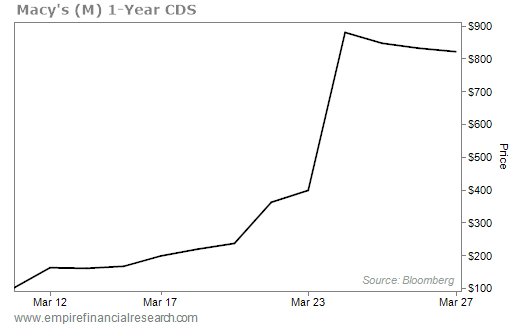 The Macy's one-year CDS climbed to 1,500 at its peak on March 31 but has since settled in around the 800 level pictured above.
I was admittedly a department store bull in 1999 and again in 2009. But this time is different… it might really be the end for many of them.
The failure of multiple department stores will send shockwaves through the retail industry. In an effort to conserve cash, department stores have been canceling orders and kicking the can on paying their vendors. But the factories that make the goods for the vendors will be looking to get paid, which could cause financial distress for the vendors.
It also may be too late for the vendors to cancel pending orders – the sandals and summer dresses that the department stores are walking away from could already be on the way from China to the U.S. Normally, these kinds of excess goods could be converted to cash through a quick sale to an off-price store. But they're closed like everything else, and many of them are likely in cash conservation and inventory reduction mode as well.
Apparel companies with a large portion of sales to U.S. department stores could also be in trouble. Some vulnerable apparel companies include Ralph Lauren (RL), Calvin Klein and Tommy Hilfiger's PVH Corp (PVH), and G-III Apparel (GIII), whose brands include DKNY and Karl Lagerfeld.
Another group with substantial risk if the department stores go under would be the Mall real estate investment trusts ("REITs"), which are the landlords to companies like Macy's (M) and JC Penney (JCP). As The New York Times pointed out…
Department store chains account for about 30% of the total mall square footage in the United States, with 10% of that coming from Sears and JC Penney, according to a January report from Green Street Advisors, a real estate research firm.
If department stores go under and stop paying rent, mall REITs are out of rental income. They would also lose rent from the smaller chain and local stores that populate the mall. Most retail leases have co-tenancy provisions, meaning that if a big tenant like Macy's closes – or if any of the department store spaces in the mall becomes vacant – smaller stores pay less rent.
The department-store distress will mean you should avoid most of these companies, rather than trying to buy them on the cheap.
But if one department store were to survive this crisis, it would be Nordstrom (JWN).
Nordstrom is in the best position of the department stores. It has fewer locations, operates in higher-end malls whose traffic has held up better, has good management, caters to a well-heeled and somewhat less economically sensitive customer, and has great customer service on the store level (an important differentiator from online retail).
I'm not ready to go "bottom fishing" in the sector just yet… But Nordstrom might very well be the last man standing.
► The COVID-19 crisis may claim two centenarian retailers with significant preexisting conditions among its victims…
Rumors are swirling about the imminent bankruptcy filings of privately owned Neiman Marcus and JC Penney.
Both retailers have been struggling with falling profits for years. Neiman Marcus operates in the luxury department store space, which already saw the storied Barneys chain go into liquidation this year. The company is reportedly putting together a pre-packaged bankruptcy deal that would include loans from existing creditors. As Reuters reported last week…
Neiman Marcus is in the final stages of negotiating a loan with its creditors totaling hundreds of millions of dollars, which would sustain some of its operations during bankruptcy proceedings, according to the sources. It has also furloughed many of its roughly 14,000 employees.

The bankruptcy filing could come within days, though the timing could slip, the sources said. Neiman Marcus skipped millions of dollars in debt payments last week, including one that only gave the company a few days to avoid a default.
Also skipping debt payments was JC Penney, which came as a surprise to investors. The missed payment generated speculation that the company is exploring bankruptcy. JCP shares, which traded as high as $10 in December 2016, have gotten decimated, closing on Friday at $0.24…
Historically, Chapter 11 bankruptcy – where a company continues to operate as it seeks debt relief – has been a particularly popular tool for retailers. In Chapter 11, retailers can negotiate with landlords and ultimately reject leases, which allows them to close underperforming stores.
It may be less effective during COVID-19 due to their inability to hold "everything must go" liquidation sales at the stores they plan to close. Because a substantial amount of any retailer's balance sheet assets is the current season's inventory, the closure of low-productivity stores not only saves on rent, but also allows for an immediate conversion of this asset into corporate liquidity-enhancing cash. But with stores closed, the liquidation sales can't go on.
Even if the malls open up soon, liquidation sales are most successful when they draw heavy traffic… which is something malls might not see for a while. The inability to hold liquidation sales is also a challenge to maximizing recovery value for debtors in the case of a liquidation bankruptcy.
With a reduced audience for these sales, the advantages to a formal bankruptcy filing may diminish in the short to intermediate term. We could see companies attempt to stall their bankruptcy filings until mall traffic returns, and instead seek rent relief outside of the bankruptcy process. Attempts to stall may or may not succeed, and so the ultimate success of such efforts will likely depend on the generosity of commercial landlords.
► But one retailer stands to emerge victorious from all of this…
It's especially hard to get people to buy clothes when they aren't going anywhere to wear them.
That's bad news for retailers, but good news if you've had your eye on a new suit or pair of dress shoes. According to the Wall Street Journal, stores are growing desperate due to their closures, leading to a Black Friday-like moment…
Clothing retailers are sitting on tens of billions of dollars of unsold merchandise, and the usual methods for clearing it out aren't working while the coronavirus keeps most U.S. stores closed…

Saks Fifth Avenue ran a one-day flash sale last week with spring dresses at up to 70% off. Nordstrom is offering up to 40% off certain styles. J.Crew is offering up to 60% off spring styles, and the Gap brand is selling everything for 60% off.
Normally, these companies would get rid of their excess inventory by unloading it to an off-price retailer. But even they have inventory piling up as their stores have been closed.
The clear short-term winner from this inventory glut is likely to be the consumer, since department stores will slash prices as they grow desperate to raise cash.
Longer term, if it can get its stores open and get people to come to them, discount clothing retailer TJX Companies (TJX) – which owns TJ Maxx, Marshalls, and HomeGoods – stands to emerge victorious from this mess as it substantially and affordably upgrades its inventory.
The stock quickly gave up two months' worth of gains in the recent sell-off before regaining some of its losses. Once the dust settles, it may be worth a look for investors who are looking in the "bargain bin"…
► As the fashion industry struggles to stay relevant in a pandemic, one clear theme is emerging…
"Business on the top, party on the bottom." Swedish model Elsa Hosk modeled this interesting look on Instagram earlier this month. As fashion blog Guest of a Guest remarked, this "[confirms] our suspicion that everyone in the Zoom meeting is definitely not wearing pants."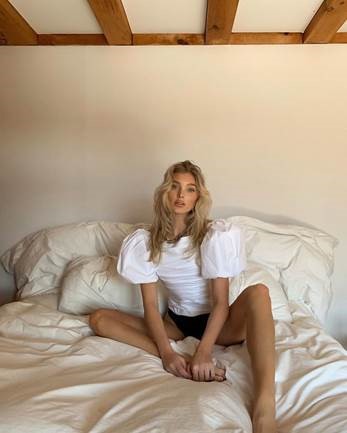 Source: instagram.com/hoskelsa
Regards
Berna Barshay
April 27, 2020