► The current economic downturn has been centered on Main Street, not Wall Street…
While the past three months have seen their share of bankruptcies, the collapses have been concentrated in household names that saw consumer traffic collapse with the coronavirus – companies like J.C. Penney (JCPNQ), Pier 1 Imports (PIRRQ), J. Crew, and 24 Hour Fitness.
Shares of banks and other financial firms have struggled this year due to fears of rising defaults on funds loaned to corporations and consumers facing smaller cash flows due to COVID-19. The Financial Select Sector SPDR Fund (XLF) is an exchange-traded fund that tracks the sector. Take a look at its underperformance versus the broader S&P 500…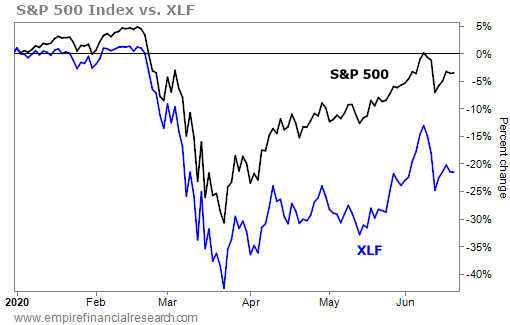 However, we've seen no failures with any of the big financial firms. This is very different than what happened in the last crisis…
When the housing bubble burst in 2008 and 2009, the collapse in collateralized debt obligations ("CDOs") that were constructed out of mortgage bonds led to the collapse of many large financial institutions. With each one that went under, counterparty financial institutions took blows to their balance sheets, threatening the entire financial system.

In the current crisis, most analysts believe that the blowups are more contained…
Losses on newly bankrupt companies like Hertz (HTZ) and J.C. Penney are widely distributed across banks, mutual funds, hedge funds, insurance companies, and other financial institutions. The financial firms that hold a credit gone bad generally don't have exposure to all the credits gone bad at the same time. This is what's different from last time.
Faith that the financial system is secure combined with an unprecedented amount of liquidity injected into the financial markets by the U.S. Federal Reserve have kept things relatively stable in the credit markets after they recovered from the initial massive disruptions back in mid-March.
But an article in The Atlantic magazine challenges the conventional view that the banking system is just fine. In "The Looming Bank Collapse," UC Berkeley law professor Frank Partnoy muses…
Imagine if, in addition to all the uncertainty surrounding the pandemic, you woke up one morning to find that the financial sector had collapsed. You may think that such a crisis is unlikely, with memories of the 2008 crash still so fresh.

But banks learned few lessons from that calamity, and new laws intended to keep them from taking on too much risk have failed to do so. As a result, we could be on the precipice of another crash, one different from 2008 less in kind than in degree. This one could be worse.

Will 'CLOs' be the new CDOs?
CDOs took hundreds of billions of dollars of loans to home buyers and repackaged them in a way that was supposed to be less risky, but actually turned out to be even riskier.
Investment banks constructed CDOs out of mortgage-backed securities (which in turn were backed by the cash flows of home loans). Bankers would divide up the CDO into different tiers, or "tranches." The highest-quality, safest tranche would be rated "AAA" and pay the lowest interest rate. Lower-rated tranches would pay higher rates. If the underlying assets defaulted (i.e., stopped making interest payments), the losses would be allocated to the lowest tier first… and then if that was wiped out, the next lowest tier.
The AAA tranches of CDOs were supposed to be safe… until they weren't.
It turns out that CDOs were a house of cards built upon low-quality assets – subprime mortgages that were given to overleveraged home buyers with bad credit histories, who all defaulted at the same time. More than 13,000 AAA-rated CDOs defaulted during the housing crisis.
The banks and insurance companies that purchased the "safe" AAA CDOs in a quest for yield took a hit. This is what preceded the failure of investment bank Lehman Brothers, and nearly felled a ton of other financial institutions – including my employer in 2008, reinsurer Swiss Re (SSREY), which needed a rescue from Berkshire Hathaway's (BRK-B) Warren Buffett to survive.
The Atlantic article raises an alarm on collateralized loan obligations ("CLOs") – these utilize the same kind of tiering structure as CDOs but are backed by corporate loans instead of mortgages. As Partnoy explains…
A CLO walks and talks like a CDO, but in place of loans made to home buyers are loans made to businesses – specifically, troubled businesses. CLOs bundle together so-called leveraged loans, the subprime mortgages of the corporate world. These are loans made to companies that have maxed out their borrowing and can no longer sell bonds directly to investors or qualify for a traditional bank loan. There are more than $1 trillion worth of leveraged loans currently outstanding. The majority are held in CLOs.
The CLO market has exploded in the past decade… It's a byproduct of the boom in private equity, which layers tons of debt onto its acquisitions.
As interest rates have stayed low for so long, the quest for yield has pushed banks and insurance companies to seek the higher yield of riskier loans. The AAA tranches of CDOs offer higher rates than less risky bonds, with the protection of having lower tranches below that will bear the bulk of the credit risk. The AAA tranches maximize yield while minimizing regulatory capital usage. CLOs should work well for the banks, unless – like with mortgages in 2008 – all the loans go bad at the same time.

Bank balance sheets could take a hit…
The Bank for International Settlements estimated the CLO market was $750 billion in 2018. One-third of those assets – $250 billion – are thought to sit on bank balance sheets.
Disclosure regarding CLO positions is sometimes poor, so it's hard to know exactly how much individual banks own. Partnoy believes banking giant Wells Fargo (WFC) owns $37 billion, Citigroup (C) has $20 billion, and JPMorgan Chase (JPM) has $35 billion, including an unrealized loss on them of $2 billion. Partnoy also noted that some mid-sized banks have CLOs that exceed their capital… meaning that if the CLO market imploded, those banks' liabilities could quickly become greater than their assets.
Today, U.S. insurance companies are estimated to have $158 billion in CLO exposure. Private-equity giant Apollo Global Management (APO) also has massive exposure to CLOs through its funds as well as its control of insurer Athene (ATH), whose stock recently took a hit because of the perceived riskiness of its CLO book.
Looking inside the CLOs themselves, bond-rating firm Fitch estimates that 67% of debt backing CLOs overall is "B" rated, which is somewhat risky. Another 15% is "CCC" rated or below, which would be basically on the cusp of default. It's hard to imagine in this economic backdrop that most of that CCC-rated debt won't go bad.
Adding to risk, the Wall Street Journal reported earlier this month that 23% of CLOs held by U.S. banks were in sub-AAA tranches.

Not everyone thinks this is a big deal…               
One hedge-fund manager I spoke with that specializes in financial stocks called Partnoy's article "alarmist." He pointed out that the banks' AAA tranches don't lose money until loan defaults hit 35%, and that defaults are likely to top out at 10% this year.
A professional bond manager (and former CLO manager) told me he thinks the CLOs are structured with much less leverage than the CDOs were and are probably OK. But he did note that the underlying loans themselves are sitting on more leveraged entities than they used to… and that was before COVID-19 hurt cash flows and made the underlying borrowers effectively more leveraged on the current year's depressed cash flow.
He added that without the Fed's interventions, most of these loans would have been toast… but that could be said for a lot of the credit market. Even Partnoy admits in The Atlantic…
Since the mid-1990s, the highest annual default rate on leveraged loans was about 10%, during the previous financial crisis. If 10% of a CLO's loans default, the bottom layers will suffer, but if you own the top layer, you might not even notice. Three times as many loans could default and you'd still be protected, because the lower layers would bear the loss.

The securities are structured such that investors with a high tolerance for risk, like hedge funds and private-equity firms, buy the bottom layers hoping to win the lottery. The big banks settle for smaller returns and the security of the top layer. As of this writing, no AAA‑rated layer of a CLO has ever lost principal.

For now, the banks and insurance companies are likely OK…
We're a long way away from seeing the AAA tranches of these CLOs take a hit.
If anything, CLOs may become a problem for private equity seeking to do deals more than the financial firms currently holding the securities. If appetite for new CLOs diminishes, it will be harder to finance leveraged buyouts and other private-equity transactions.
Downgrades of existing CLOs – even ones that don't default – could hurt insurance companies, who would have to increase the regulatory capital that they hold against their CLO positions in the case of downgrades. This could cause them to liquidate assets or raise new capital at an inopportune time.
Corporate loans should be a lot less correlated than the mortgage bonds that backed the CDOs. The loans are to diverse industries, many of which have nothing in common with each other. Some may even be to companies that have benefited from COVID-19.
In the case of CDOs, not only did consumers all find themselves in trouble at once, but widespread fraud was occurring in the mortgage origination system. Loans were granted to consumers based on income and other data that were simply made up. No evidence exists that corporate loans have been systemically rated too highly in a similar way.
Levels of correlation between borrowers could still rise if the COVID-19 crisis lasts longer than expected, and if the feared "second wave" of the virus materializes.
I also think the crisis is much more severe for non-financial companies than it was in 2008 and 2009. During the housing crisis, aside from mortgage originators, I'm hard-pressed to think of any business that saw revenues temporarily collapse overnight to zero like we've seen this year.
Earlier this week, a senior bankruptcy lawyer told me this is the biggest surge in activity she's ever seen – magnitudes worse than 2008 and 2009. This is one more reason why we're likely still in the early innings for public and private corporate bankruptcies… regardless of an accommodative Fed.
While The Atlantic article is likely overdramatic, the CLO market is something that investors in banks and insurance companies should keep an eye on…

In today's mailbag, some critics of AT&T, one dissenter, and some feedback on our service…
I'm coming up on two months since I started writing Empire Financial Daily.
I'd love your feedback on what types of stories you most enjoy. Is it deep dives into individual companies like L Brands (LB)? Overviews of individual sectors like restaurants or fitness? Identification of business trends in the real world (like challenges to the "sharing economy") or in the capital markets (like today's overview of CLO risk)? Let me know at [email protected].

"I used to work in programming at Showtime for 10 years. Feel free to ask me any questions and I will be happy to answer them. JUST please do not use my name in your publications
"Executives did not get Showtime for free… (It was reimbursed on approved expense account). You can't give away the product for free.
"As an ex-Pay TV exec, I can't figure out why AT&T's plan is to give away HBO Max. Is AT&T making a big mistake? It cost them hundreds of millions to launch HBO Max and now way too many people can receive the service for free.
"Here are some facts to back up your article I just read:
"How can AT&T give all the following companies customers free HBO Max? If you have Spectrum Cable, you get HBO Max for free. If you have HBO, you get HBO Max for free.
"If you have Direct TV, you get HBO Max for free. If you have AT&T, you get HBO MAX for free. HBO has over 30 million subscribers. Spectrum has around 20 million subs. DirectTV had 24 million subs in 2019 and now has around 20.3 million.
"Also, Comcast, the country's largest pay TV provider with nearly 21 million TV customers, cut a deal with WarnerMedia hours after Wednesday's launch.
"Customers signed up for HBO through Comcast, Apple TV, AT&T TV, Cox, DIRECTV, Hulu, Optimum, Spectrum or Verizon Fios got HBO Max as a free upgrade from the beginning. Hulu is owned by Disney … why would Hulu subs be given free WB product?" – Anonymous
Berna comment: I think the deal with Hulu is that existing HBO cable or satellite subscribers can get just the HBO Network content that used to live on HBO Go and HBO Now for free on Hulu. Non-HBO subscribers will have to pay $14.99 for the HBO Network content delivered via the Hulu app. To get the extra content hosted on HBO Max (originals, Warner Brothers library, etc.), Hulu subs would need to go through the HBO Max app.
It's confusing, just like everything about this service offering. You can get a free trial right now of the HBO content on Hulu as well. But I agree with your general comment that it's being given away for free everywhere. Why not price lower like Disney+ or even CBS All Access did, but actually make people pay for it?

"DirectTV used to be the very best service for picture quality, content and sports. When I sold my home 5 years ago, I had to let go of my DirectTV service for a few years. During that time, AT&T bought the service. I have now signed up with DirectTV again, in the last year. Wow!
"I'm counting the days until I can cancel and go to either streaming or the old dinosaur called cable tv. Yup, that bad." – Curtis C.

"I'm still a customer for AT&T internet only service as this was the only option for a long time living on the outskirts of Franklin, TN. My wife and I gave up on Direct TV 6 years ago over their 300 channels with only 3 worth watching and went to Netflix and Amazon. The best move ever in terms of great programs not to mention saving money. In terms of AT&T internet, it has had a few throttling issues initially but now works fairly well.
"Having said that, we now have new fiber optics cable that were run recently down our road so I will be looking into that possibility given AT&T' s questionable long-term viability. Keep up the great newsletters!" – Luc R.

"Good Morning I'm a current AT&T customer and have been for well over 30 years. I enjoy the phone service; it is reliable and affordable. Now I do not have any other services from AT&T. I do appreciate reliability and professionalism" – Henrietta E.

"Berna: It's not surprising to me that your mail bag is drying up. We didn't pay for your service to read breezy emails that offer no benefits to us. If you feel strongly that AT&T is going bankrupt, why didn't you recommend to your subscribers that they buy some puts? Failing to do that makes the entire issue suspect: You think it's going bankrupt, but are not willing to recommend anyone try to make money on that information? What value is that?" – Bill B.
Berna comment: Hi Bill, actually… you didn't pay for Empire Financial Daily at all. No one did… It's a free e-letter.
This is a big part of why I don't give an idea with every issue… I have to save my best and most vetted ideas for the paid services that I work on: Empire Investment Report and Empire Stock Investor. I've given some ideas out along the way in Empire Financial Daily – including a bullish thesis on Revolve (RVLV)… The company's shares are up around 20% in a month. These are freebies, and they won't be every day or necessarily every week.
AT&T was my colleague Enrique Abeyta's idea. It was a differentiated viewpoint… and because AT&T is a popular stock in people's retirement portfolios, I wanted to flag that my colleague thinks it isn't so safe. I agree that the stock falls into the category of "avoid."
Personally, I'd consider selling the stock now if I owned it – which I bet some readers do – and then wait until we get closer to a catalyst for a big decline to consider shorting shares or buying puts on it.
Regards,
Berna Barshay
June 19, 2020