1) I'm pretty upset today because a guy I know is sick with COVID and is in the hospital fighting for his life (he chooses to remain anonymous because he's so embarrassed about what's happened). I was begging – even yelling at – him to get vaccinated, but he didn't. He wasn't a hard-core, conspiracy-embracing, anti-vaxxer. Rather, he'd bought into the worry about "there are no long-term studies on these vaccines" and figured "even if I get it, I'll be fine because I'm young and fit." 
It was a very serious miscalculation for which he is paying a terrible price (I hope not the ultimate one!)… not to mention the price the rest of us might pay (how many others did he infect?) and will certainly pay (the astronomical medical bills).
2) I want to be very clear about the miscalculation he made in the hopes that it might persuade people reading this to get vaccinated.
Here's what you need to understand: due to three recent developments, the odds have shifted very unfavorably against the unvaccinated. 
First, at one time we all hoped that, by now, at least 70% of the U.S. population would have received at least one dose, such that we'd be close to or at herd immunity, which would protect the unvaccinated.
However, right now only 56% of Americans have received their first dose and only 49% – less than half! – are fully vaccinated, due to a variety of unfortunately factors such as the politization of the vaccines, dreadful misinformation spreading like wildfire on Facebook and other social media, etc. (see: 'They're Killing People'? Biden Isn't Quite Right, but He's Not Wrong.).
Key fact: of the 10,260 Americans who died of COVID in June, 99.2% were unvaccinated.
Second, the delta variant has emerged, which is much more contagious than the original virus (see: Delta Variant Widens Gulf Between 'Two Americas': Vaccinated and Unvaccinated, Unvaccinated States Feel Brunt of Delta-Led Covid Uptick, and In Undervaccinated Arkansas, Covid Upends Life All Over Again). Because of this, it's spread rapidly, now accounts for more than half of U.S. cases, and I see no reason why it won't soon become nearly all, which is what happened in the UK. (Stunningly, this is causing many people to be less likely to get vaccinated: Delta Variant Surge May Make Unvaccinated Americans Less Likely To Get The Shot, Poll Finds. This reminds me of the saying: What's the difference between genius and stupidity? Genius has limits…)
As a result of these two factors, if you are unvaccinated, it's HIGHLY LIKELY that you will get COVID. See: C.D.C. Director Warns of a 'Pandemic of the Unvaccinated' 
Third, the evidence continues to mount that you really don't want to get it, even if you don't get very sick, because of "long COVID." Here's another article about it: 'Long Covid' Fears Grow in U.K. as Curbs End and Delta Surges. Excerpt: 
For about 1 million people across the U.K. Covid-19 didn't just go away. Instead it lingered, causing exhaustion, shortness of breath, cognitive issues and other health problems. 

With England preparing to lift virtually all restrictions even as infections are surging again, scientists are concerned that the numbers impacted by what has become known as "long Covid" will climb much higher…

But millions still remain vulnerable, and those who have endured symptoms for weeks, months -- or more than a year -- say the long Covid threat is being overlooked as policy makers focus on headline figures of cases, hospitalizations and deaths.

As the more contagious delta variant spreads, other countries attempting to manage the next phase of their pandemic will likely find themselves facing a similar dilemma…

Prioritizing vaccination for vulnerable older age groups means a lower percentage of young Britons have had their shots in time for the ending of curbs. That concerns Barratt. "Young people feel invincible but this can really happen to anyone," she said.

Barratt said she was bedridden for months after contracting Covid, at times so weak she couldn't roll over or move. Sometimes, she said, it felt like she was comatose even though she awake. During this time Barratt lost her job and has since faced new symptoms, including numbness, pins and needles and chronic fatigue.

For Barratt, one of the biggest difficulties is communicating her plight to others, including doctors and even family and friends. "The illness becomes part of who you are," she said.

While the government has defended its plan, Health Secretary Sajid Javid said cases could reach as high as 100,000 per day and England's Chief Medical Officer Chris Whitty warned that there could be an increase in long Covid, especially in younger people. The U.K. on Friday held out the possibility of restoring some restrictions later in the year.

Long-Term Fears

The U.K. strategy has been sharply criticized. More than 120 scientists co-signed a letter in the Lancet medical journal on July 7, warning that rising infections could leave hundreds of thousands of people with illness and disability "for decades to come." International experts joined their British counterparts online to sound a further warning on July 16.

An estimated 962,000 people, or 1.5% of the population, have experienced self-reported long Covid symptoms in the U.K., according to data from the Office for National Statistics published earlier this month. More than a third of those said they've suffered for more than a year.

Separately, an Imperial College London study published in June found that 38% of people who caught the virus reported one or more symptoms lasting at least 12 weeks. Researchers estimated that, overall, more than 2 million adults in England may have had long Covid so far…

The prevalence of the condition known as "brain fog" is one of dozens of symptoms that experts say justify calls for a national screening program. Dennis Chan, a principal research fellow at University College London, pointed to the way viruses like SARS-CoV-2, the coronavirus that causes Covid-19, affect the brain. 

"We have never seen anything like this in terms of the sheer scale," Chan said in a briefing with reporters.

Meanwhile, new cases of long Covid seems to be on the rise. The ZOE Covid Study estimates there are currently 500 new cases of long Covid a day in the U.K. among unvaccinated people.

"Vaccines have massively reduced severe infections and post-vaccination Covid is a much milder disease for most people," Tim Spector, lead scientist on the study and a professor of genetic epidemiology at King's College London said. "The main concern is now the risk of long Covid." 
3) I continue to believe that a fourth wave here is highly unlikely, but it's nevertheless worrisome that new cases per day have tripled in recent weeks, with hospitalizations and deaths following (though fortunately much more slowly) (source):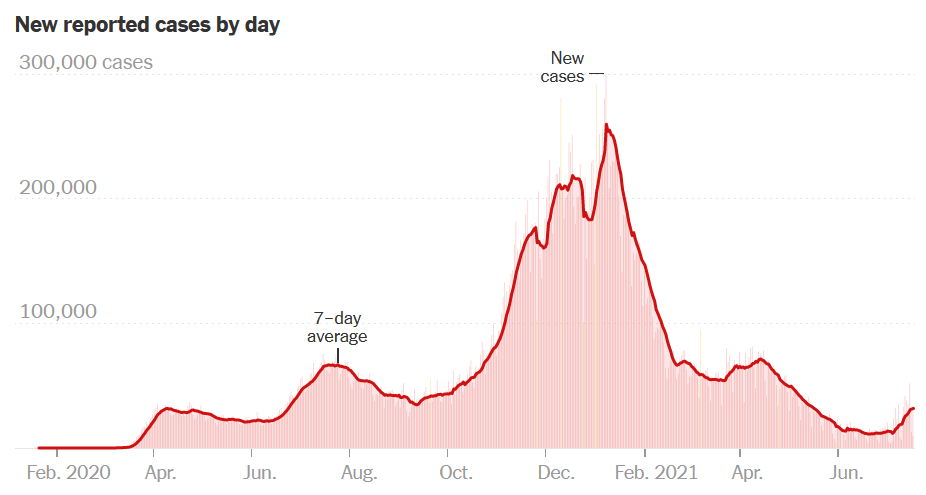 4) I hate to be political, but I am at a loss for words when one party and one major network have politicized the vaccines for political and ratings gains, which is directly resulting in thousands of Americans dying needlessly. See: Despite Outbreaks Among Unvaccinated, Fox News Hosts Smear Shots, How Republican Vaccine Opposition Got to This Point, and Fox and GOP Freak Out About Biden's Door to Door Vaccination Campaign 
Here's the tragic result (source):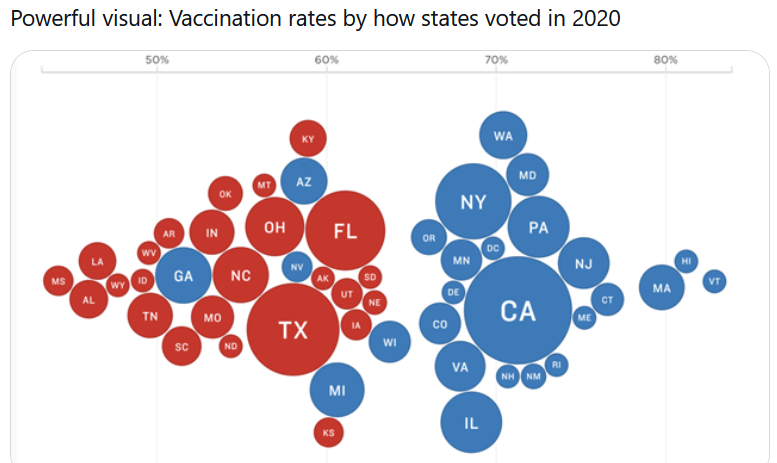 To me, this is if the GOP and Fox News initiated a campaign against wearing seatbelts, saying that this was an example of government overreach that violated our "freedom" and that, as a result, seatbelt usage declined sharply, mostly among Republicans. Given that the 15% of Americans who don't wear seatbelts account for 50% of all auto deaths, this campaign would of course result in thousands of additional deaths. Wouldn't any reasonable person look at this and say, "There's blood on their hands"?
What could they be thinking? Former FBI special agent, lawyer, and professor Asha Rangappa wrote on Twitter. "Seriously: What is the [Republicans'] endgame in trying to convince their own voters not to get the vaccine?" The most insightful answer, I thought, was that the Republican's best hope for winning in 2022—aside from voter suppression—is to keep the culture wars hot, even if it means causing illness and death. 
And here's the craziest part of all this: the Trump administration deserves a great deal of credit for Operation Warp Speed, which led to the development of highly effective vaccines in record time. The GOP and Fox News should be CELEBRATING the vaccines (and taking credit for them)! Their headlines should be: The China Virus Is Being Destroyed by the Trump Vaccines. 
Yet instead they are sending their followers to hospitals… and morgues… INSANITY!
5) Articles on the unfolding tragedy around the world:
6) Here's a collection of good articles I don't have time to comment on:
Best regards, 
Whitney 
PS— I spent last week in Uzbekistan, and also visited Istanbul and Zurich on my way there and back. Here are links to my Facebook posts with pictures and descriptions: