1) The WHO really needs to get its act together. First, it said Asymptomatic spread of coronavirus is 'very rare,' but now it's saying its statement calling asymptomatic transmission of coronavirus 'very rare' was a 'misunderstanding.' Excerpt:
The World Health Organization moved Tuesday to clarify its position on whether people without symptoms are widely spreading the new coronavirus, saying much remains unknown about asymptomatic transmission. 

A comment by a WHO official on Monday — calling such asymptomatic transmissions "very rare" — touched off a furious scientific debate over the unresolved question and attracted widespread criticism of the organization.

Less than 24 hours later, WHO convened a special news conference to walk back its comments, stressing that much remains unknown. But the comment from Monday had already spread widely and been seized upon by conservatives and others to bolster arguments that people do not need to wear masks or maintain social distancing precautions.

The episode sparked criticism of WHO's public health messaging and highlighted just how fraught and easily politicized such work remains months into the pandemic. 
The key confusion here is the difference between PRE-symptomatic and asymptomatic. Dr. Ashish Jha posted an insightful Twitter thread on this here. Excerpt:
Are infected people without symptoms an important cause of spread?

My best guess: yes.

First, about 20% of people who are infected likely never develop any symptoms.

They are truly asymptomatic. 

So what about the other 80% of people who do have symptoms? 

Many of them are shedding virus BEFORE they develop symptoms

Technically, these folks are PRE-symptomatic, not asymptomatic

But they are asymptomatic at the time they are shedding virus 

Some modeling studies suggest 40-60% of spread is from people when they didn't have symptoms. 

So – it might be @WHO is drawing a distinction between asymptomatic spread and pre-symptomatic spread.

And it may be there isn't a lot of asymptomatic spread but plenty of pre-symptomatic spread.

Both asymptomatic AND pre-symptomatic spread huge problem for controlling disease 

Because folks shedding virus while asymptomatic

Pre-symptomatic has one advantage: you can use contact tracing to find folks they infected 

But that doesn't help prevent presymptomatic spread 

If folks without symptoms truly "very rarely" spread virus, would be huge. 

But such a statement by @WHO should be accompanied by data.

Asymptomatic spread is Achille's heal of this outbreak 

Would love to be wrong. Need to see data

As I read her follow-on tweets, best guess is she really is differentiating asymptomatic vs pre-symptomatic

Two key points:

People without symptoms definitely spread disease (so wear a mask)
@WHO should be clearer in communication
2) One of the biggest puzzles is why peer countries (mostly in Europe), including many who got hit much harder than we did, are reopening without a resurgence in cases – for example, see: As Countries Reopen, Many Avoid a Second Wave of Covid-19 Cases—So Far
In contrast, there are many troubling signs that we're not: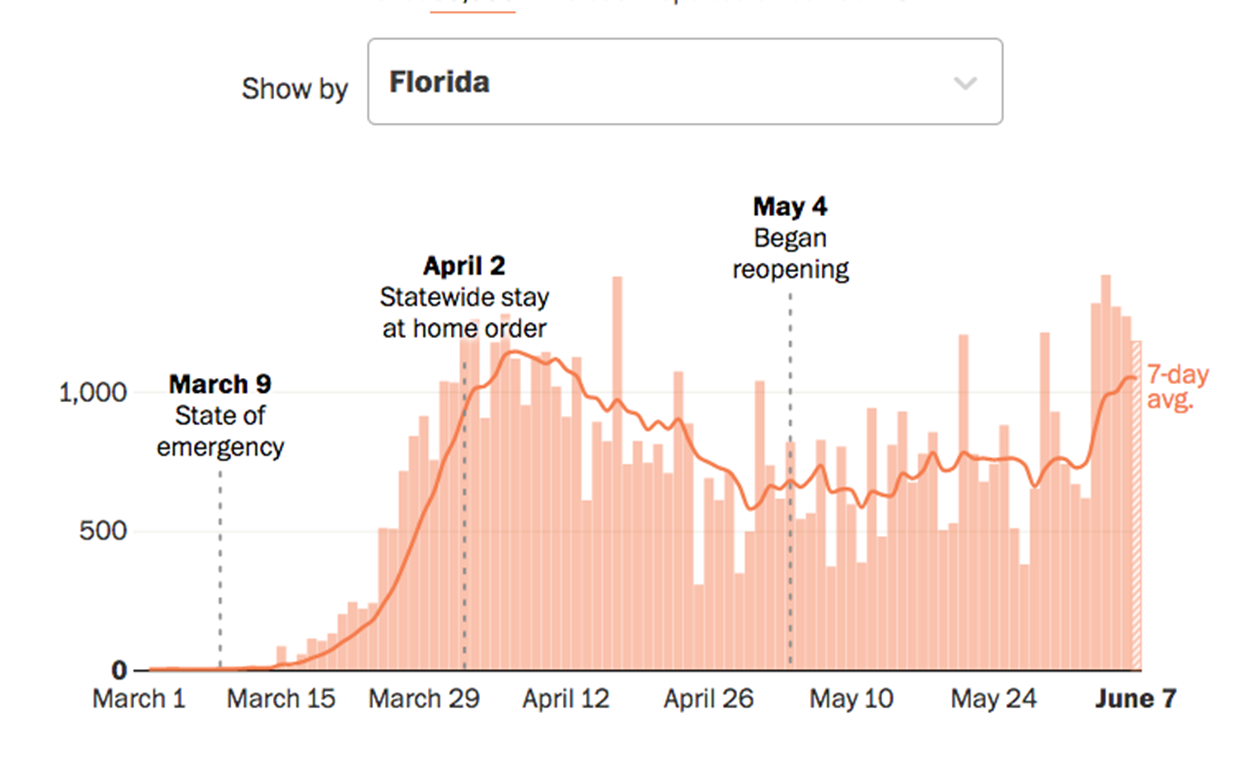 3) And it's not just cases rising (which is, in part, due to more testing) – here's a chart from this article, In Texas, COVID-19 case totals and hospitalizations are rising. The state says prisons and meatpacking plants are key factors., showing rising hospitalizations in Texas: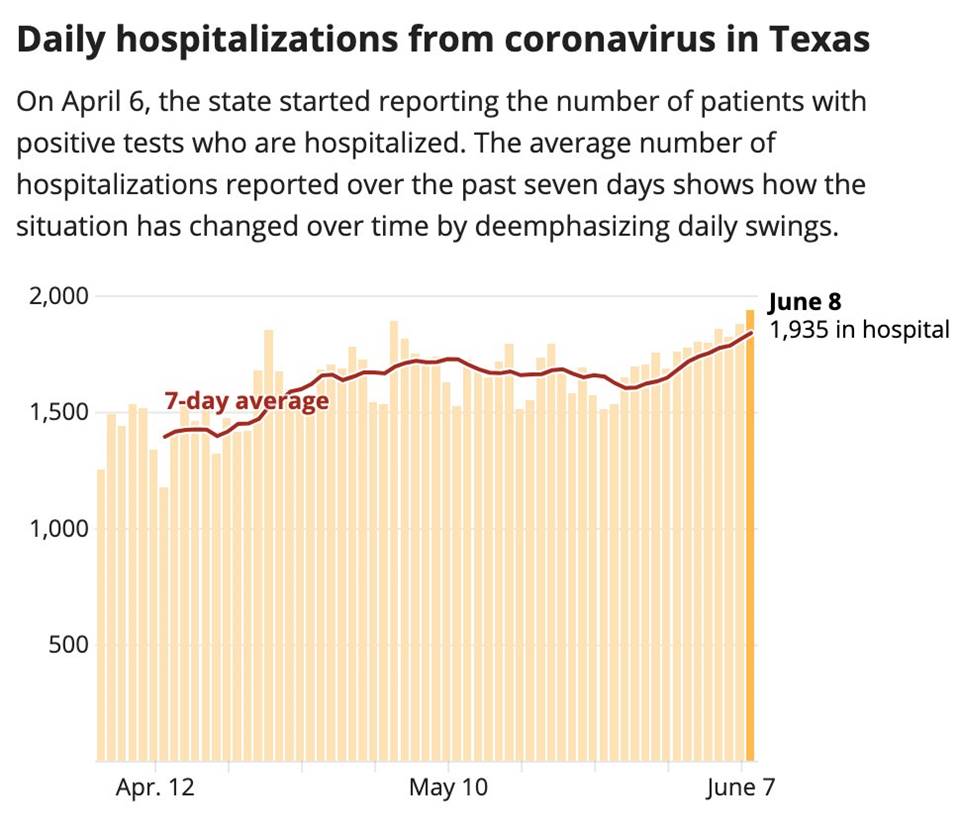 4) The simplest explanation is that we're, collectively, not behaving ourselves. As we end lockdowns, too many Americans are failing to wear masks, observe social distancing, etc.
Here are two articles about this:
New Evidence Social Distancing Is on the Wane, Bloomberg. Excerpt:
There's growing evidence that life is returning to normal in the U.S. even though Covid-19, the disease caused by the novel coronavirus, remains a threat. These charts show that the reopening of the country's economy has occurred steadily since early April, when social distancing was at its maximum.

The reopening, which shows no sign of slowing, makes it more important than ever for people to practice good hygiene. You didn't need to wear a surgical mask when you were home alone with the dog and the TV, but if you're now circulating in public, you need to take precautions against being infected with the virus—or giving it to someone else if you have it without knowing.

The problem is, some people don't see it that way. They're abandoning safe practices at the very time they're increasing their exposure to one another and, potentially, to the virus. It's happening across the spectrum, from protesters against police violence to pool partiers. That sets the stage for a fresh outbreak.
And here's NYT columnist Paul Krugman (random trivia: I was one of the ~600 kids that was tested as part of the famed Marshmallow Experiment in 1972 when I was six years old): America Fails the Marshmallow Test. Excerpt:
At this point, there have been enough international success stories in dealing with the coronavirus to leave us with a clear sense of what beating the pandemic takes. First, you have to impose strict social distancing long enough to reduce the number of infected people to a small fraction of the population. Then you have to implement a regime of testing, tracing and isolating: quickly identifying any new outbreak, finding everyone exposed, and quarantining them until the danger is past. 

This strategy is workable. South Korea has done it. New Zealand has done it.

But you have to be strict and you have to be patient, staying the course until the pandemic is over, not giving in to the temptation to return to normal life while the virus is still widespread. So it is, as I said, a kind of marshmallow test.

And America is failing that test.

New U.S. cases and deaths have declined since early April, but that's almost entirely because the greater New York area, after a horrific outbreak, has achieved huge progress. In many parts of the country — including our most populous states, California, Texas, and Florida — the disease is still spreading. Overall, new cases are plateauing and may be starting to rise. Yet state governments are moving to reopen anyway.

This is a very different story from what's happening in other advanced countries, even hard-hit nations like Italy and Spain, where new cases have fallen dramatically. It now looks likely that by late summer we'll be the only major wealthy nation where large numbers of people are still dying from Covid-19. 

Why are we failing the test? It's easy to blame Donald Trump, a man-child who would surely gobble down that first marshmallow, then try to steal marshmallows from other kids. But America's impatience, its unwillingness to do what it takes to deal with a threat that can't be beaten with threats of violence, runs much deeper than one man.

It doesn't help that Republicans are ideologically opposed to government safety-net programs, which are what make the economic consequences of social distancing tolerable; as I explain in today's column, they seem determined to let crucial emergency relief expire far too soon. Nor does it help that even low-cost measures to limit the spread of Covid-19, above all wearing face masks (which mainly protect other people), have been caught up in our culture wars.

America in 2020, it seems, is too disunited, with too many people in the grip of ideology and partisanship, to deal effectively with a pandemic. We have the knowledge, we have the resources, but we don't have the will.
5) Some interesting findings here: When 511 Epidemiologists Expect to Fly, Hug and Do 18 Other Everyday Activities Again, The New York Times. Excerpt:

6) An insightful article about why African-Americans have been hit so much worse by the virus: Coronavirus fuels black America's sense of injustice, Financial Times. Excerpt:
When protests erupted in the US in response to the killing of George Floyd on May 25, the anger over police brutality was also fuelled by a sense of simmering injustice over the impact of coronavirus. Not only have black people died from the disease in disproportionately high numbers: there are early signs they will bear the brunt of the economic fallout too.

The preponderance of black workers in jobs that have been deemed essential, such as those in public transportation and healthcare, is but one reason the African-American community has been hit so hard by the worst pandemic of modern times. Deep-seated disparities in access to healthcare, high rates of poverty and cramped living conditions have combined to make the virus especially lethal for people of colour. 

"You have people who are disenfranchised, with subpar access to healthcare and subpar finances, a population that is waiting to explode," says Chad Ricks, a pastor and senior nurse who manages a state-run Covid-19 hospital in California. "Then you've got a disease that hits the black and brown community the worst. I think it's compounded the situation. It's a bad soup." 

A recent study by the APM Research Lab found that the mortality rate from coronavirus is 2.4 times higher than for white people.
7) An important study: Lockdowns prevented nearly 5 million U.S. coronavirus cases, study says. Excerpt:
 Shutdown orders to close nonessential businesses and keep most people at home helped the U.S. avoid nearly 5 million coronavirus cases, according to a new study published Monday.
The study found that the included countries managed to avoid 62 million confirmed cases of Covid-19, including 4.8 million in the U.S., by implementing so-called lockdown orders.
"Our results suggest that ongoing anti-contagion policies have already substantially reduced the number of COVID-19 infections observed in the world today," the researchers wrote.
Best regards,
Whitney