1) My colleague Enrique Abeyta has written an in-depth, insightful piece, Why Your COVID-19 Opinion Matters in Investing, for subscribers to his Empire Elite Trader weekly newsletter. I highly recommend it, so, with his permission, we're making it available to all of my readers. 
Enrique is one of the most brilliant, outside-the-box thinkers and investors I've ever met, which is why he was the first person I recruited to join my new business, Empire Financial Research, soon after I launched it last year. He's already compiled an amazing track record with Empire Elite Trader, which you can check out completely risk-free for 30 days by clicking here.
2) All sorts of interesting stories in today's New York Times and Wall Street Journal… Let's start with some good news: A New Entry in the Race for a Coronavirus Vaccine: Hope. Excerpt:
In labs around the world, there is now cautious optimism that a coronavirus vaccine, and perhaps more than one, will be ready sometime next year.

Scientists are exploring not just one approach to creating the vaccine, but at least four. So great is the urgency that they are combining trial phases and shortening a process that usually takes years, sometimes more than a decade.

The coronavirus itself has turned out to be clumsy prey, a stable pathogen unlikely to mutate significantly and dodge a vaccine. 

"It's an easier target, which is terrific news," said Michael Farzan, a virologist at Scripps Research in Jupiter, Fla.
3) An infuriating analysis, echoing the two articles I sent out Sunday and Tuesday about how de Blasio, Cuomo and Trump dithered and played political games as the virus spread, which estimates that had our leaders listened to the health experts only two weeks earlier, 83% of the deaths – and untold economic damage – could have been avoided. Lockdown Delays Cost at Least 36,000 Lives, Data Show. Excerpt:
If the United States had begun imposing social distancing measures one week earlier than it did in March, about 36,000 fewer people would have died in the coronavirus outbreak, according to new estimates from Columbia University disease modelers.

And if the country had begun locking down cities and limiting social contact on March 1, two weeks earlier than most people started staying home, the vast majority of the nation's deaths — about 83 percent — would have been avoided, the researchers estimated. 

Under that scenario, about 54,000 fewer people would have died by early May.

The enormous cost of waiting to take action reflects the unforgiving dynamics of the outbreak that swept through American cities in early March. Even small differences in timing would have prevented the worst exponential growth, which by April had subsumed New York City, New Orleans and other major cities, the researchers found.

"It's a big, big difference. That small moment in time, catching it in that growth phase, is incredibly critical in reducing the number of deaths," said Jeffrey Shaman, an epidemiologist at Columbia and the leader of the research team.
4) We still need to be vigilant, as Scott Gottlieb warns (with charts from Mississippi, Virgina, Florida, Georgia, Alabama, Wisconsin, and Minnesota):
In some states, we have started to see covid hospitalizations increase over the last week; and the national trend on covid hospitalizations has been flat after showing steady declines in the prior two weeks.

Here are some additional states that show rising, or a level off, in hospitalization trends after some periods of sustained declines.
5) Hardest hit – and the slowest to reopen – will be big events like concerts and sporting events. For example, I heard that Madison Square Garden won't reopen until the summer or fall of next year. Here's a story about this: Coronavirus Shut Down the 'Experience Economy.' Can It Come Back? Excerpt:
A quandary is lurking at the heart of the efforts to revive the economy. 

In recent decades, a growing share of job growth and gross domestic product has come from the business of getting people together — from college sports and music festivals like Coachella to ax-throwing bars and ice cream museums. Yet given the infectious nature of the coronavirus, these very events will be among the very last to return.

"Any place people want to gather is a place no one wants to be right now," said Joe Pine, a co-author of "The Experience Economy."

That bleak truth has profound implications for businesses large and small. And with most large-scale gatherings on hold for the foreseeable future, the dearth of live events is already taking a psychological toll, not only on those in the industry but on society at large.
6) The only bright side to this is the possibility that, maybe, shutting down these big events will prove to the key to containing the spread of the virus, meaning the rest of the economy can quickly rebound without the dreaded "second wave." Some fascinating data and anecdotes here… Superspreader Events Offer a Clue on Curbing Virus. Excerpt:
Some scientists looking for ways to prevent a return to exponential growth in coronavirus infections after lockdowns are lifted are zeroing in on a new approach: focus on avoiding superspreading events.

The theory is that banning mass public events where hundreds of attendees can infect themselves in the space of a few hours, along with other measures such as wearing face masks, might slow the pace of the new coronavirus's progression to a manageable level even as shops and factories reopen. 

Researchers believe that the explosive growth of coronavirus infections that overwhelmed hospitals in some countries was primarily driven by such events earlier this year—horse races in Britain, carnival festivities in the U.S. and Germany or a soccer match in Italy.
Check out this chart from the article: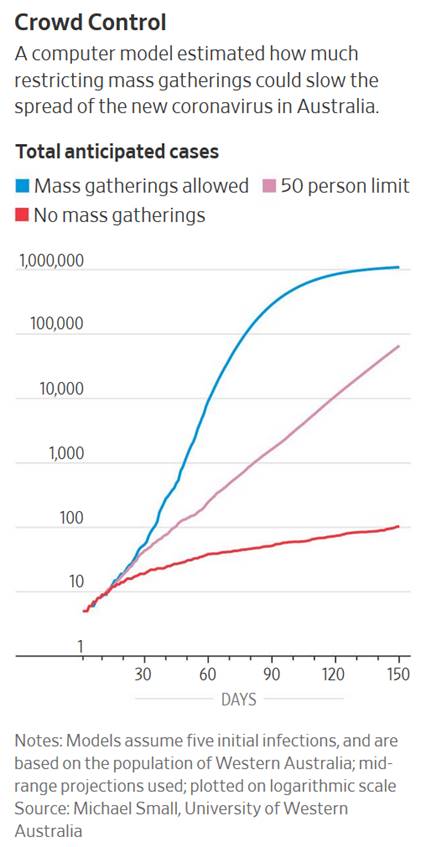 7) My friend, a foreigner who's lived in Singapore for 13 years, took exception to this very negative article in today's NYT: A Sudden Coronavirus Surge Brought Out Singapore's Dark Side. He writes:
I worry when I see the press preaching some sort of moral tirade on stuff like this. I would bet the author has never done any sort of background, boots-on-the-ground conversations… The whole tone of the story is wrong and misplaced.

I employ many of these workers and the governments approach and care (and the local community attitude) is quite impressive. The downside of no real politics and basically having quality bureaucrats running the place is that they forget it's good to tell some stories sometimes…

The concept of a foreign worker will be equated to an illegal worker in a U.S. context, but that's not how it is here. They have to be skilled and are employed officially. Working in Singapore is totally transformative for many. They need to work hard and of course it can be tough as they dominate the labor-intensive industries that are unattractive to locals, such as landscaping and construction, but the government keeps a good eye on things.

One of the mandatory things is that employers have to provide housing for them, which is quality-controlled by the government as well. Many live in formal dormitories, which are generally quite clean and tidy. It's no holiday camp, but it's well-ordered and managed.

These places became hotspots for COVID-19, but the government acted fast and decisively. It stopped all work to screen every single individual, so the country ground to a halt in many sectors such as construction that depend on foreign workers. The government quickly built a totally new separate infrastructure to house them (my workers are on this cruise ship) as they were screened to ensure proper segregation – remarkable, given that we're talking about 350,000 people! 

Everything has been paid by the government for the last 20 days, the death rate is still 0.08%, and, most importantly, not one foreign worker has died.

PS—We're now on our third round of free mask distribution for every individual in the country, each one getting better and better. There's even a vending machine solution: Singapore to distribute improved reusable masks via vending machines, community centres from May 26
8) The Pennsylvania Department of Health data shows that there are more virus deaths above age 100 than under 45; more deaths over age 95 than under 60; and more deaths over age 85 than under 80. 
9) Sigh… How the 'Plandemic' Movie and Its Falsehoods Spread Widely Online. Excerpt:
There have been plenty of jaw-dropping digital moments during the coronavirus pandemic.

There was the time this month when Taylor Swift announced she would air her "City of Lover" concert on television. The time that the cast of "The Office" reunited for an 18-minute-long Zoom wedding. And the time last month that the Pentagon posted three videos that showed unexplained "aerial phenomena." 

Yet none of those went as viral as a 26-minute video called "Plandemic," a slickly produced narration that wrongly claimed a shadowy cabal of elites was using the virus and a potential vaccine to profit and gain power. The video featured a discredited scientist, Judy Mikovits, who said her research about the harm from vaccines had been buried.

"Plandemic" went online on May 4 when its maker, Mikki Willis, a little-known film producer, posted it to Facebook, YouTube, Vimeo and a separate website set up to share the video. For three days, it gathered steam in Facebook pages dedicated to conspiracy theories and the anti-vaccine movement, most of which linked to the video hosted on YouTube. Then it tipped into the mainstream and exploded. 

Just over a week after "Plandemic" was released, it had been viewed more than eight million times on YouTube, Facebook, Twitter and Instagram, and had generated countless other posts.
Best regards,
Whitney