I spend a huge amount of time preparing and writing emails like this one (and many others like it on various topics like investing, school reform, Africa, politics, adventure sports) as a service to my friends and readers, but another major reason is how much I learn from them.
Exhibit A is the feedback to my last email, in which I confessed to being confused because I'm being…
…bombarded with two completely different story lines: on the one hand are countless articles about how COVID-19 is really not much worse than the flu and that, unless you're old and sick, you pretty much have nothing to worry about. Some folks claim that 90% of people who get COVID-19 aren't even aware of it…

On the other hand are countless stories like this one, by a fit, 33-year-old young woman who's on the editorial board of the New York Times. While she survived, she was crushed by the virus, as were many of her friends.
Below are insightful and provocative comments from various folks. After reading them, I'm a still confused – but a little less so! Enjoy…
Best regards,
Whitney
---
When you do dig deeper, please include statistics for her demo. That fact appeared to be missing from the piece.
I'm glad she didn't succumb, but we HAVE to have discussions that include fact and feeling, not just one or the other.
---
Whitney, this is such a good idea to present the danger of opening without social distancing. It is a great warning to those out there that think the virus is not a big deal. My favorite uncle (my godmother's husband) Tom, has been in the ICU for a month. He was an otherwise very healthy 65 year old- big, strong, Uncle Tom. Corona virus has him laying on his stomach most of the day and night on 100% oxygen. The doctors say his lungs are destroyed and may never recover. This virus is very, very serious. I am terrified to get it.
In the end, I fear that countries that know how to deal with the power and danger of a pandemic will be laughing at us as we reopen before we have widespread testing, disease tracking, and have fully stocked the resources in our healthcare system.
Whitney, one last thing, my wife's foundation has been raising money to help take care of the front-line healthcare workers with medical equipment & meals. They also just did a Mother's Day event to support Covid moms who have recently given birth. I was wondering if you might consider giving her organization a mention in one of your emails. Her website is: https://ladysavantfoundation.com/ (the donation link is at the very bottom of the page).
---
A while back, a friend who is a professor in the Harvard Medical School forwarded this link to me: www.nationalgeographic.com/science/2020/02/here-is-what-coronavirus-does-to-the-body
The short version is that this bug goes after other systems than just the lungs, including the GI tract, liver, and kidneys. If you survive a severe case of it, you are likely to have permanent damage to one or more of these systems. It is a bug you don't want to get no matter how healthy you are.
Vital statistics systems around the world are generally only set up to deal with binary things like Births and Deaths because they are fairly simple to deal with. If one or more of the large healthcare providers (e.g. Blue Cross, KP, or Australia) used their codified medical records data bases to look at the full spectrum of COVID-19 outcomes, the picture would be far more grim. (I know KP could do this — in my storied past I was on the IBM architecture team for KP's medical records system.)
---
I feel these anecdotes are real.
My wife fell sick to Covid 19. Long story short, she had pretty much all of the symptoms described. She had fever for 21 days. Progressively, many of the symptoms disappeared. However, know that after 46 days she was still diagnosed last week with an acute bronchitis and she continues coughing. She still uses an inhaler. She cannot walk more than a mile without feeling dizzy or out of breath. She used to walk to her office from home in Manhattan every morning walking 4.5 miles easily (she has been back at work for 3 weeks working from home).
This was scary. My kids and I were luckily asymptomatic.
Now, I feel people can be struck by the virus really badly, but it is only a minority of them. In our group of family and friends both in the US and Europe, no one has been as sick as my wife has been. It may also be true that not everyone has been contaminated either.
I hope this is helpful.
---
Thank you for doing what you do.
If political leaders and people, also and especially in the US, do not take this more seriously, there is no hope for the world to get over this. And things may continue for many years to come, as no vaccine or treatment is guaranteed, with people dying in the thousands, and bringing the economic and financial house of cards down with is. The 1930s revisited. 
From Hue, Vietnam, where things were taken more seriously from very early on… Where we have zero casualties, and are currently virtually free of community infections, and back to BAU.
---
Innate Fear. Self-imposed, and psycho-sematic. Makes her feel much worse that she really is. The body can definitely do this to us.
Look at the NYC (which you've seen/used yourself), which says it ALL (https://www1.nyc.gov/assets/doh/downloads/pdf/imm/covid-19-daily-data-summary-deaths-05152020-1.pdf). Excluding the 2,970 people whose underlying conditions were unknown, of the 12,452 people who've died in NYC from COVID-19, 12,353 (99.2%) had underlying conditions. And of the 15,419 total deaths in which age was known, only 4% were under age 44 and only another 22.4% were 45-64. 48.7% were over age 75.
The rest is horsesh*t, by people who should just pull themselves together more (I realize easier said than done….)
---
I love your newsletters (ed reform and CV) and am amazed by the time and energy you put into your writing! I respect and appreciate what you do.
I agree the story below is the tyranny of the anecdote. Without trying at all, you can find similar anecdotes for the regular flu in prior years:
If you want a great source of information on Covid from someone who is very smart, completely data driven, and totally agnostic to the outcome (just wants the correct answer), see https://twitter.com/ElonBachman. It is the twitter handle of a close friend who is also an investor. He is happy to debate and engage with people who have different views, because it helps him get to the right answer. He is seeking truth, not pushing a narrative.  
It's pretty clear to me (now living outside the NYC bubble and the mainland US) that the NY Times isn't interested in facts or truth, but pushing a narrative. If that is your source of information, you will be horribly misinformed.
---
In all fairness, there are accurate statistics that point that young healthy people may become severely ill or even die, but we are talking about a minuscule percentage.
I read that as little as 3% of dead people were previously healthy, and that includes old people. If you exclude people under 60 the percentage falls even further.
That said I do appreciate your writings on the topic very much!
---
Another thanks for all the info. One question I haven't researched is how many healthy young people die each year from the flu and how that compares with Covid. This article indicates that many healthy young people die from the flu each year. The media now is finding all of these scary and sad cases, but is that truly a significant increase over deaths from the flu and other viruses each year? https://www.nbcnews.com/health/health-news/here-s-how-flu-virus-kills-some-people-so-quickly-n839936
---
When in doubt, follow the numbers right? Here's what I've found lately: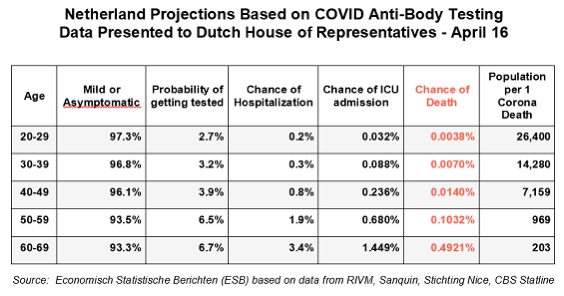 https://www.bmj.com/content/369/bmj.m1931
https://www.cdc.gov/flu/pandemic-resources/1968-pandemic.html
https://www.conservativereview.com/news/horowitz-one-chart-exposes-lie-behind-universal-lockdowns/
https://denver.cbslocal.com/2020/04/30/coronavirus-nursing-home-deaths-colorado-public-health/ 
https://www.spectator.co.uk/article/can-we-trust-covid-modelling-more-evidence-from-sweden
---
Should we be shutting down the entire country because of the happenstance of poor outcomes in rare healthy persons? Will the long term outcomes of the shutdowns be worse than the usefulness? Should we shutdown all road systems because of the "death" that occurs on our highways? Was our focus on the right susceptible portions of society? I don't think so.
"Last night, I read something absolutely heartbreaking in The Wall Street Journal, which I applaud for such an honest piece of journalism: New York Sent Recovering Coronavirus Patients to Nursing Homes: 'It Was a Fatal Error.' 
On March 25, New York State issued a directive to transfer COVID-19 patients to nursing homes in an effort to keep hospital beds available for what it believed would be a massive wave of COVID-19 illnesses. 
Health care professionals put the nursing home directive in place. It stated that patients referred from a hospital couldn't be denied admission or readmission to a nursing home "based on a confirmed or suspected diagnosis of COVID-19." Even worse, nursing homes couldn't require incoming patients to be tested. 
The state sent patients infected with COVID-19 into an elderly, frail population… literally the most "at-risk" group for COVID-19, pneumonia, influenza, and so forth. And what happened is heartbreaking.
As of May 12, 5,398 deaths in nursing homes in New York were confirmed or presumed to be due to COVID-19. That is nearly 25% of all deaths in the hardest-hit state in the country.
I don't know what to say. In what world does that directive make any sense at all?
It is even harder to understand because there were thousands of overflow beds set up in the Javits Center and on the USNS Comfort (a Navy ship).
Both of these overflow facilities were barely used. Combined, they only reached about 12% capacity. But New York sent COVID-19 patients to nursing homes.
And after the directive was reversed, a New York health official said, "The state has greatly increased testing capacity in a short amount of time and the anticipated strain on the hospital system didn't happen, making the new health and safety standards possible." 
Wow.
New York was the hardest-hit state in the country. Many of its problems were of its own making: a lack of preparedness, a low number of ICU beds per its population, and a lack of coordination between nearby hospitals. 
In fact, The New York Times wrote yesterday (One Hospital Was Besieged by the Virus. Nearby Was 'Plenty of Space.') that as Elmhurst hospital was "besieged"… "3,500 beds were free in other New York hospitals, some no more than 20 minutes from Elmhurst."
Even more unbelievable is a fleet of 26 new ambulances was available to transfer patients. This wasn't a resource problem. This wasn't a national problem.
---