Forgive me for dumping a ton of info on you, but I just can't keep up…
– Attached are the results of the two-question survey I posted about how many CV cases and deaths we'll have in the U.S. by three dates: the end of this month, the end of May (two and a half months from now), and the end of this year. (The current numbers are 11,234 and 161. 
If you'd like to participate, you can still do so here.
The median responses are approximately:
U.S. Cases
End of March: 22,000
End of May: 75,000
End of 2020: 125,000
U.S. Deaths
End of March: 400
End of May: 1,600
End of 2020: 6,000
Interestingly, if you divide these guesses, the mortality rate is 1.8%, 2.1% and 4.8%. I think our mortality rate will be less than 1%.
My guesses for cases were 20-30k, 50-75k, 100-150k
Then I applied a 1% mortality rate to arrive at these death estimates: 250-500, 500-750, 1,000-1,500
All of the results, including comments, are in the attached pdf.
Let's hope we're right!
– The latest chart on total cases in the U.S. vs. Italy: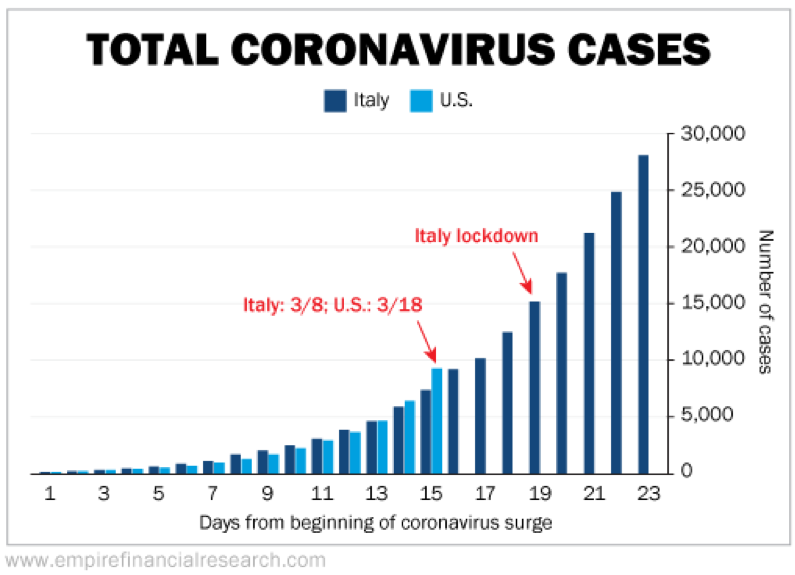 Keep in mind that these are absolute numbers of cases, but we have 5.5x the population of Italy, so if we adjusted for this, our bar would be 82% smaller.
As importantly, we are 10 days earlier and are taking strong measures long before Italy did, so there's good reason to believe that, while our absolute numbers will likely surpass Italy's in the near term as our testing ramps up, we'll level off sooner.
– Here are the latest charts on new CV cases by day in key countries (note China had ZERO new cases) (I show and comment on the U.S. numbers in my daily investing email, which I'll forward as soon as it goes out; you can sign up for it here) (all data and charts are from my favorite tracking site: https://www.worldometers.info/coronavirus/) (the site doesn't have a chart for Japan, but it had only 9 new cases, 923 total – let's do what they're doing!):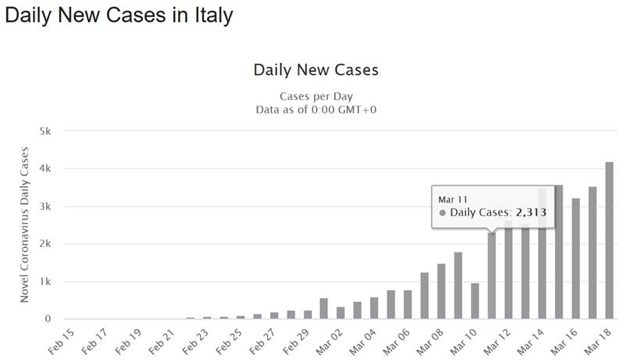 – There will be many articles about the CV overwhelming hospitals and hitting families (like this one in the NYT: Coronavirus Ravages 7 Members of a Single Family, Killing 3). We will also hear many stories about people we know being infected. Just last night, I heard that the daughter of old friends got it, along with her college roommates (they're doing fine, in isolation now).
These articles will trigger strong emotions – even if the overall situation is stable or improving, as it eventually will be. So it will be very important to focus on the data and the big picture, and not fall into the "tyranny of the anecdote" trap. If we do so and over-react, we will do far more harm than good and cause severe and needless suffering to millions of people.
We need to take strong measures to halt the spread of the virus, but I'm not convinced that every American (or even every New Yorker like me) needs to be confined to their homes (as I discuss further in my investing email, which I'll send shortly).
– To see the horrific economic consequences that have already occurred, check out this new article in the NYT: The Staggering Rise in Jobless Claims This Week. Excerpt:
Numbers released on Thursday by the Labor Department — as well as a preliminary analysis of even more recent data — provide the first hard confirmation that the new coronavirus is bringing the United States economy to a shuddering halt. The government reported that the number of initial unemployment claims rose to 281,000 last week, a sharp rise from 211,000 the previous week. This rise in initial claims of 70,000 is larger than any week-to-week movement that occurred during (or since) the 2008 financial crisis.

But even these numbers understate the economy's free fall, as they reflect the state of the economy last week. Based on preliminary news reports this week from 15 states, it's already clear that initial claims will skyrocket next week, most likely to levels never seen before.
– More on the same topic: One Simple Idea That Explains Why the Economy Is in Great Danger. Excerpt:
To understand why the world economy is in grave peril because of the spread of coronavirus, it helps to grasp one idea that is at once blindingly obvious and sneakily profound.

One person's spending is another person's income. That, in a single sentence, is what the $87 trillion global economy is. 

That relationship, between spending and income, consumption and production, is at the core of how a capitalist economy works. It is the basis of a perpetual motion machine. We buy the things we want and need, and in exchange give money to the people who produced those things, who in turn use that money to buy the things they want and need, and so on, forever. 

What is so deeply worrying about the potential economic ripple effects of the virus is that it requires this perpetual motion machine to come to a near-complete stop across large chunks of the economy, for an indeterminate period of time.

No modern economy has experienced anything quite like this. We simply don't know how the economic machine will respond to the damage that is starting to occur, nor how hard or easy it will be to turn it back on again.

Thanks to government statistical tables, we can understand the sheer size of the economic sectors that appear to be entering a near shutdown. The United States and much of the world are on the verge of a tremendous shrinkage in consumption spending, which in turn will mean less economic output and lower incomes among the people who provide those services.
– In my investing email I include two in-depth articles about what South Korea has done so successfully. Here are three more articles, contrasting what they did vs. our negligent early non-response:
– Comments from a reader: 
Hi Whitney,

Thanks for your efforts to circulate various points of view about SARS-CoV-2/COVID-19.  I am an epidemiologist by training, although my research focuses mainly on cardiometabolic disease.

In your most recent CV email you included a piece that raises an incredibly important point that is not getting sufficient attention (excerpt below).  We need to understand the denominator to understand the case fatality ratio for SARS-CoV-2 Infection.  There is a huge focus on using the current RNA tests to confirm infection clinically.  That is important.  However, to get a handle on how many have been infected in the population, including those who were infected but asymptomatic, we need to do antibody testing.  I have included several links below about this issue.  The initial estimates for H1N1 (swine flu) influenza in 2009 were about 4% case fatality.  Eventually, it was shown that the case fatality ratio was slightly lower than that for other forms of influenza.  The only way to know the denominator (deaths/infections) is to do antibody testing research to get a handle on the incidence and prevalence of infection in various populations.

Why is that good news, you might ask? Well, it massively downwardly revises the morbidity and mortality rates for infection. Testing is still scarce and rationed, meaning we have a positive bias towards severity for testing  (only the sickest-seeming people are being tested). South Korea's mortality rate, 0.6%, was calculated via aggressive case-searching and widescale testing, but not true point-prevalent testing of the asymptomatic. If there are 8 asymptomatic infections for every case, we can multiply the denominator for the case fatality rate by 8 – generating, conservatively, a mortality rate of 0.075% instead. And that is WITH the positive testing bias. Once milder cases begin to be tested, I expect it to fall below that.

https://www.theguardian.com/australia-news/2020/mar/18/new-rapid-covid-19-testing-kit-can-return-results-in-15-minutes-but-not-yet-available-in-australia

https://www.wsj.com/articles/do-antibody-testing-to-understand-covid-19-11584378570 

https://www.sciencemag.org/news/2020/02/singapore-claims-first-use-antibody-test-track-coronavirus-infections

https://www.npr.org/sections/health-shots/2020/02/28/810131079/how-a-coronavirus-blood-test-could-solve-some-medical-mysteries 

For perspective, the CDC estimates 291,000 to 646,000 influenza deaths annually worldwide.  With 0.1% mortality for infections, that means 291 to 646 million infections.  SARS-CoV-2 is serious because of lack of herd immunity, proven therapeutics or a vaccine.  However, we need to better understand the number of infections in order to assess the true risk this season and in the fall, when we could see a resurgence, as happens with influenza annually.  We don't want to have situations in the US like are happening in Italy now but it is impossible to model the consequences accurately without understanding the actual risk associated with infection in different population subgroups, for which the denominator needs to be known.

All the best,

Kevin

Kevin C Maki, PhD, CLS, FNLA, FTOS, FACN
President & Chief Scientist, Midwest Biomedical Research (Addison, IL & Boca Raton, FL)
Adjunct Professor, Indiana University School of Public Health (Bloomington, IN)
Managing Member, Great Lakes Clinical Trials (Chicago, IL)
– Another reader, Kathy, from Columbia, SC writes:
Hey, Whitney, 

Based on how long it's taking folks to get tested, I think we're in more serious trouble. We need to make it simple and easy to test anyone who thinks they may have it.

I was notified by friends this morning that older friends we had breakfast with on 2/28 have tested positive. I've spent the day trying to get the electronic order to get tested in the drive-through.

Testing here in SC is not simply by request. It took multiple times to register for the Prisma Health website, then I had to wait a few hours before the site was available for me to do the online survey. At the end, it said call or wait for a call back. I called and was told I'd have to wait for a call back from a doctor. I'm still waiting… 

Initially when I called, Prisma said I needed negative flu and strep tests, even though I told them I had a direct link to friends with a positive test. I called the South Carolina Department of Health and Environmental Control, who said I didn't need the negative flu and strep tests, given the direct contact, but they still directed me back to the Prisma site. Or, I could drive over an hour away in 3 different directions to get tested, the sites are listed on their web page. Given that I've spent the day trying to do this, I may yet drive.

If the tests are limited and they want them only for severe cases, they're better off stating this plainly and asking everyone else to register for a test at a later time and self-quarantining in the meantime.

Until this morning, I had assumed it was just allergies, and it still may be, but aside from getting the test, I'll stay home until I know. If positive, I pray I haven't given it to anyone, though my son will likely get it, too, if he doesn't already have it.

The good news is, if I have it, my symptoms are little different than a minor cold or bad allergies, which I do have; the car's covered in pollen.  

The bad news is, if I have it, it was very likely here 3 weeks ago in the community rather than just starting this past week.  I live a pretty quiet life, but I've been at least a dozen different places in the past 2.5 weeks, some multiple times.

Take care and Godspeed.

Kathy 
– An old friend of mine posted this on my Facebook page:
I wish you were right Whitney, but I don't think we will be so fortunate because we aren't actually doing what China, South Korea, Taiwan or even Italy are doing. I'm in the South and most people don't think it's a big deal or they think it's a hoax or they think they have strong immune systems. The guy at the car rental counter today laughed at me when I suggested he where nitrile gloves interacting with so many random customers in the airport. The local police and K-9 team (nice guys) responded to a 911 call on a property we operate out of. none of them were wearing gloves and they said they don't wear their masks. this isn't going to peter out in a few weeks… maybe the rate of new known cases will start to slow down in a few months. Thanks for tracking the flow. Good to have accurate information.
– WHO has updated its advice: WHO Now Doesn't Recommend Avoiding Ibuprofen For COVID-19 Symptoms
– I don't have time to read all of these articles about potential treatments and vaccines (plus don't kid myself that I have the expertise to evaluate them), but it looks like there's a lot of promising stuff in the pipeline:
– The First Affiliated Hospital, Zhejiang University School of Medicine in China just published this 68-page Handbook of COVID-10 Prevention and Treatment. I hope we can learn from China's experience! 
– Speaking of learning from the Chinese, my friend Li Lu of Himalaya Capital organized and hosted a panel of experts leading the fight against COVID-19, which took place on March 13th. You can watch the 95-minute video here. Summary:
Critical insights were shared from the front line of China's fight against COVID-19, such as ICU lessons, the protocols put in place and the treatment methodologies and practices used to stem the spread of the virus.

Panel speakers were, in order;

Dr. Peng, the director of ICU of Wuhan University Zhongnan Hospital in Wuhan
Dr. Cao, the vice-president of China-Japan Friendship Hospital, author of China's Guideline of Diagnosis and Treatment of COVID-19
Dr. Zhang, head of infectious disease at Fudan University Huashan Hospital in Shanghai
– Great news from China: Wuhan doctors celebrate closure of last temporary hospital after dramatic fall in cases in China and All 42 Apple Stores in China have reopened.
Mark my words: this will be us sooner than you think!