1) I've been feeling a bit under the weather for the last week – a minor cough, sore throat and nasal drip. I'm sure it's due to the aftermath of running 50 miles and doing nearly 200 obstacles (many involving going into cold water) at the 24-hour World's Toughest Mudder 10 days ago (see my FB posts about it here, here and here). It probably also doesn't help that I've been playing tennis outdoors in 35-degree weather… 
I thought odds were close to zero that I had COVID given that I got the Moderna vaccine in February and March plus a booster three weeks ago. But just to be sure (and because we're going to be spending plenty of time indoors with family over Thanksgiving), Susan bought me this home test kit at the local pharmacy (it only cost $25 for two tests):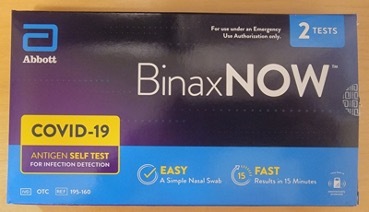 I took the test and, sure enough, got a negative result: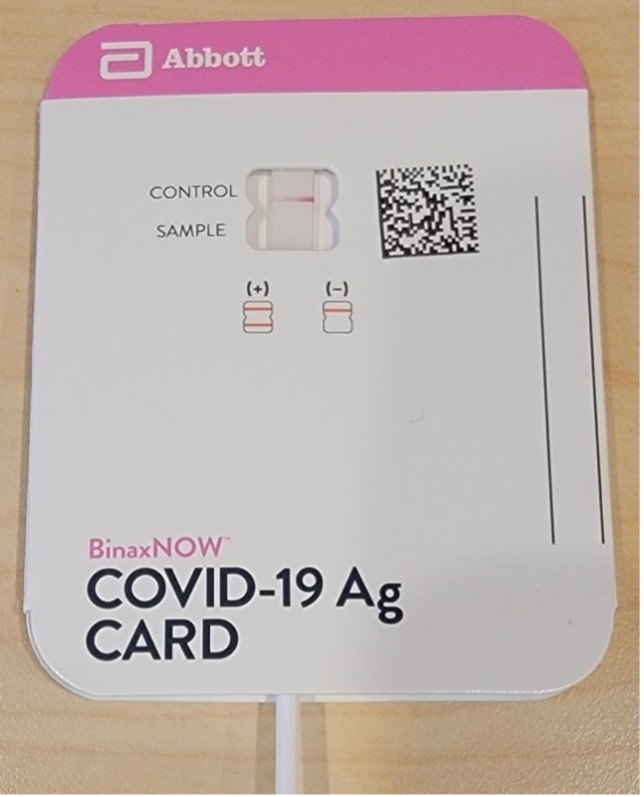 However, one friend e-mailed me this warning:
If you still feel under the weather, take the second test in a couple of days. Abbott's Binax test is best for determining when you are at peak infectious level, not necessarily if you have COVID. 

We had a situation in my family where the first Binax test came back negative, but we also got a PCR test the same day. Two days later, the second Binax test was positive and the PCR came back positive as well. That's why there are two tests in the box.

But there was fever involved in our situation and it just sounds like you are run down. 
This was echoed by two other friends, both doctors, who told me that home antigen tests could miss breakthrough COVID cases and therefore recommended that I get a PCR test. So on Monday afternoon I went to a local pharmacy and got a free PCR test (it only took five minutes), which also came back negative yesterday:

2) When it comes to the vaccines, my family and I don't just talk the talk – we walk the walk…
My wife got her booster on Monday (Moderna as well) and hasn't felt any symptoms at all: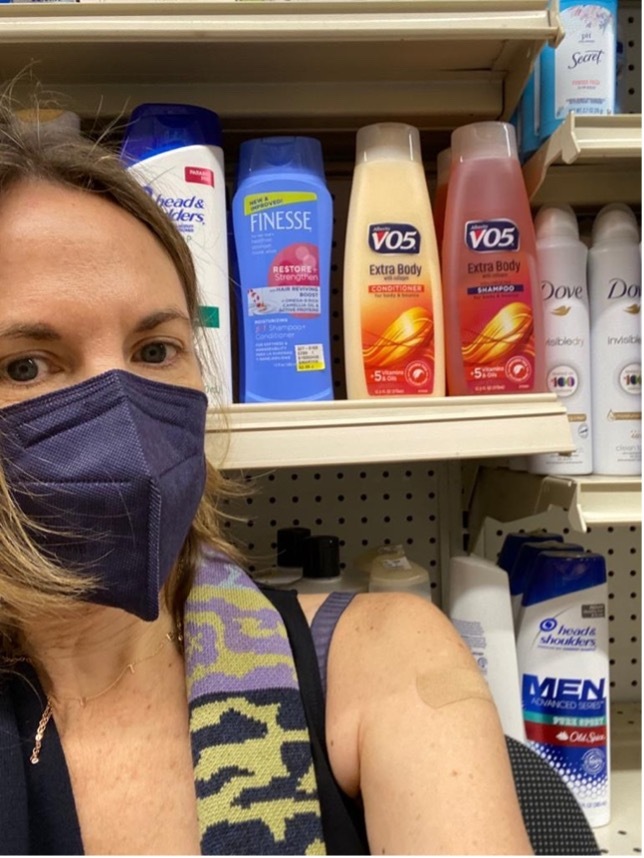 One our three daughters has already received her booster (no symptoms either), and the other two are getting theirs in the next few days. For more info, see: How to Get a Coronavirus Booster Shot in New York City
I'm glad that we're all extra safe, but it's not like we were in any real danger given our ages, excellent health, and access to top-notch healthcare.
It saddens me that tens of millions of Americans at much greater risk are refusing to get even their initial vaccination, much less a booster, even though they're free and widely available. It's these folks, who have been badly misled by despicable political, media, or sports figures and/or the garbage they've read on social media, who represent nearly all of the more than 1,000 Americans who are still dying every single day.
It is a horrifying stain on our nation that we currently rank 52nd in the world among the percentage of our population (70%) that has received at least one dose of a COVID vaccine, and 58th for the percentage of those who are fully vaccinated (59%) (source).
There have now been 7.8 billion doses administered in 184 countries. At what point will there be enough real-world data for the holdouts to stop thinking that the vaccines are too new/untested/unproven?
3) Here are the latest pandemic figures in the U.S. (source). The rolling seven-day average of new cases per day is up 34% in the past 19 days, but still well below the January and September peaks: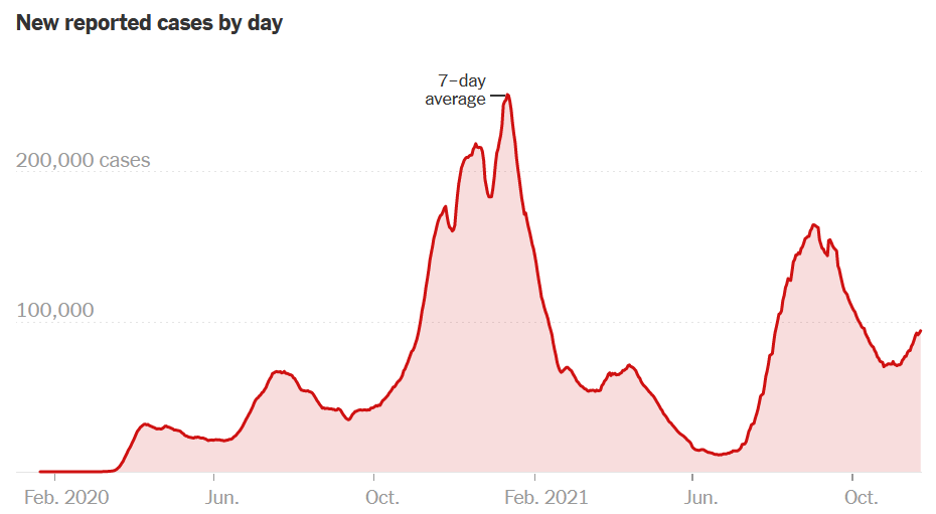 Hospitalizations, which tend to lag cases by a couple of weeks, are up slightly: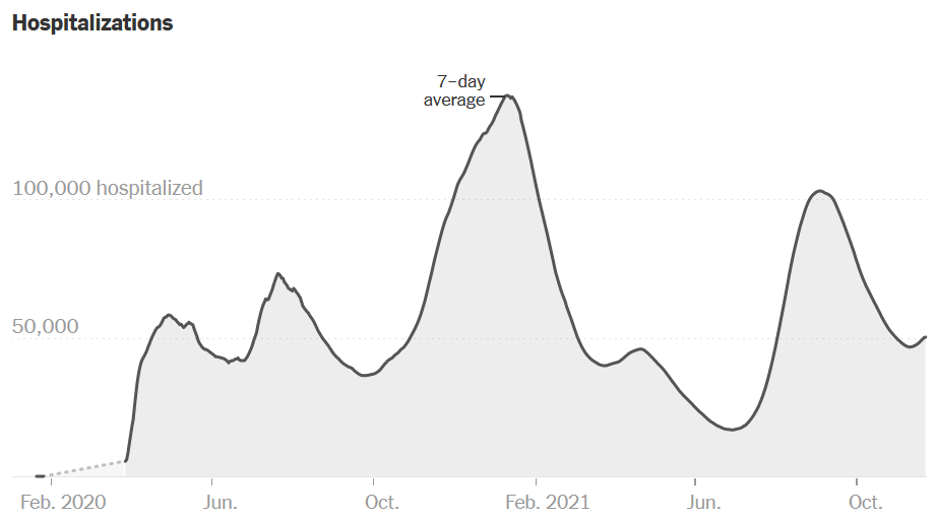 And deaths per day haven't risen (yet):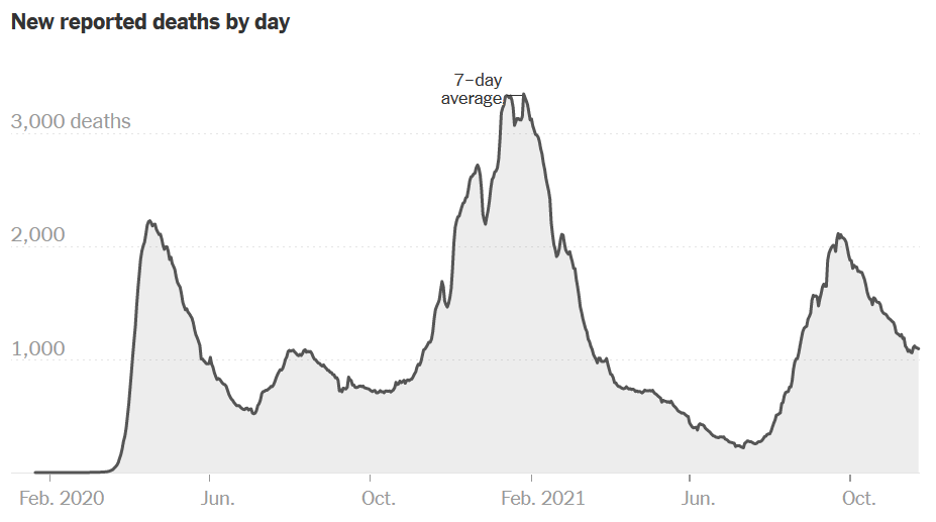 4) It's not surprising that deaths haven't risen yet because they tend to lag cases by a month. But will they soon follow, as they have in the past? I'm cautiously optimistic that they won't, for two main reasons: 
First, vaccination rates are much higher among the elderly (according to the CDC, 98% of Americans 65 or older have received at least one dose and 86% are fully vaccinated), which means that more cases are among younger folks, who are much less likely to die from COVID. 
Second, I think the new drugs by Merck and Pfizer, which the FDA will likely grant emergency-use authorization for in the next couple of weeks, will significantly reduce the mortality rate. As this article notes, they both appear to be "staggeringly effective": How Will the COVID Pills Change the Pandemic? Excerpt:
Last month, Merck and Ridgeback announced that molnupiravir could reduce by half the chances that a person infected by the coronavirus would need to be hospitalized. The drug was so overwhelmingly effective that an independent committee asked the researchers to stop their Phase III trial early—it would have been unethical to continue giving participants placebos. None of the nearly four hundred patients who received molnupiravir in the trial went on to die, and the drug had no major side effects… 

It isn't the only antiviral COVID pill, either. A day after the U.K. authorized Merck's drug, Pfizer announced that its antiviral, Paxlovid, was also staggeringly effective at preventing the progression of COVID-19 in high-risk patients. The drug, when taken within three days of the onset of symptoms, reduced the risk of hospitalization by nearly ninety per cent. Only three of the nearly four hundred people who took Paxlovid were hospitalized, and no one died…
Also see: A cheap antidepressant lowers the risk of Covid hospitalization, a large study finds. Excerpt: 
A large clinical trial has found that a common and inexpensive antidepressant lowered the odds that high-risk Covid-19 patients would be hospitalized. The results, published on Wednesday, could open the door to new guidelines for the drug's use both in the United States and globally.

The drug, fluvoxamine, has been safely prescribed for nearly 30 years as a treatment for obsessive-compulsive disorder. But when the coronavirus started spreading, researchers were drawn to the medication because of its ability to reduce inflammation, potentially allowing it to quell the body's overwhelming response to a coronavirus infection. 

Several smaller studies of fluvoxamine earlier in the pandemic showed promising results, but none was as large or persuasive as the one published on Wednesday by a group of researchers in Canada, the United States and Brazil, outside scientists said. Among nearly 1,500 Covid patients in Brazil given either fluvoxamine or a placebo, the drug reduced the need for hospitalization or prolonged medical observation by one-third, the study found. 
Hopefully people will have the good sense to take these drugs rather than horse dewormer ivermectin:
A review of 10 randomized controlled trials found that it has no effect in reducing the rate of death or length of illness from covid-19. 
5) To see what the future holds for the U.S., I often look to the UK, which has been a good leading indicator. As you can see in this chart, after dipping sharply after the July peak, cases in the UK have remained elevated ever since, well above our levels on a population-adjusted basis (source):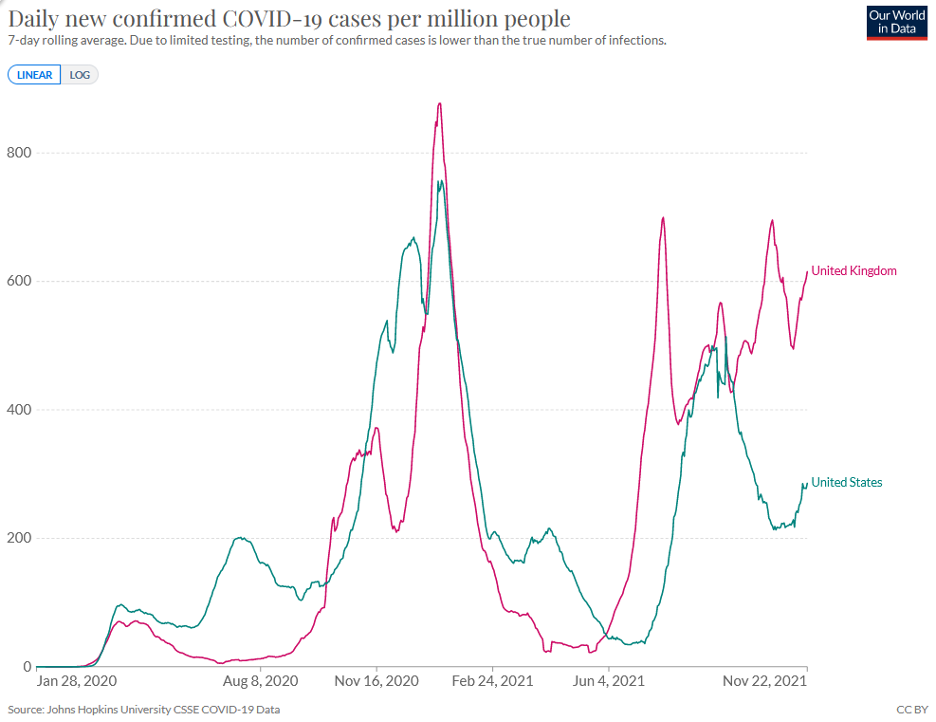 Yet the UK's hospitalizations have remained low – about the same rate as the U.S. (source):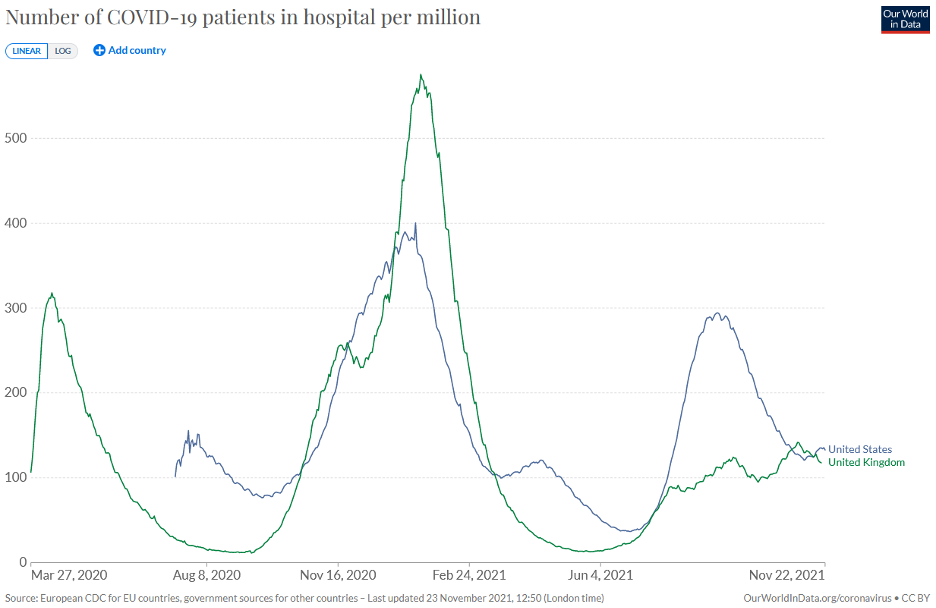 And most importantly, deaths have remained low in the UK – well below the U.S. level – which bodes well for the U.S. going forward (source):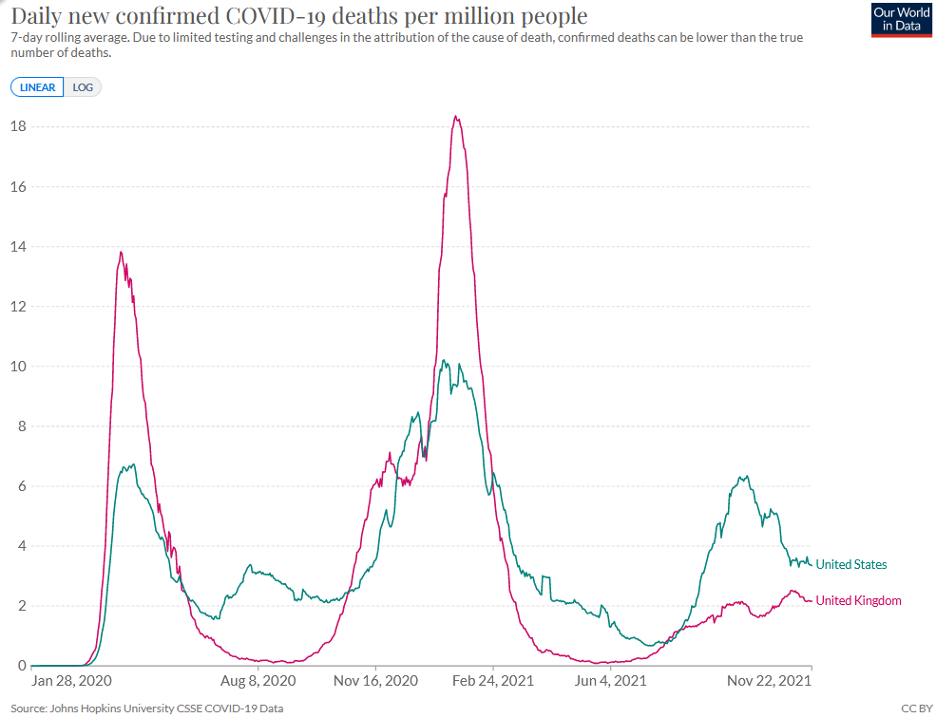 6) Europe is the epicenter of the pandemic right now, as these stories highlight:
This chart shows the surge in cases relative to the rest of the world: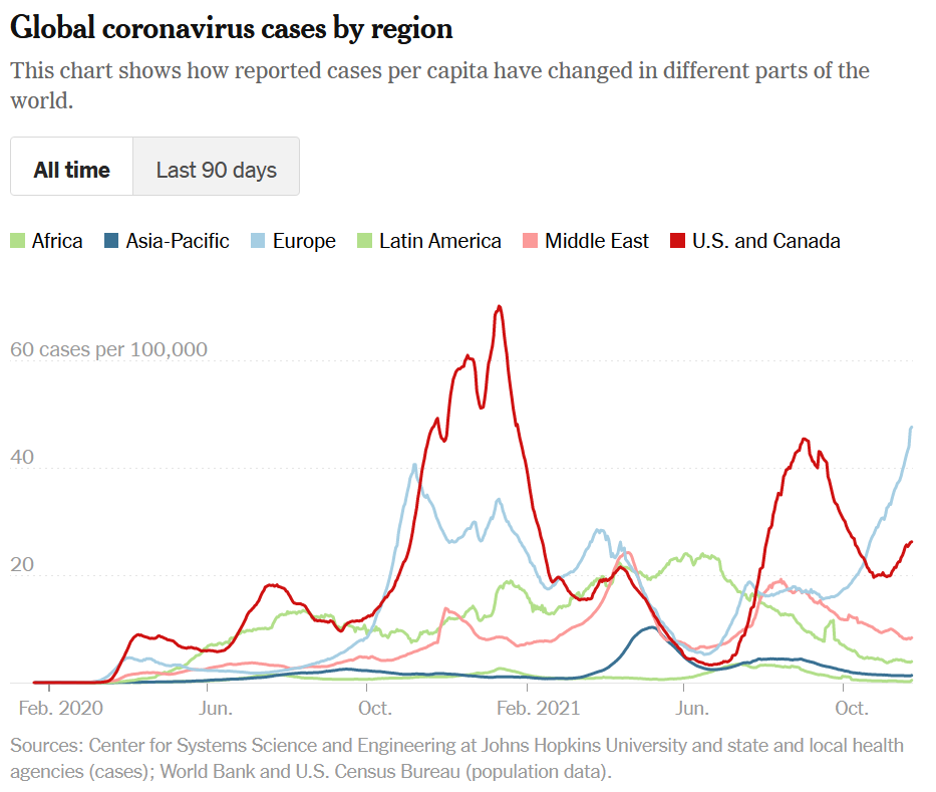 So are we likely to follow Europe's path and return to lockdowns?
I highly doubt it, for two main reasons: 
a) I don't think the pandemic is going to return to crisis levels here, for the reasons I outlined above; and
b) I don't perceive any appetite here for a return to tighter restrictions.
Nearly all of the hospitalizations and deaths are among people who chose not to get vaccinated. At this point, rightly or wrongly, there's the general feeling among everyone else that some folks' misguided (and, sadly, often fatal) decisions shouldn't prevent the country from returning to normal.
7) I've shared endless data about how effective the vaccines are (for example, Texas research: Unvaxxed 20 times more likely to die from COVID), but perhaps these comparisons will do a better job of conveying exactly how much safer vaccinated people are: 
"If you're vaccinated, you have a much greater chance of dying from a lightning strike, hornet, wasp or bee string, a dog attack, a car crash, drowning, sunstroke, or choking on food than you do of dying from covid-19." (source)
"Concern about breakthrough Covid cases may be increasing, but data from two dozen states suggests that during the first half of this year, a fully vaccinated person had a higher probability of getting accidentally electrocuted than of developing severe coronavirus symptoms." (source)
8) Here's why you should get a booster: while the vaccines continue to be highly effective in preventing hospitalizations and death, their effectiveness in warding off catching COVID altogether appears to be waning a bit: Vaccines Ward Off Severe Covid in U.S., Wane Against Infections. Excerpt:
Covid-19 vaccines remain highly effective at keeping people alive and out of the hospital, but new U.S. data add further support to the argument that the shots aren't preventing infections as much as they once did.

Unvaccinated people were about five times more likely to test positive for the virus than the vaccinated in the week starting Sept. 26, down from about 15 times more likely in May, according to the latest age-adjusted data from the Centers for Disease Control and Prevention, which were updated Monday.
Also see: What We Know So Far About Waning Vaccine Effectiveness
9) And here's why you should get your child vaccinated: U.S. pediatricians say Covid cases in children are on the rise. Excerpt:
Coronavirus cases in children in the United States have risen by 32 percent from about two weeks ago, a spike that comes as the country rushes to inoculate children ahead of the winter holiday season, pediatricians said.

More than 140,000 children tested positive for the coronavirus between Nov. 11 and Nov. 18, up from 107,000 in the week ending Nov. 4, according to a statement on Monday from the American Academy of Pediatrics and the Children's Hospital Association. 

These cases accounted for about a quarter of the country's caseload for the week, the statement said. Children under 18 make up about 22 percent of the U.S. population. 

"Is there cause for concern? Absolutely," Dr. Sean O'Leary, the vice chair of the academy's infectious diseases committee, said in an interview on Monday night. "What's driving the increase in kids is there is an increase in cases overall." 

Children have accounted for a greater percentage of overall cases since the vaccines became widely available to adults, said Dr. O'Leary, who is also a professor of pediatrics at the University of Colorado School of Medicine and Children's Hospital Colorado. 

Though children are less likely to develop severe illness from Covid than adults, they are still at risk, and can also spread the virus to adults. Experts have warned that children should be vaccinated to protect against possible long-Covid symptoms, Multi-system Inflammatory Syndrome and hospitalization.
More on this: Should You Vaccinate Your 5-Year-Old?, Yes, young kids should get the Covid vaccine, and Covid Shots Are a Go for Children, but Parents Are Reluctant to Consent
10) Quite a few folks have been making the silly argument that we're overcounting COVID deaths, citing, as an example, a guy brought into the hospital with severe injuries from a car crash, who also has COVID. If that person later dies, he might be counted as a COVID death, even though obviously he died from the crash.
In reality, however, the handful of cases like this are overwhelmed by the massive number of COVID deaths that aren't correctly recorded, even in developed countries with good tracking systems, as evidenced by this chart in the Economist, which shows that non-COVID deaths in the U.S. are much higher among the unvaxxed: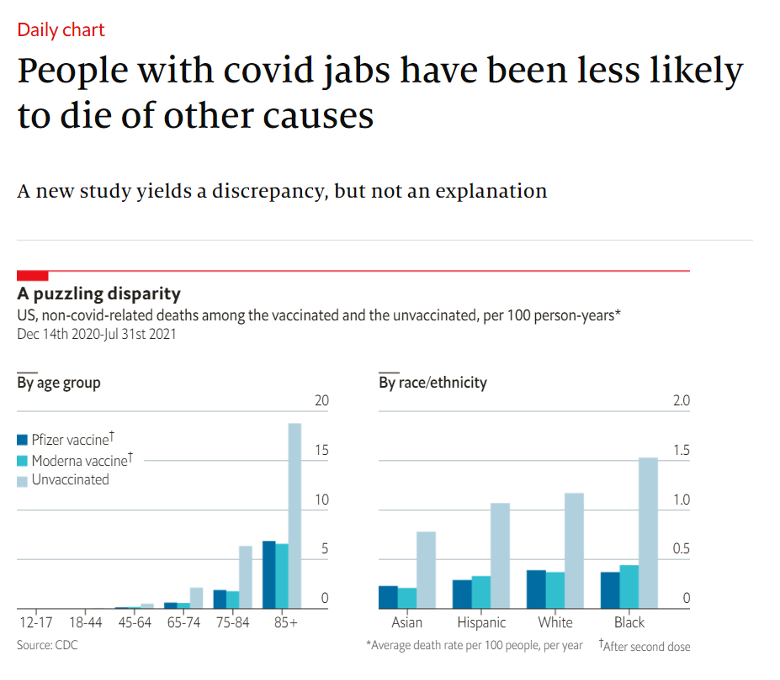 11) For those of you in New York, I highly recommend getting the NY Excelsior Pass, an app on your phone that proves you're vaxxed. Just click here. Thanks to my booster, I just got the Excelsior Pass Plus, which doesn't expire, so this is what's on my phone now: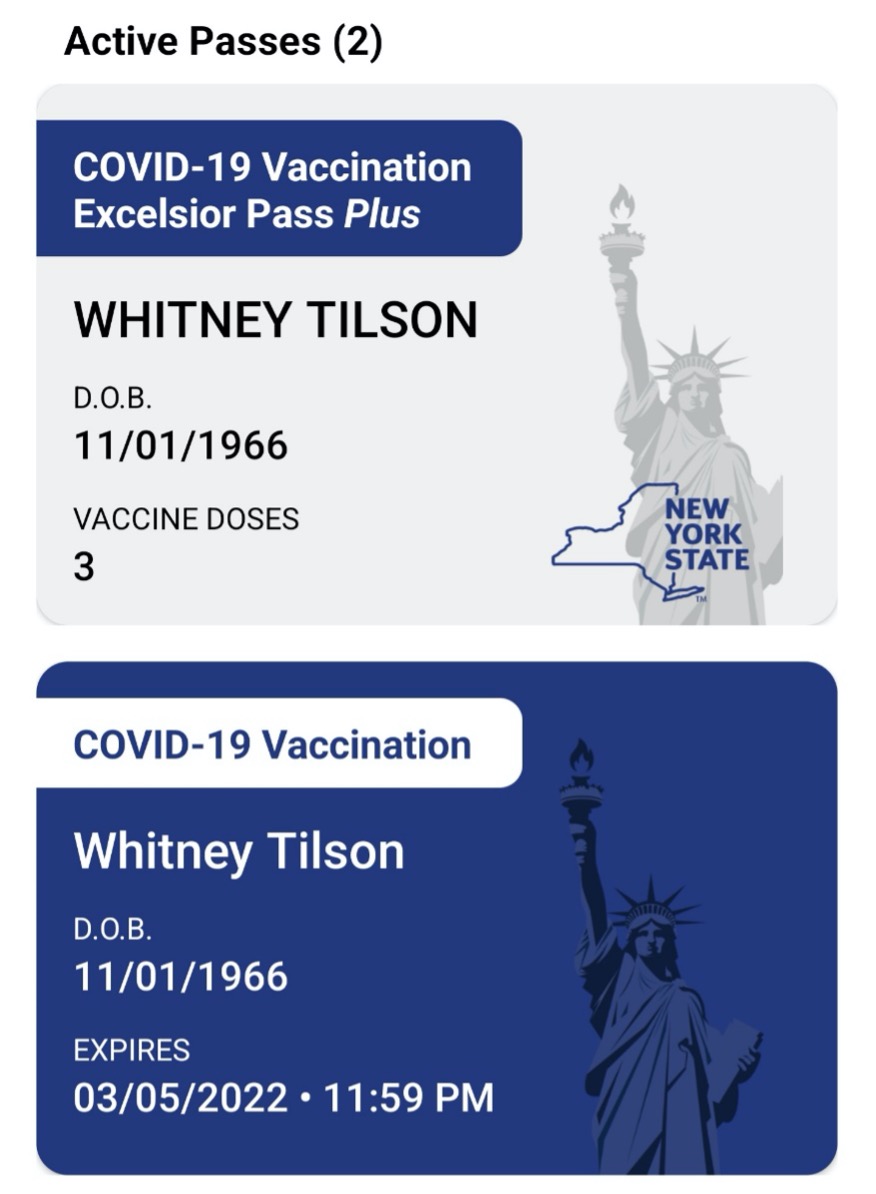 12) In my September 15 daily, I shared this e-mail from a reader:
"Whitney, I seldom send e-mails to anyone outside of my business or social contacts. But I feel that I need to contact you to say thanks.

"You and I are probably on the opposite ends of the political spectrum though I consider myself a moderate conservative. My wife and I struggled for several months about the vaccination thing, which is funny because I worked overseas for many years and received just about every vaccination available in the world to work there.

"We finally started the Moderna (MRNA) vaccines last week. Some of the credit goes to you. Your observation about President Trump pushing this along so that it was available in record time made me stop and reflect on whether I was letting my political views get in the way of my health. I still have concerns about the direction for the country and the economy, but I'm confident it will work out.

"I really enjoy reading your articles each day. You and I actually share many values the same about work and family. I thank you again for always making me stop and think." – Richard B.
Richard was kind enough to send me an update:
"Whitney, I sent you an e-mail a few months ago, which you graciously shared with your readers. I wanted to give you an update.

"I think that you probably saved my wife from a serious illness. While we had only moderate reactions to the first dose of Moderna vaccines, our second doses were obviously needed.

"While I had only minor issues with the second dose, maybe because of all the vaccinations that I took to work overseas, my wife had a mildly severe level of fevers, chills, loss of taste and smell, etc., that one would expect from COVID. I can only imagine how much more severe it would have been for her to have actually had COVID. She didn't enjoy the experience, but it was no worse than a bad case of flu, and now she's better. And I thank you for your part in that.
I'm delighted to hear that, Richard – thanks for sharing!
13) Here are various articles of interest for which I don't have time to comment:
Best regards,
Whitney
PS—I wish you and your family and happy and healthy Thanksgiving!