1) In a recent missive, my old friend Chris Mayer shared some wise thoughts...
He discusses how you have to be able to withstand drawdowns – sometimes multiple severe ones – to achieve the surest route to long-term investment success, which is holding on to a great stock for many, many years: Drawdowns: A Key Feature of Big Winners. Excerpt:
A drawdown is how much a stock price declines from its peak before it recovers.

Drawdowns are part of the life of every investor. Invariably, if you own a stock for a long time, you are going to have to sit through several.

Ever since I wrote my book on 100 baggers (or stocks that return 100 to 1), I've been intrigued – some say obsessed! – with the stock price drops of even the best performing stocks. I like to look back at these winners and see the depth and duration of these drawdowns. It's always somewhat surprising – and instructive.

A few examples from the book, which was published in 2015:

Apple from its IPO in 1980 through 2012 was a 225-bagger. But you had to sit through a peak-to-trough loss of 80% – twice! And there were several 40% drops.

Netflix, which has been a 60-bagger since 2002, lost 25% of its value in a single day – four times! And there was a four-month stretch where it dropped 80 percent.

And Berkshire Hathaway, the best performing stock in the study, was cut in half four times.

What I found affirmed what Peter Lynch once said: "The real key to making money in stocks is not to get scared out of them."

Indeed. Knowing this, I can be more circumspect about drops in my own stocks. As long as the underlying business continues to perform within a band of expectations, I am better off staying put.
2) As I've long predicted, WeWork (WE), which I mockingly called "Whee" in 2019 when it was run by its insane founder, Adam Neumann, is preparing to file for bankruptcy. The Wall Street Journal has the story: WeWork Plans to File for Bankruptcy as Early as Next Week. Excerpt:
WeWork is planning to file for bankruptcy as early as next week, according to people familiar with the matter, in what would mark a stunning reversal for the flexible-office-space venture that was once valued at $47 billion. 
3) I've long called for the U.S. government to ban Chinese-controlled TikTok, for national security and many other reasons. My friends Ricky Sandler of Eminence Capital and Bill Ackman of Pershing Square highlight another one in these posts: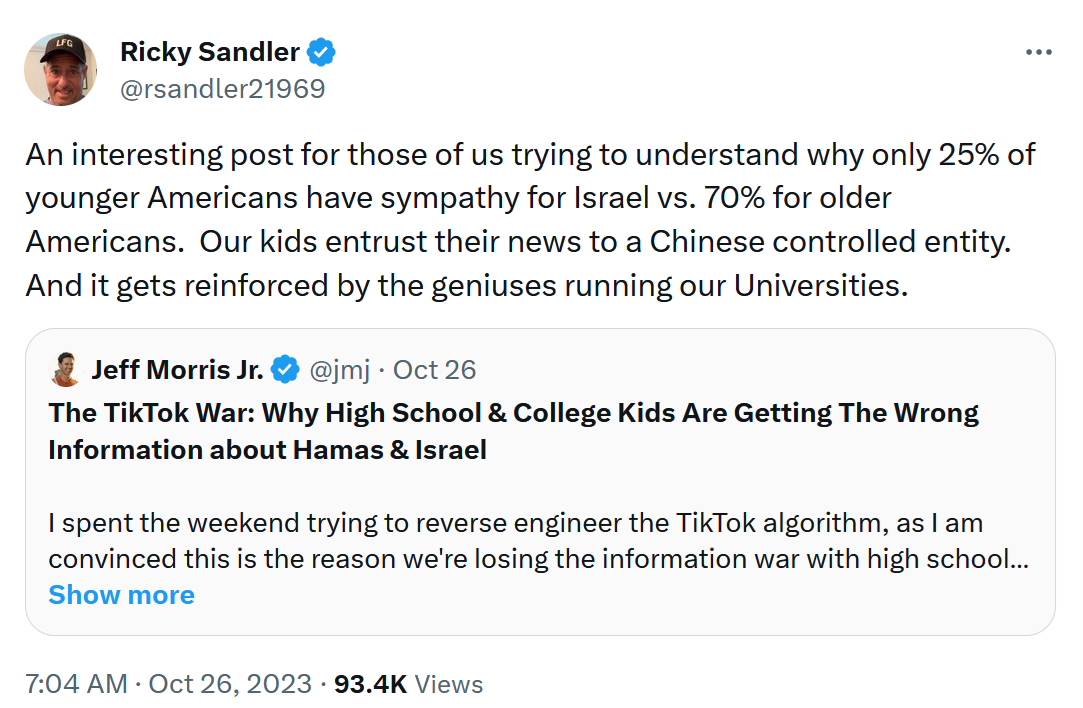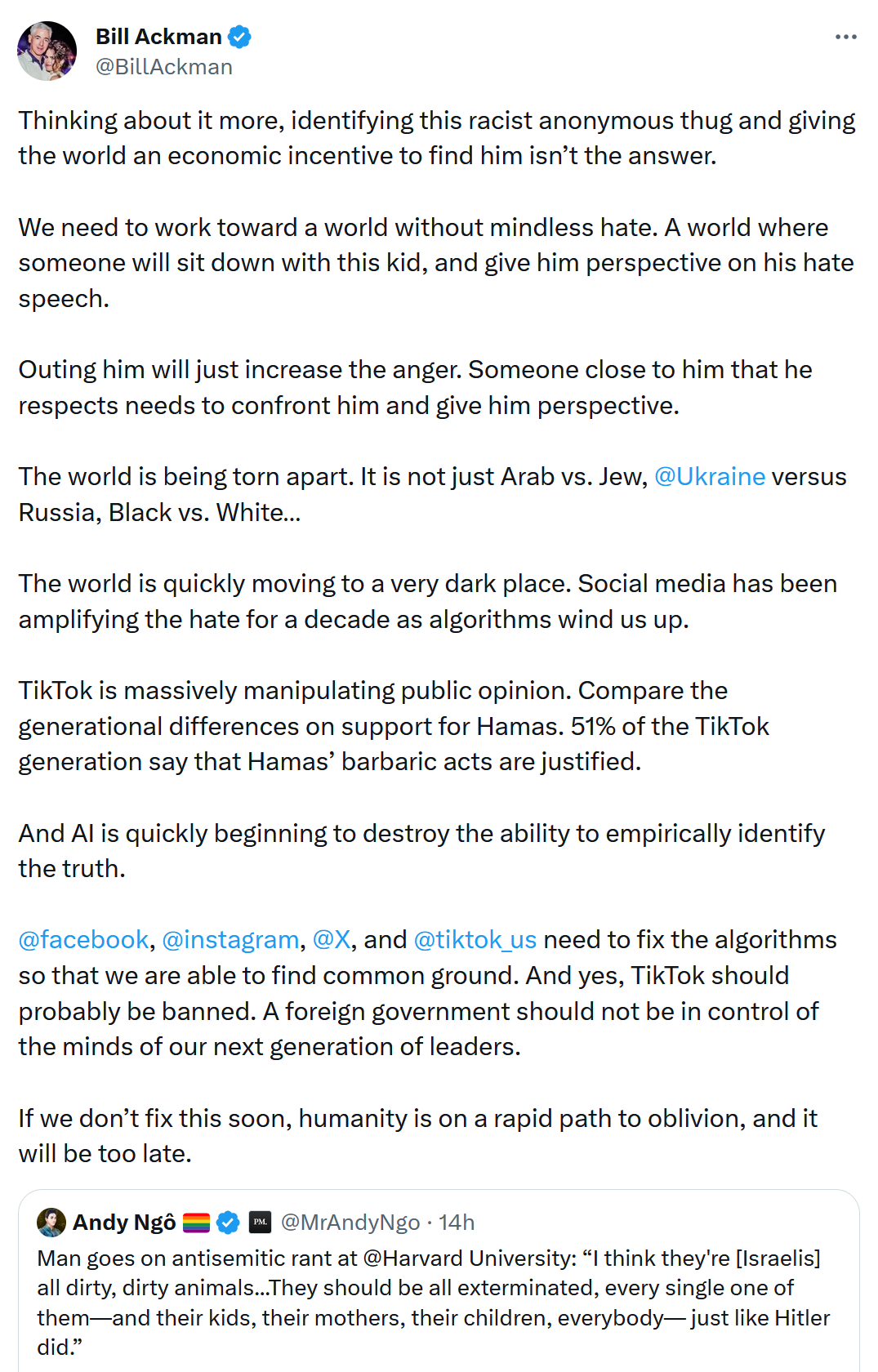 For more on this issue, read this report, " TikTok, ByteDance, and their ties to the Chinese Communist Party," which was submitted in March to Australia's Senate Select Committee on Foreign Interference Through Social Media. Excerpt:
Our submission is motivated by concerns that TikTok (and potentially other platforms subject to authoritarian political leverage) pose risks not only to the data privacy of individual users, but to social cohesion, democratic functioning, and the national security interests of democratic nations including Australia and its partners and allies...

Our research confirms beyond any plausible doubt that TikTok is owned by ByteDance, ByteDance is a PRC company, and ByteDance is subject to all the influence, guidance, and de facto control to which the Chinese Communist Party (CCP, the Party) now subjects all PRC technology companies. We show how the CCP and PRC state agencies (together, the Party-state) have extended their ties into ByteDance to the point that the company can no longer be accurately described as a private enterprise.

These findings draw on previously unexamined sources and contradict many of TikTok's public statements. The most significant findings, in our view, relate to how TikTok's capabilities may be integrated with what China's leader Xi Jinping describes as the Party's "external discourse mechanisms".

TikTok has recently generated attention among politicians and policymakers for its potential use as a data access and surveillance tool, leading to multiple national and state governments banning the app's use on government-issued devices. Mostly missing, however, has been discussion of how TikTok provides Beijing with the latent capability to "weaponize" the platform by suppressing, amplifying and otherwise calibrating narratives in ways that micro-target political constituencies abroad.

TikTok undoubtably possesses the requisite capabilities, and a close examination of Chinese-language sources reveals the Chinese leadership's intent. Our research shows how ByteDance's 10-year development journey tracks with Xi Jinping's efforts to "meticulously build an external discourse mechanism [and] utilize the role of emerging media," as Xi told a "Study Session" of China's top leaders in December 2013.
4) It's my 57th birthday today!
And to celebrate, as I've done every year since I turned 50, I'm running the 24-hour World's Toughest Mudder obstacle race this weekend.
When I first did it, nine days after my 50th birthday, I completed 75 miles and more than 300 obstacles, setting the all-time 50-plus age group record, which stands to this day (though it has been matched by three other guys). Here's a picture of me that day and here are write-ups from my first four WTMs: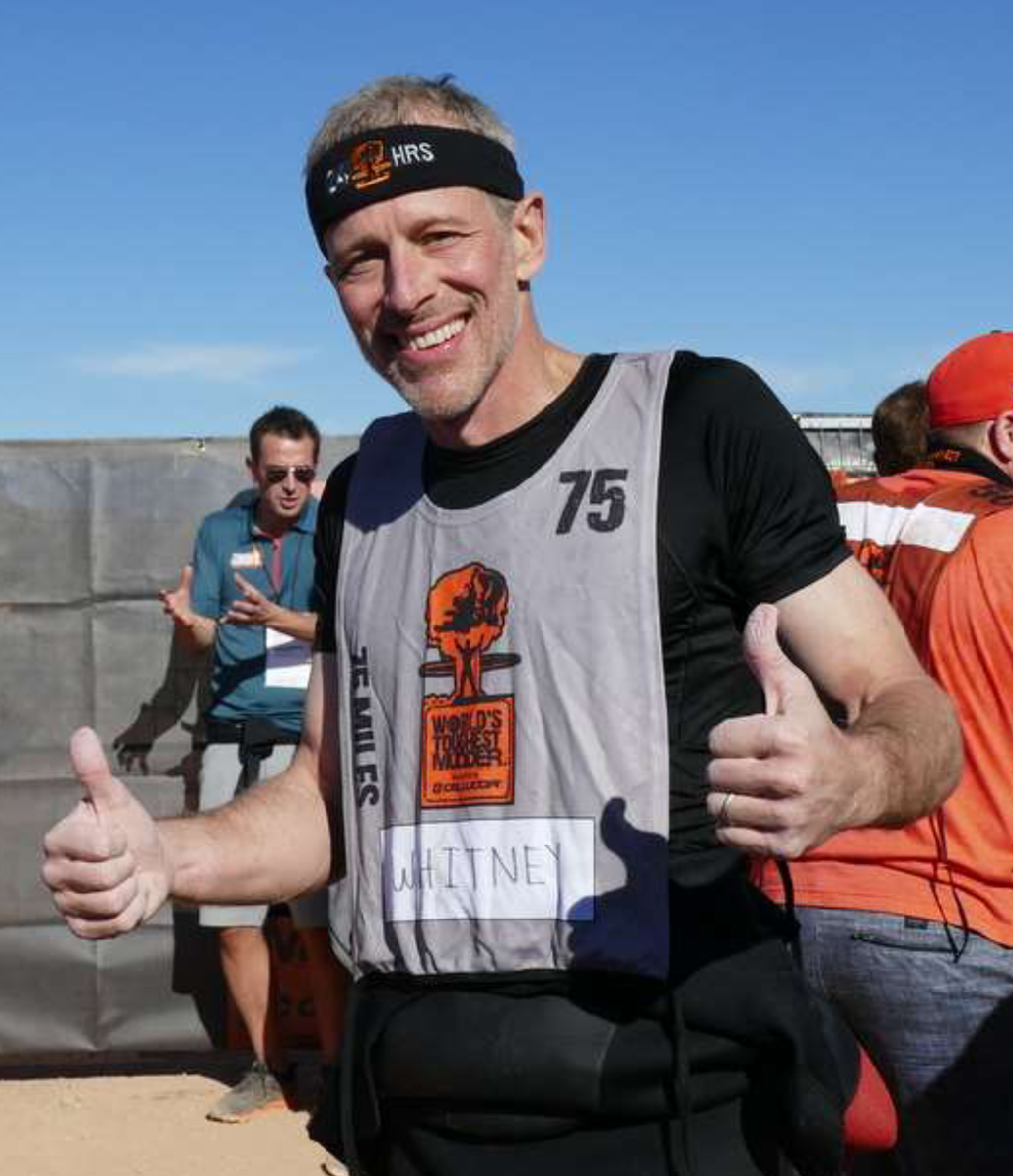 This year's race will take place in Granbury, Texas, an hour outside of Dallas, from noon Saturday to noon Sunday (there's a 90-minute grace period to finish the final lap, so it's actually a 25-hour-and-30-minute race).
The objective is to complete as many five-mile laps as possible, each with 20 obstacles (monkey bars, mud, barbed wire, water, 10,000-volt electric shocks, etc.) as you can see in this course map: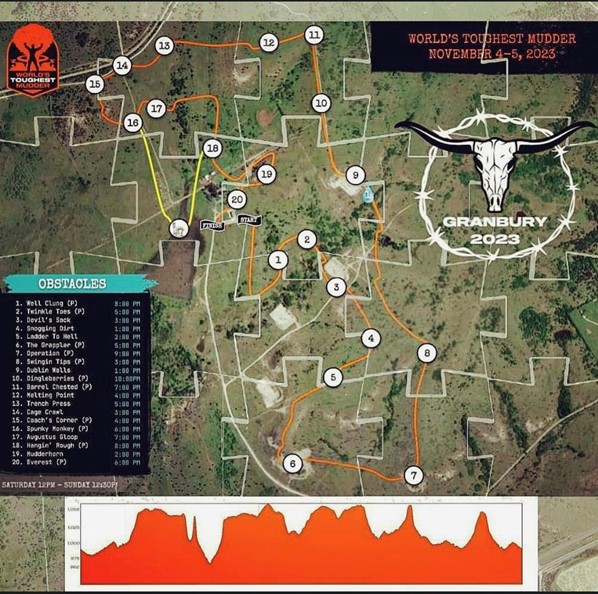 Last year, I jogged two laps and then power-walked the next 20-plus hours, which was good enough for 65 miles and second place in the 55-plus age group.
Honestly, it's a total sufferfest, especially because I'm no longer as fit as I was seven years ago (in my youth!).
By about 10 p.m. – not even halfway through the race, when it gets dark and I'm cold and wet and every part of my body aches – my mind is filled with thoughts of quitting: "Maybe I'll get lucky and injure myself and then I'll have a good reason to quit with my dignity intact..."
I just had a brilliant idea of how you can help me keep going (and give me a wonderful birthday present): sponsor me for every mile that I run by donating to my friend Artem and his unit, who are currently engaged in brutal fighting on the front line in Ukraine (see my October 16 e-mail about their bravery and heroism). They especially need one or two more vehicles/ATVs and night-vision goggles.
If I'm doing it for them, I know I will never quit and keep going to complete every last mile.
To sponsor me, simply send me an e-mail by clicking here and let me know how much you would like to donate per mile and then I'll follow up with you after the race. I hope to do 65 miles again, so $1/mile is $65, $10 is $650, $100 is $6,500, etc. (or you can simply donate a fixed amount on my donation page at www.taps.org/Tilson).
Thank you!
Best regards,
Whitney
P.S. I welcome your feedback at [email protected].