► Earnings results at three of the big advertising conglomerates were bad, but not as bad as feared a few months ago…
We've heard from three of the biggest names in advertising, Omnicom (OMC), Interpublic Group of Companies (IPG), and France's Publicis (PUBGY). While results met or even exceeded Wall Street's expectations for all three, profits were down dramatically year over year. When businesses need to cut operating expenses quickly – as they did when the coronavirus crisis began – one of the fastest ways to slash spending is to cut back on advertising and marketing.
These global conglomerates are roll-ups of once-independent creative agencies – the terrain of TV drama Mad Men – as well as buying organizations that purchase time on TV and radio, or ad space in print and online media. They also have units devoted to public relations and digital advertising – an increasing area of focus which they've bulked up via a flurry of acquisitions in recent years.
Both Interpublic and Publicis reported better-than-expected revenue in the second quarter, with sales at IPG down 13% and Publicis up 3%. Organic revenue growth – a key metric for these companies – excludes the effect of near constant acquisitions and divestitures, as well as currency fluctuations, as all these companies have substantial sales outside their home country. On an organic basis, revenue was down 10% at Interpublic and down 13% at Publicis.
► But the big shocker was Omnicom…
The company reported organic revenue growth of negative 23% versus expectations of negative 12%, and missed consensus revenue estimates by $200 million, or 7%.
This represents a reversal of fortune… Over the past few years, New York-based Interpublic and Omnicom had been putting up industry-leading organic growth, while their European peers struggled. Organic growth at Paris-based Publicis and London-based WPP (WPP) had been negative in recent years… so not only was Omnicom's underperformance versus Publicis a big surprise, but the negative 13% organic growth result at Publicis was a big beat versus expectations of negative 21%. The "less bad" results caused PUBGY shares to soar 11% in the two days following the report.
The big news was that Publicis' turnaround efforts in the U.S. finally seem to be taking hold. The owner of storied agencies Leo Burnett and Saatchi & Saatchi reported organic growth in the U.S. of negative 6%, besting Interpublic's negative 8% and Omnicom's negative 21%. Publicis acquired marketing data firm Epsilon last year to beef up its digital marketing capabilities, and this quarter offers the first sign that Publicis' days of share donation to Omnicom and Interpublic are over.
Outside of the U.S., things looked a little worse… International organic growth was negative 13% at Interpublic – worse than domestic at negative 8%. Europe was clearly the laggard – probably because the entire quarter was hit by the COVID-19 pandemic – whereas things hit a bit later in the U.S.
Publicis reported European organic growth of negative 24%, while Asia was its best region at negative 6%. At Omnicom, Asia also performed similarly to the U.S., down 19%… but Europe was worse at negative 29% and the Middle East and Africa region plummeted 39%.
► With revenues down so much, the advertising giants were quick to focus on the cost side…
Interpublic identified $80 million to $90 million of cost actions in the quarter, including laying off 500 employees. The cuts were more brutal at Omnicom, which laid off 6,100 people and is aiming for $500 million in annual savings from headcount reductions and other cost-saving measures.
Publicis didn't lay off or furlough any employees – perhaps a sign of confidence in its turnaround, or more likely just reflective of the fact it has been in restructuring mode and had already right-sized. The company said its cost base was already down 6% from prior actions, a reduction in business travel, a hiring freeze, and voluntary cuts to executive compensation.
The swift cost action minimized the effect on earnings, although results were still brutal. While Interpublic beat earnings per share ("EPS") expectations by $0.03, results of $0.23 per share were still down 50% from the prior year. Omnicom's as expected EPS of $0.92 represented a 45% decline versus the prior year.
► The biggest takeaway may be for a sector that doesn't even advertise…
Both New York firms highlighted a big reduction in office space as part of their program to pare costs. Interpublic cut 500,000 square feet in the second quarter, about 5% of its global total. Omnicom exited even more space – 1 million square feet.
And it seems these companies are just getting started. As Interpublic Chairman and CEO Michael Roth explained to analysts on the earnings call…
Let me tell you about space, as part of the restructuring we've taken a very serious look at what an office is required and so on. We've taken 500,000 square feet out in terms of the structural changes, in terms of the hit that we already indicated. And there is no question that the use of office will change in the future and we're taking advantage of it. When we talk about positioning IPG for 2021, we're anticipating a change in the footprint of our organization significantly…

Our initial reaction was because of the social distancing we're going to need more space, right, because you're going to need 6 feet apart and so on. In fact, it's the exact opposite, we will stagnate people coming to work, the use of office space and the ability for people to work at home.

We're doing surveys every month in terms of how that's working. And as a result, the 500,000 square foot reduction that was – is part of the structural changes that we're taking, these are permanent changes. These aren't coming back. We're not about to all of a sudden start taking space in terms of the marketplace… I know the real estate people aren't going to like to hear that.
And he made it clear it isn't just a New York issue…
And it's across the world, it's not just New York. I don't want the New York people to go crazy that we took it all out in New York. This is all over the country, all over the world.
► Looking at advertising can offer clues into the health of other industries…
No one would be surprised by the list of sectors that pulled back the most on advertising… All three companies called out travel and hospitality as areas of particular weakness, and both Publicis and Omnicom noted the lack of movie ads. Interpublic also noted weakness in autos and financial services – the latter being a bit of a surprise to me, with housing activity picking up so much in the quarter.
Tech and telecom advertising showed relative strength, and the standout performer for the quarter was health care across the board. Interpublic has the biggest weighting to health care of the big agencies, with over a quarter of its business in the sector.
Omnicom offered a breakdown of how different sectors were performing…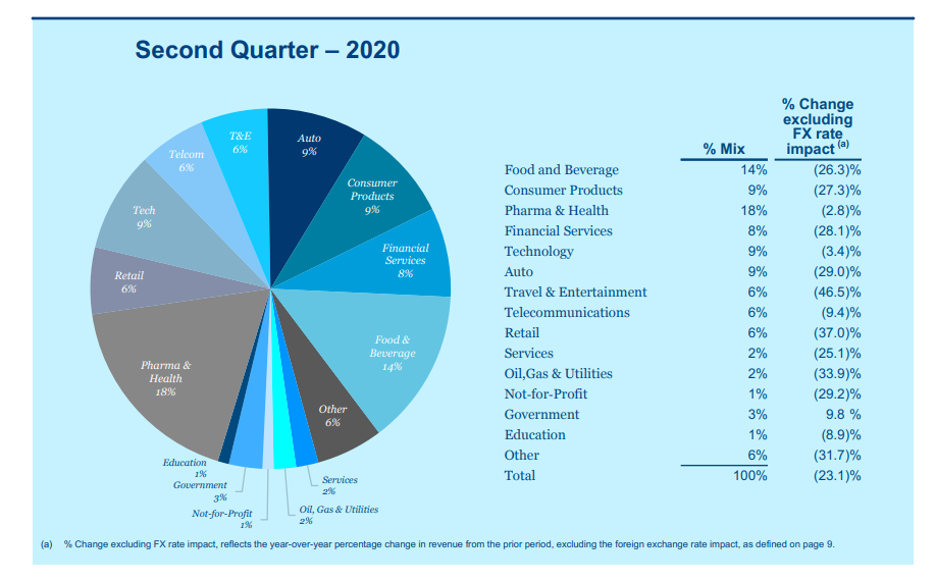 Source: Omnicomgroup.com
► The forward outlook remains hazy for advertising, and it's intertwined with public health outcomes…
While these dismal results came as a bit of a relief to investors and the companies themselves, they aren't out of the woods yet. Last month, WPP's ad-buying unit GroupM predicted U.S. ad spending would fall 13% this year, excluding the seasonal effect of political ads. This is a big revision downward from its December forecast for ad spending to rise 4% in 2020.
While most companies in all sectors have withdrawn formal earnings guidance due to the pandemic, the advertising chiefs were particularly cagey on predicting the future, probably because marketing spend is the first thing to flex up in a better economy just as it is the first thing to get cut in a crisis.
Interpublic's fate is inextricably intertwined with public health outcomes, Chairman and CEO Roth explained…
While our new business pipeline is stronger than it was earlier this year, which would indicate pent-up demand, visibility is still significantly challenged for our clients and for us. Unsurprisingly, the biggest risk to recovery has to do with public health challenges that are beyond our control. As such, while we had initially seen some signs that the second quarter would prove to be the bottom of the economic decline, there are still too many variables in play to make that determination.
Publicis Chairman Arthur Sadoun essentially agreed…
There is no doubt that we will all have to live with the virus and its economic and social consequences for a while. This is creating a high level of uncertainty, and it makes it very difficult to give you a specific guidance for the second half of the year.
Omnicom Chairman and CEO John Wren was the most optimistic that the second quarter would be the trough for his company, but remember that Omnicom drastically underperformed its peers in the period…
We think the worst is behind us with Q2 being the low point for year-over-year revenue declines in 2020. Over the second half, we expect our performance to vary by geography depending on how effective local governments have responded to COVID and in turn in reopening their economies.

Additionally, we expect some industries that have been hit the hardest such as travel and entertainment as well as our event businesses will likely continue to be challenged while other industries, such as retail, food, beverage, autos, as well as our media buying business will likely see improvements.
The takeaway is that advertising spending will be one of the first things to react when the virus gets under control and economies improve. One interesting tidbit from Publicis' report points to just how interconnected and fast-responding advertising is to public health.
In the second quarter, Publicis saw organic growth of negative 23% in France, as the virus hit its home market hard. Neighboring Germany was largely spared by the pandemic, and business there was only down 3%.
► All of these companies have pivoted toward data, but are they bringing a knife to a gunfight?
As I said in the July 21 Empire Financial Daily when discussing the New York Times Co. (NYT), digital advertising has decimated spending on traditional media.
When I first considered examining the advertising giants, I planned to compare their results to those of Facebook (FB), which was supposed to report last night… but the social media titan's release was postponed to tonight because Congress had other plans for CEO Mark Zuckerberg.
But with analysts expecting Facebook revenues to grow 4% in the second quarter, even if they miss, Facebook's performance will surely trounce these agencies that all reported double-digit declines.
While the advertising conglomerates have all made acquisitions to shore up their digital capabilities, Facebook and Alphabet's (GOOGL) Google still capture about two-thirds of digital advertising spend – a number NYU Professor and industry watcher Scott Galloway thinks could grow to 80%. Their dominance of the space is the very reason Congress was so eager to have a chat with the company's chiefs yesterday.
Regarding the agencies, Galloway heretically asserted to attendees at industry journal Adweek's virtual NexTech conference yesterday…
They're really irrelevant at this point. Google gains or loses [the whole industry's market] cap in a 48-hour period now.
He painted a bleak picture for traditional advertising…
Anyone with money is opting out. Advertising is becoming a tax that the poor and the technologically illiterate have to pay and other people are opting out.
As companies focus less on big picture brand marketing – think of Verizon's (VZ) "Can You Hear Me Now?" or McDonald's (MCD) "I'm Lovin' It" campaigns – and more on transactional marketing, data takes precedence over creativity, the traditional core competency of the ad agencies.
With their reams of consumer data collected from browsing and posts, Google and Facebook know who you are and what you want right now. And with revenues under pressure due to the pandemic, companies are more focused than ever in making the sale. Direct-response ads – where the tech giants excel – are the strongest part of the ad market right now –they're designed to translate immediately into new sales or customers.
► The agencies have other problems besides Facebook and Google…
We've been seeing a trend of corporations in-sourcing advertising and marketing departments. Consumer-products giant Procter & Gamble (PG) – traditionally a huge advertiser – has taken a lead in this practice, which is decreasing the addressable market for the agencies.
And despite an end market under assault from tech giants and in-sourcing, all the big consulting companies like Deloitte and Accenture (ACN) have been aggressively making acquisitions and poaching employees to bulk up their advertising services.
Industry dynamics leave me bearish on this corner of the market, although I've made money buying these companies when the ad cycle is about to take off or a particular company is in turnaround.
Because of the uphill climb they have from increasing competition, these companies are best bought at the cusp or beginning of an economic expansionary period. I don't think we're there yet… but I'll keep you updated.
► A reader shares a touching story of how a dating app has improved his life in today's mailbag…
Do you find yourself watching fewer ads than you used to because you're using a DVR or paying for premium ad-free streaming video? Have you fallen prey to transactional direct-response advertising and bought something off Facebook or Instagram lately? Send an e-mail to [email protected].
► "Jen and I met on eHarmony shortly after we had both joined. We are not the perfect fit the advertising would suggest. In fact, we often talk about how totally different we are. But we both enjoy traveling, exploring new places, and boating. That you see, is what has kept us together for more than a year.
"We met when I was starting a 15 month 5,600 mile trip called The Great Loop and have lived together 24X7 on a 41-foot boat, traveling the East Coast last spring, summer in Canada, fall down the central rivers of the US, winter around Florida and now in the spring and summer back up the East Coast for the last year.
"Most people we meet think we are a couple, and in many ways we are. But we are just platonic best friends. How is that possible? Darned if know but it has worked out well for both of us. We are 74 and 64 years old and had both previously been single for 20+ years. No matter what may come, we both know we will be friends." – Dalton W.
Regards,
Berna Barshay
July 30, 2020