► Work from home ('WFH') isn't without its challenges for employers…
High-profile tech giants like Salesforce (CRM) and Alphabet's (GOOGL) Google have closed their offices for the remainder of 2020. Twitter (TWTR) was the first to make the bold move to institute WFH permanently and was later joined by Square (SQ) and Shopify (SHOP), among others.
Despite these headline-grabbing corporate embraces of distributed, decentralized working, not every company is comfortable with WFH on anything approaching a permanent basis. On Friday, the Wall Street Journal questioned if all this remote working is truly sustainable…
Now, as the work-from-home experiment stretches on, some cracks are starting to emerge. Projects take longer. Training is tougher. Hiring and integrating new employees, more complicated.

Some employers say their workers appear less connected and bosses fear that younger professionals aren't developing at the same rate as they would in offices, sitting next to colleagues and absorbing how they do their jobs.

Collaboration between employees is a top concern…
Knowledge sector jobs that can be technically done from home often produce deliverables that suffer when created in isolation. Projects that require creativity (like coming up with an ad campaign or a new product) or problem-solving (like engineering work) might be hampered by the lack of brainstorming that happens when people are in a room together.
One tech startup explained to the Journal how everything took longer…
In San Francisco, startup Chef Robotics recently missed a key product deadline by a month, hampered by the challenges of integrating and testing software and hardware with its engineers scattered across the Bay Area. Pre-pandemic, they all collaborated in one space.

Problems that took an hour to solve in the office stretched out for a day when workers were remote, said Chief Executive Rajat Bhageria. "That's just a logistical nightmare," he said.
Another problem with WFH is that all communication becomes formal and scheduled, and moments of spontaneous inspiration are lost. When the Keurig in your kitchen becomes the office coffee machine, employees lose the opportunity for chance encounters over the proverbial water cooler.
This was one of the key justifications for one of the most controversial pullbacks on WFH in history. Back in 2013 at the beginning of her CEO tenure, Marissa Mayer famously rescinded Yahoo's remote work policy and recalled hundreds of workers back to the office. The internal memo announcing the change cited these moments of spontaneous interaction, as well as productivity concerns…
Some of the best decisions and insights come from hallway and cafeteria discussions, meeting new people, and impromptu team meetings… Speed and quality are often sacrificed when we work from home.

Tenure probably plays a role in determining the productivity risk to WFH…
Getting new or junior employees up-to-speed was a repeated concern expressed by executives speaking to the Journal. As Stifel Financial (SF) CEO Ronald J. Kruszewski explained…
I am concerned that we would somehow believe that we can basically take kids from college, put them in front of Zoom, and think that three years from now, they'll be every bit as productive as they would have had they had the personal interaction.
However, more experienced employees may find their productivity increases at home. In the age of open plan offices, many workers will find home quieter, and avoid being interrupted by colleagues stopping by to discuss what really could have been handled in an e-mail.
Since changing locations and getting set up with both childcare and a quiet space, I have felt way more productive than I did in recent jobs where I was sharing close quarters with my colleagues. I could relate to one reader's comment to the Journal article…
I am an analyst. I prefer working from home. The lack of disruption allows me to be more productive. I will also admit that I'm a seasoned professional with years of operational knowledge in my business that was acquired by being present in the place of business.

Of course, many employees experimenting with WFH have neither childcare nor space…
My colleague Whitney Tilson coincidentally sent me this picture last night. It indeed reminded me of the situation I faced this spring when I was working in my tiny Manhattan apartment and school was closed…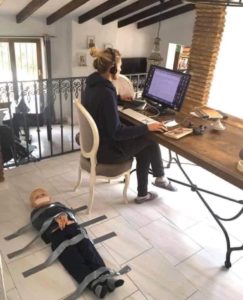 While I – and most parents of young children – haven't yet resorted to the productivity enhancement technique pictured above, it has probably crossed the minds of many people…
With schools, camps, and daycare centers closed across the country, juggling work with home schooling and the care of young children has been a huge burden for employees suddenly thrown into WFH.
The increased burden of the additional childcare, eldercare, and housework associated with the COVID-19 crisis has proved extra stressful for women in the workforce. A recent study in the academic journal Covid Economics found that among married couples in which both spouses work full-time, women provide close to 70% of the childcare that occurs during standard working hours.
According to a recent article in the New York Times…
Parents in the United States have nearly doubled the time they were spending on education and household tasks before the coronavirus outbreak, to 59 hours per week from 30, with mothers spending 15 hours more on average than fathers, according to a report from Boston Consulting Group.
Many working mothers without childcare – myself included last spring – report beginning their work in the early evening and completing it well after midnight on a regular basis.

For now at least, it seems worker productivity hasn't taken a hit from WFH…
After completing internal studies on remote productivity, Facebook (FB) said it envisions up to half of employees working remotely within five to 10 years. Additionally, the HR practice at research firm Gartner surveyed employers, and most haven't seen a drop in productivity during WFH, either.
Data from Microsoft Teams indicates that people are working during the time they used to devote to commuting. According to the Journal…
Jared Spataro, corporate vice president of Microsoft 365, a division that includes Teams and Office, says Microsoft Teams saw a 15% to 23% increase in usage between 8 a.m. and 9 a.m. A similar rise occurred between 6 p.m. and 8 p.m.
Workers also self-report improved productivity during WFH. According to a Harris Poll commissioned by software integration firm Zapier, 65% of workers feel their productivity has increased at home.
This extra productivity may come from working more overall hours. In the same survey, 77% of respondents said they were finding new times to be productive outside of the traditional 9-to-5 slot. The number of weekend chats on Microsoft Teams has increased by more than 200% during COVID-19 WFH.

The lack of separation between home and work has added another WFH risk: burnout…
According to a survey conducted by anonymous professional network Blind, the number of workers reporting burnout was 61% in February pre-COVID-19… but had risen to 73% by May. By job function, the most stressed out professionals worked in marketing and communications or finance and accounting – both functions reported a more than 80% burnout rate. The most cited reason for strain was "no separation between 'work' and 'life'."
Anecdotal evidence of round-the-clock working abounds, such as this comment on the Journal article…
In our firm productivity increased with work from home in some divisions. Especially in IT there is a big uptick in productivity… The investments in technology in [the] last several years have shown value during this crisis.

We are in fact seeing many people putting [in] too many hours of work. This is not sustainable and [we] don't want employee burnout. And usually the top performers tend to overwork and not maintain proper boundaries of work time and personal time.
A high unemployment rate and the fear of job loss may be contributing to the increased hours. As workers become more secure that they will hold on to their job – or the prospect of finding a new one becomes less daunting – we may find what we're witnessing now is a burst of "panic productivity."

The future of work is probably a hybrid of in-office and WFH…
While fears of lost productivity with WFH may have been misplaced, certain creative or collaborative pursuits undoubtedly suffer when done in isolation or virtually. Sometimes, you simply can't replace getting a bunch of people together in a room and seeing what happens.
And while independent work may be done at an even faster clip when working at home, training, mentoring, and developing the workers and leaders of the future is nearly impossible to do remotely.
On the other hand, tons of time is wasted on commuting… not to mention office politics and gossip. The great COVID-19 WFH experiment indicates that when people save time on things they don't like doing, they will reallocate that found time to performing their jobs.
So, to maximize not only productivity – but also collaboration and culture – the answer may be a hybrid of WFH and office work. One reader comment in the Journal presented a great vision for creating a hybrid work structure that would meet both employer and employee needs…
I would think a combination of working at the office and working from home will benefit the most stakeholders involved within each individual company. Not everyone is part of the same team and so can have designated meeting days on site. Not only does this decrease needing more office space for the company but the transportation to and from work is cut greatly.

During the days on site the members of the team can receive their assignments and come back to the next scheduled meeting day ready to go. If a team player is having problems other communication methods still exist so will be utilized if needed. This is a huge chance for the corporations in this country to re-invent the workplace so that all… stakeholders benefit.
A hybrid scenario similar to the one outlined above combining a "best of both worlds" approach could be a win-win. A set-up where people come together for collaborative functions like brainstorming new initiatives, training, and team building – but don't come in when they don't have to – would allow workers maximum autonomy for maintaining work-life balance. In this hybrid world, employers save on rent… but without sacrificing productivity, creativity, or culture.

In the mailbag, one reader was very prescient by offering comments on WFH… and two readers have general questions about investing…
If you're working from home, are you ready to make the arrangement permanent or are you itching to get back to the office? What are your favorite and least favorite parts of WFH? Does a hybrid blend of work from home and office sound like a good plan to you? Send an e-mail to [email protected].

"Be prepared for the end of remote working. This is not going to last. For a lot of people, work is their social life. They will not tolerate just being cooped up at home. Nobody looks good on those remote cameras. Appearances are unflattering. Management does not trust remote work because they lose active productivity measures. What exactly are employees doing on their dime? This is a massive security risk. Important business information is being conveyed through a third-party network system.
"Let's consider what companies will institute if they go ahead with remote work. Always-on cameras with continual logon to a corporate network. Keyloggers to ensure business-related system use. Outside distractions will be held against you.
"Think of having to create a private space that is apart from your everyday life in your own home just to work from home. Think of the required intrusions to get management comfortable. No, remote work won't last." – M.P.

"Good morning. I began to trade stocks three months ago. At that time, I owned 120 stocks. I cut those down to 50 stocks, which includes the ones you recommend. Are 50 stocks too many?" – Art G.
Berna comment: When I worked at hedge funds, we used the metric that an experienced analyst, working full-time, could stay on top of 15 to 20 stocks. Using this rule of thumb, 50 is probably too many.
While there's no definitive minimum number of stocks that a portfolio needs to be properly diversified, 20 to 30 stocks will probably do it… although they can't all be clustered in one or two sectors.

"Hi Berna, Thanks for your informative letters. Can you recommend books for young investors (a tween)? Can you also discuss portfolio management – it's something newsletters rarely address." – Jeff L.
Berna comment: Thanks for the feedback, Jeff. Please see the above comment on portfolio diversification – an aspect of portfolio management. I'll try to incorporate more thoughts on portfolio management in future newsletters.
As far as book recommendations, I turned to our youngest analyst at Empire Financial Research, Alex Griese, to get some recommendations for a young person interested in investing.
He recommends value investing classic The Intelligent Investor by Benjamin Graham, and Principles: Life & Work by Ray Dalio, the founder of Bridgewater – the largest hedge fund in the world. I'm familiar with these two books and think they're great choices. Alex also recommends The Most Important Thing: Uncommon Sense for the Thoughtful Investor by Howard Marks. I'm not personally familiar with this one, but I plan to check it out.
Regards,
Berna Barshay
July 27, 2020