► Over the holidays, it felt like my social media feeds were full of people traveling by air...
That prompted me to check how much airline usage levels had rebounded. And my hunch was right – air traffic has meaningfully improved since the holiday period began.
Looking at Transportation Security Administration ("TSA") checkpoint passenger crossings on a year-over-year basis, after initially dropping by over 90% during spring lockdowns, traffic rebounded... and the decline in passengers incrementally improved to the point where it was down only about 70% in the summer.
Many folks expected travel volumes to take a step back after the summer ended, as schools restarted and colder weather was expected to bring COVID-19 flare-ups. And yet, air passenger counts more or less went sideways with perhaps a touch of marginal improvement until we hit Thanksgiving, when traffic really took off.
Prior to Thanksgiving, the day with the lowest year-over-year drop in travelers was September 4 – the Friday of Labor Day weekend – when checkpoint data registered a decline of 56%. Between mid-March and the end of October, we saw only five days when passenger counts were down less than 60%.
But since December 18 (one week before Christmas) through yesterday, TSA traffic has been down less than 60% most of the time. On December 23, TSA checkpoint totals registered their lowest decline since March 14 – a drop of only 39%.
The average drop in TSA traffic of 55% since December 18 is a big step up versus activity prior to the holidays... From March 1 to November 20 (the Friday before Thanksgiving), TSA traffic was down 74%.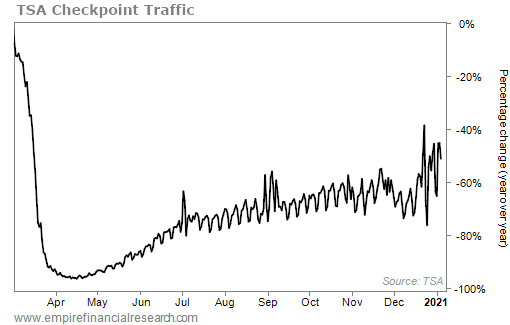 As people return from the holidays, I would expect the TSA numbers to drop closer to the levels of October and early November (down mid-60s), but there's no doubt that the past three weeks have been the best for the airlines since the pandemic started.

Despite the very recent uptick in activity, a new report estimates that the pandemic drove passenger traffic down to 1999 levels – wiping out more than 20 years of aviation industry growth...
Travel data and analytics firm Cirium estimates that global passenger traffic was down 67% in 2020. The drop in travelers led to an estimated 49% reduction in flights, with airlines collectively operating 16.8 million flights in 2020 versus 33.2 million in 2019.
When looking at global traffic, it's striking to see how much air traffic's recovery has been dominated by the U.S. and China – where air travel proved more resilient than in other countries. In China, this is because the pandemic has been under control for more than six months. In the U.S., it's been resilient due to people's willingness to travel despite the pandemic.
In 2019, three of the world's busiest airports were in the U.S. – Atlanta (No. 1), Los Angeles (No. 3), and Chicago (No. 6). Two were in China – Beijing (No. 2) and Shanghai (No. 9). In 2020, all of top 10 busiest airports were in the U.S. or China, with seven in the U.S. and three in China. Joining ATL, LAX, and ORD on the list from the U.S. were airports in Dallas, Denver, Charlotte, and Seattle.
For better or worse, once COVID-19 fatigue set in, Americans stepped up their travel... and the increase in travel over the holidays despite the rise in COVID-19 cases, hospitalizations, and deaths indicates that pandemic flare-ups aren't affecting U.S. air travel consumption as dramatically as they were earlier in the pandemic.
In China, neither Beijing nor Shanghai made the top 10 list in 2020, despite Beijing being the second-busiest airport in the world in 2019.
Instead, the three cities on the top 10 list from China were Guangzhou, Chengdu, and Shenzhen. The high activity at these three airports relative to that at the international gateways of Beijing and Shanghai – as well as the absence of New York's international gateway airport JFK from the U.S. top seven – underscore how much air travel became a domestic affair in 2020.
In fact, Cirium measured the 2020 international flight count at down 68%, versus U.S. domestic flights declining a much lower 40%.

Despite the relatively high propensity of Americans to travel domestically by air during a pandemic, several airlines are a long way from being in the black...
Even if the high levels of activity from the past three holiday weeks were to persist – which is unlikely – several airlines would still be in hot water. Even with capacity reductions, down "just" 50% isn't good enough to cover the high-fixed-cost bases of these companies... especially when lucrative, international, long-haul flights are still lagging the recovery meaningfully and the last-minute, premium-priced, and disproportionately profitable business travel segment is still largely dormant.
More than 40 airlines ceased or suspended operations in 2020, and experts expect more to join that list in 2021.
We last officially heard from the airlines in mid-to-late October, admittedly right before passenger activity picked up somewhat... but things remained bleak on those third quarter calls. For example, Southwest Airlines (LUV) CEO Gary Kelly predicted that he didn't expect corporate travel to return to pre-COVID levels for 10 years, and expected corporate travel would exit 2021 down 50% to 60% from 2019 levels.
Even at a no-frills, low-cost carrier like Southwest, business travelers pack an outsized punch in terms of revenues and profits. At a business-traveler-focused global carrier like United Airlines (UAL) or Delta Air Lines (DAL), in normal times, business passengers – many of them taking long-haul, international flights – can make up as much as 75% of profits.
The weakness in business travel has prompted airlines to go hard after the leisure traveler. At Southwest, that means altering routes and adding new destinations in Florida. Similarly, at United, recent strategic moves include adding service to beaches and mountains at competitive prices.
Offering low prices is another way that airlines have been going after the leisure traveler. Even with capacity greatly reduced, to fill planes, many carriers got very aggressive with pricing – even for the holiday period, which typically sees peak rates.
In August and September, for example, Alaska Air (ALK) ran 2-for-1 specials for flights running through the mid-December, including the Thanksgiving holiday. Given its policy of leaving the middle seat empty, two travelers could occupy an entire three-seat row for the cost of one ticket. The airline also ran specials in which discounts were determined by how many touchdowns Russell Wilson, the quarterback of the NFL's Seattle Seahawks, made over a given weekend.
Along with offering sales, airlines have been scrapping unpopular – but lucrative – fees for ticket changes in order to attract leisure customers.
However, last-minute bookings over the holidays did show signs of firming pricing, which was a green shoot for the industry.

I continue to believe that it'll be hard for the largest carriers to turn a profit without a major comeback in business travel...
Wall Street agrees with me and is expecting full-year 2021 losses to improve but still measure in the billions of dollars at United and American Airlines (AAL). On the other hand, low-cost carrier Southwest is expected to turn a profit in 2021... and Alaska and Spirit Airlines (SAVE), with their leisure focus dating to before the pandemic, may come close.
Bulls remain optimistic that the industry could return to something closer to normal in the second half of the year, as COVID-19 vaccines begin to reach a large percentage of the overall population.
To get them to the second half when demand levels may recover further, carriers were awarded $15 billion in payroll support in the most recent stimulus package. The terms of the deal require the airlines to call back more than 30,000 workers who were furloughed last fall after the money from the first $25 billion aid package ran out.
The current deal also requires that employees be kept on staff through March 31, which doesn't seem like far enough out to me to expect most airlines to stand on their own. We can likely expect arguments and lobbying for a third rescue package to start soon.
The airlines acknowledge the fix is temporary, with United management admitting to employees in a late December memo...
The truth is, we just don't see anything in the data that shows a huge difference in bookings over the next few months. That is why we expect the recall will be temporary.
It will be interesting to see what happens when United and American run out of this round of cash. By that time, it's possible that competitors like Southwest and Delta may turn cash-flow positive or come close to it.
I've long thought that the government aid given to the airlines should either come in the form of loans, or that the government should be getting equity shares, calls, or warrants in the airlines in exchange for the aid. Otherwise we're applying capitalism to their earnings – by letting the shareholders keep them – while applying socialism to their losses – since we let the government/taxpayers absorb them.
The counterargument to my view is that the airlines are of strategic and competitive necessity to the country, and they couldn't have been expected to plan for a pandemic such as COVID-19... so their troubles aren't their fault. This thesis has prevailed so far in terms of supporting them, but it will be a much more difficult argument to make in a few months if several airlines are self-sufficient from a cash perspective at prevailing demand levels while others are demanding a third round of aid.
With the business traveler so weak, all the airlines are fighting over the leisure customer, including the price-sensitive ones. For higher-cost carriers, they may win revenue, but they certainly won't win profits this way.
American and United – with their high business travel exposure, historical reliance on international routes, high cost basis, and heavy debt loads – have underperformed the airline group since the COVID-19 crisis began. With another year of red ink ahead – and uncertainty over when the government will run out of patience and actually demand something in exchange for its cash – I wouldn't go bottom-fishing in this sector... and would avoid both AAL and UAL shares.
I'm generally not a huge fan of being long airlines – even in better times – but if you want to own one, I would pick among the ones that have historically structured their businesses – and their cost structures – toward catering to budget-conscious leisure travelers: either Spirit or Southwest.

In the mailbag, more letters reacting to Disney and the streaming wars, as well as my year-end essay...
If you flew over the holidays, how was your experience? For those that aren't flying right now, when do you plan to resume travel? Is there one airline you prefer – either from a customer or investor perspective? Let me know by sending an e-mail to [email protected].

"Hi, I am 80 years a truly fanatic movie fan. I have Netflix (NFLX) and their stock, Amazon Prime, and HBO forever. So, I have plenty. I paid to see Tenet, which disappointed on a TV screen. Why on earth would I ever sign up for Disney+ (DIS)? The stock may be all right, but I have all the tech stocks to keep me in the game. However, Facebook (FB) and Google (GOOGL) need to be broken up for the good of all of us!" – Judyth R.

"Hi Berna, I am reading a lot about China and its influence over American media. I have read that China owns 57% of Disney. It is very difficult to sort through all the information and disinformation out there. I have also read on CNBC that Disney sought approval from China to purchase Fox News. I was wondering what your take is on this and are we supporting a communist country by investing in Disney?" – Mike S.
Berna comment: Mike, you don't have to worry about supporting China if you own Disney. China does not own 57%. The largest shareholder of Disney is Vanguard Group, which is known for its index funds. It has an 8% stake.
Disney primarily had to get approval for the deal from U.S. governmental agencies, including the Federal Trade Commission ("FTC"), the Department of Justice ("DOJ"), and the Federal Communications Commission ("FCC"). Chinese regulators did have to approve the merger to ensure continued access into their film market, the second-largest in the world. Disney also has a theme park in Shanghai. Similarly, the European Union had to approve the Disney purchase of Fox's entertainment assets, since both entities had substantial operations there as well.
Fox retained its ownership in Fox News after selling the other assets to Disney, and its largest shareholder is American institutional fund manager, Dodge & Cox. Disney never considered buying Fox News as it already owns a substantial news organization with its ABC Network.

"Your mother sounds like a great lady, Berna. It might not get easier without her, but she would be proud of the work you do in educating us and protecting us from bad investments. Take some time to still talk with her." – David C.
Berna comment: David, she was... And thank you for the kind words!

"Hi Berna, Thank you for your honesty in discussing your good and bad picks this year. This is a testimony, not only to your good character, but also investment skill. No one gets them all right.
"Unfortunately, I took your Disney call to heart and missed that one. It was my fault; I should have worked out my own opinion and was too cheap to buy at $100. Fortunately, I was able to sell some puts at the price I wanted.
"I really admire your intelligence, and insight. I look forward to your articles every week." – Alex V.
Berna comment: Alex, thank you... And apologies for initially leading you astray with Disney. I'm glad you were able to turn the trade around!
Regards,
Berna Barshay
January 5, 2020