► Last Friday, shares of Gap (GPS) soared...
The stock was up 19% on the news that the specialty retailer had inked a 10-year deal with music mogul Kanye West.
Originally a hip-hop artist and producer, West has branched out into many successful entrepreneurial ventures in recent years. The deal tacked more than $700 million of market cap onto the beleaguered retailer, whose shares are down 30% this year... and before the deal's announcement, were off around 75% since 2015.
Gap's namesake apparel chain, which struck the deal with West, accounted for 28% of overall sales last year. The retailer's largest asset is its lower-priced Old Navy chain, which makes up almost 50% of sales. Upmarket apparel seller Banana Republic contributes about 15% of sales, and athleisure chain Athleta makes up the bulk of the remaining 7% of sales – which also includes the high-end contemporary fashion boutique Intermix.
► The deal with West took the market by surprise...
It comes after Gap bailed on its proposed spinoff of Old Navy in January, a move that was announced in February 2019. Decreasing mall traffic, increasing competition, and the growth of apparel e-commerce have weighed on sales at the Gap and Banana Republic brands, which both had been closing locations since 2015.
Old Navy had been a relative star in the portfolio, with rising same-store sales and modest store unit growth over the same period. Stores in outdoor strip mall centers and downtown locations had helped the brand, since traffic held up better to these areas. Old Navy also performed better because of its strong e-commerce operations and the lower prices and high perceived value of its family fashion staples.
Gap hoped that separating Old Navy as an independent entity would allow the higher-performing unit to enjoy multiple expansion, reflecting its superior prospects versus its sister companies. The corporate parent also hoped that once broken up, the sum of the company's parts would be higher with an unencumbered Old Navy in the mix.
But this piece of financial engineering was announced perhaps a year too late. For 2019, Old Navy reported negative same store-sales for the first time since 2011, with competition from off-price retailers such TJX Companies' (TJX) TJ Maxx, fast fashion outlets like H&M (HNNMY), and Amazon's (AMZN) Amazon Fashion eating away at its growth.
In a January statement, Gap's then interim president and CEO Robert Fisher explained...
While the objectives of the separation remain relevant, our board of directors has concluded that the cost and complexity of splitting into two companies, combined with softer business performance, limited our ability to create appropriate value from separation.
With financial engineering off the table, Gap needed a backup plan... and fast.
► West's fashion empire has been even more profitable than his music one...
While he may be best known for selling more than 140 million albums and winning 21 Grammys, West has had a lucrative second career as a fashion designer. He first collaborated with Nike (NKE) and Louis Vuitton before his Yeezy brand signed a landmark deal with German athletic giant Adidas (ADDYY) in 2013.
When Forbes coronated West a billionaire this past April, it noted that Yeezy's challenge to Nike's iconic Air Jordan franchise is "one of the great retail stories of the century."
While annual Yeezy sales are a closely held state secret at Adidas, Forbes estimated 2019 sales at $1.3 billion. While Adidas produces, markets, and distributes Yeezy sneakers, West retains full ownership of the brand – a critical factor in his ability to sign the deal with Gap. After all, Adidas is also in the apparel business.
Adidas pays West's Yeezy a royalty on each pair of shoes sold. While the royalty rate isn't disclosed, Forbes estimated it at 11%, which at $1.3 billion of sales... would mean $140 million in revenue to West's company.
To put this in perspective, last year's highest-earning artist, Taylor Swift, earned $185 million, with the lion's share coming from touring. West earns 75% of this number before recording a single line, stepping on to any stage, or cashing a single check from streaming platform Spotify Technology (SPOT).
The enduring popularity of Yeezy sneakers has been enhanced by their scarcity. Adidas strictly limits the number of Yeezys produced in any run (usually between 25,000 and 50,000 pairs) and allocates them only to top retailers. The shoes – which typically retail between $200 and $400 – immediately sell out and can fetch multiples of suggested retail in the secondary market, often years after their release.
The Yeezy appeal is global. Last year, when doing leg work on Adidas, I spoke to several retailers operating in major cities in mainland China who told me that Yeezys were driving their Adidas business. The Yeezy Boost 350 remains one of the most popular models. On sneaker trading site StockX, this February 2017 release recently traded at $400, versus its original store price of $220...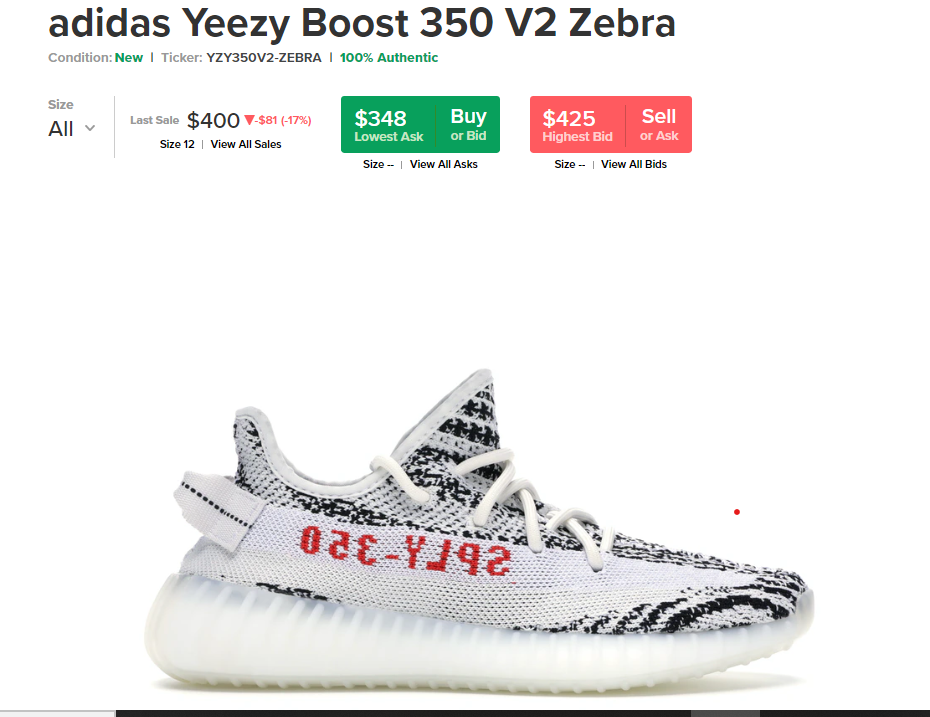 Source: StockX
► Gap is hoping lightning can strike twice with West...
In Friday's announcement, Gap outlined plans for a new Yeezy Gap apparel line due to hit stores in the first half of 2021. The deal's initial length is 10 years, with a reported option to renew for another five – an exceptionally long duration for a designer collaboration. According to the release...
Under West's creative direction, the Yeezy design studio will develop the new line to deliver modern, elevated basics for men, women and kids at accessible price points, with the creative process just getting underway. Additionally, West's design vision will extend to unique Yeezy Gap expressions in Gap stores and digital channels over time.
As with his Adidas deal, West will retain total ownership of Yeezy, and will receive a royalty. It's possible the Gap royalty will be below the rumored 11% with Adidas because apparel has lower margins than athletic footwear... but it's also possible this rate will be higher, since West is a proven entity this time around.
In addition to whatever royalty payments he receives, West will receive 8.5 million warrants to buy GPS shares. The strike price for half will be Thursday's closing price of $10.16, and the other half will have a strike price of $25 – a price GPS shares last hit in early 2019.
For the warrants to vest, the clothing needs to sell. One-third of the options vest for West when annual sales reach $250 million, then additional one-third tranches vest at $450 million and $700 million in annual sales.
Gap clearly has great expectations for this deal... One anonymous insider told the New York Times that the company is hoping for $1 billion in annual sales from Yeezy Gap, which is a huge number relative to total sales of $4.6 billion for the Gap chain last year.
Not only does the deal represent an opportunity for West to double his fortune and fulfill long-articulated ambitions to increase accessibility to his fashions, but it's also an incredible personal turn of events for West. He worked at a Gap store in his teens, says teachers scolded him for sketching sneakers in his notebook during school, and told New York Magazine in 2015 that he would "like to be the Steve Jobs of the Gap."
Over the weekend, the Chicago native left a thank you note to fans hanging over the Gap store in the famed Magnificent Mile shopping district: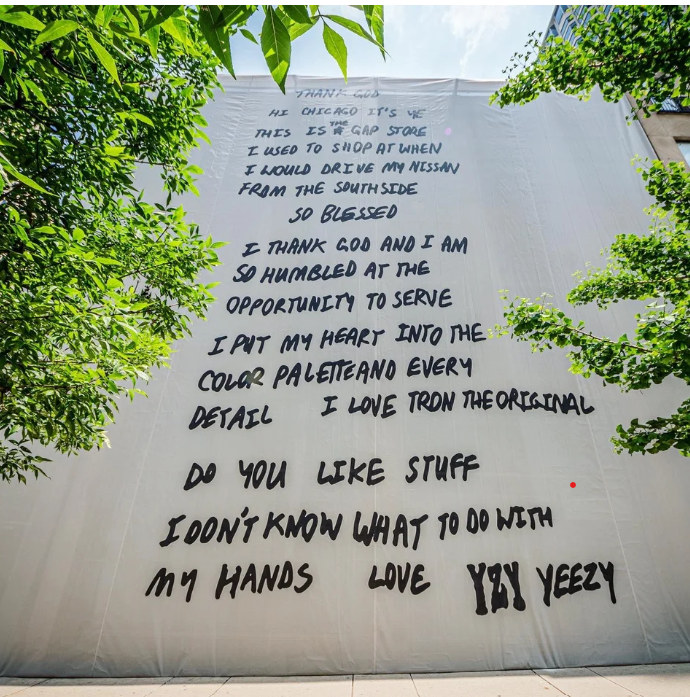 Source: Reddit
► Another billion-dollar business deal all in the family this morning...
Before the ink even dried on the Gap deal, cosmetics maker Coty (COTY) this morning announced that it's paying $200 million for a 20% stake in KKW, the beauty brand founded by Kanye's wife and reality star Kim Kardashian West. The news sent shares up more than 10%... and the deal comes just months after Coty inked a $600 million deal with Kim's sister Kylie, for a majority stake in her cosmetics company.
The announcement of deals with both halves of the power couple happening in such swift succession and garnering such strong positive market reactions are a testament not only to the market influence of this particular pair of celebrities... but the wide corporate and investor interest in celebrity influencer culture overall. After its success with West, last year Adidas followed up with a deal with global superstar Beyoncé. Also in 2019, Louis Vuitton inked a deal with singer Rihanna.
► The Gap was a powerhouse in the 1990s, selling khakis and T-shirts to the masses...
Since then, it has lost its appeal with the younger generations. Fashion moved away from the middle of the road, clean cut, preppy-light fashions Gap made its name in. Youth fashion today is dominated instead by streetwear – clothes that take their inspiration from the worlds of sports and music.
Since the '90s, competition for youth apparel has exploded – in the form of fast fashion retailers like H&M, Inditex's (IDEXY) Zara, Forever 21, and Fast Retailing's (FRCOY) Uniqlo. Also joining the fray were off-price stores and internet-only upstarts, like ASOS (ASOMY) and Revolve (RVLV). Thrift stores have also grown in popularity with younger cohorts. But perhaps the Gap chain's biggest competition came from itself... Much of Old Navy's success came from offering similar fashions as the Gap, but at a much lower price.
Gap desperately needs to appeal to a younger customer, and West may very well help with that. As Mickey Alam Kahn, the editor of Luxury Daily, told Forbes...
Yeezy brings "street cred" to Gap. Yeezy is a reason for excitement for Gap, a brand which lost its way, being neither preppy, hip, or athleisure in perception.
► Even if Yeezy can bring $1 billion in sales to Gap, the company's stock is far from a layup...
Last month, the parent company laid off 10% of its workforce following a 43% drop in first-quarter sales. It's also being sued by mall owners for missed rent payments.
Forget the current operational and economic challenges posed by the COVID-19 pandemic... a turnaround in sales at the Gap chain wouldn't be enough on its own for a turnaround in the corporate parent. At less than 30% of corporate sales, fixing Gap won't fix the problems at Old Navy, which had same-store sales of negative 2% last year, following years of growth. At Banana Republic, same-store sales have only been positive two of the past nine years.
And even if Gap does add $1 billion in sales from Gap Yeezy, peak operating margins at the chain even going back to the '90s – when competition was less fierce and the mall was much busier – were only around 15%. With 10% (give or take) off the top going to Yeezy for royalties, even a spectacularly successful collaboration is unlikely to contribute more than a 10% operating margin or $100 million in pretax income to Gap's bottom line. (Gap had only a 6% operating margin on the corporate level last year).
With today's move, Gap's market cap is up around $900 million since the Yeezy announcement. That price probably discounts about $75 million in after-tax income from Yeezy, equivalent to $1 billion in sales at a 10% operating margin.
It's commendable that Gap is taking this bold step, and it shows management's vision. But with an approximately 25% two-day move in the stock largely discounting the likely economic impact of this deal, and many challenges still on the horizon for the parent company, the better way to go long the juggernaut of Kanye West is Adidas – a higher-quality company with better business momentum, management, cash flow, and balance sheet.
► Lots of skepticism about whether college is 'worth it' in today's mailbag...
If you're young enough to appreciate Yeezys – or have kids (or grandkids) who do – what do you (or they) think of the deal? Is Kanye's name enough to save the Gap? Are there any products you use or retailers or restaurants you frequent primarily because of their celebrity association? Share your thoughts with me at [email protected].
► "We are having the 'go-back' discussion with our eldest. The other part of this is that she's an employee of Starbucks and they provide full reimbursement for ASU Online... Middle child just started at a Service Academy. Ever more doubtful the youngest child will attend a 'real' school..." – Joe M.
► "College has outlived its usefulness, at least at the current price. I can get a world class lecture on virtually any subject for practically free on the internet. A college degree is all about the signal it sends, not about the learning. The system will hold together as long as corporations use the college degree as a sorting mechanism, but that should break eventually. I also think the non-academic benefits would be easy to replicate. 20-year-olds can quickly figure out how to self-organize so they can party and have sex with each other. The idea that college is needed for the social experience is incredibly unimaginative. Just my 2 cents." – Mark H.
► "Hi Berna... My stepdaughter is 19 and just completed her first year of college. Since we were not in the financial position to send her to a major university, not to mention our hesitation due to the economics of it, we suggested and she elected to go to community college for her first two years. Also, she was not 100% certain of her major which further added fuel to the community college fire. My suggestion to her was the following:
"- Stay home with her mom and me to enjoy free room and board
- Pay your own way through your first two years of school
- Finish your pre-requisites debt-free (total cost of for 2 years tuition and books = ~$6,000)
- Maintain a part-time job (she makes $1000-1500/mo.)
- In two years, she should have more certainty of what major she would like to pursue
"Initially, she wanted to go the traditional state school big university route but after having completed her freshman year she sees this was the better choice for her.
"Because she will have finished half of her undergraduate studies with no debt, some money in the bank AND a sense of accomplishment having done it all on her own back, she will enter the workforce with a leg up on her debt-ridden peers." – Dominic H.
Regards,
Berna Barshay
June 29, 2020