► The e-commerce industry has kicked into overdrive…
The migration of shopping online and away from brick-and-mortar stores has been steadily building for two decades. With stores closed and many shoppers afraid to leave their homes, it's like the coronavirus hit the fast-forward button for online shopping.
It's no surprise that e-commerce spending was up 49% in April, with online grocery being the fastest-growing segment.
This big spike in consumers shopping online presents a unique one-time opportunity for e-commerce companies to cheaply acquire new customers. While the pandemic is tragic, these businesses now have an opportunity to turn lemons into lemonade.
While necessities – like groceries, cleaning products and other household goods, and pet supplies – are seeing massive growth online, some discretionary categories are also getting a boost in online sales.
Digital agency Common Thread calculates that since COVID-19 emerged, global e-commerce growth has been a powerful tailwind for beauty (up 53%), fitness and sports equipment (up 31%), electronics (up 25%), and outdoor products (up 19%).
Of course, e-commerce giants Amazon (AMZN) and Walmart (WMT) have benefited from this shift. Grocery-delivery service Instacart has, too. But they aren't the only ones…
► Online marketplace for handmade goods Etsy (ETSY) has been a huge winner as well…
The company almost exclusively sells discretionary items. Investors were initially worried that Etsy would see a big slowdown in revenue growth. But then, Etsy's business experienced an unexpected windfall…
Several weeks into the coronavirus crisis, government and medical organizations reversed course and started recommending the use of facemasks and coverings for the general public. Shortages in medical-grade masks meant that most consumers couldn't get their hands on them… and even if they could, people were strongly discouraged from diverting supply away from medical professionals.
Etsy mobilized its army of independent crafters, seamstresses, and artists – who already had shops set up – to make masks with the fabrics and sewing machines many already had on hand.
The rapid production of new in-demand inventory, along with real-time modifications to Etsy's internal search engine that made it easier for customers to find masks, led to a massive $133 million in mask sales during April. The activity in masks correlated with – and likely contributed to – an acceleration of growth on the rest of Etsy's site. Sales of non-mask items were up 79% in April, and second-quarter revenue is expected to grow 78%, a big step up from prior expectations of 15%.
As you'd expect, this was a huge boost for the company's share price. The stock has taken off and hasn't looked back since. While the S&P 500 is up about 23% since bottoming in late March, Etsy shares are up nearly 160%…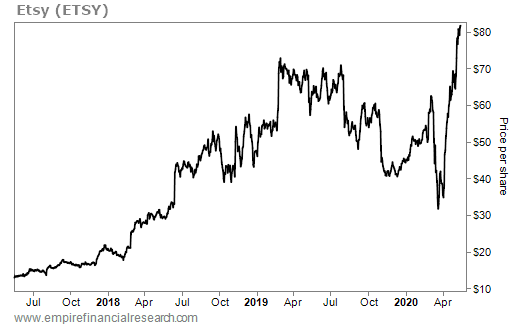 While other retail and apparel companies scrambled to meet the surprise demand for face coverings, Etsy's unique business model of connecting its 48 million customers with its 3 million sellers allowed it to respond faster than the competition. As CEO Josh Silverman told the Wall Street Journal…
Why am I going into so much detail about masks? It's not because I'm convinced that masks are going to be an enduring category for months to come. They may not be, nor are we convinced that this new cohort of buyers is going to be with us for months and years to come in a highly active way.

We're going to work really hard to try to earn their loyalty, and we'll have to learn and see what their behavior is over time. The reason I wanted to tell the story is because I think it really highlights the dynamism of the Etsy model and our Etsy sellers.
Investors have a lot to like about Etsy's business model. In addition to its large network of buyers and sellers, the company enjoys huge 66% gross margins because of its eBay-style, inventory-free marketplace model. Etsy also doesn't absorb shipping costs, which the buyer generally pays.
It's hard to say whether the stock is a buy here. A lot depends on how well the company can convert the first-time buyers who came in April and May looking for face masks into repeat buyers in other categories.
At 8 times enterprise value ("EV") to sales, Etsy is a little rich for my blood… especially given the boost from its brief near-monopoly on masks. This is a big premium to e-commerce giant Amazon and the company that invented the marketplace business model, eBay.
Both Amazon and eBay trade around 3.5 times on an EV-to-sales basis. Neither comparison is perfect – both are much larger companies than Etsy, and are lower risk with their greater diversification and resources. Both are also growing much more slowly than Etsy (although Amazon is still growing quickly), and the law of large numbers makes it much harder for it to double in size versus Etsy. But to pay more than twice the multiple of Amazon for Etsy, when Amazon is one of the most powerful companies in the world, feels like a bit of a stretch. I'll hope for a better point of entry for Etsy.
Be careful of paying up for a one-time event… But it's a company worth watching. If it can sustain this momentum, COVID-19 could end up being a permanent turning point in Etsy's history.
► Etsy isn't the only e-commerce company experiencing a boom in business…
The acceleration of online shopping trends has been a huge tailwind for Shopify (SHOP) as well.
Last month, CTO Jean-Michel Lemieux tweeted the following eye-opening chart…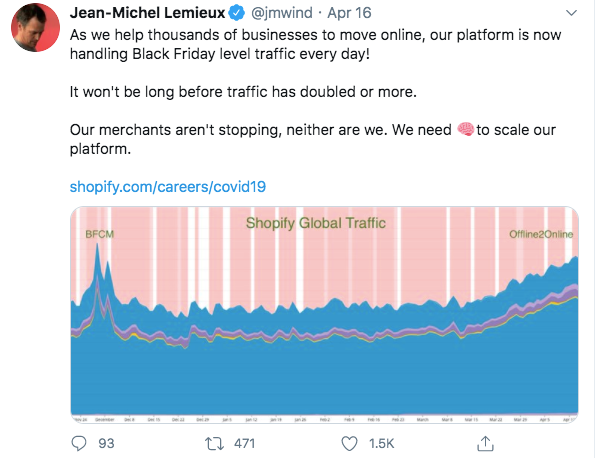 Source: twitter.com/jmwind
While I had experience with Shopify and how it works with its customers during my consulting work with several startups, I hadn't looked at it with my investor hat on. My colleague Enrique Abeyta knows the stock well, and he's a big fan. As he told me in a private e-mail earlier this week…
I first learned about Shopify about seven years ago when I was making investments in direct-to-consumer companies, like sock company Bombas. The dynamite CEO there (David Heath – look him up!) walked me through its software platform and how awesome it was for enabling e-commerce.

My current digital media business – Project M – is an active Shopify customer, as 80% of our business is e-commerce. I can attest to the fact that the company is getting better and better. The functionality of the platform continues to improve, and it also has become even easier to use. Shopify has also gotten into providing financing for customers. It's a great deal for both them and us.

And now, we're seeing a major acceleration in e-commerce results.

One driver of the acceleration is that advertising got a lot cheaper as major advertisers like hotels and airlines stepped away from the market. The other part, though, is that for people who didn't lose their job, they have a lot of free time… and their disposable income is no longer being spent on beers, restaurant meals, and concert tickets.

The net result has been a boost in e-commerce, and the biggest beneficiary in the world is the largest "picks and shovels" company out there – Shopify!
Though the stock has been on an absolute tear of late, don't let that scare you away. Enrique says its strong performance shouldn't deter investors…
This hasn't been lost in the stock price performance, as SHOP shares more than doubled from their lows (just about $300 to $765 today) and are sitting at all-time highs. It's hard to buy a stock at these levels – and I'd never recommend investors taking a full position at this level of exuberance – but one of my biggest pieces of advice is to not make it too difficult.

In order for a stock to go up 10 times, it has to go up 2 times, 3 times, and 5 times first. A stock being up a lot is a good sign in the long term, not a bad one…

Investors should get to know Shopify, and at a point where it makes sense to them, consider adding some exposure to their long-term holdings.
► It's clear that Enrique likes Shopify's prospects…
But it's much easier for a $2 billion company to become a $20 billion company than it is for a large-cap stock like Shopify to grow from $82 billion to $820 billion.
And in his brand-new Empire Elite Growth newsletter, he's only looking for stocks with 500% to 1,000% upside (or more).
The two companies he recommended last week have sub-$1 billion market caps. One is a "picks and shovels" play in a budding industry with explosive growth potential. The other is a one-of-a-kind "trophy asset," backed by an investor who has outperformed the legendary Warren Buffett over the past three decades.
For the next couple of days, you can access Enrique's ideas for the lowest price we'll ever offer. Get started here.
► In the mailbag, I received a wide variety of feedback from readers on whether they'd attend a movie in theaters or not…
Are you shopping more online? Besides Amazon, which sites or apps are you spending money with? Are there any online shops you've purchased from for the first time in the last two months… and do you think you'll visit them again? Let me know by sending an e-mail to [email protected].
► "I would have no problem in going back to a movie theater if only JUST TO GET OUT OF THE HOUSE! We can't wait for conditions to be perfect, or we just might DIE IN PLACE." – Jim B.
► "You ask about movie theaters. I am 39, single, and healthy, and don't have regular exposure to people in high risk categories. I'd go see any movie. However, 90% of the movies I see in theaters are big blockbusters. Mostly Marvel movies, because I feel like the smaller comedies and dramas are just as fun to watch at home and don't require the expense / work of going to a theater. Hope you find this useful. Loving the newsletters!" – Patrick O.
► "I would have no problem returning to theaters at this time. I would consider it a perk if the theater was only 25% to 50% full. Especially with discounted ticket pricing. No matter the size of your home 'theater' screen/TV, nothing compares to the experience of sitting in a nicely air conditioned theater with fresh popcorn and an ice cold drink, watching the trailers and anticipating the main attraction. It's on the top of my 'hopefully soon to do list'."- Karl S.
► "I would absolutely return to movie theaters, as soon as they open. It is something that my 10 year old granddaughter and I do together. We were going twice a month, pre-covid 19. I would go whether the theaters were half empty or completely full. It is something that we enjoy together. I want to keep making these memories with my granddaughter. I am 56 and in good health. I would take extra precautions, but I would return in a heart beat!" – Donna W.
► "I am sure I would go to movies. Take your wipes and masks. Keep social distancing and enjoy. No reason to stop life!"- Hemant P.
► "Berna, I've hardly been to a theater in the past 5 years after going most weeks for about 5 years before that. Small budget dramas, comedies, documentaries with spread out seating might get me to go back."- Brian H.
► "I will not be going to see anything in a theater before November, possibly next year, and certainly not before we see a definite drop in covid-19 new cases." – Geoffrey M.
► "No movie theaters, live theaters, concert halls, sports arenas, or restaurants for me and my wife until there is a vaccine. Even then, I must admit there may be a new normal for movies. We are finding that we enjoy streaming both free (i.e. Netflix) and PPV movies to our large-screen TV. The sound is fine with our surround-sound system. And it's (a) cheaper, (b) more convenient*, and (c) safer to watch them at home. I'm having trouble envisioning what would lure me back to physical theaters.
"*convenience: Don't have to drive to the theater, park, stand in line, wait for the movie to start, and watch fifteen minutes of commercials, then drive home again. Popcorn costs 40¢ instead of $5.00. Can pause the movie to go to the bathroom. Can watch the movie whenever we want to, not just at their scheduled times. Can watch it multiple times. Can watch with friends for no more money. Can sit in comfortable chairs and put our feet up, with a blanket and pillows. Can eat dinner while we watch. Tell me again what the advantage is of spending $20+ to watch it in a theater. P.S. Love the EFR newsletter." – Dave S.
Regards,
Berna Barshay
May 15, 2020