1) I really enjoyed two fascinating articles about two of the largest yet most opaque investment firms in the world. The first, by the Financial Times, is about the Brookfield family of companies: Brookfield: inside the $500 billion secretive investment firm. Excerpt:
"Our reputation is that if you have a large transaction, if you have a difficult transaction… go to Brookfield," says chief executive Bruce Flatt.

Yet what exactly Brookfield is, and how it operates, is maddeningly difficult to ascertain.

To unpack the Canadian group's accounts is to discover not so much a company as a giant, triangular jigsaw board that spreads across the world and covers assets worth $500 billion. The pieces are hundreds of corporate entities, all locked together by elaborate contracts, which give 40 people at the top the right to rule huge sections of the puzzle almost as if it were their own.

Those insiders wield such power that the companies below them could face risks similar to those of "pyramid control companies," according to a draft investor disclosure that Brookfield filed with the Securities and Exchange Commission in 2013. (The final version warned instead of risks "associated with a separation of economic interest from control.")

Over the past six months, the Financial Times has asked current and former executives, and others who know Brookfield well, to shine a light on this empire. Some refused to talk; others requested anonymity, citing non-disclosure agreements or fear of reprisals.

Even as they spoke, the Toronto-based group pushed further into U.S. finance, completing an acquisition of Oaktree Capital Management, the private equity firm founded by Howard Marks and Bruce Karsh. Yet in interviews, securities filings, litigation records, and other documents, a picture emerges of an investment group that defies convention: highly secretive, seemingly obsessed with control and susceptible to family squabbles that have few parallels among its Wall Street peers.
2) The second, by the Wall Street Journal, takes a look at the Mormon Church's little-known fund: The Mormon Church Amassed $100 Billion. It Was the Best-Kept Secret in the Investment World. Excerpt:
For more than half a century, the Mormon Church quietly built one of the world's largest investment funds. Almost no one outside the church knew about it.

Some of that mystery evaporated late last year when a former employee revealed in a whistleblower complaint with the Internal Revenue Service that the fund, called Ensign Peak Advisors, had stockpiled $100 billion. The whistleblower also alleged that the church had improperly used some Ensign Peak funds. Officials of the Church of Jesus Christ of Latter-day Saints, colloquially known as the Mormon Church, denied those claims…

Interviews with more than a dozen former employees and business partners provide a deeper look inside an organization that ballooned from a shoestring operation in the 1990s into a behemoth rivaling Wall Street's largest firms.

Its assets did total roughly $80 billion to $100 billion as of last year, some of the former employees said. That is at least double the size of Harvard University's endowment and as large as the size of SoftBank's Vision Fund, the world's largest tech-investment fund. Its holdings include $40 billion of U.S. stock, timberland in the Florida panhandle and investments in prominent hedge funds such as Bridgewater Associates LP, according to some current and former fund employees…

During the bull market of the last decade, some of them said, the fund grew from about $40 billion in 2012 to $60 billion in 2014 to around $100 billion by 2019. About 70% of the money is liquid, one of the former employees said. As its assets swelled, Ensign Peak grew more secretive, said some of the former employees…

"It was so amorphous," the former employee said. "It was always, 'When we have direction from the prophet.' Everyone was waiting, as it were, for direction from God." The prophet is the president of the church.
3) I'm very happy with my life – there's not a single person on Earth I'd trade places with – so I rarely feel envy, even when flying on my friends' private jets.
But as a lifelong tennis player and fan, I will admit to wishing I was Microsoft (MSFT) co-founder Bill Gates for a day last week. He teamed up with Roger Federer to face off against Rafael Nadal and comedian Trevor Noah as part of a tennis exhibition in Cape Town, South Africa that raised $3.5 million for Federer's charity. Here's an article about it and here's a video with the highlights of the "match," which Gates and Federer won.
The closest I came to something like this was a few years ago, when I had the privilege of playing four games of doubles with Andre Agassi. Here's a picture of us: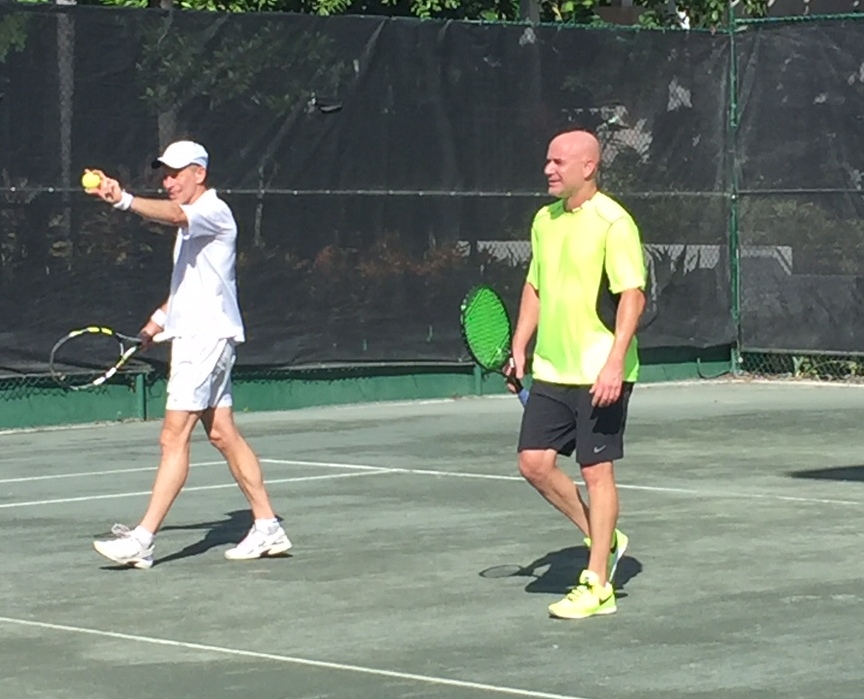 As we walked out onto the court, I told him a funny story that I still remember because it has a serious lesson. It comes from the first business book I ever read in 1984, What They Don't Teach You at Harvard Business School, by Mark McCormack – who founded sports-management agency IMG. McCormack wrote:
Several months ago I participated in a pro-am tennis exhibition. Just before we were to go on the court, I happened to overhear a conversation between our opponents. The pro, who was one of the top-ranked players in the world, said to his amateur partner, "Do you want to win this match or do you just want to play some tennis?"

The amateur, who was a little intimidated, replied rather sheepishly, "Well, I guess I would like to win the match."

"Fine," the pro said. "Then serve and get off the court!"
Agassi cracked up when I told him this story and said, "Just to be clear, I want to have fun…" And we did! (We were a heck of a team, let me tell you – LOL!)
The reason I remember this little anecdote 36 years later is that it underscores an important truth: To be successful in sports, business, or life, you must accurately assess your abilities relative to those around you.
There's no shame in being the least informed, experienced, or able person in a group – nobody's good at everything. But if you let your ego get the best of you and think you're a lot more skilled or capable than you are, terrible things can happen.
In investing, it can lead to enormous losses due to straying outside your circle of competence, using excessive leverage, or trading too much.
In meetings, you'll talk when you should be listening, which usually means: a) you fail to learn what you should… and b) expose yourself as a blowhard.
Worse of all, you could get yourself killed…
In August 2016, the day before I climbed the world's most iconic mountain – the Matterhorn in the Swiss Alps – rescuers recovered the bodies of two British amateurs who went up into a well-forecasted snowstorm without a guide or warm gear, so they froze to death. They paid for their overconfidence with their lives…
Climbing comes naturally to me and I love nothing more than standing on the top of a magnificent peak, so I've done some pretty hairy mountaineering and rock climbing (which is what I'm doing today in Yosemite National Park, in fact). Here's a picture of me with two buddies on the top of Mont Blanc, the highest peak in the Alps, on July 4, 2016: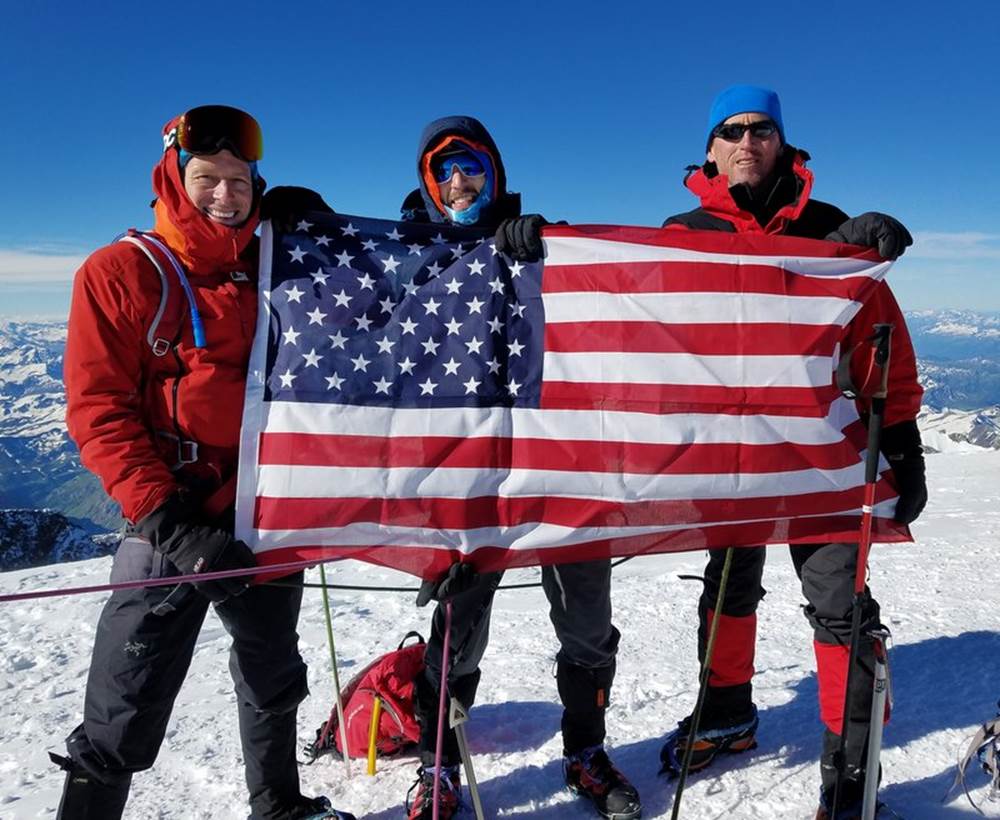 Despite my accomplishments, however, I have never once thought that I have anything but the most rudimentary understanding of what I'm doing in the mountains. Hence, I always hire experienced guides with the highest level of certification, am roped to them at all times, and do exactly what they tell me.
An appropriate amount of humility and self-awareness can literally save your life!
Best regards,
Whitney
P.S. The Empire Financial Research offices are closed on Monday for Presidents' Day. Look for the next Empire Financial Daily e-mail on Tuesday. Enjoy the holiday!