► Despite theater being an industry known for scrappiness and pluck, Broadway has no Plan B beyond waiting for a vaccine...
Several people I spoke with expressed frustration that the industry is waiting for a vaccine, since any delay on that front could put even a late 2021 return in jeopardy. "There's a general lack of leadership," one insider lamented to me, adding that there's no real comeback strategy in the absence of a vaccine.
And not everyone thinks betting everything on a vaccine is a good strategy. As theater legend and Phantom of the Opera composer Andrew Lloyd Weber told the New York Times in June, while pointing to the successful pandemic run of his musical in South Korea:
I don't think we should just be sitting on our hands and saying, it's all doom and gloom, we can't do anything... We have got to make the theaters as safe for everybody as we possibly can.
Operating under the assumption that the industry shutdown could last as long as our pre-vaccine world does, several governmental proposals have popped up that could provide relief to the industry.
The "Save Our Stages" bill has bipartisan sponsorship from Sens. Amy Klobuchar (D- Minnesota) and John Cornyn (R-Texas) and proposes $10 billion in aid for shuttered live venues. Venues with up to 500 employees could apply for the grants, which would be allocated by the Small Business Administration ("SBA"). A survey conducted by the National Independent Venue Association found that 90% of independent venues could permanently close by year-end without government assistance.
A second bill called Defend Arts Workers Now (the "DAWN Act") proposes $44 billion in grants for operators, employees, and artists who work in live venues and cultural spaces that have been impacted by the pandemic. The program would be administered by the SBA along with the National Endowment for the Arts ("NEA") and other federal agencies. This bill is in an earlier stage and still needs a Republican co-sponsor.
The Restart Bill, an extension of the Paycheck Protection Program ("PPP") co-sponsored by Sens. Michael Bennet (D-Colorado) and Todd Young (R-Indiana), could also provide relief to the theater industry.
Unfortunately, with the election looming, all these relief bills – along with all other legislation – appear held up until we get past November.
Meanwhile, across the pond, the U.K. announced a Culture Recovery Fund this past Monday. The first round of relief will offer £257 million ($334 million) to 1,385 venues.
► For a lot of people involved, the lack of creativity is frustrating...
While the industry waits for governmental relief (perhaps fruitlessly, as images of the play Waiting for Godot float into my mind), several artists expressed a wish that the performing arts would be more proactive in finding ways for people to get back to work. Many lamented the lack of flexibility at the Actors' Equity Association union, which has been extremely rigid in evaluating workarounds that could enable "the show to go on" safely.
Vocal coach Tracey Grimaldi remains frustrated with the lack of governmental response on both the local and federal level, and notes that "the silence has been deafening from current elected leaders."
Grimaldi was full of ideas for getting theater happening again... During our conversation, she proposed doing performances and education outside in school outdoor spaces. She also suggested creating quarantine pods for casts and streaming the performances.
Grimaldi mentioned that two of her married students recently left New York for Omaha, where they were cast in a play together. With a plethora of married or dating couples – as well as performer roommates – in the Broadway community, Grimaldi suggested one way to get around the inherent exposure in intimate scenes is to cast real-life couples (or roommates) opposite each other.
"Doing something is better than doing nothing," Grimaldi explained. She also noted that we could have – and should have – been doing outdoor performances all summer in New York, using rapid testing and isolated casts, as well as face shields and masks designed for singing. She wisely noted that this is the one time in the recent history of New York City that space is actually available, and we haven't made full use of it.
On the subject of outdoor performances, Broadway actress Jessica Rush agrees with Grimaldi and wondered why Shakespeare in the Park couldn't go forward this year in the Delacorte Theater in Central Park, with reduced audience capacity.
► It strikes me that part of the problem with finding the go-forward strategy for Broadway is that the incentives of various stakeholders are misaligned...
Performers, musicians, coaches, and craftspeople I've spoken with or read quotes from generally want to get back to work... whatever it takes. Part of that is because they need rent money, but equally important is the need to create. Even in the best of times, the theater life is a difficult one – characterized by periods of uncertainty and unemployment. People don't look for work in the theater because they want to – they pursue a theater career because they have to... They can't imagine life doing anything else.
As you move from the creative end of the business to the financial side, pragmatism – and profitability – creeps into the equation. Producers know that limited capacity means potentially unlimited losses, so staying shuttered may be the more prudent financial decision in a pre-vaccine world.
For-profit theater owners – whose voices have been largely absent in the press and whose interests have been primarily represented through the efforts of the industry trade organization the Broadway League – have yet a different set of concerns. They have to weigh the income they can potentially make opening during a pandemic versus the considerable one-time expenses necessary to retrofit theaters and make them safe.
Actors' Equity and other unions have the dual mission of negotiating the best compensation for their members while keeping them safe. Given the reduced profitability of productions that might open with limited capacity and little international tourism, the idea has been floated of temporarily reducing pay rates, so the prospect of re-opening under restrictions would be more palatable to producers and theater owners watching their bottom lines. Unions aren't in the business of taking a backwards step for their members in terms of pay... but in the current situation, perhaps nothing should be off the table, since the near-universal shutdowns are depriving members of the ability to access health insurance during a global health crisis.
While casts and crews need to concern themselves with keeping safe and naturally want their audiences protected as well, the theater owners and producers will ultimately be the ones liable if anyone gets sick.
Producers and theater owners also need to weigh the upside of getting back to work pre-vaccine against the longer-term damage they could do to future business if they open too soon and someone gets really sick – either performing, backstage, or in the audience.
► Broadway needs to think outside the box if it wants to come back in a pre-vaccine world...
The people I spoke with from the money side of the business hold out dim hopes for streaming coming to the rescue of the industry. As I said yesterday, Actors' Equity doesn't want to cede negotiating power to the screen actors' union SAG-AFTRA, which is one of several factors holding up streaming deals. Between the turf war before the two actors' unions and the fact that the costs to film are so high, there doesn't seem to be a lot of profit in pursuing streaming deals (unless you're Hamilton).
And yet, I'd argue that if producers can find a path forward to break even, they should pursue such streaming deals – even just six weeks of rehearsal and filming would go a long way to helping people pay bills and qualify for health care coverage. It would also keep audiences engaged and thinking about Broadway, thus building demand for its physical return.
► Broadway has been on a tear the last few years...
Not only did Hamilton become a billion-dollar property, but other shows have broken into the mainstream consciousness – particularly with young people, which is crucial to the long-term success of the industry (Dear Evan Hansen and Moulin Rouge! both have substantial Gen Z appeal).
Over the past few years, we've witnessed the successful launch of BroadwayCon as an annual event and seen the stage adaptation of beloved American novel To Kill a Mockingbird become an unprecedented hit for a straight play.
The Hollywood-Broadway connection has never been stronger, as movies have inspired a record number of commercially successful (Mean Girls) stage properties... many of which have been praised critically as well (Harry Potter and the Cursed Child).
Studios have also increasingly embraced Broadway content. Warner Brothers decided to postpone the planned 2020 release of the film adaptation of Lin-Manual Miranda's In the Heights rather than release it to the struggling HBO Max service, which is desperate for new content. This indicates Warner probably has high hopes for the movie musical.
► Streaming services have already indicated an interest in Broadway content...
Later this year, Netflix (NFLX) will release a star-studded, Ryan Murphy-produced film adaptation of Broadway's 2019 show The Prom, which did better critically than financially. And as I mentioned yesterday, Netflix recently acquired the rights to stream a filmed version of Diana: A New Musical.
In the past decade, we've also seen the return of live musicals to broadcast network television, with both Comcast's (CMCSA) NBC and Fox (FOX) achieving strong ratings from programming such as The Sound of Music Live! and Grease: Live.
Several big media companies, which all have their own entrants into the streaming wars, have a direct presence on Broadway. This includes most obviously Disney (DIS), but also Comcast – which has a piece of both Wicked and To Kill a Mockingbird through its library ownership of the original films that provide source material.
Given the increased consumer interest in musical theater content as well as the potential synergies at the big media companies, I wonder if there aren't several properties that could make sense for streaming services to pursue...
Edgy musical The Book of Mormon would be completely "on brand" for the always edgy HBO. The company's flagship cable service scored a major critical hit with its 2003 miniseries adaptation of stage play Angels in America, which is one of only two programs in Emmy history to sweep every major category for which it was eligible and win all four acting awards (the other program was Schitt's Creek, this year).
Bringing Mormon back with its current cast and filming it could at least temporarily provide employment for dozens of theater workers and could help address the lack of new content that's plaguing HBO Max. If able to be negotiated, bringing back the two original leads – Andrew Rannells and Josh Gad, who have grown in popularity since departing the show – would make the streaming version a "must see," even for those who experienced the show live with replacement casts.
There are countless other combos that could fit... Mean Girls for ViacomCBS's (VIAC) Paramount+... Tina for that service as well ViacomCBS's MTV or BET linear channels... and almost anything could fit Netflix or Disney's Hulu.
► The barriers to filming Broadway for streaming are numerous, especially with unions squabbling...
But the biggest problem for streaming saving Broadway pre-vaccine is that most producers doubt that these services will bid enough for such productions to be profitable.
However, there's likely substantial room between a price that creates a "Hamifilm" type windfall and one that bleeds producers dry. Even a breakeven production could be a good bet, as an investment in streaming a show now is an investment in keeping Broadway alive in the future... and keeping performers, musicians, and crew in their apartments with full refrigerators and health insurance in the short term.
I'll admit that part of my belief that the path forward lies in streaming generates from my skepticism over a vaccine date... I've done just enough pharma and biotech investing to take all vaccine timelines with a hefty grain of salt.
Right now, plans are being made for a fall 2021 return for many Broadway shows. But as horrible as it may be to contemplate, Broadway must do what every other hard-hit industry in the world is doing right now. Like hotels, restaurants, airlines, and casinos, Broadway needs to figure out how to survive if a vaccine proves farther away than we hope.
► No pandemic can kill off the spirit of Broadway...
The artistic spirit can't be quashed. People have been coming together to enjoy storytelling in a theatrical venue since the days of the ancient Greeks (and even before that!). COVID-19 can't kill theater, but that doesn't mean we should tolerate open-ended hardship for the people that make it while we wait for a vaccine.
In a small move towards normalcy, Tony nominations for the abbreviated 2019 to 2020 season were announced this morning. Only four new musicals, 10 new plays, and four play revivals were eligible from the truncated season... Many productions were on the verge of opening just as the shutdown occurred. As a point of reference, this year's 18 eligible shows compare with 34 last year.
New musicals Jagged Little Pill (inspired by the 1995 Alanis Morissette album) and Moulin Rouge! (based on the 2001 film) led the nominations with 15 and 14, respectively. Slave Play led the pack on the play side, with 12 nominations. In a quirk highlighting just how unusual this year is, only one actor was nominated for leading actor in a musical (only two men were eligible, with just two of four musicals even containing a male leading role).
In another symbolic moment of perseverance, last week, NYCNext – an organization which showcases performing artists during the shutdown by organizing unannounced, pop up, outdoor performances – brought together more than two dozen Broadway veterans for an impromptu performance on the red staircase that rises over Times Square's TKTS ticket booth. They performed "Sunday" from Sunday in the Park With George.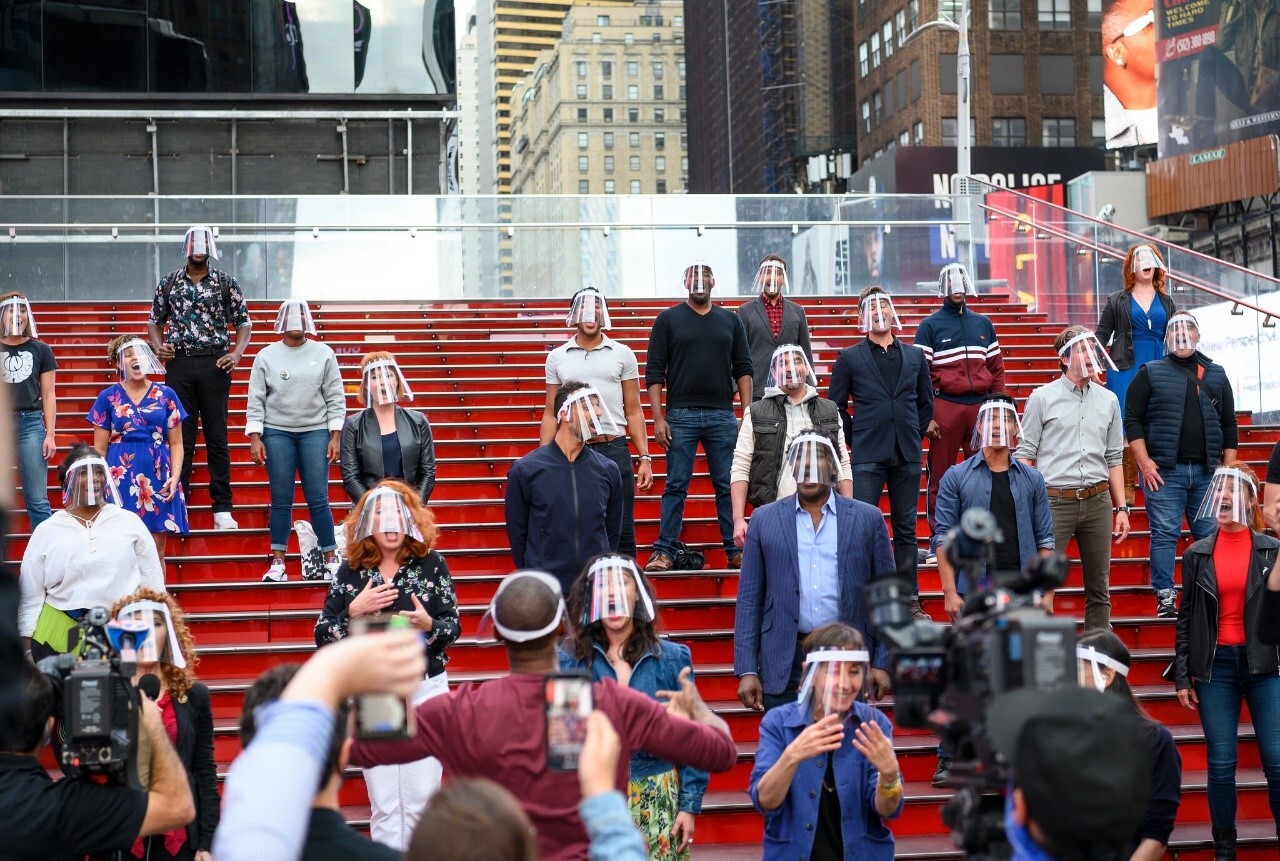 Source: New York Times
Among the singers on the steps, who all wore protective face shields, stood the star of the musical's original 1984 Broadway production, Bernadette Peters. As the Times reported...
Peters said before the performance that she hoped the song "Sunday," which in the musical helps to create calm during a fractious moment, could do the same in real life.

"We can't move around, we can't gather, we can't go to the theater," she said. "We need something that can be a healing balm."
You can watch the full NYCNext performance here.
Broadway will indeed and irrefutably be back, although it would be nice to see its return not so reliant on a vaccine.
While we wait, I'll end with the optimistic words from my friend Judine Somerville, who was part of the singing trio The Dynamites in the original Broadway company of Hairspray, a role that she reprised in NBC's 2016 Hairspray Live!
Below is what she sent me in the wee hours of the morning after completing a series of Zoom rehearsals and reading Part One of my Empire Financial Daily Broadway series...
Broadway is on its longest intermission EVER. We don't when the second act begins, but when it does, we want to be ready.

We are our Brother's Keeper.

In the meantime, the Broadway universe continues to be creative, caring, loving, and positive. We are vessels that have healed the world.

I believe we will have the opportunity again.

There's no people like show people.
I believe everything that Judine wrote will prove true.
Regards,
Berna Barshay
October 15, 2020
P.S. Today's essay ran long, so I'll skip the mailbag and return with it in tomorrow's Update issue of Empire Financial Daily.